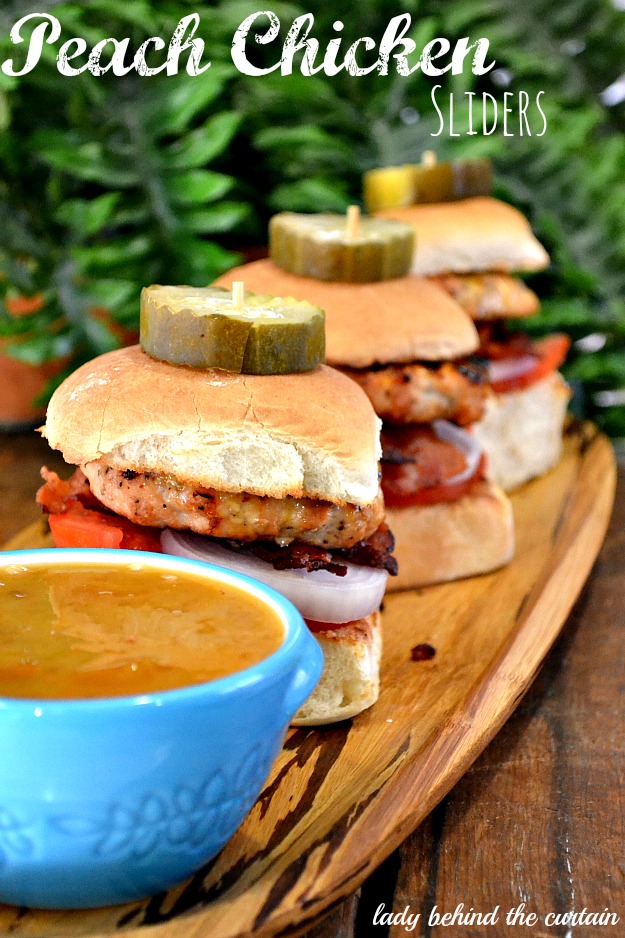 Change up the menu this year with peach chicken sliders!  Tender and juicy with a touch of sweet from the peach preserves.  For when you just need one more thing to add to dinner or your buffet.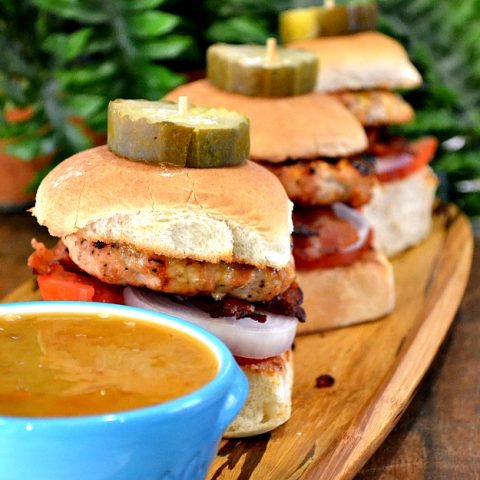 Peach Chicken Sliders
Something different for game day.
Ingredients
1 pound ground chicken
1/2 teaspoon salt
1/4 teaspoon pepper
3/4 cup peach preserves
2 tablespoons Dijon mustard
2 tablespoons water
1 tablespoon apple cider vinegar
8 slider buns or dinner rolls
8 bacon slices, cooked and cut in half crosswise
8 thin onion slices
8 thin tomato slices
Garnish: dill pickle slices
Instructions
Line a baking sheet with wax paper.
In a large bowl, combine ground chicken, salt and pepper; gently combine with hands.
Lightly coat hands with nonstick cooking spray; form chicken into 8 (3-1/2-inch) patties.
Place patties on prepared baking sheet.
Cover, and freeze for 20 minutes, or until slightly frozen (Freezing will make removing patties from wax paper easier).
In a small bowl, combine peach preserves, mustard, water and vinegar.
Reserve 1/2 cup peach mixture.
Coat grill with oil.
Preheat grill to medium high heat (400 degrees to 450 degrees).
Place patties on prepared grill rack.
Grill for 2 to 3 minutes on each side, or until no longer pink in center.
Brush with peach mixture, cook for 1 minute.
Remove from grill.
Place buns, cut side down on grill; grill for 2 minutes, or until grill marks form.
Fill each bun with 1 chicken patty, 1 piece of bacon, 1 onion slice, and 1 tomato slice.
Serve with reserved peach mixture.
Garnish with dill pickle slices.
Notes
This recipe is loosely adapted from the Phyllis Hoffman Celebrate 2012 magazine.