German Chocolate Brownies
These crowd pleasing German Chocolate Brownies is an easy make ahead dessert for Memorial Day, your next barbecue, church social or family gathering.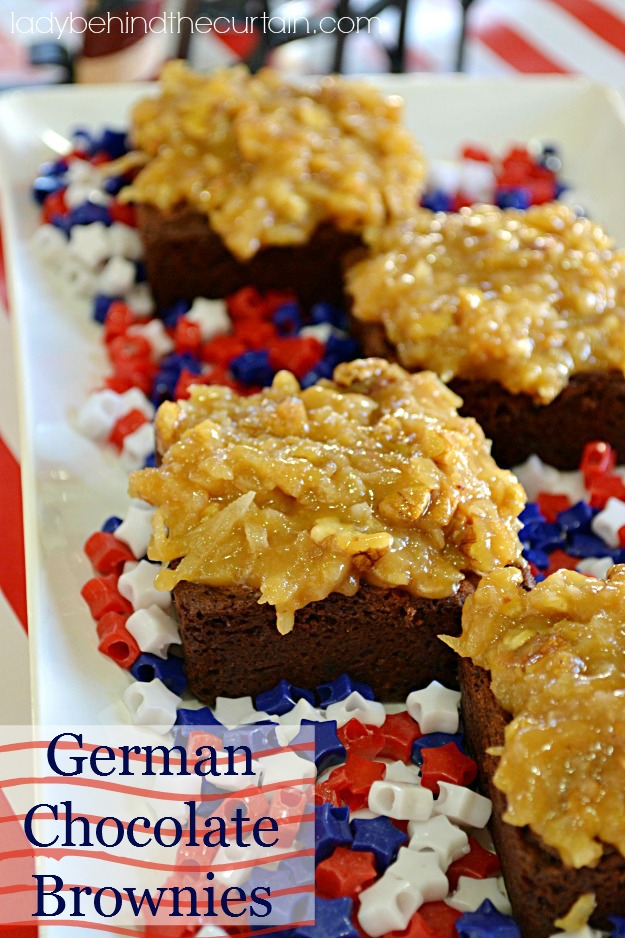 If German Chocolate Cake is your dessert of choice then you are going to love the chewy decadent brownie paired with the creamy sweet coconut pecan frosting of these German Chocolate Brownies.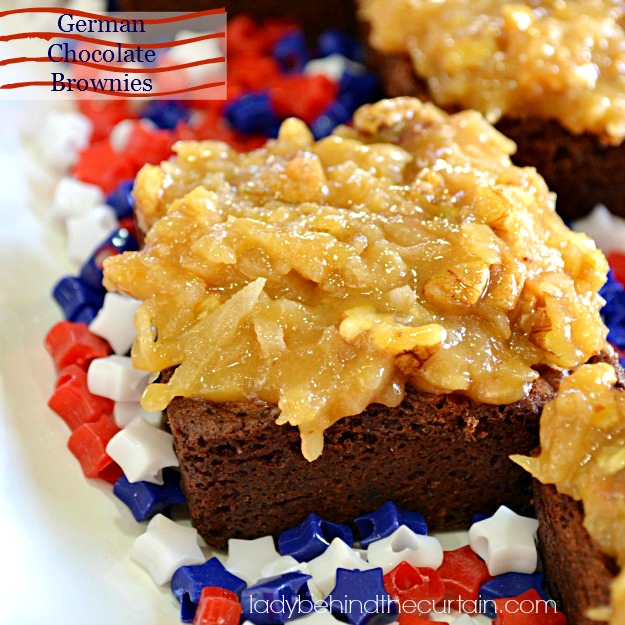 Create your own Recipe Box and save your favorite Lady Behind The Curtain recipes.  Make a Meal Plan with your favorite recipes and ZipList will automatically add the ingredients to a Shopping List.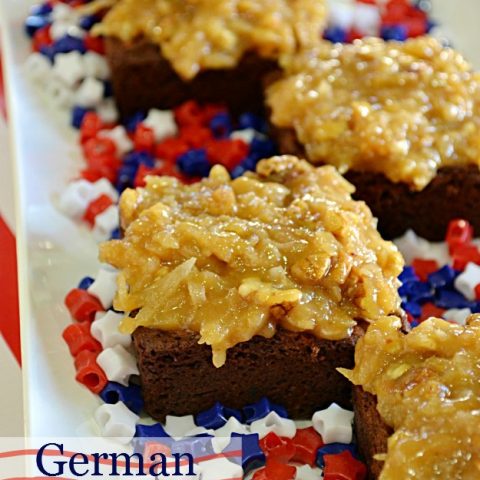 German Chocolate Brownies
Yield:
Serves 12 individual brownies
Ingredients
For the Brownies:
1 box of store bought brownie mix plus ingredients to make the brownies
For the Pecan Coconut Frosting:
3 large egg yolks
1 can (12 ounces) evaporated milk
1-1/4 cups light brown sugar, packed
3/4 cup butter, cut into small pieced
1 teaspoon vanilla extract
1/4 teaspoon salt
7 ounces sweetened flaked coconut
1-1/2 cups pecans, chopped
Instructions
For the Brownies:
Follow the directions on the brownie box. (I chose to put my brownies in individual molds)
Bake as directed. (If using molds bake 23 minutes)
Set aside and cool completely.
Frost with the Coconut Pecan Frosting.
For the Pecan Coconut Frosting:
Heat egg yolks, evaporated milk, brown sugar and butter in a medium sauce pan over medium heat, stirring constantly until thick, about 15 minutes from the time it start to boil.
Strain through a fine sieve into a bowl.
Stir vanilla and salt into frosting.
Add the coconut and pecans.
Stir until well combined.
Let cool completely, stirring occasional.
Frosting can be refrigerated up to 1 day in an airtight container.
Before using, bring to room temperature and stir.