Peanut Butter Cup Ice Cream
Peanut Butter Cup Ice Cream:  A rich creamy ice cream made with peanut butter and chunks of peanut butter cups.  The perfect ending to a great meal.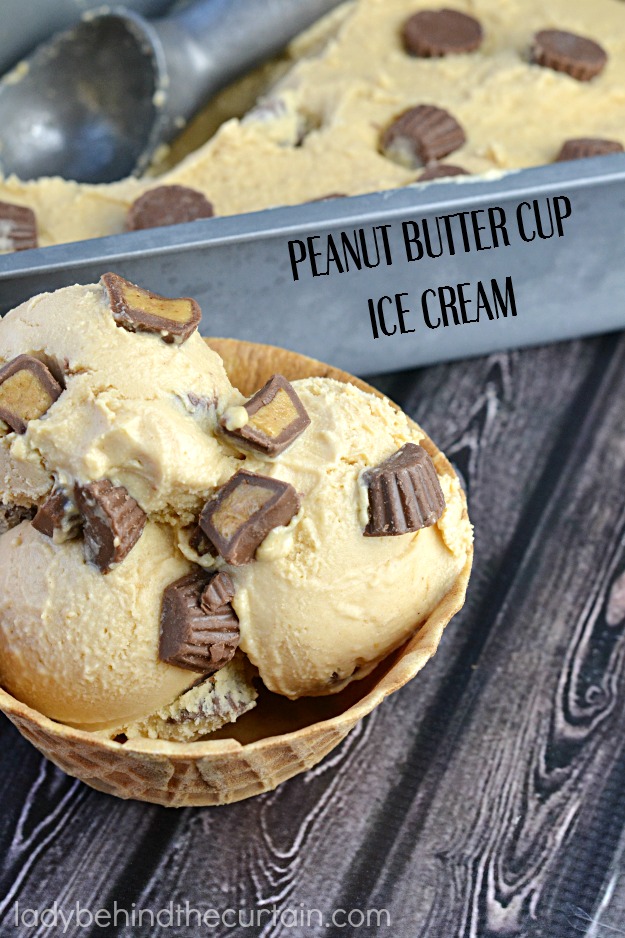 If you are a peanut butter junkie like me than you are going to love this ice cream.  Rich, and packed with peanut butter.  It's perfect on its own but why not pump it up a bit with fudge brownies.  We all know chocolate and peanut butter were made for each other.  So I can imagine a scoop of this Peanut Butter Cup Ice Cream sitting on a big brownie is heaven on a plate.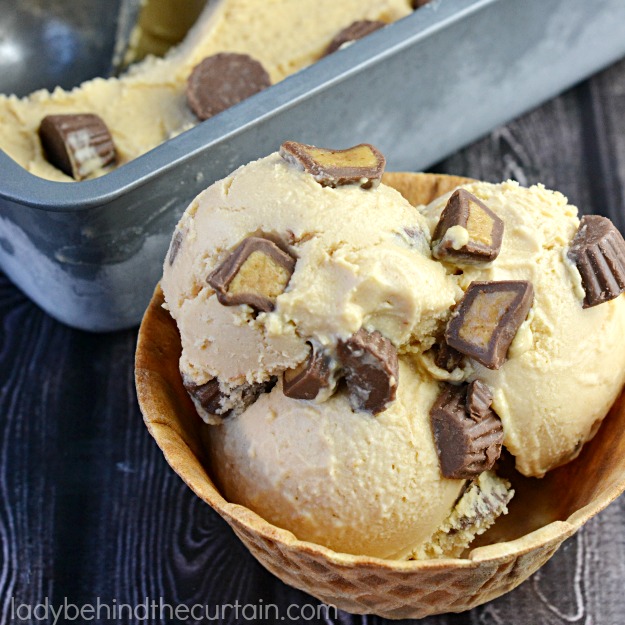 My Decadent Brownie Pie is made in a springform pan.  I would suggest making the pie, freezing the Peanut Butter Cup Ice Cream, then while the pie is still in the springform pan add scoops of the ice cream.  Freeze, release the sides of the pan and serve in slices.  Oh yeah!  Now that's a dessert!
Peanut Butter Cup Ice Cream
Ingredients
1 1/8 cups peanut butter (not natural)
3/4 cup granulated sugar
1 1/4 cups whole milk
2 cups heavy cream
1 1/2 teaspoons vanilla extract
1 cup peanut butter cup minis

Optional: extra peanut butter cup minis for garnish
Instructions
In a mixing bowl, combine the peanut butter and sugar until smooth.
Add the milk and mix until the sugar is dissolved.
Stir in the heavy cream and vanilla..

Churn as directed by your machine instructions.

Five minutes before the mixing is complete add the peanut butter cup minis.
Transfer to a freezer safe container.
If desired add some more of the peanut butter cup minis to the top of the ice cream for garnish.
https://www.ladybehindthecurtain.com/peanut-butter-cup-ice-cream/
MORE ICE CREAM RECIPES

1. VANILLA CARAMEL SWIRL BANANA SPLITS  2. ALMOND JOY ICE CREAM  3. CAKE BATTER FUNFETTI ICE CREAM