Pork Tenderloin with Mushroom Gravy

DINNER FOR TWO!
Pork tenderloin cut into 1-inch slices, lightly breaded and topped with a mushroom gravy.  This pork tenderloin with mushroom gravy dish is easy to make and so delicious with only a few ingredients.
Okay, so I tripled the recipe.  But the original recipe is for two.  🙂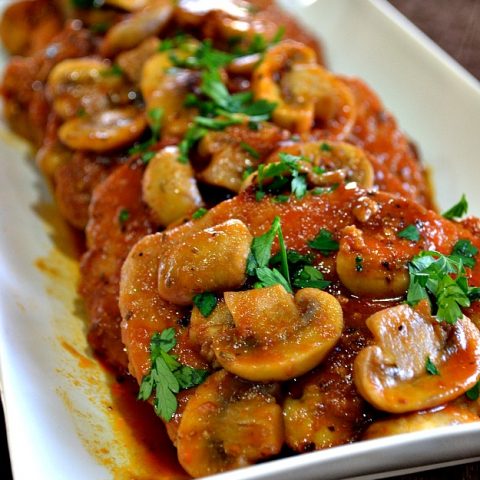 Pork Tenderloin with Mushroom Gravy
Ingredients
2/3 cup chicken broth
1 tablespoon tomato paste
1/4 teaspoon dried rosemary, crushed
1/4 teaspoon salt
1/8 teaspoon black pepper
8 ounce pork tenderloin, cut into 4 pieces
1 tablespoon seasoned dry bread crumbs
1 tablespoon olive oil
1-1/2 cups mushrooms, sliced
garnish-parsley
Instructions
Whisk together the broth and tomato paste.
Stir in rosemary, salt and pepper.
Slice tenderloin into 1-inch slices
Lightly coat pork with bread crumbs.
Heat oil in a large skillet on medium-high heat.
Add pork; cook until golden brown; turning once.
Remove from skillet.
Reduce heat to medium.
Add mushrooms ; cook 3 minutes or until lightly browned.
Return pork to skillet; add broth mixture.
Reduce heat to low; cover and simmer 2 to 4 minutes or until pork is pale pink in center.
Remove from skillet; increase heat to high; boil sauce 2 to 3 minutes or until reduced and slightly thickened.
Serve sauce over pork.
Sprinkle fresh parsley.
Nutrition Information
Serving Size

4 ounces
Amount Per Serving
Calories

245
MORE GREAT MAIN DISHES
1.  ROASTED PORK TENDERLOIN WITH PLUM BARBECUE SAUCE  2.  LIGHT MEXICAN STUFFED SHELLS  3.  EASY SHRIMP SCAMPI  4.  STUFFED ZUCCHINI