Tropical White Chocolate Bark
Tropical White Chocolate Bark. A melt in your mouth candy bark that is loaded with all the flavors of the tropics. With delicious ingredients like dried pineapple, toasted coconut and macadamia nuts all wrapped in a creamy white chocolate—one bite and you'll be dancing the hula.
Switch up the recipe challenge
What's the difference between Candy Coating and Real Chocolate?
The main difference between candy coating and real chocolate is cocoa butter. Real chocolate contains cocoa butter, while candy coating contains other natural oils such as palm kernel oil. Real chocolate requires tempering, candy coating may be melted and allowed set, it's that easy. TEMPERING: Heating and cooling chocolate to stabilize it for making candies.
What I like to use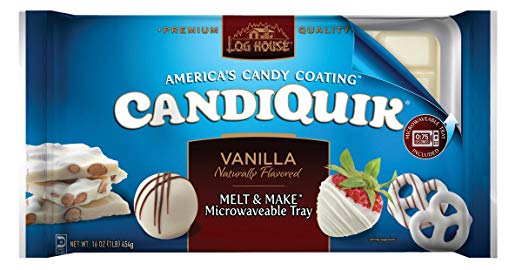 How to make Tropical White Chocolate Bark
Line a large baking sheet (10×13) with foil.
Melt chocolate in microwave, 1 minute, stir and an additional 45 seconds
Stir in ½ cup crushed lemon drop candies.
Spread on prepared baking sheet.
Sprinkle on remaining lemon drop candy and almonds.
Press lightly into bark.
Chill in the refrigerator until (about 30 minutes) or at room temperature several hours.
Peel off foil and break or cut candy into pieces.
Creative ways to package your Tropical White Chocolate Bark and Holiday party favors
How to store Tropical White Chocolate Bark ahead.
Prepare as directed
Layer bark between sheets of wax paper in an airtight container
Store in the refrigerator up to 2 weeks
Label a freeze up to 3 months
Serve at room temperature
MORE HOLIDAY CANDY RECIPES
Tropical White Chocolate Bark
A melt in your mouth candy bark that is loaded with all the flavors of the tropics.
Ingredients
1 pound vanilla-flavor candy coating
6 ounces white baking chocolate, coarsely chopped
1 cup macadamia nuts, chopped
¾ cup toasted shredded coconut
6 ounces dried pineapple
1 teaspoon lemon or lime zest
Instructions
Line a baking sheet (10 x 13) with foil; set aside. Add chopped white chocolate on top of the vanilla candy coating. Heat (in the microwave) 1 minute, stir and heat an additional 45 seconds. Stir until smooth. In a medium bowl combine the nuts, coconut, pineapple and zest. Stir half of the mixture into the melted candy. Spread evenly to the edges. Sprinkle with the remaining nut mixture. Press lightly into the bark. Place in the refrigerator 30 minutes or until firm OR leave on the counter to come to room temperature for several hours. Use the foil to lift bark out of the pan. Carefully peel off foil and break into pieces.
NEVER MISS A POST