Stuffed Zucchini
| Hollowed out zucchini filled with chicken, mushrooms, carrots and more great ingredients to make this the best light summer dish!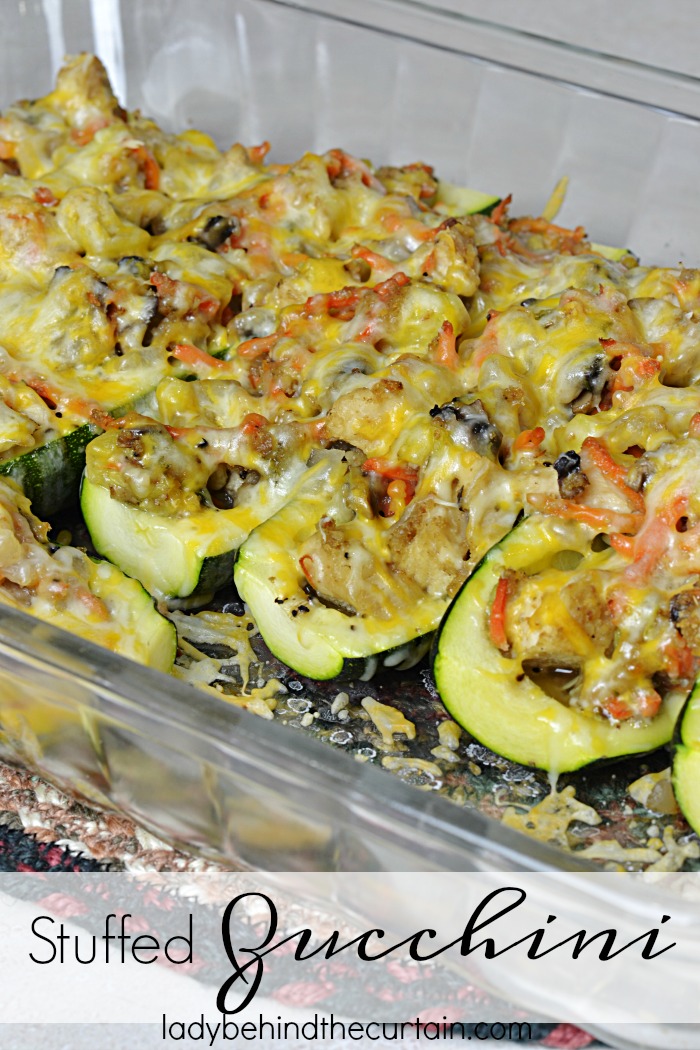 With our garden overflowing with zucchini we can never have enough recipes to use my families favorite summer vegetable.  It's healthy too!  The addition of bread crumbs and fresh herbs really gives this stuffed zucchini dish great flavor.  Also serve some LIGHT ORANGE CREAM POP CUPCAKES.
For even more great Zucchini recipe ideas follow my Zucchini Board on Pinterest.
Stuffed Zucchini
Total Time:
1 hour
17 minutes
Ingredients
4 medium zucchini
1 teaspoon salt
1/4 teaspoon pepper
1 tablespoon olive oil
1 cup mushrooms, chopped
1/2 cup onion, chopped
1 clove of garlic, minced
1 celery stalk, chopped
1/2 cup shredded carrots
1 cup chicken, cooked and chopped
1 teaspoon salt
1/4 teaspoon pepper
1 tablespoon fresh thyme, chopped
1/2 cup bread crumbs
1/2 cup shredded light cheese
Instructions
Preheat oven to 350 degrees.
Cut zucchini in half length wise.
Use a paring knife and score around the zucchini leaving a 1/4-inch.
Use a melon baller to scoop out the meat of the zucchini.
Place in a 9x13-inch baking dish.
Sprinkle with 1 teaspoon salt and 1/4 teaspoon of pepper.
Set aside.
Chop and place zucchini meat in a large skillet along with the mushrooms, onion, garlic, celery and carrots
Add oil and sauté until tender.
Add chicken, 1 teaspoon salt ,1/4 teaspoon pepper and thyme.
Cook on medium for 1-2 minutes stirring.
Add bread crumbs.
Stir to combine.
Fill prepared zucchini halves.
Cover casserole dish with foil.
Bake 45 minutes or until fork tender.
Sprinkle with shredded cheese and bake an additional 2-3 minutes or until cheese is melted.
MORE ZUCCHINI RECIPES
ZUCCHINI BURGERS  2. HASH BROWN QUICHE 3. SAUCY ZUCCHINI LASAGNA