Mini Eggnog Cheesecakes with a Rum Caramel Drizzle
Mini Eggnog Cheesecakes with a Rum Caramel Drizzle. Transform your favorite Christmas Party Drink into the perfect little bite of creamy eggnog cheesecake with a wonderful dollop of rum caramel. It's like Christmas on a fork! Create a fun party atmosphere—instead of serving a full size cheesecake make mini cheesecakes.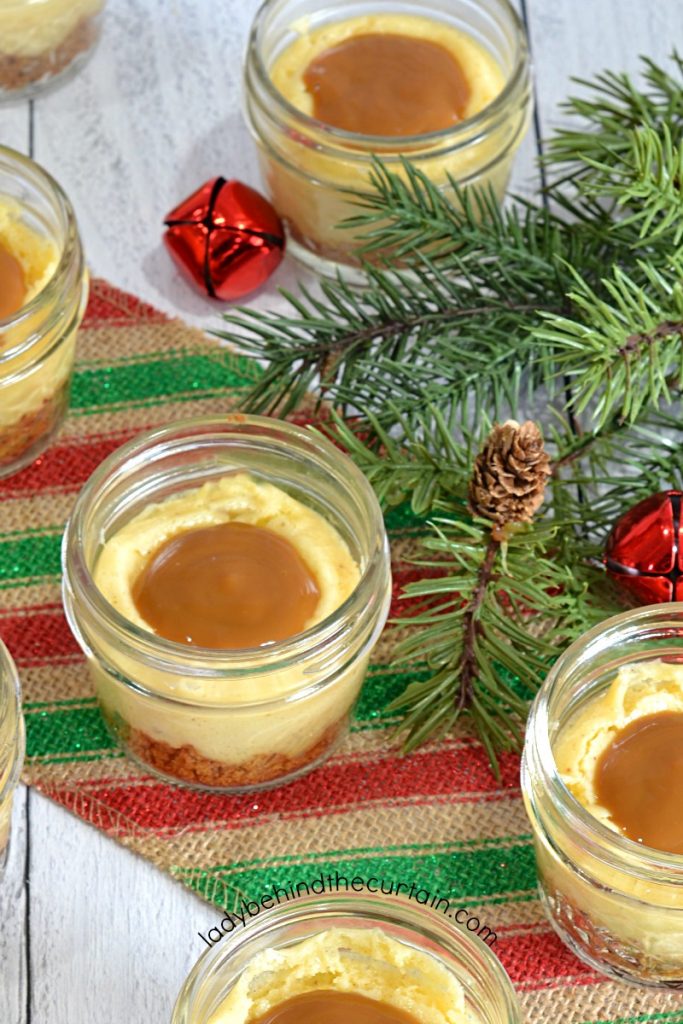 How to make Mini Eggnog Cheesecakes with a Rum Caramel Drizzle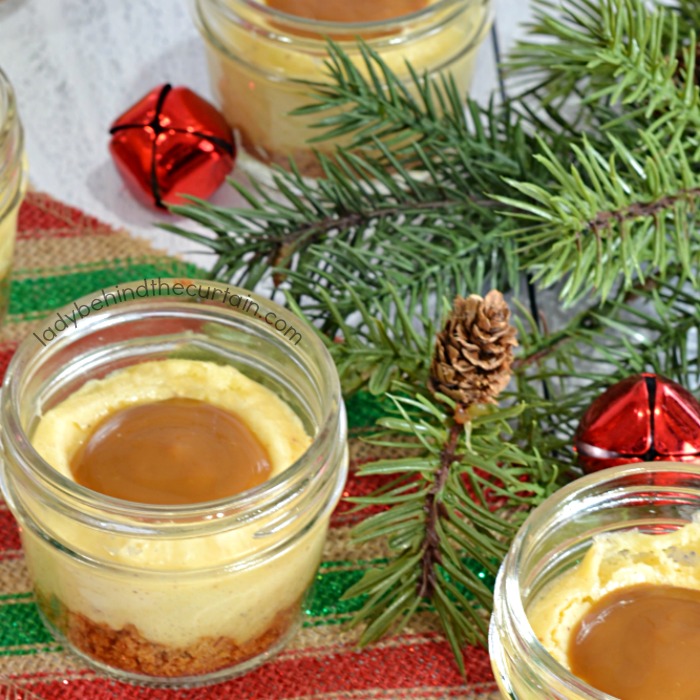 The Crust
This super simple traditional cheesecake crust is made with graham cracker crumbs, sugar, nutmeg and butter. Press ONE tablespoon of the mixture into each 4 ounce jar. DO NOT BAKE
The Filling
It's all about the creamy yummy filling! Whip the cream cheese until creamy, add the sugar and cornstarch, mix. Add the eggs one at a time until well combined, continue mixing and add the vanilla, nutmeg and salt. Slowly add the eggnog. Pour ¼ cup of batter into each 4 ounce jar on top of the crust. Bake 30 minutes. NOTE: The batter will rise to the top of the jars but once cooled will sink back down into the jar.
The Rum Caramel Drizzle
ONLY TWO INGREDIENTS! You can't get any easier then that! For this delicious caramel all you need is a 13.4 ounce can of Dulce de Leche and ¼ cup of rum. Put it all together in a microwave safe bowl, whisk until combined, and heat in 15 second increments stirring between each (a total of about 45 seconds). Spoon 1 tablespoon on each baked and cooled mini cheesecake. PERFECTION!
Can these Mini Eggnog Cheesecake with a Rum Caramel Drizzle be Frozen?
I am happy to announce that YES! THIS CHEESECAKE CAN BE FROZEN!
HOW TO FREEZE A FULL SIZE CHEESECAKE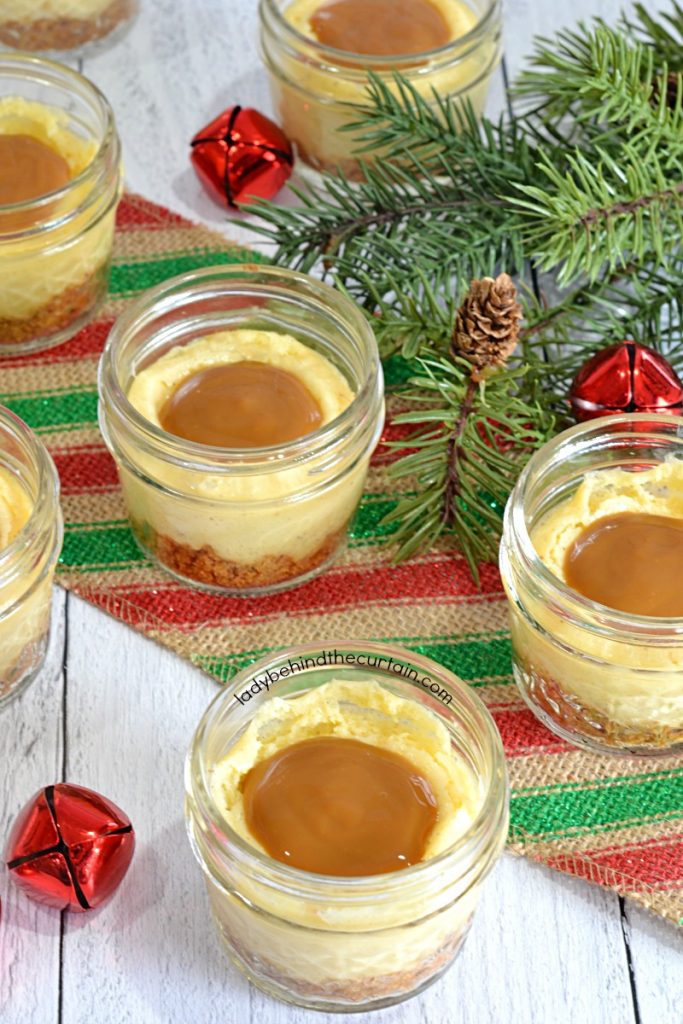 To use the bottom of springform pan: Once the cheesecake is completely cooled and has been in the refrigerator (in the pan) for at least 4 hours preferably overnight. Release the outer rim of the pan, leaving the cheesecake sitting on the bottom of the pan. Wrap the cheesecake with several layers of plastic wrap and a layer of foil.
To use a cardboard bottom: Once the cheesecake has been refrigerated and if completely cooled and firm, use a knife to separate the cheesecake from the pan bottom. Slice it onto a foil wrapped piece of heavy hardboard. Then wrap with several layers of plastic wrap and a layer of foil. (This method scares me)
For a cheesecake with fruit topping: ALWAYS freeze cheesecake WITHOUT the topping. Add the topping before serving
Always thaw a cheesecake overnight in the refrigerator: When partially thawed, transfer if from the cardboard or springform bottom to a serving plate.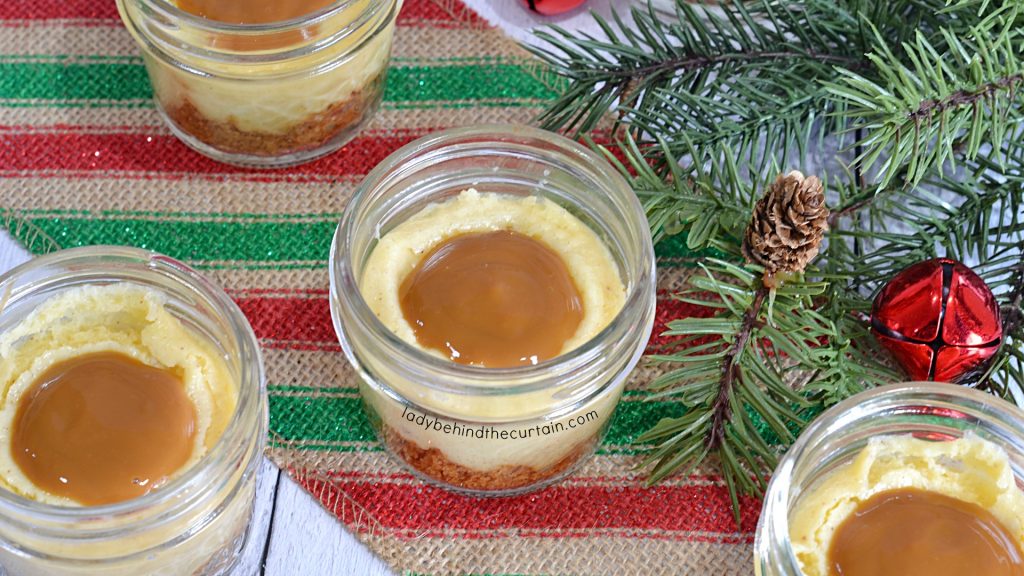 MORE MINI CHEESECAKE RECIPES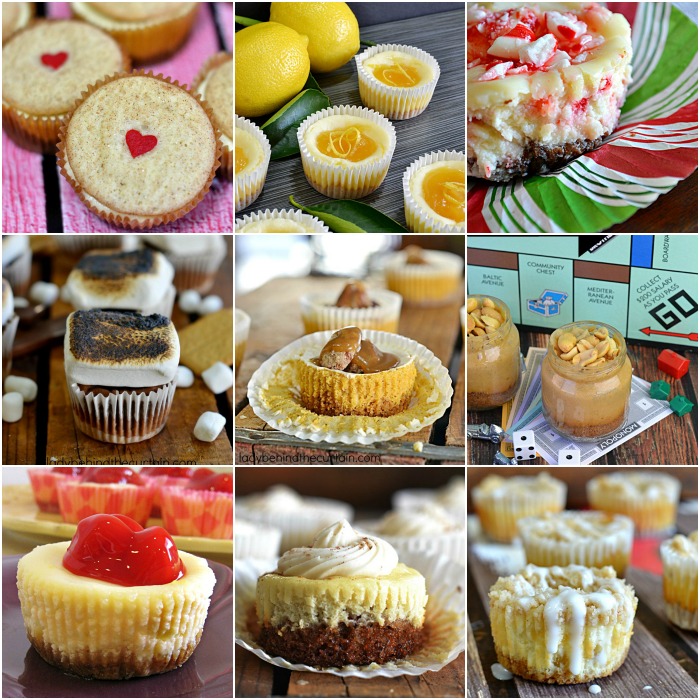 How to Slice Cheesecake (for future use)
Before slicing hold your knife under hot water—this makes slicing a cheesecake a lot easier.
TOP 10 CHEESECAKE RECIPES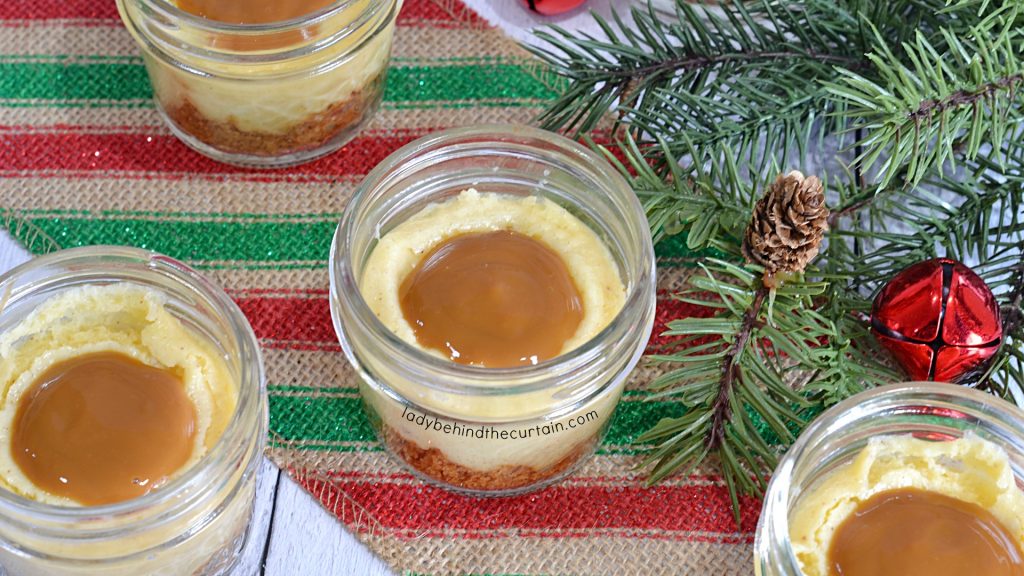 NEVER MISS A POST