These Korean Beef Pockets are completely awesome!  Perfect to serve as an appetizer, at a game day party or add a salad and serve as a main dish.  Full of flavorful tender meat with a hint of ginger and soy.  The addition of smashed baked sweet potato really adds a hint of sweetness as well.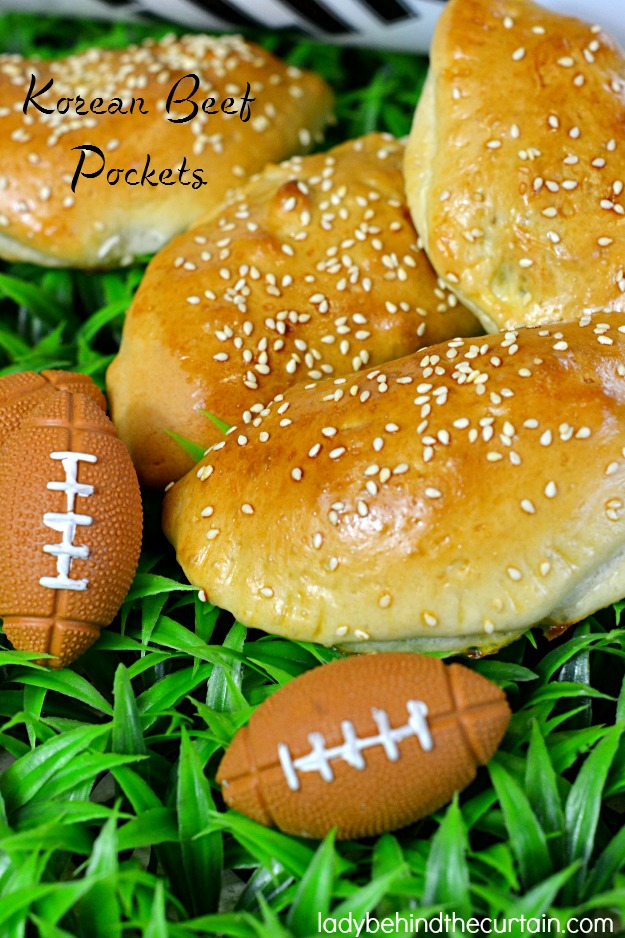 Instead of making my own dough I used Rhodes yeast dinner rolls!  Roll each dinner roll into a 5-inch circle.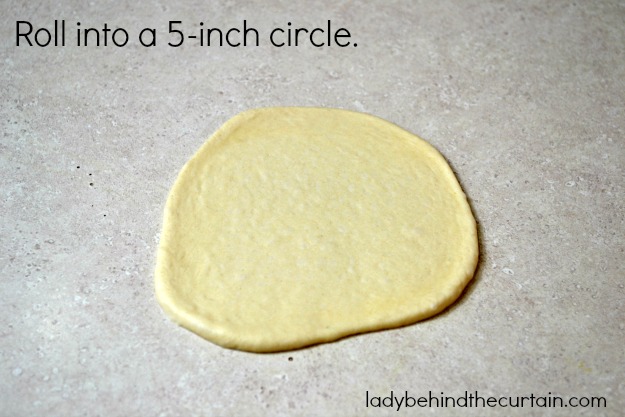 Add filling, pinch two opposite sides together, hold like a taco and pinch closed.
Prick with fork, brush on egg wash and sprinkle with sesame seeds.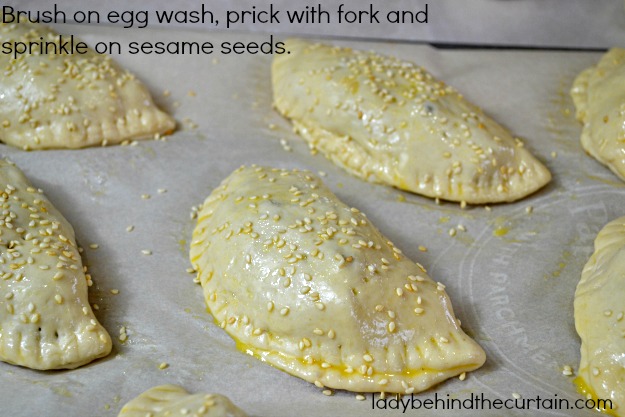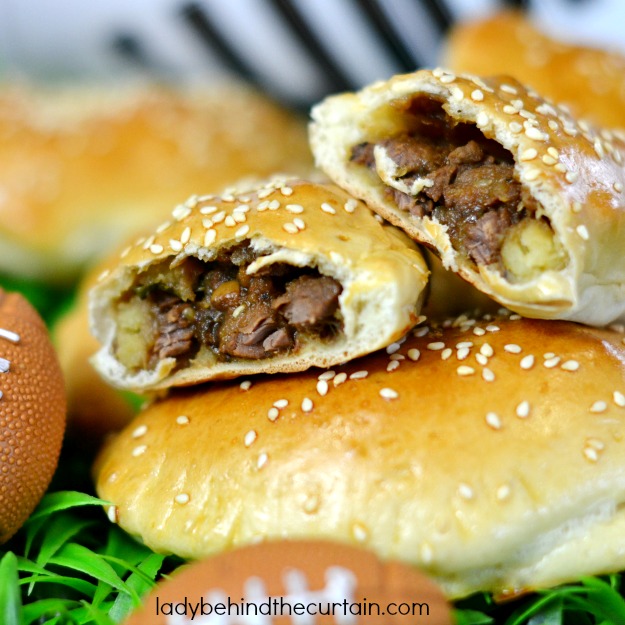 Don't forget to pin this to your game day, appetizer or Korean food boards.  For more game day recipes follow my GAME DAY board.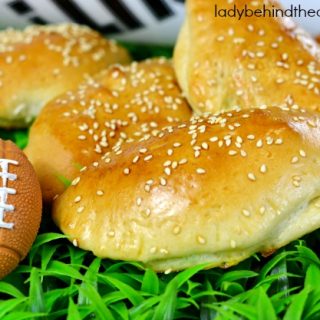 Korean Beef Pockets
Ingredients
13 Rhodes dinner rolls, thawed
For the Korean Beef and Marinade:
1 pound beef top sirloin
1/2 cup Fuji apple, chopped
1/4 cup green onions, chopped
1/4 cup lite soy sauce
6 cloves garlic, chopped
2 tablespoons sugar
1 tablespoon toasted sesame oil
1 tablespoon rice vinegar
2 teaspoons fresh ginger, grated
1 teaspoon sesame seeds
1 teaspoon crushed red pepper
1/4 teaspoon salt
1/4 teaspoon black pepper
For the Korean Beef Pockets:
1 cup mashed cooked sweet potato
reserved marinade
2 teaspoons all-purpose flour
2 tablespoons fresh cilantro, chopped
1 egg
1 tablespoon water
Garnish:
Instructions
Place frozen dinner rolls on a baking sheet lined with wax paper, cover with a towel to thaw (about 1 hour).
For the Sweet Potato:
Bake sweet potato in a 400 degree oven for 1 hour or until fork tender.
Peel, place in a bowl, use a fork and smash.
Set aside for filling.
For the Korean Beef and Marinade:
Cut beef into thin slices (about 1/4-inch).
Place in a zip top bag along with the remaining marinade ingredients.
Marinade in the refrigerator for 4 to 8 hours.
Drain beef, REVERSE MARINADE.
In a large skillet cook meat in 1 tablespoon olive oil just until pink in the center.
Chop into bite size pieces.
In the same skillet that was used for the beef, sprinkle the flour over the fat, whisk and cook until the flour is brown, add reserved marinade, bring to a boil and simmer until thickened.
Add the beef, stir in the cilantro and mashed sweet potato.
Set aside.
For the Korean Beef Pockets:
Preheat oven to 400 degrees.
Line a cookie sheet with parchment paper.
Roll each dinner roll (I only did one at a time) into a 5-inch circle.
Add 1/4 of the filling into the center of the circle.
Bring up the opposite sides, pinch together, hold like a taco and continue pinching around the edges.
Place on the prepared cookie sheet.
Crimp edges with a fork.
Whisk together the egg and water.
Brush egg wash on each pocket, prick air vents with a fork and sprinkle with sesame seeds.
Bake for 15 to 20 minutes or until golden.
MORE GAME DAY RECIPES
1. ITALIAN CIABATTA SANDWICH  2. BROWNIES WITH PEANUT BUTTER FROSTING  3. CHEESY ROASTED GARLIC POTATO CROQUETTES