Quick Cinnamon Roll Muffins with Brown Butter Icing
Quick Cinnamon Roll Muffins with Brown Butter Icing |  When time is short and you're craving a big hot cinnamon roll you can make these Quick Cinnamon Roll Muffins with Brown Butter Icing!  These super size muffins make the perfect Christmas morning treat and require no yeast!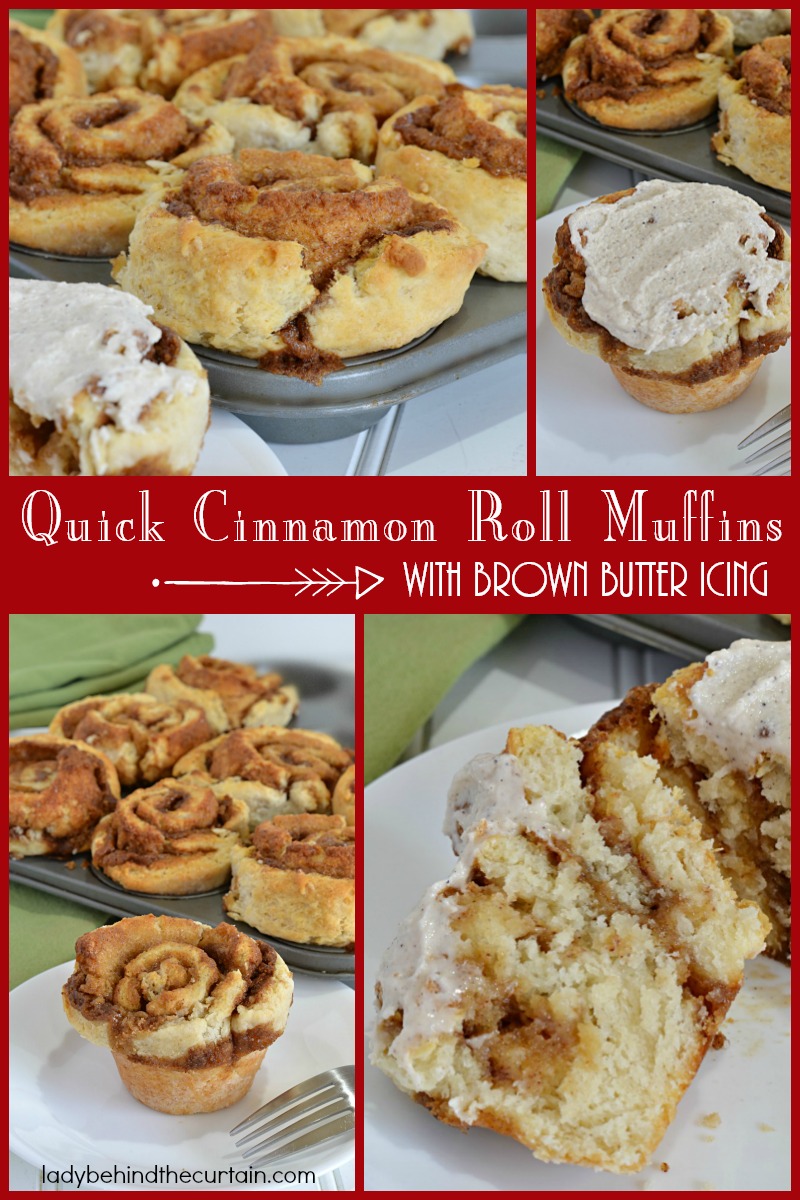 They can be made days or even weeks before they will be served.  Same with the brown butter!  If you choose to freeze them I would recommend freezing them already baked but if you would like to freeze them raw I would recommend freezing them in the muffin tin.  Just set them out of the freezer the night before (if already baked) or place them in the refrigerator to thaw (if raw).  You can also make the icing the night before.  Dazzle your holiday guests with a treat they will talk about for years and request over and over.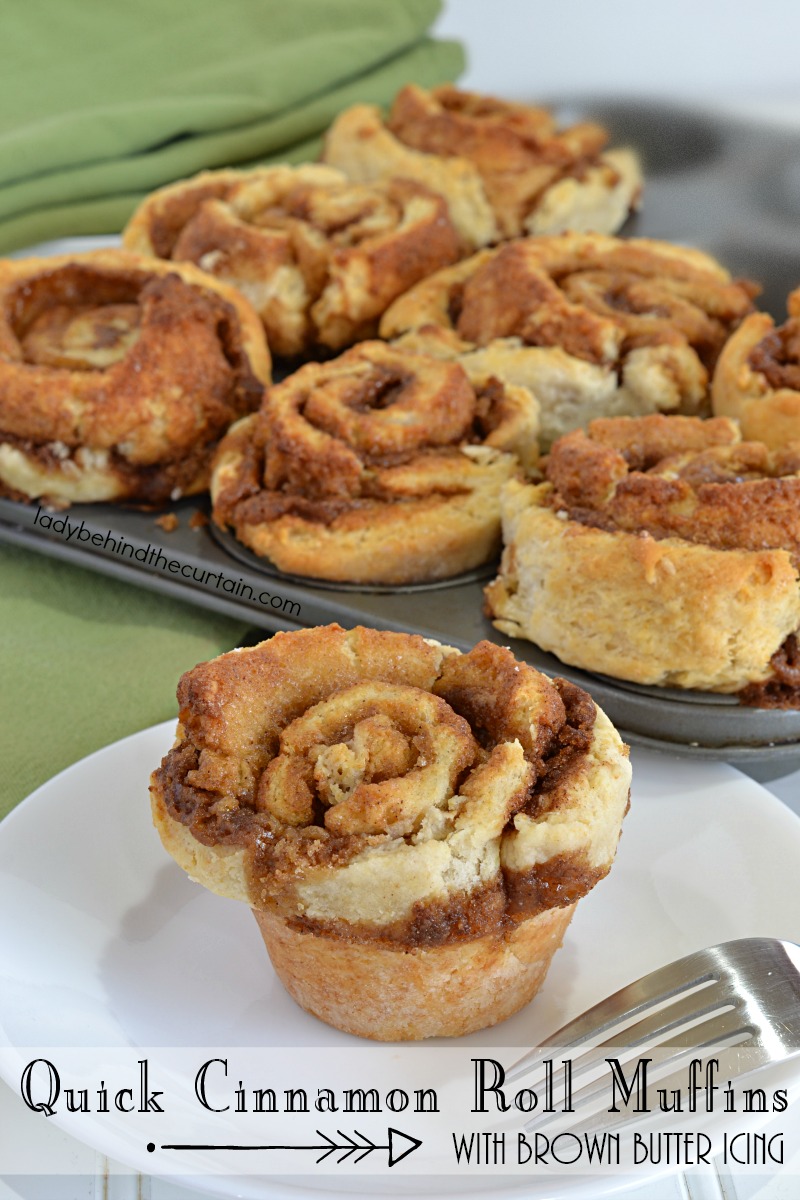 These muffins are delicious on their own.  Serve some with the brown butter icing and some without.  Or….simply serve the brown butter icing on the side and let your guests dress their own cinnamon roll muffin!  That way everyone is happy.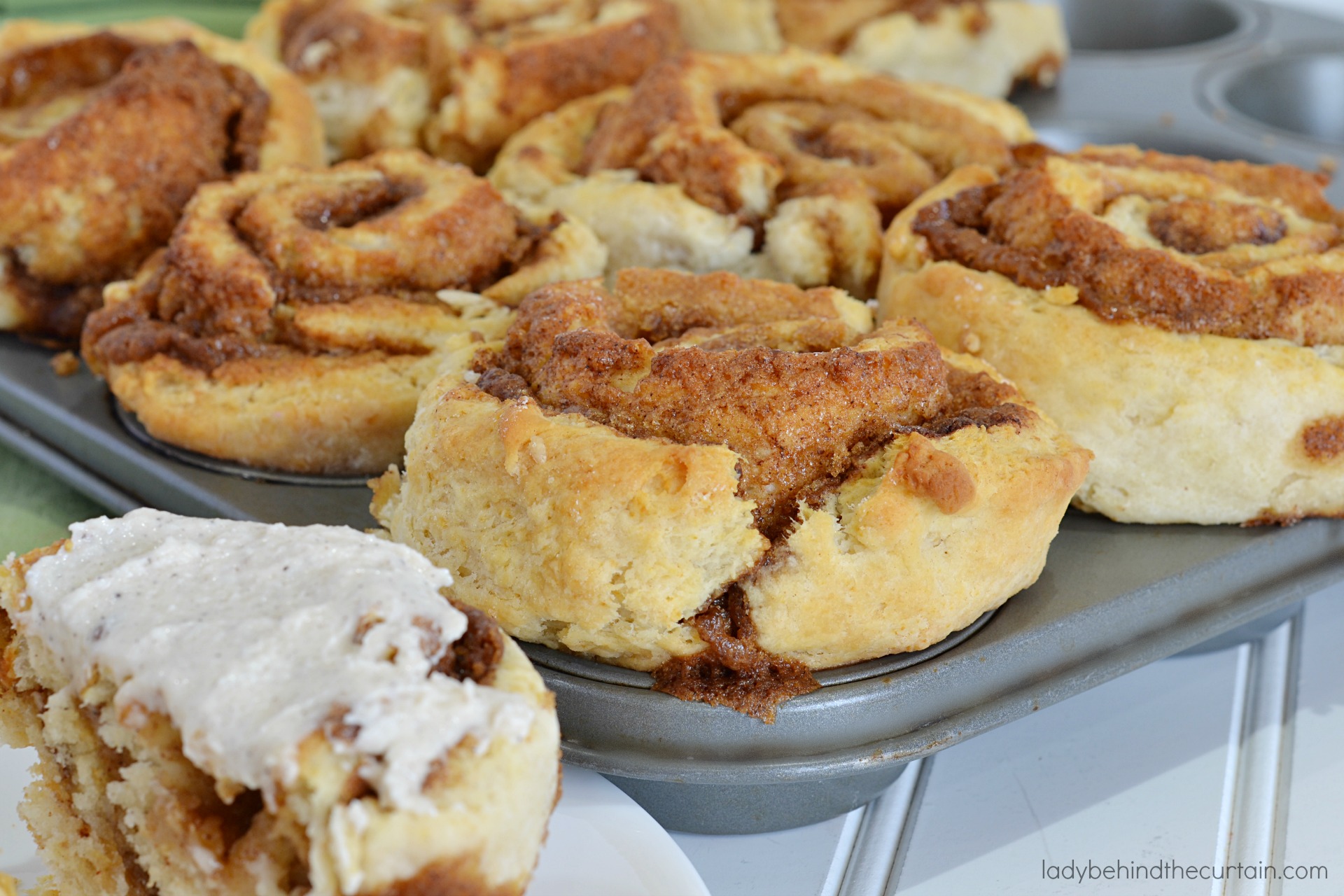 Those that like a sweeter cinnamon roll can add a smear of brown butter icing and those that don't can leave theirs plain.  Add bacon, sausage, and scrambled eggs for a complete breakfast buffet!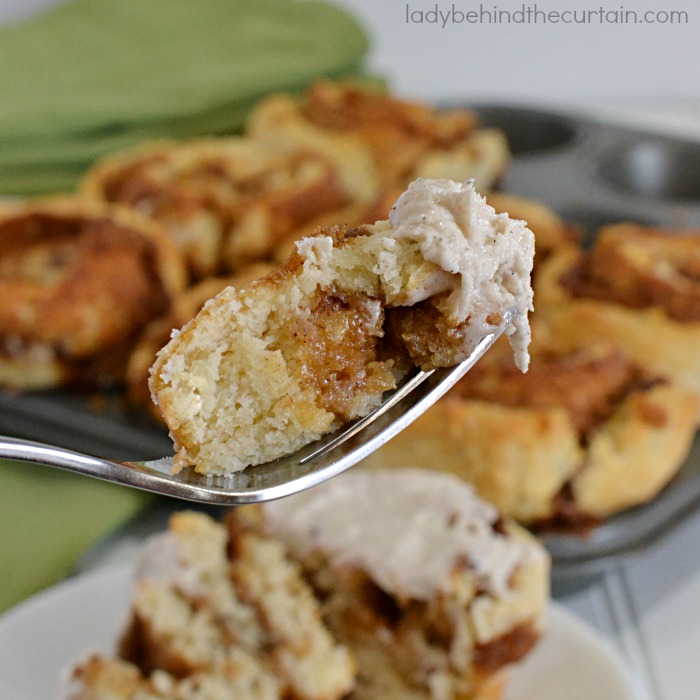 Brown Butter is when butter is boiled enough to turn brown and has a nutty flavor.  It's AMAZING!  Click here to learn how easy it is to make brown butter—->>>>HOW TO MAKE BROWN BUTTER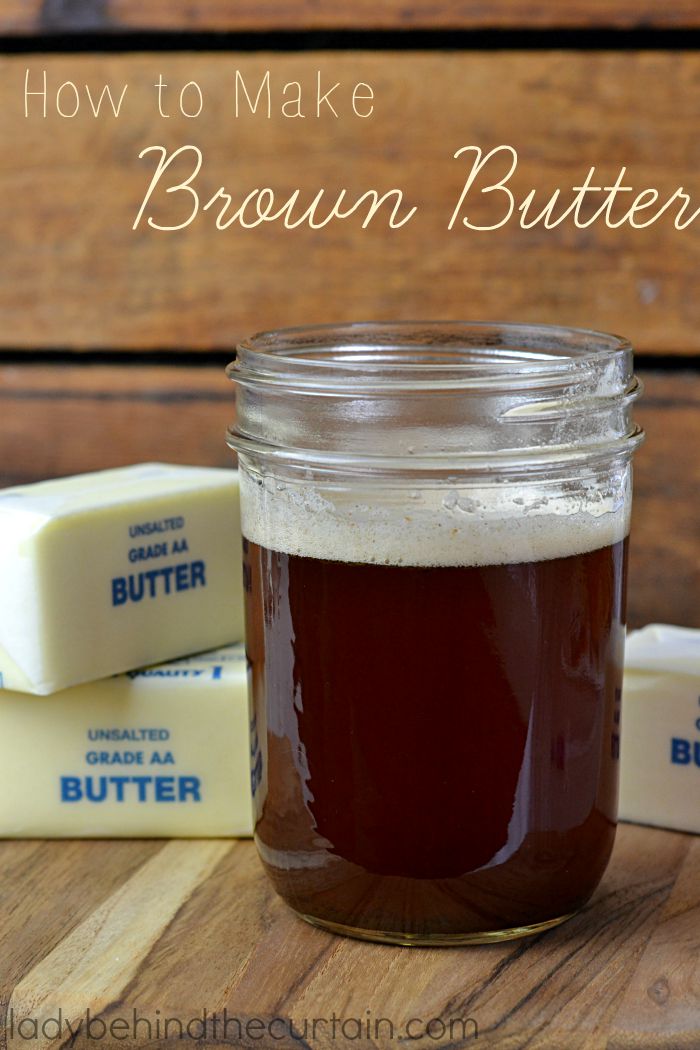 BROWN BUTTER ICING! ♥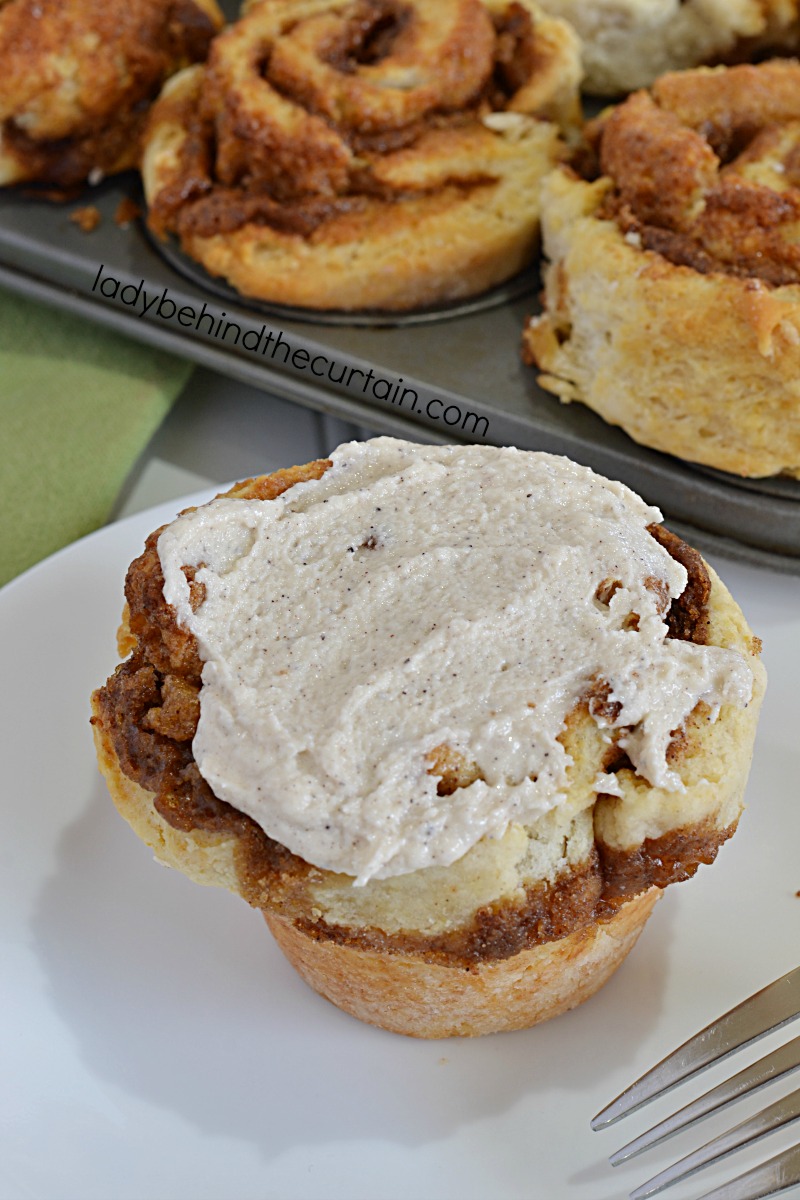 Yield: 8 Large Cinnamon Roll Muffins
Quick Cinnamon Roll Muffins with Brown Butter Icing
Ingredients
For the Dough
4 cups all-purpose flour
6 teaspoons baking powder
2 teaspoons salt
12 tablespoons shortening
1 1/2 cups milk
For the Filling
1/2 cup unsalted butter
1 cup light brown sugar, packed
2 teaspoons ground cinnamon
For the Brown Butter Icing
2 cups Confectioners' sugar
5 tablespoons brown butter (link below)
2 tablespoons milk
Instructions
For the Brown Butter:
Click here for the recipe and instructions---->>>>BROWN BUTTER RECIPE

For the Dough:
Preheat oven to 425°.  Spray eight regular size muffin cups with non stick cooking spray and set aside.
In a large bowl add the flour, baking powder and salt; whisk together.  Using a pastry blender add the shortening and cut into the flour until well incorporated; mix in milk with a large spoon.  On a well floured surface roll dough into a 16x16-inch rectangle.
For the Filling:
In a small saucepan add the butter and brown sugar.  Cook on medium until sugar and butter have been melted; add cinnamon and stir.  Pour butter mixture over rolled out dough.  Using an off set spatula spread the filling evenly to the edges.  Roll up to dough, pulling and squeezing to get a tight roll.  When the roll is finished push the roll back into a 16-inch roll and slice into 2-inch slices. Place each roll in prepared muffin cup.  Bake 20 minutes.
For the Brown Butter Icing:
Add sugar, brown butter and milk into a medium bowl. Stir or mix with a mixer until soft and combined.  Spread on muffins.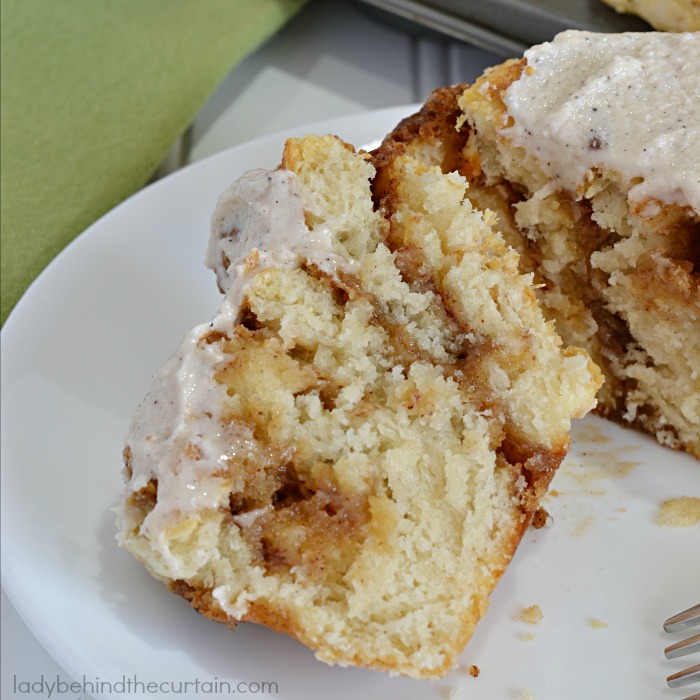 MORE BREAKFAST BUFFET RECIPES

BIRD IN A NEST TARTS  2. BAKED OATMEAL FILLED APPLES  3.  HASH BROWN QUICHE
NEVER MISS A POST!
Sign up for my newsletter and receive my recipes in your inbox. Easy to see anytime and saved for safe keeping. Click Here and sign up today! —->>>>CURTAIN CALL NEWSLETTER