Sweetheart Cinnamon Rolls
Sweetheart Cinnamon Rolls | Using store bought cinnamon rolls is all you need to create these fun festive Valentine's Day treats.  Have an office meeting coming up?  Treat the staff to these cinnamon rolls!  Who says cinnamon rolls are only for breakfast.  NOT ME!  I added them to my Valentine's Day Dessert Table!  They were a huge hit!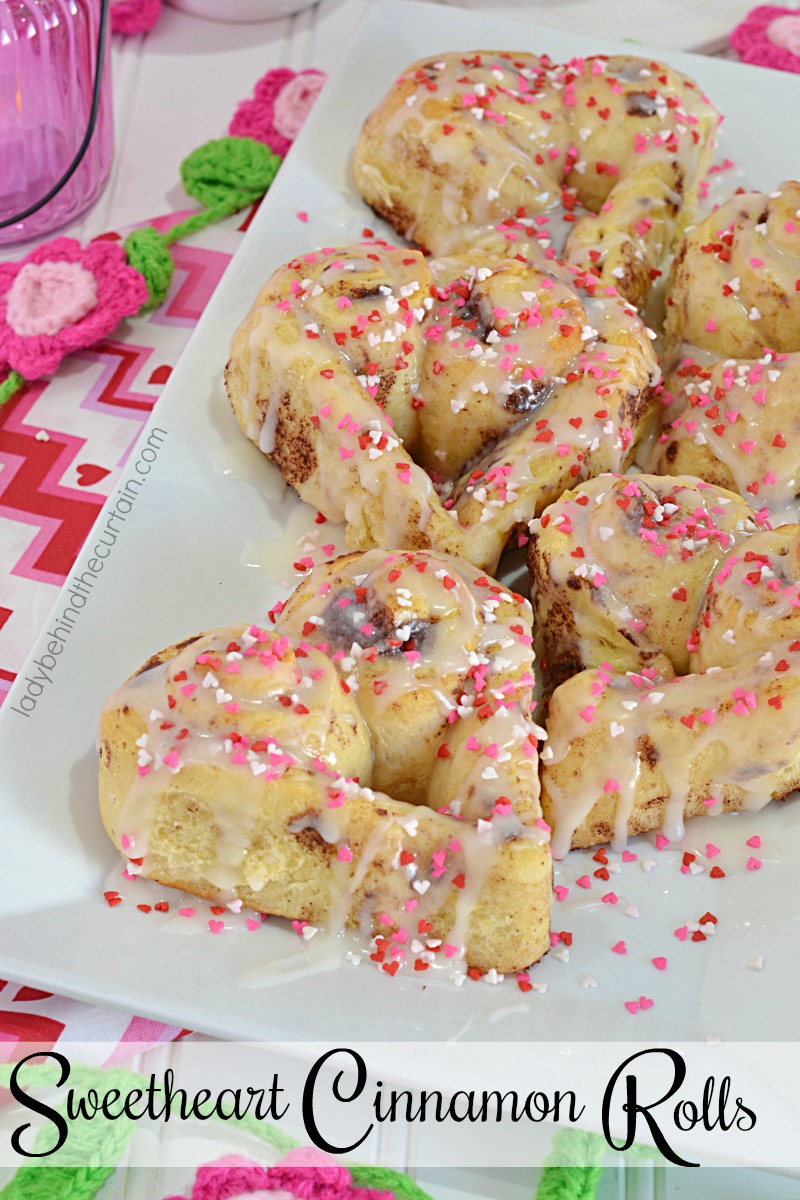 Please watch the below video to see how easy it really is to make these fun cinnamon rolls!
There's two things that will wake up the kids bacon and the scent of cinnamon rolls hot out of the oven.  In less then 30 minutes your loved ones can be enjoying a sweet treat.  Surprise your kids this Valentine's Day with a batch of heart shaped cinnamon rolls.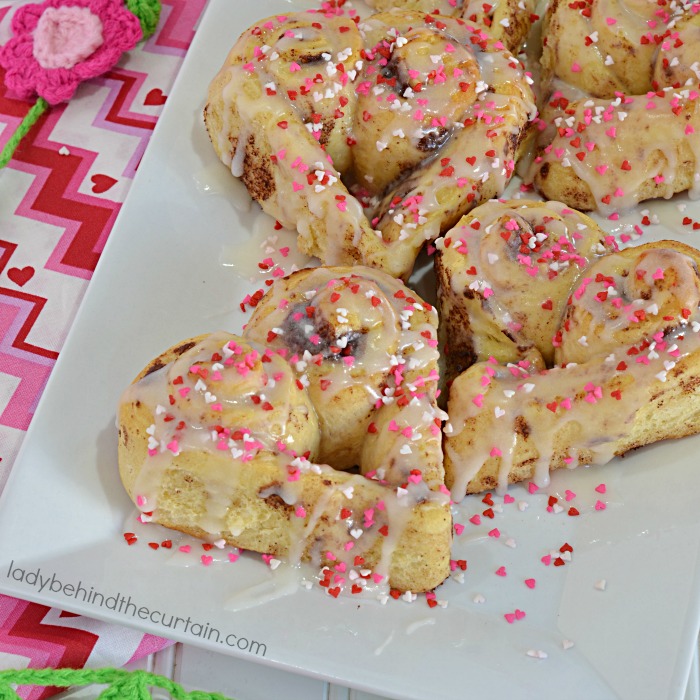 Use the type of cinnamon rolls that are rolled not cut outs.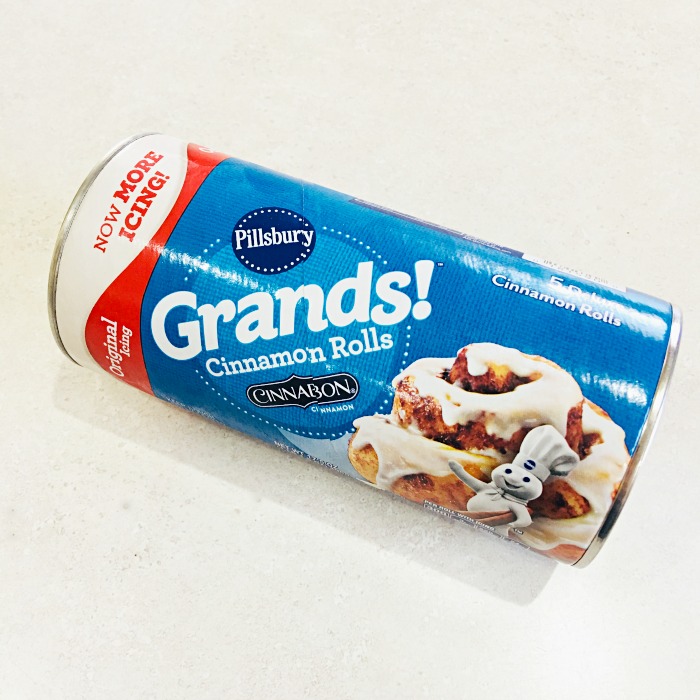 Carefully unwind (leave the end that was in the center wound).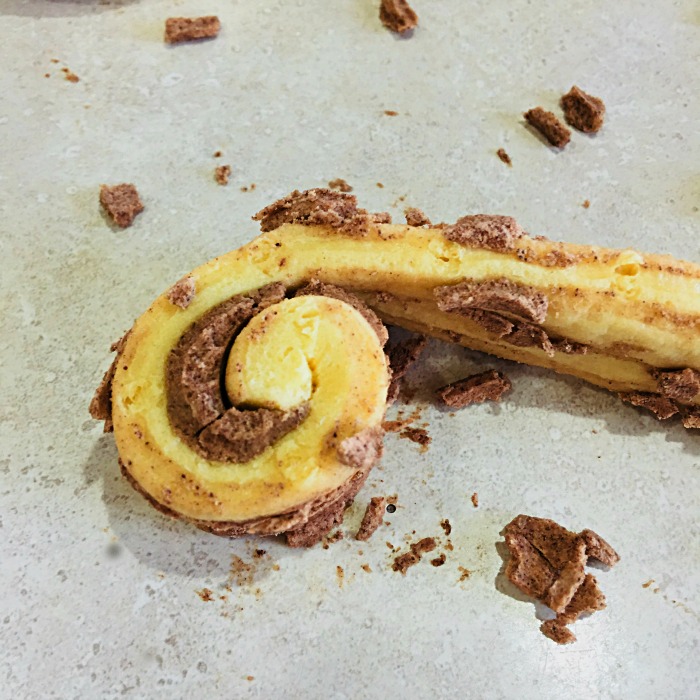 Bring the two ends together and pinch the center to form a heart.  Place in a baking pan.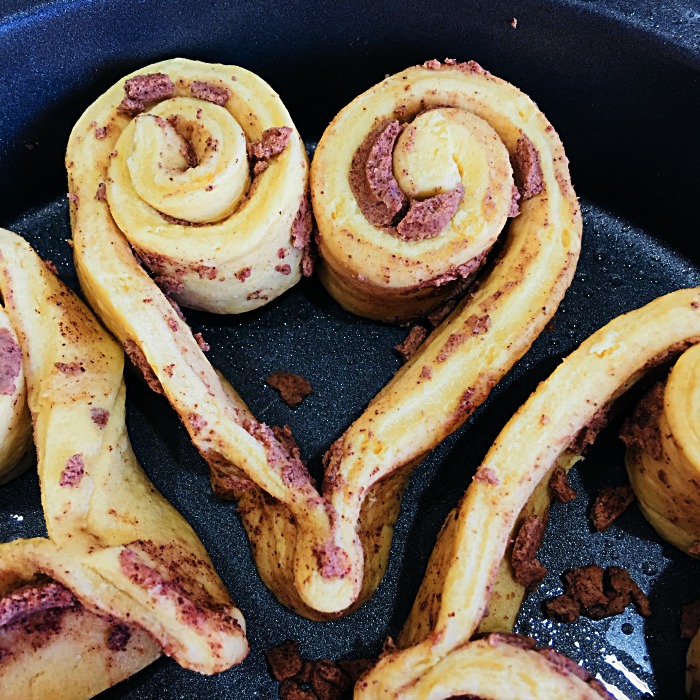 Sweetheart Cinnamon Rolls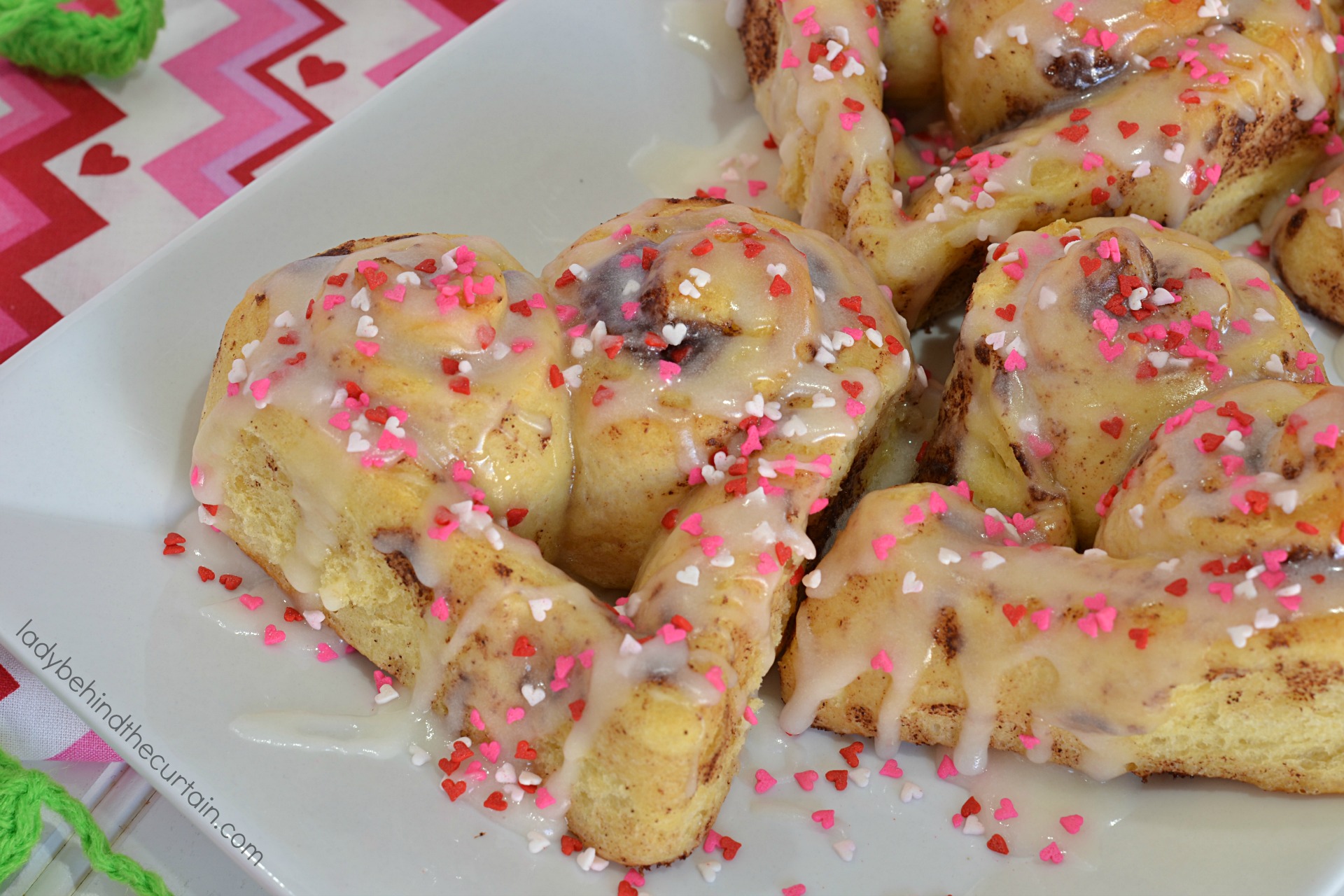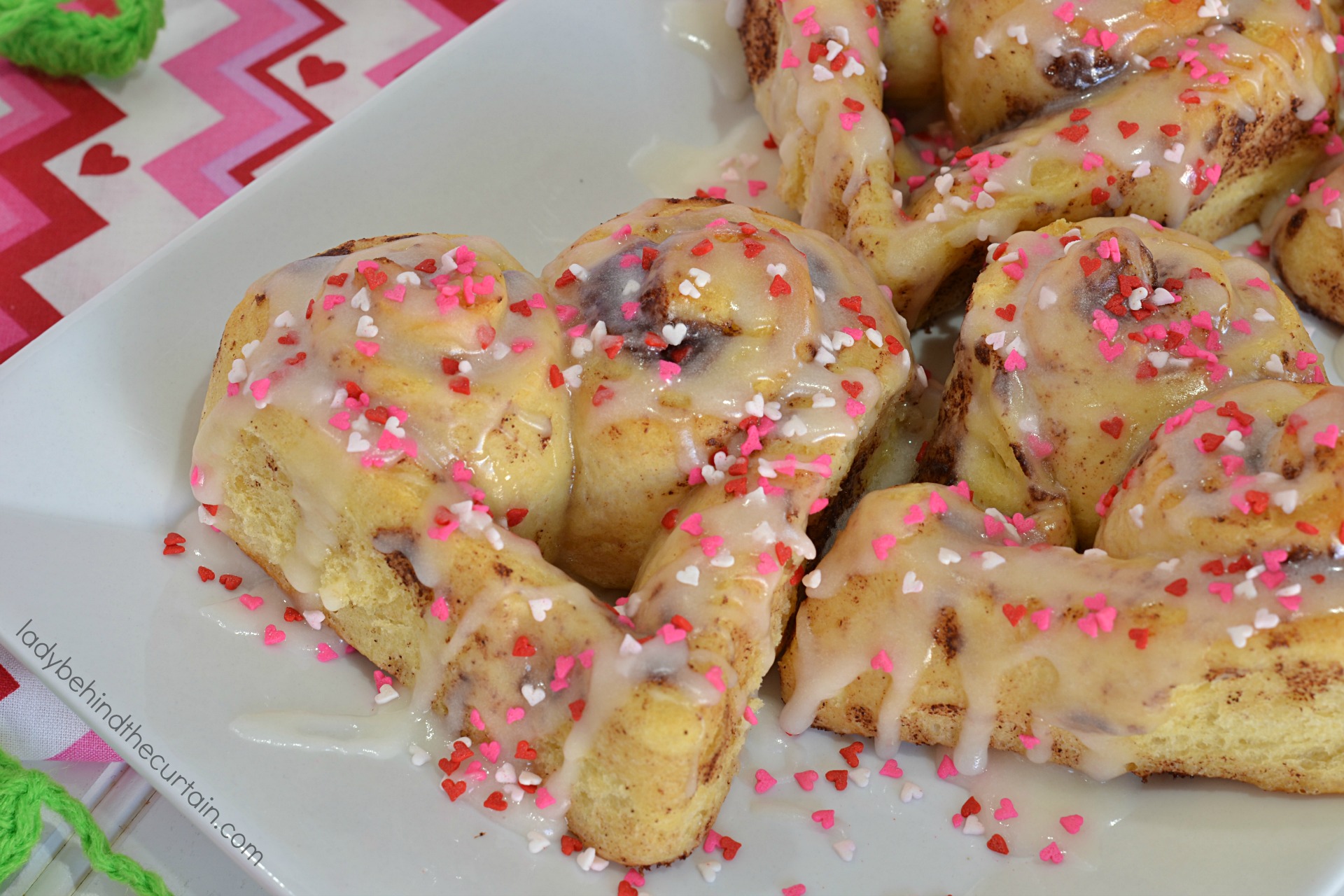 Ingredients
1

(13 ounce) refrigerated Grands cinnamon rolls with icing

Optional: sprinkles
Instructions
Preheat oven to 350°. Spray a 9-inch round cake pan with non stick cooking spray. Carefully unwind each roll into a long strip of dough, leaving center coiled. Coil the unrolled end of each strip in toward center, making two equal coils. Pull middle of strip down to make a point, forming a heart shape; pinch point. Place in pan, points toward center. Bake 13 to 15 minutes or until golden brown. Cool 5 minutes before removing to cooling rack. Spread or drizzle over very warm rolls. Optional: add sprinkles.
TIP: To make the icing easy to drizzle, take off the metal top and microwave 15 seconds in the plastic tub the icing came in.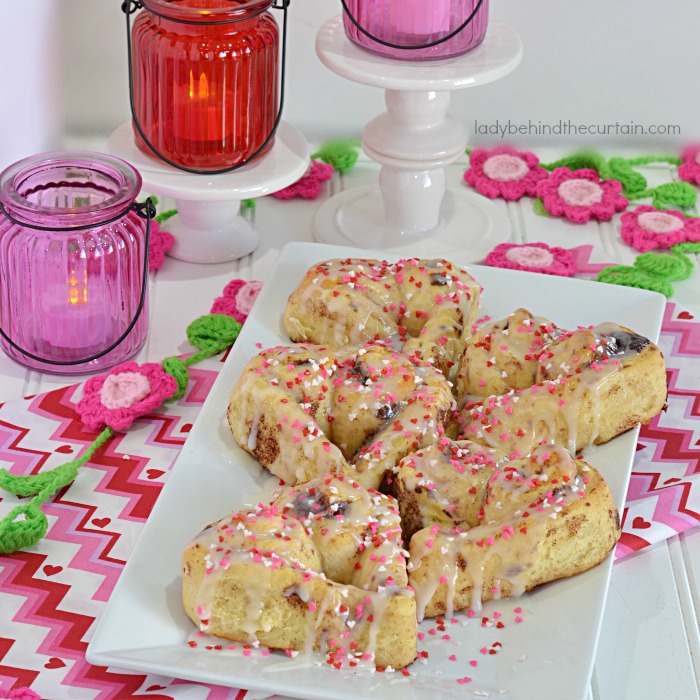 MORE EASY AS 1-2-3 TREAT IDEAS
INSTANT VALENTINE'S DAY DONUTS  2. 5 MINUTE MARSHMALLOW CANDY TREATS  3. DIY HEART SHAPED CANDIES
Click here to SEE HOW I USED THE SWEETHEART CINNAMON ROLLS ON MY VALENTINE'S DAY DESSERT TABLE BELOW!—->>>>"YOU'RE JUST MY TYPE" VALENTINE'S DAY DESSERT TABLE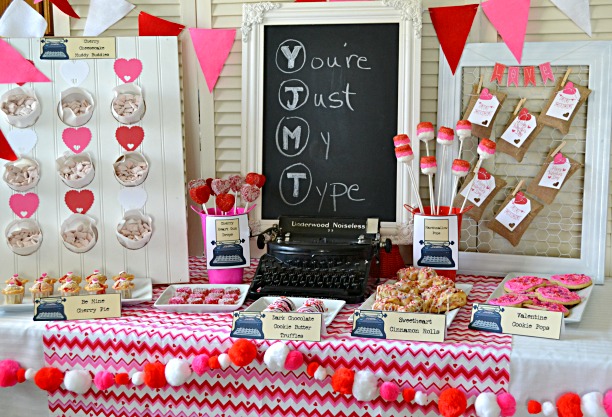 NEVER MISS A POST!
Sign up for my newsletter and receive my recipes in your inbox. Easy to see anytime and saved for safe keeping. Click Here and sign up today! —->>>>CURTAIN CALL NEWSLETTER