Cinnamon Blueberry Crumble Muffins
In the ever so brilliant words of my granddaughter "seriously…seriously?"  YES, these Cinnamon Blueberry Crumble Muffins are seriously as good as they look.  Make a pan of these and freeze them to bake at another time.  Like Easter or Mother's Day.
Do you like gooey cinnamon rolls?  That's kind of a silly question because in my book that's the ONLY way to eat a cinnamon roll.  If the answer is YES!  Then these Cinnamon Blueberry Crumble Muffins are right up your alley.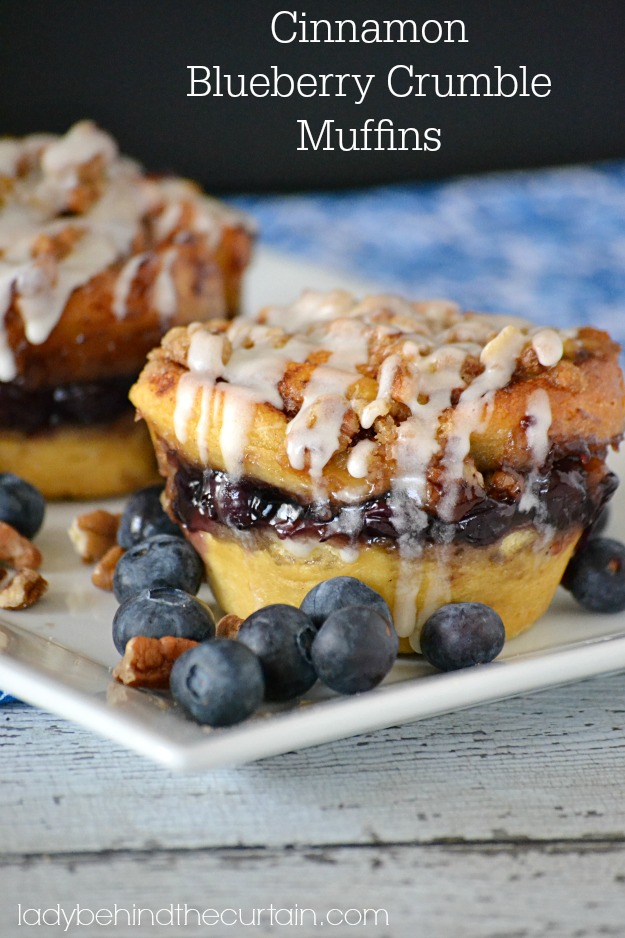 All you do is cut a Pillsbury Cinnamon Roll, add blueberry pie filling and some crumble and presto!  You have just re invented the cinnamon roll!
Store bought cinnamon roll are the best!  You can also make something fun for the kids like my MINI CINNAMON ROLL I bake in a ketchup cup or my UPSIDE DOWN CINNAMON APPLE COFFEE CAKE.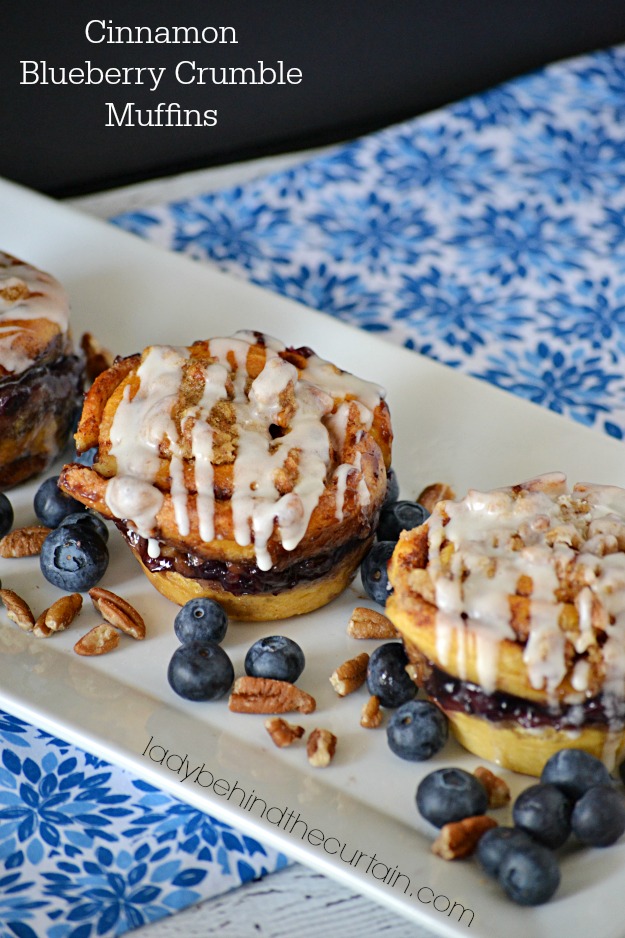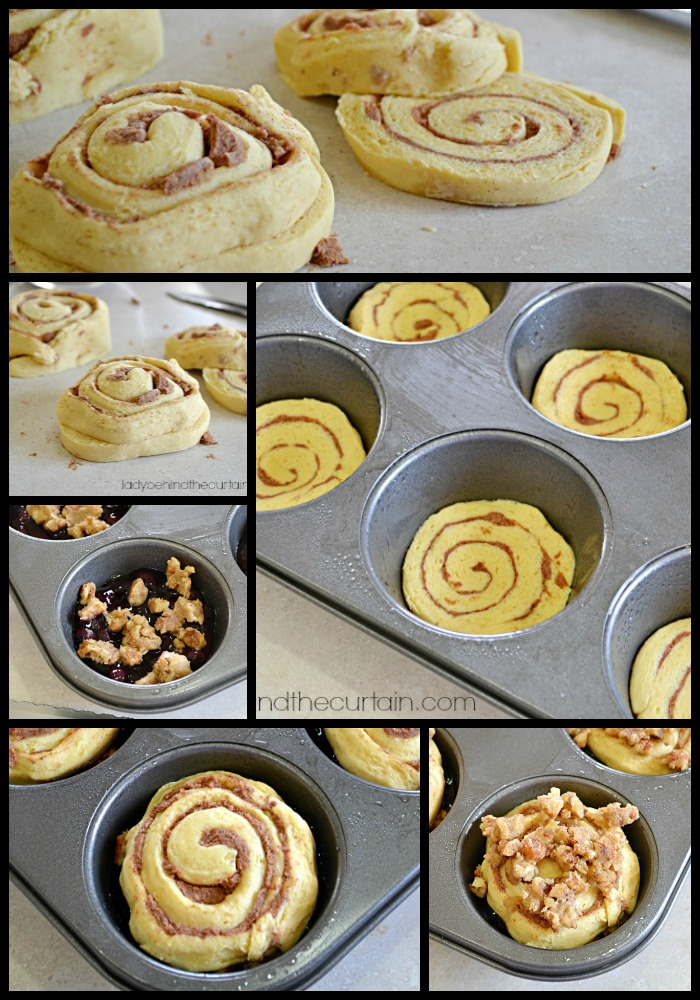 Create your own Recipe Box and save your favorite Lady Behind The Curtain recipes.  Make a Meal Plan with your favorite recipes and ZipList will automatically add the ingredients to a Shopping List.
Cinnamon Blueberry Crumble Muffins
Yield:
Makes 10 Cinnamon Muffins
These Semi Homemade Gooey Breakfast Treats start with a can of store bought cinnamon rolls and are transformed into something incredible!
Ingredients
2 (17.5 ounce) Pillsbury Grands cinnamon rolls (5 rolls each)
21 ounce blueberry pie filling
For the Crumble:
1/4 cup butter, cold
1/2 cup all-purpose flour
1/2 cup light brown sugar
1 cup pecans, chopped
For the Icing Drizzle:
the can of icing with the cinnamon rolls
Instructions
For the Cinnamon Rolls:
Preheat oven to 350 degrees.
Generously spray a jumbo muffin tin with non stick cooking spray and set aside.
As gently as possible separate cinnamon rolls.
Using a serrated knife, cut each roll horizontally in half.
Place the bottom half of each roll into the prepared muffin tin.
Add 2 tablespoons of the pie filling.
Top with 1 tablespoon of crumble.
Place the top of the cinnamon roll on top of the pie filling and crumble, press top down.
Add another tablespoon of crumble.
Bake 25 minutes or until the top is golden brown.
Cool in the pan 10 minutes, run a knife or off set spatula around the edges to release the sides and continue cooling an additional 20 minutes.
Cool completely on wire rack.
Take the lid off the icing and microwave 5 to 7 seconds.
Drizzle on cooled rolls.
For the Crumble:
In a small bowl add the butter, flour, sugar and pecans.
Using your fingers blend the crumble together until well combined.