Roasted Chicken with Potatoes and Bacon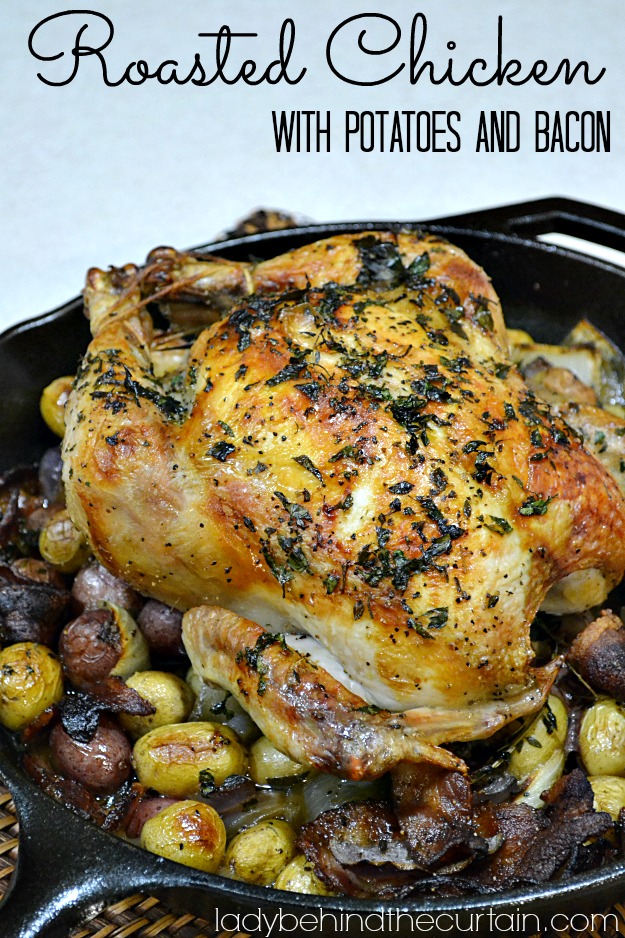 ROASTED CHICKEN WITH POTATOES AND BACON SKILLET DINNER!
This roasted chicken with potatoes and bacon is filled with herbs and onions.  The potatoes are nestled with more herbs, caramelized onions and bacon.  The roasted chicken is wonderfully juicy with a touch of herb flavor.
I love baking in my cast iron skillet.  Everything tastes better.  A delicious skillet dinner.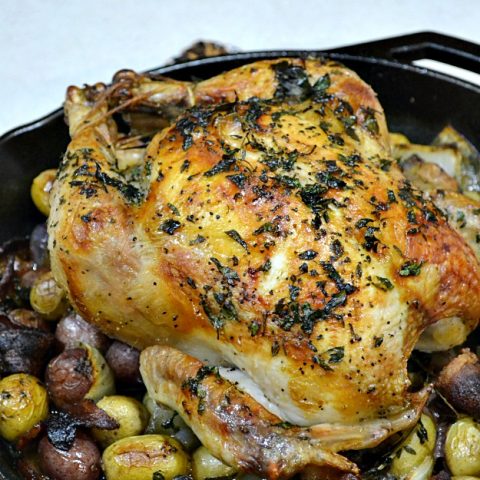 Roasted Chicken with Potatoes and Bacon
Total Time:
1 hour
30 minutes
Ingredients
1 - 3-1/2 to 4-pound whole chicken
salt and pepper
1 medium yellow onion, cut into chunks
1 medium red onion, cut into chunks
6 green onions, cut into 3-inch pieces
4 - fresh or dried bay leaves
6 thyme sprigs plus 1/2 tablespoon finely chopped
4 parsley sprigs plus 1/2 tablespoon finely chopped
6 strips of bacon cut in half, reserve drippings
1 tablespoon olive oil
3 large cloves of garlic, sliced
1-1/2 pounds of Pee Wee Medley Potatoes
1-1/2 cups chicken broth
2 tablespoons butter, melted
Instructions
For the Chicken:
Trim off any excess fat and pat dry with paper towels.
Generously season the chicken inside and out with 1 tablespoon salt and 1/2 teaspoon black pepper.
Stuff the cavity with the yellow, purple and green onions NOTE: Only use enough to fill save the rest for the potatoes.
Add 3 bay leaves, 3 thyme sprigs and 4 parsley sprigs.
Tie the legs together with string.
Let rest at room temperature for 20 to 30 minutes.
Position a rack in the center of the oven and heat to 450 degrees.
For the Potatoes:
In a 12-inch cast iron skillet or oven proof skillet, cook bacon in oil over medium high heat until it begins to brown.
Leaving the bacon in the pan, spoon out and reserve all but 1 tablespoon fat.
Add the remaining onions, garlic, remaining bay leaf and thyme sprigs, and season lightly with salt and pepper.
Cook, stirring occasionally, until the onions are soft.
Add potatoes and lightly season with salt and pepper.
Mix to combine.
Pour the broth over the vegetables.
Pour 1 tablespoon of reserved fat into the cavity of the chicken.
Place chicken in the center of the skillet breast side up on top of the vegetables.
Pour the remaining bacon fat and melted butter over the top of the chicken. Sprinkle with chopped parsley and thyme.
Roast until an instant read thermometer inserted into the thicket part of the thigh registers 165 to 170 degrees, about 1 hour.
Cover chicken with foil and let rest for about 15 minutes.
Discard the thyme sprigs and bay leaf.
Serve from skillet.