Overnight Baked Apple Spice Donuts
Overnight Baked Apple Spice Donuts | A tender donut with shredded apple and apple pie spice, rolled in a sugar and cinnamon mixture.  How perfect are these donuts?  You can make the batter the night before and bake them first thing in the morning without having to make a mess!  These amazing morning treats are a cinch when you can make it ahead of time.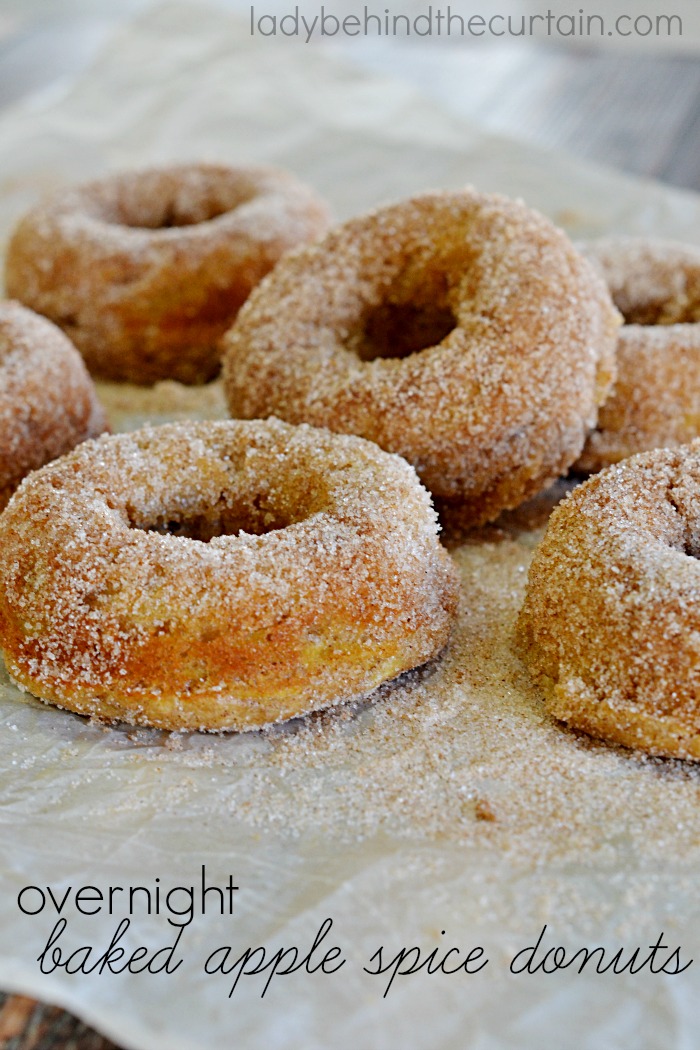 This recipe makes 8 regular size donuts.  You can also make them mini just adjust the baking time or if you don't have a donut pan make them into muffins!  Any shape you choose to make them they will be delicious!
Overnight Baked Apple Spice Donuts
Yield:
Makes 8 donuts OR 9 muffins
Ingredients
3/4 cup all-purpose flour
1/3 cup granulated sugar
1/4 cup wheat flour
1 teaspoon baking powder
1 teaspoon Apple Pie Spice
1/2 teaspoon salt
1/8 teaspoon baking soda
1/4 cup unsalted butter
1 large egg, slightly beaten
1/3 cup plain low-fat yogurt
2/3 cup shredded peeled apple (I used 1 medium Fuji)
6 tablespoons granulated sugar
1 teaspoon ground cinnamon
Instructions
Coat a donut pan with six indentations OR 9 muffin cups with non stick cooking spray.
In a medium bowl stir together the flour, sugar, wheat flour, baking powder, apple pie spice, salt, and baking soda.
With a pastry blender cut in the butter until mixture resembles fine crumbs.
In a small bowl combine the egg and yogurt.
Add egg mixture to the flour mixture.
NOTE: At this point the mixture is a little dry but the moisture from the apple takes care of that.
Stir in the shredded apple.
Spoon batter into a large zip top bag; snip the corner about 1/2-inch and pipe batter into the prepared donut pan or muffin cups.
Spray a piece of plastic wrap large enough to cover the pan with non stick cooking spray; cover batter coated side down.
Chill 2 to 24 hours.
Preheat oven to 350°.
Remove plastic wrap; bake 15 to 20 minutes or until a toothpick inserted into the donut or muffin comes out clean.
In a small bowl combine the 6 tablespoons of sugar and the 1 teaspoon of cinnamon.
As soon as donuts are cool enough to handle, dip into cinnamon sugar to coat.
Serve warm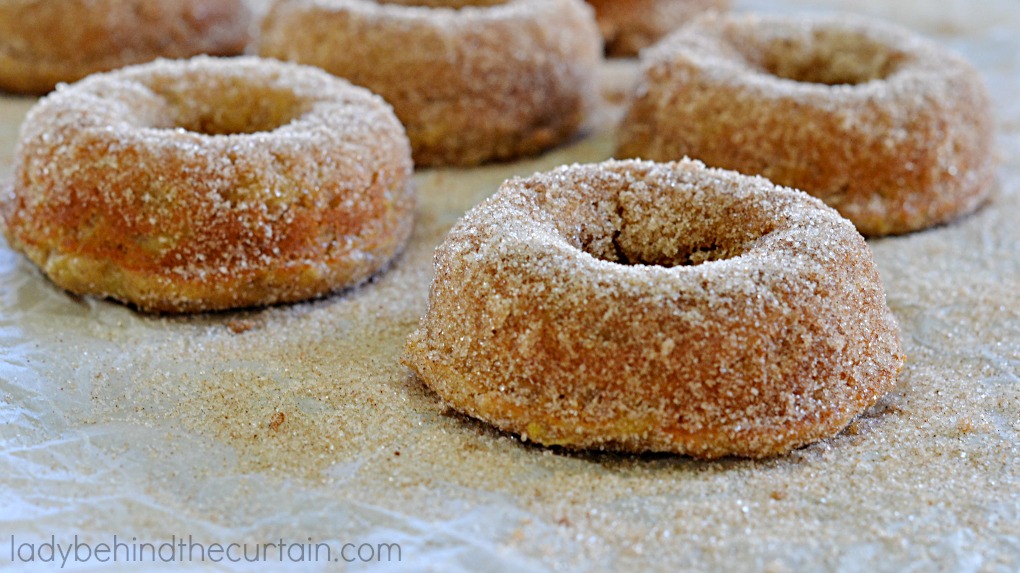 MORE DONUT RECIPES
STORE BOUGHT BISCUIT, CINNAMON ROLL AND CRESCENT ROLL DONUTS 2. BAKED LEMON BLUEBERRY DONUTS 3. APPLESAUCE DONUTS