Spicy Coffee Cake | The brown sugar and spices gives this cake a spicy caramel flavor while the addition of buttermilk keeps the cake moist.  Marrying these flavors together is magical.  This delicious coffee cake is perfect served for dessert with a nice cup of coffee.  But….my favorite way is to serve it at a breakfast brunch.  I love having at least one dessert option.  With just the right amount of sweetness for morning time.  Don't stop with a brunch or dinner party this Spicy Coffee Cake is also great at a potluck!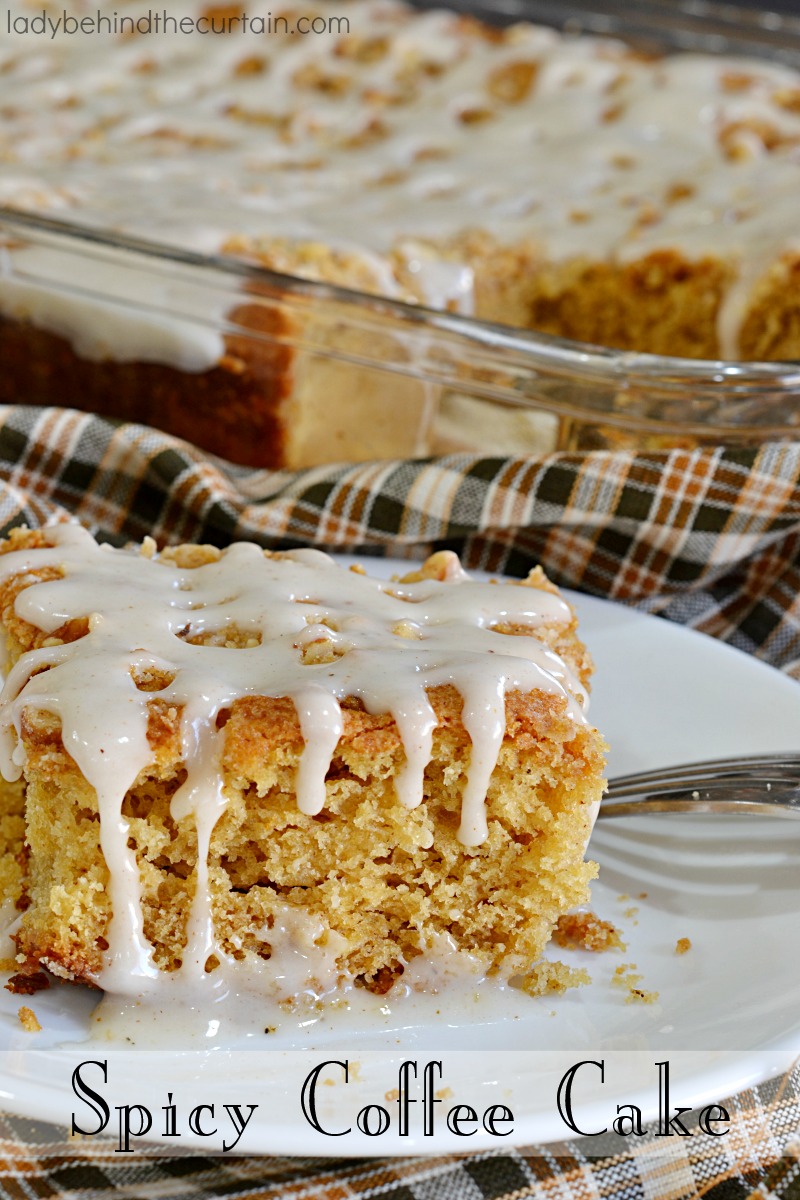 I used my own homemade special blend of spices in this coffee cake recipe.  Always have a jar of the spice blend on hand!  Warm spices come together to bring you a mix that can be added to most baked goods like, cakes, muffins, scones, breads and more!  Click here for the recipe—->>>>THE ULTIMATE BAKING SPICE MIX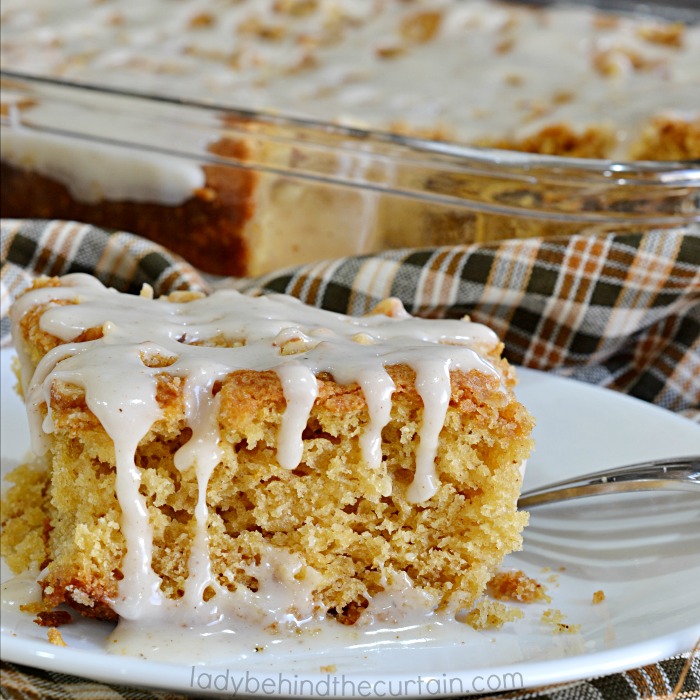 Instead of throwing a dinner party change it up and have a BRUNCH!  Better yet how about a LADIES BRUNCH!  Perfect for Spring, filled with pastel colors, fresh flowers and delicious food!  Click here to find out how I build a brunch table—->>>>HOW TO BUILD A SPRING BRUNCH BUFFET AND RECIPES
Ingredients
For the Coffee Cake
2 1/2 cups all-purpose flour
2 cups light brown sugar, packed
1/2 teaspoon salt
2/3 cup shortening
2 teaspoons baking powder
1/2 teaspoon baking soda
1 teaspoon baking spice (link below)
1 cup buttermilk
2 large eggs, lightly beaten
1/3 cup walnuts, chopped
For the Glaze
2 cups confectioners sugar
3 tablespoons PLUS 2 teaspoons water
1/4 teaspoon baking spice (link below)
Instructions
For the Baking Spice Recipe:
Click here for the recipe---->>>>BAKING SPICE

For the Coffee Cake:
Preheat oven to 375°.  Spray a 9x13-inch baking dish with non stick cooking spray.  In a mixing bowl, stir together the flour, sugar and salt.  Cut in shortening until mixture resembles coarse crumbs; reserve *1/2 cup* for topping.  To remaining crumbs add baking powder, soda and baking spice; mix well.  Add milk and eggs; mix well.  Turn into prepared baking dish.  Combine the *1/2 cup* reserved crumbs with the nuts.  Sprinkle over batter.  Bake 25 to 30 minutes or until a toothpick inserted into the center comes out clean.  Cool completely on a wire rack.
For the Glaze:
In a medium bowl add the sugar, water and baking spice.  Stir to combine.  Drizzle over the top of the cooled cake.  Cut into 24 Squares
Nutrition Information
Amount Per Serving
Calories

0
Total Fat

0g
Saturated Fat

0g
Cholesterol

0mg
Sodium

0mg
Fiber

0g
Sugar

0g
Protein

0g

MORE BRUNCH RECIPES
RASPBERRY PARFAITS WITH MINI RASPBERRY MUFFINS  2. GREEN CHILES AND RICE FRITTATA  3. FRUIT PIZZA
NEVER MISS A POST!
Sign up for my newsletter and receive my recipes in your inbox. Easy to see anytime and saved for safe keeping. Click Here and sign up today! —->>>>CURTAIN CALL NEWSLETTER