Spicy Orange Shrimp Tacos
My favorite dish as fast food oriental restaurants is orange chicken.  Deep fried and delicious!  But that is ONLY a treat.  I don't like to eat too much fried food.  That's why these Spicy Orange Shrimp Tacos are perfect!  Light on the calories but BIG on flavor!  This recipe is also very versatile.  Next time I'm going to serve it as lettuce wraps!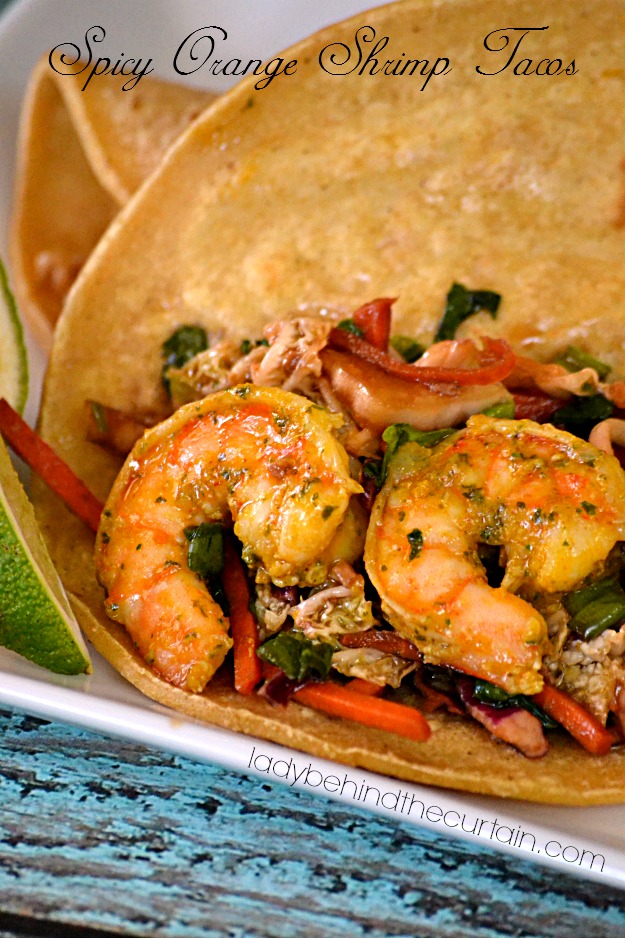 To add even more punch of flavor these Spicy Orange Shrimp Tacos are also smothered with a Cilantro Asian Slaw!  Move over fancy Oriental Restaurants!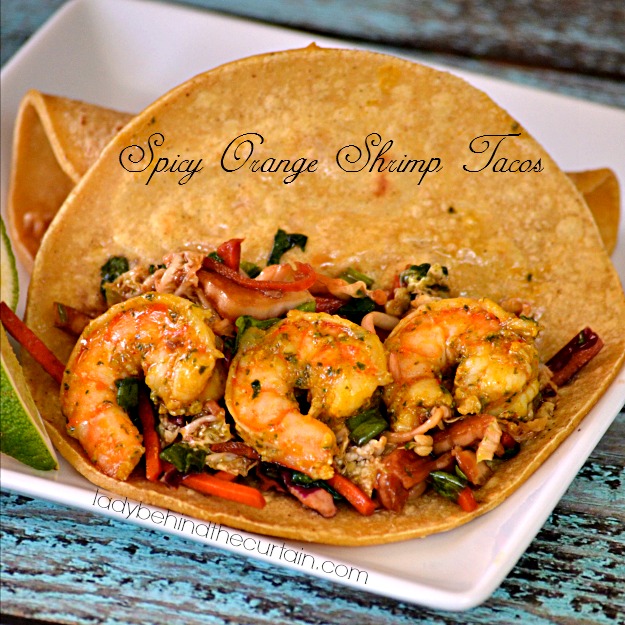 The spicy , citrus flavors are also perfect with chicken.  Sub the shrimp for 4 boneless, skinless chicken breasts cut into strips.
Want more Mexican food ideas?  Follow me on my Fiesta and Mexican Food Pinterest Board for over 100 pins and growing!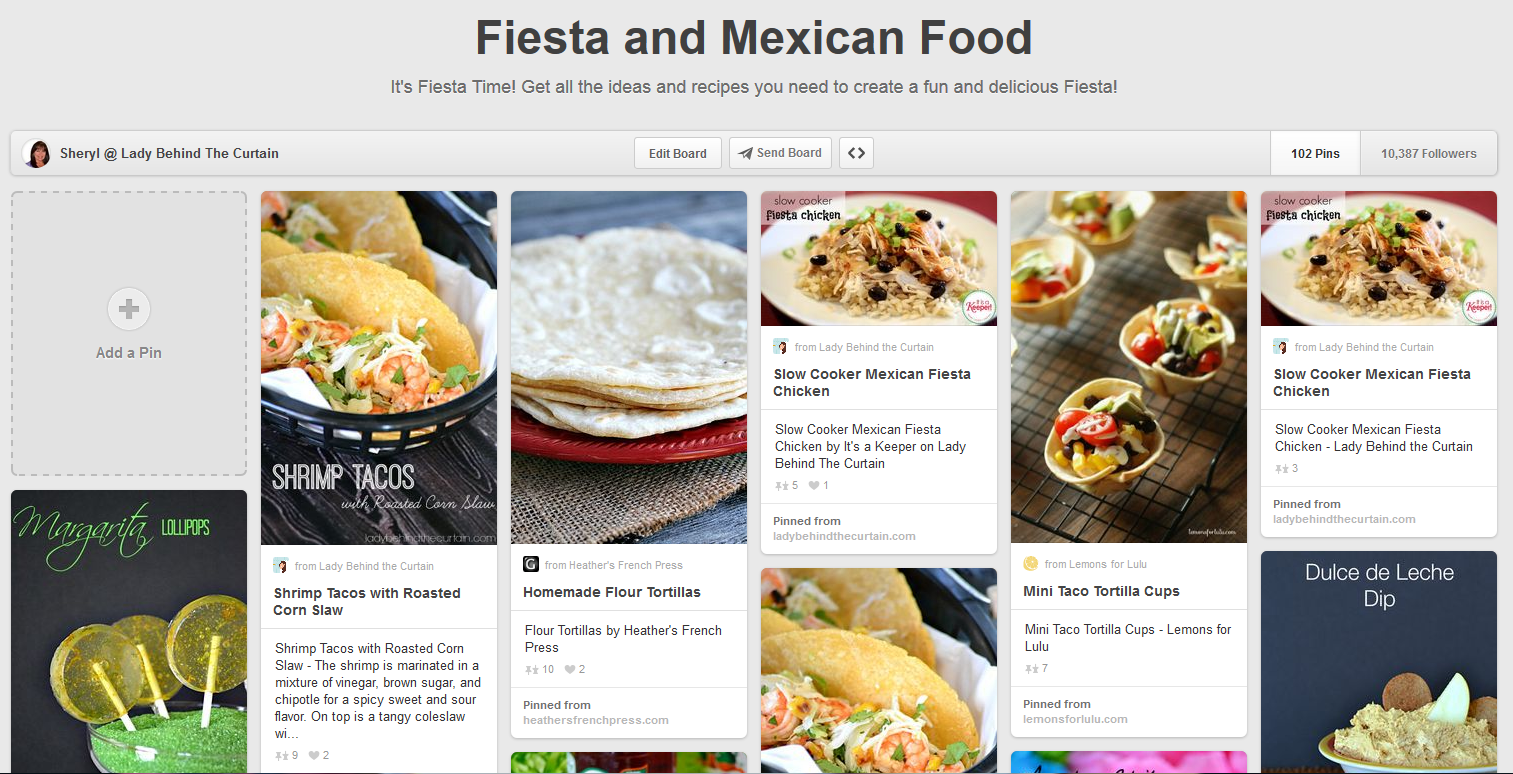 Create your own Recipe Box and save your favorite Lady Behind The Curtain recipes.  Make a Meal Plan with your favorite recipes and ZipList will automatically add the ingredients to a Shopping List.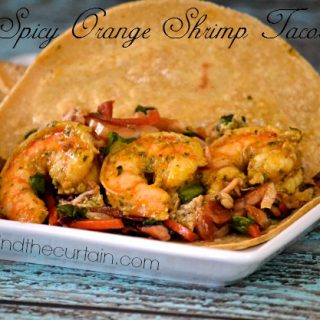 Spicy Orange Shrimp Tacos
Ingredients
For the Shrimp:
4 Mandarin oranges, zest and juice
1/2 cup fresh cilantro, chopped
1 tablespoon chili paste
1/4 cup olive oil
2 garlic cloves, chopped
3 green onions, green parts only cut into 1-inch pieces
1 teaspoon ground chipotle pepper
1 teaspoon salt
2 pounds medium shrimp, peeled and deveined
1 tablespoon butter
12 corn or flour tortillas
For the Cilantro Asian Slaw:
1/4 cup olive oil
1 tablespoon fresh ginger, minced
2 teaspoons garlic, minced
2 tablespoons light brown sugar
5 tablespoons lite soy sauce
4 tablespoons white wine
1 teaspoon sesame seed oil
1/4 cup rice wine vinegar
1/2 cup red onion, thinly sliced
2 cups Napa cabbage, thinly sliced
1/2 cup red cabbage, thinly sliced
1 cup carrots, julienned (store bought)
1/2 cup bok choy thinly sliced
1/2 cup bean sprouts
1/4 cup cilantro, chopped
1/2 green onions, chopped
Instructions
For the Shrimp:
Add the mandarin orange zest and juice with the chili paste, olive oil, garlic, green onions, ground chipotle pepper and salt to a blender or food processor and blend until smooth.
Place the shrimp in a zip top bag, pour the orange marinade over the shrimp, seal, place in the refrigerator for a minimum of 2 hours.
RESERVE THE MARINADE
In a large frying pan, melt butter.
Add shrimp and 1/4 cup of the reserved marinade.
Saute until the shrimp are no longer pink (about 2 to 3 minutes per side).
Place shrimp in a tortilla and add Cilantro Asian Slaw.
For the Cilantro Asian Slaw:
In a small saucepan add 2 tablespoons olive oil and lightly saute the ginger and garlic.
Add the brown sugar, soy sauce and wine; stir to combine.
Saute for 5 minutes, set aside to cool.
Whisk in the remaining olive oil, sesame oil and rice wine vinegar.
In a large bowl mix together the red onion, napa cabbage, red cabbage, carrots, bok choy, bean sprouts, cilantro and green onions.
Toss with dressing and set aside.