Sprinkles Cake Mix Cookie Recipe
Sprinkles Cake Mix Cookie Recipe |These chewy easy to make Sprinkles Cake Mix Cookies are perfect for your kids lunch box!  With only a few ingredients you can bake them and store in the freezer.  Drop one in your kids lunch box and by the time lunch rolls around the cookie will be defrosted and taste just as fresh as the day they were baked.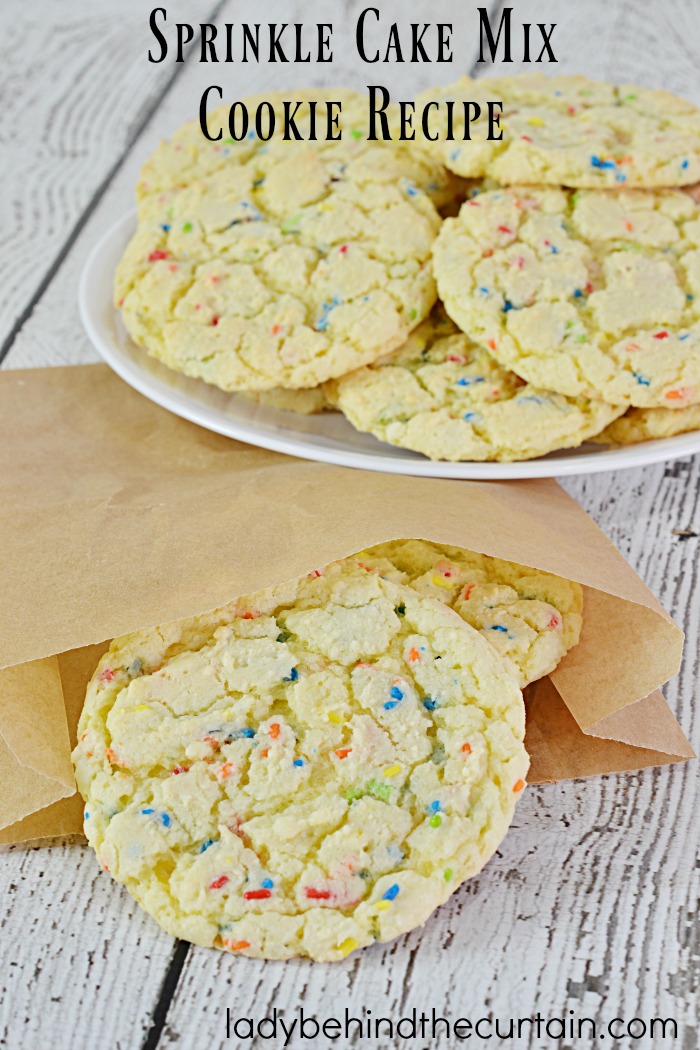 These cookies are also great for company!  Honestly these are the best chewy cookies.  The secret to a chewy cookie has something to do with the cake mix (not really sure why all I know it that it works).  All I know is once your guests take a bite they will be asking you for the recipe.  Little do they know it's a cake mix cookie!
Sprinkles Cake Mix Cookie Recipe
Ingredients
1 (15.25 ounce) butter golden cake mix or yellow cake mix
2 large eggs
1/3 cup vegetable or canola oil
2 1/2 tablespoons sprinkles
Instructions
Preheat oven to 375°.
Line two cookie sheets with parchment paper.
In a medium mixing bowl; add the cake mix, eggs, oil and sprinkles.
Mix until combined.
Use a 2 ounce cookie scoop; add mounds of cookie dough to the prepared cookie sheets (9 to a sheet).
Bake 10 to 12 minutes or until done.
https://www.ladybehindthecurtain.com/sprinkles-cake-mix-cookie-recipe/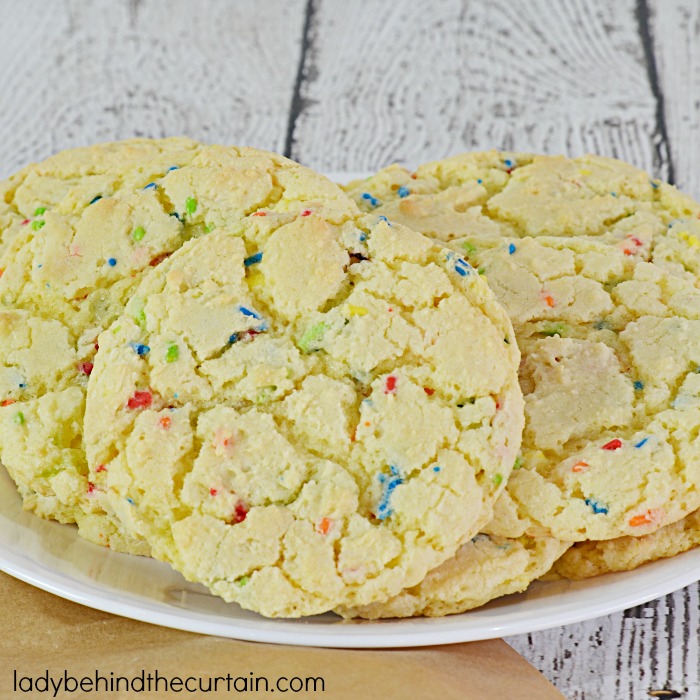 MORE CAKE MIX COOKIE RECIPES

CRANBERRY WHITE CHOCOLATE CAKE MIX COOKIES  2. SNICKERDOODLE CAKE MIX COOKIES  3. BLACK FOREST CAKE MIX COOKIES