If you love cranberries like I do then these Cranberry Orange Muffins are for you! The perfect muffin for anytime of year, and the perfect way to start your day! These muffins are packed with dried cranberries, fresh orange juice, orange zest, walnuts and for an added pop or flavor, topped with an orange glaze. Just what your breakfast buffet needs! Be the Hostess with the Mostess! Scroll down to see how easy it is to transform these Cranberry Orange Muffins into a lighter (in calories) version.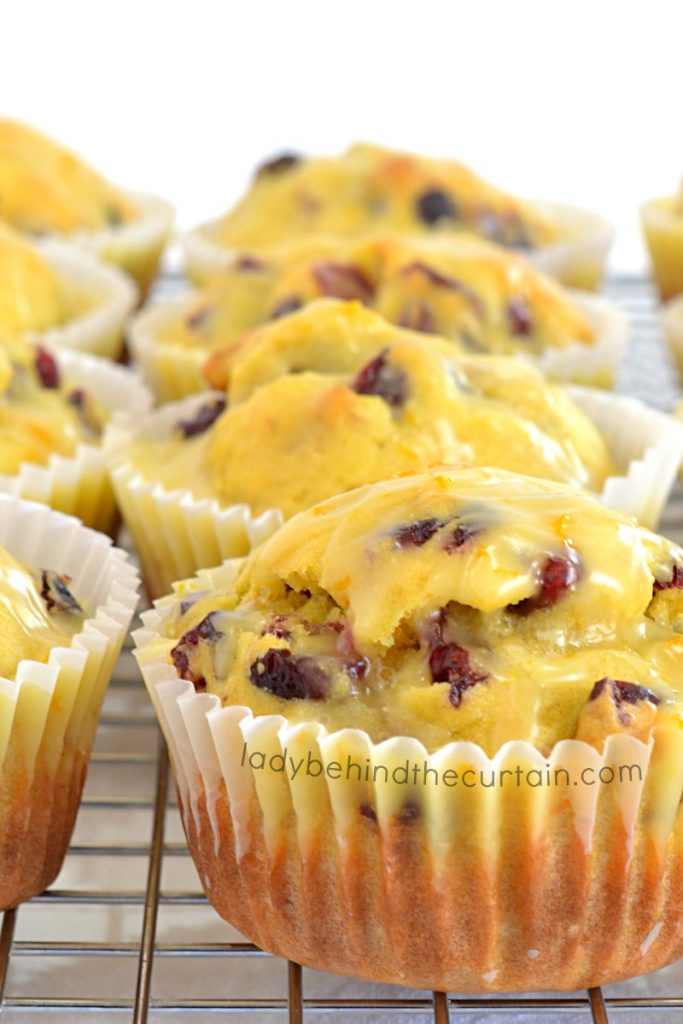 FREEZES BEAUTIFULLY!
Bake these Cranberry Orange Muffins a day ahead, and store cooled muffins in an airtight container. And you know my motto: MAKE EXTRA! These freeze beautifully! To freeze: Put them on a cookie sheet, place them on the top shelf of the freezer, leave them in until fully frozen. This allows them to be stored in a zip-loc bag without being smashed. Now you have something that even a guest will enjoy! Add fresh fruit and yogurt for a balanced breakfast. TIP: Best if frozen WITHOUT the glaze. Add the glaze once defrosted.
LIGHTER VERSION
You might of already guessed the adjustments that need to be made but here is what I did to make these delicious Cranberry Orange Muffins on the lighter side of calories. I used Splenda instead of granulated sugar and 50% less sugar cranberries. Using fresh orange juice instead of milk also helps with lowering the calorie count. Making the recipe this way…..the muffins will come in at 151 calories (without the glaze). With the glaze it will be 181 calories.
13 CRANBERRY ORANGE RECIPES
I'm sure you've noticed by now that the cranberry orange combo is one of my favorites and judging by their popularity they're yours too! Look below for all my Cranberry Orange Recipes!
MORE MUFFIN RECIPES
NEVER MISS A POST
Here are some breakfast casserole recipes you might like. EASY SAUSAGE HASHBROWN BREAKFAST CASSEROLE and DENVER EGG CASSEROLE