Valentine's Day Sugar Cookie Bars
Valentine's Day Sugar Cookie Bars | These simple to make bars are perfect for any occasion.  This time I dressed them up for a Valentine's Day Party!  Little ones love these bars!  Pack some up for a fun classroom Valentine's Party treat!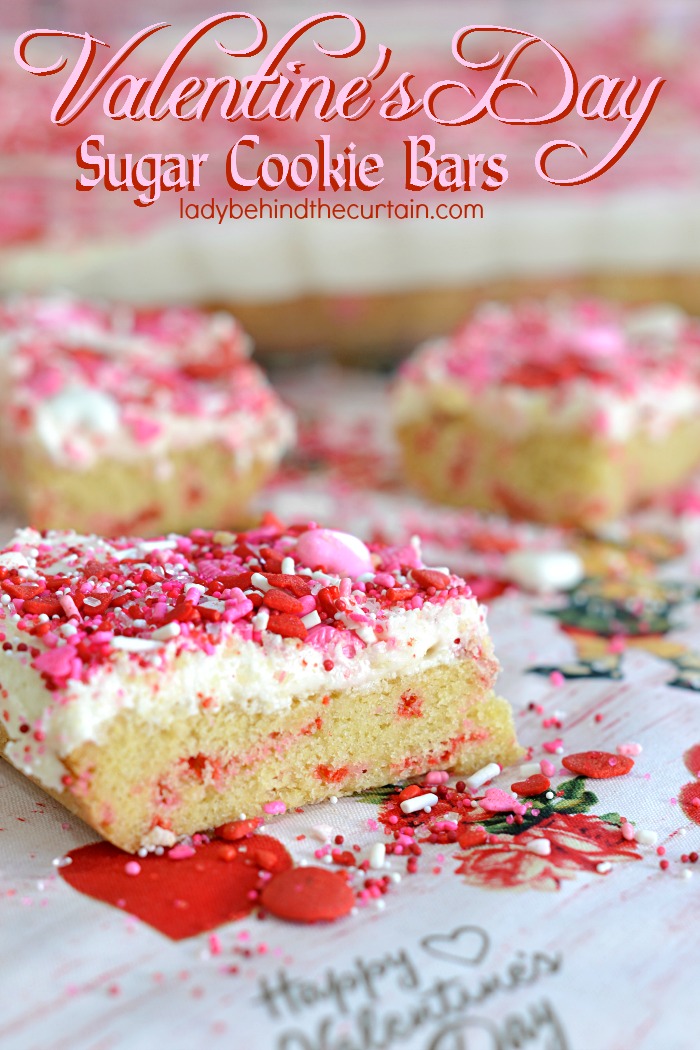 The beautiful thing about these bars is…. they stay chewy.  Unlike a cookie that can get crunchy and hard.  Of course you can't overlook the creamy delicious frosting.  As good as the cookie is….IT'S ALL ABOUT THE FROSTING (for me anyway)!  Besides these cookies are done all in one simple step.  No scooping or waiting for one batch to finish so you can add another.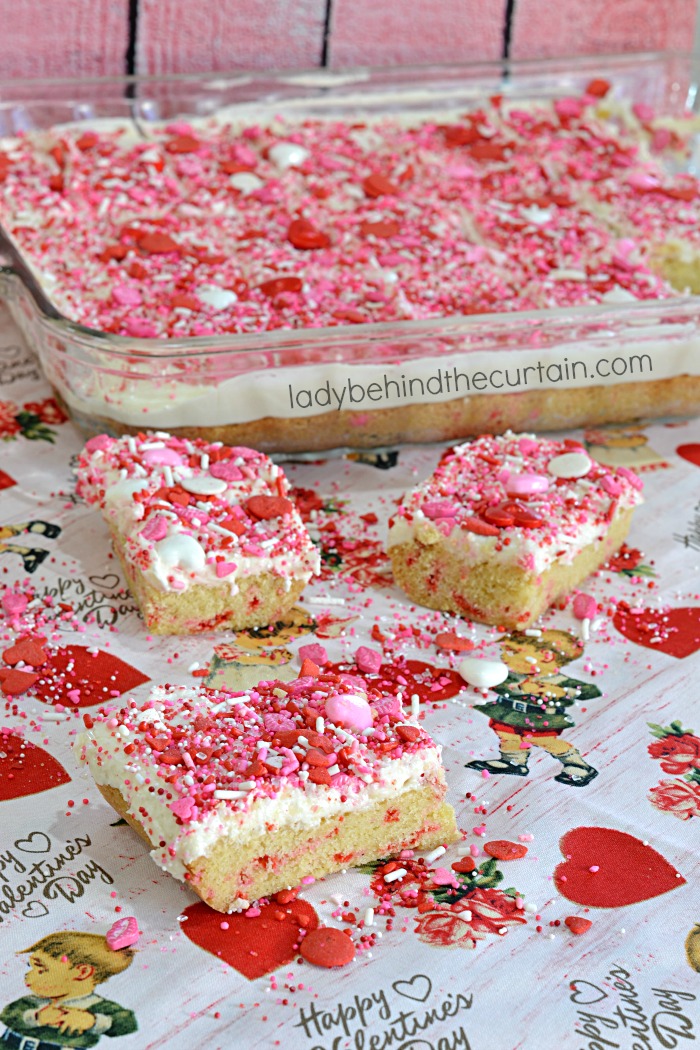 For kids Valentine's Day is all about treats and fun parties.  I have over 25 treat recipes on my Valentine's Day page and THREE awesome Valentine's Day Party Ideas with lots of fun ideas for the party table and treats to go along with them.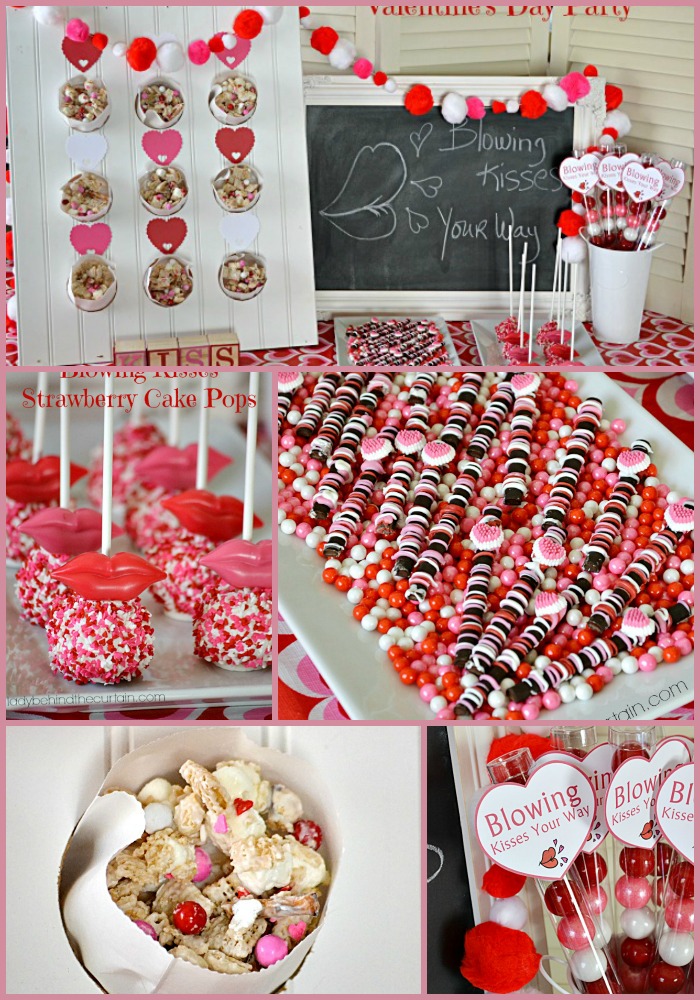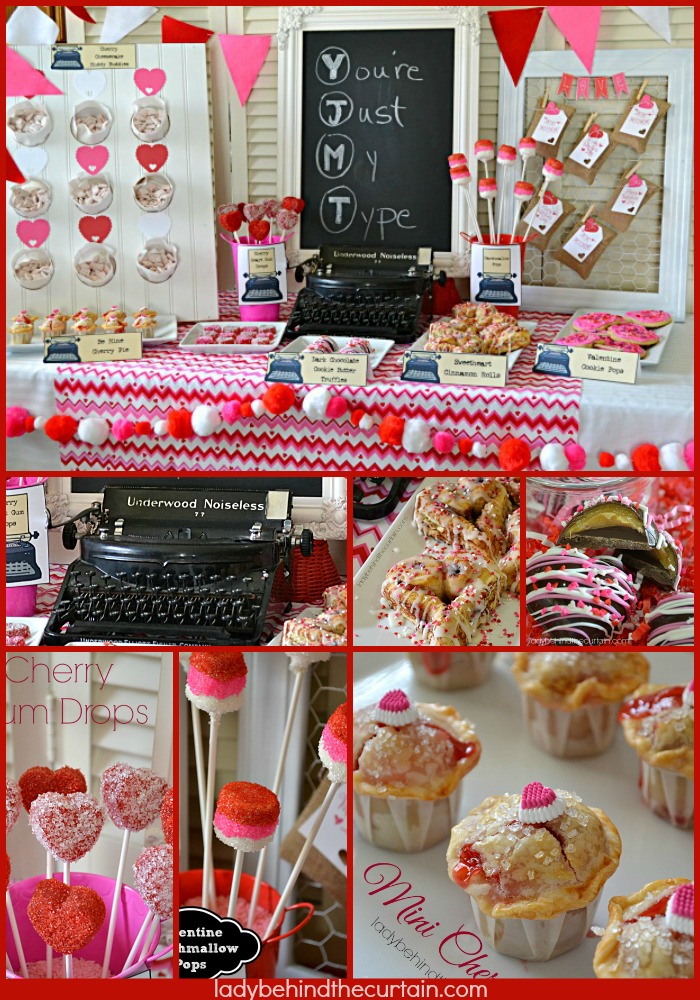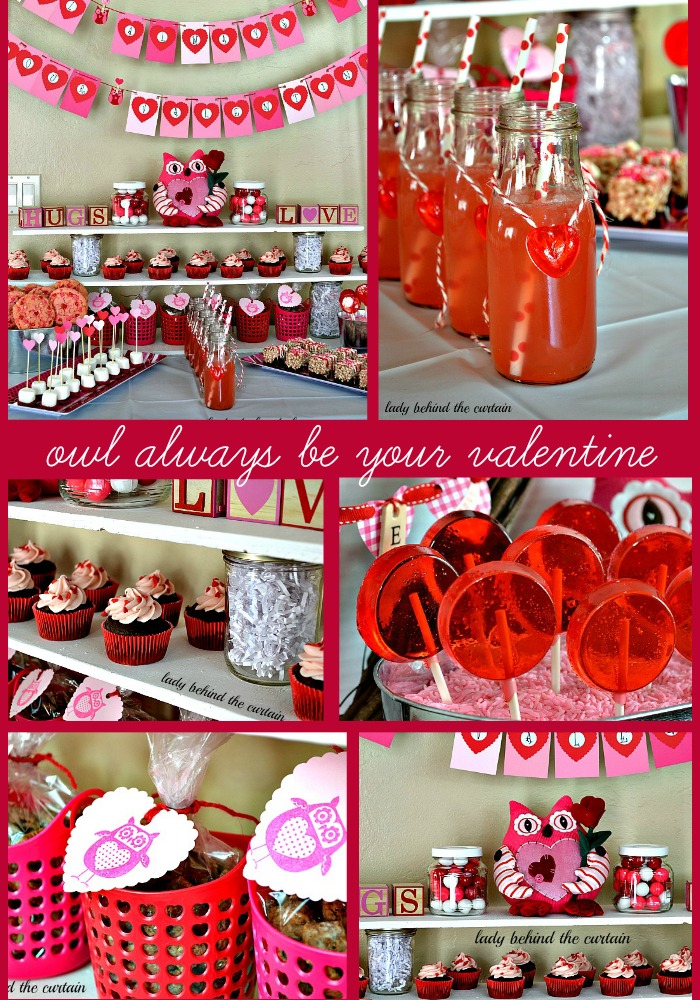 As I said before these cookie bars are super versatile.  You can change up the frosting color and sprinkles.  Like I did for these Funfetti Sugar Cookie Bars decorated in yellow, red and blue perfect for a circus theme party!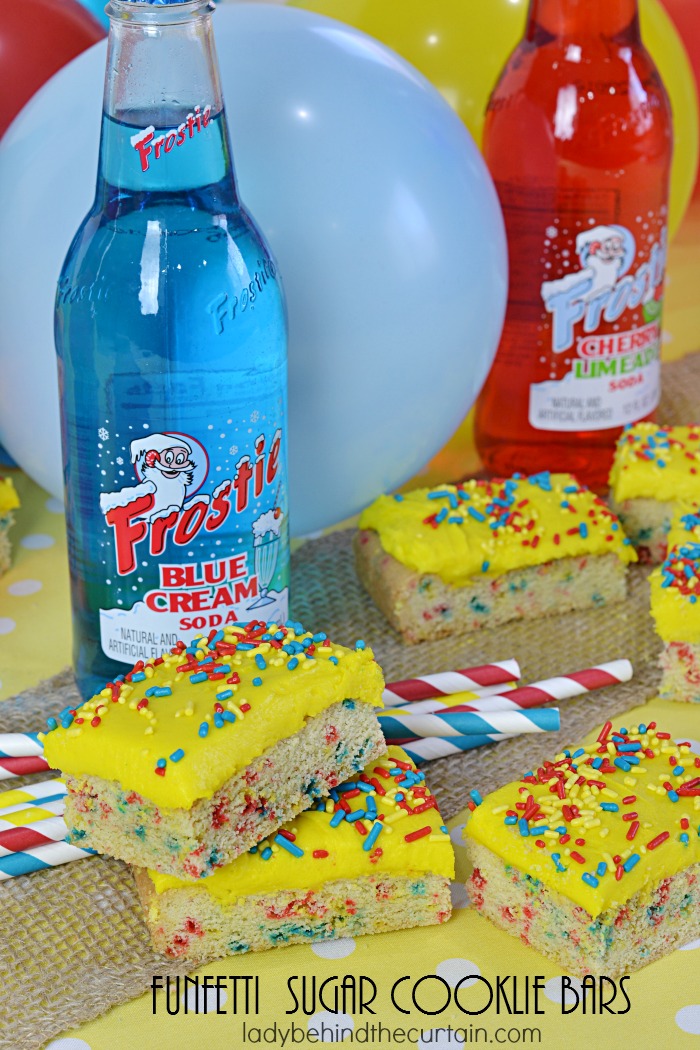 Thinking ahead and preparing early for a party is a great way to keep yourself from getting over whelmed.  The dough to these Valentine's Day Sugar Cookie Bars freeze beautifully.  Have several batches without the sprinkles so you can customize the dough as you need it.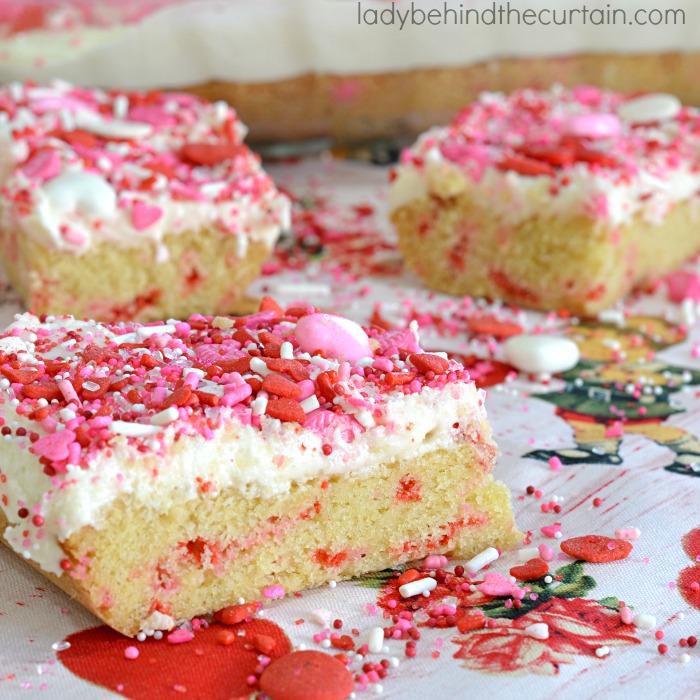 Add these fun Valentine's Day Sugar Cookie Bars to your Valentine's Day and Cookie boards.  Don't have a Valentine's Day or Cookie Board?  Let me help you build one.
VALENTINE'S DAY RECIPES AND PARTY IDEAS FROM LBC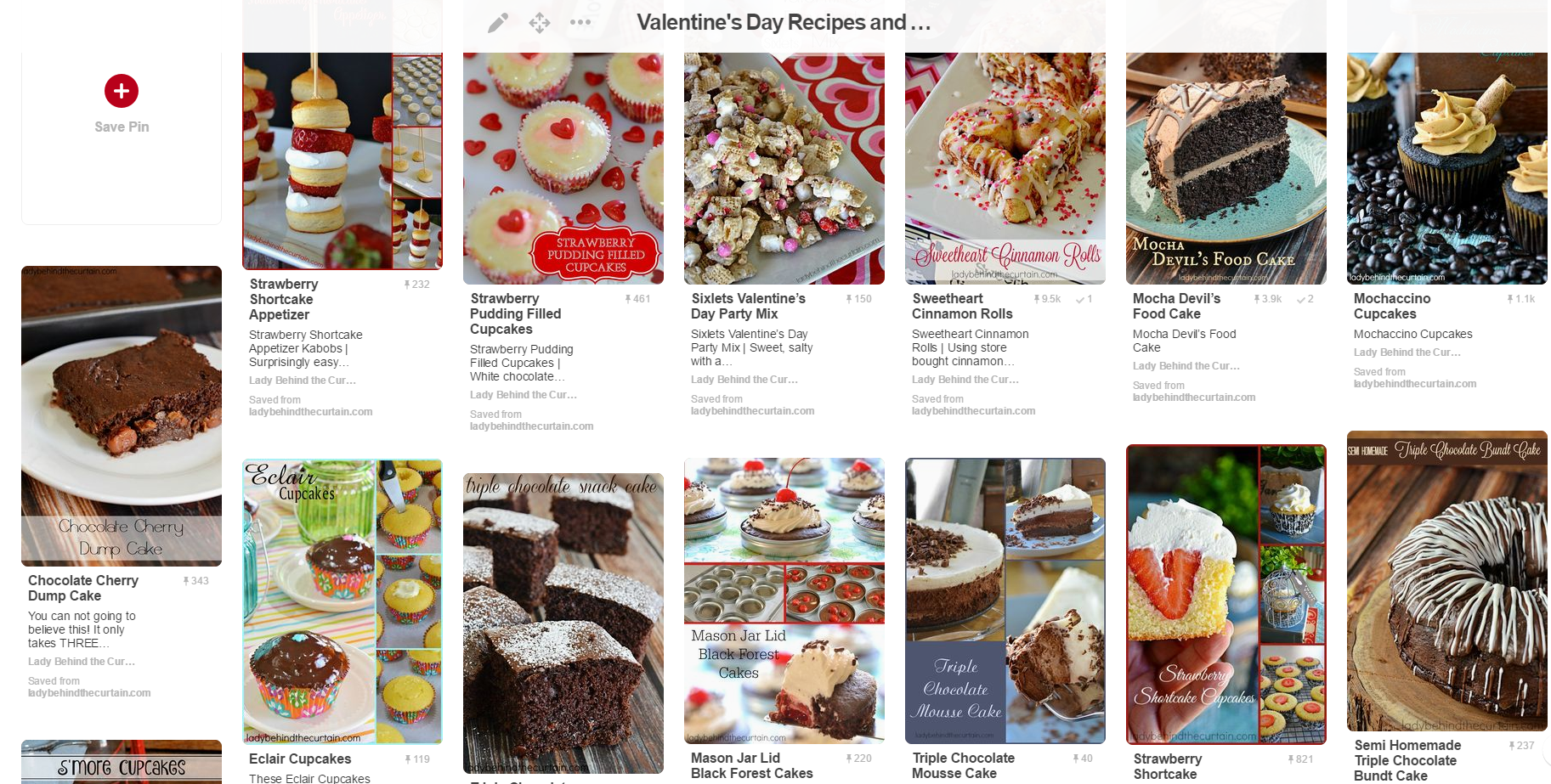 COOKIE AND BAR RECIPES FROM LBC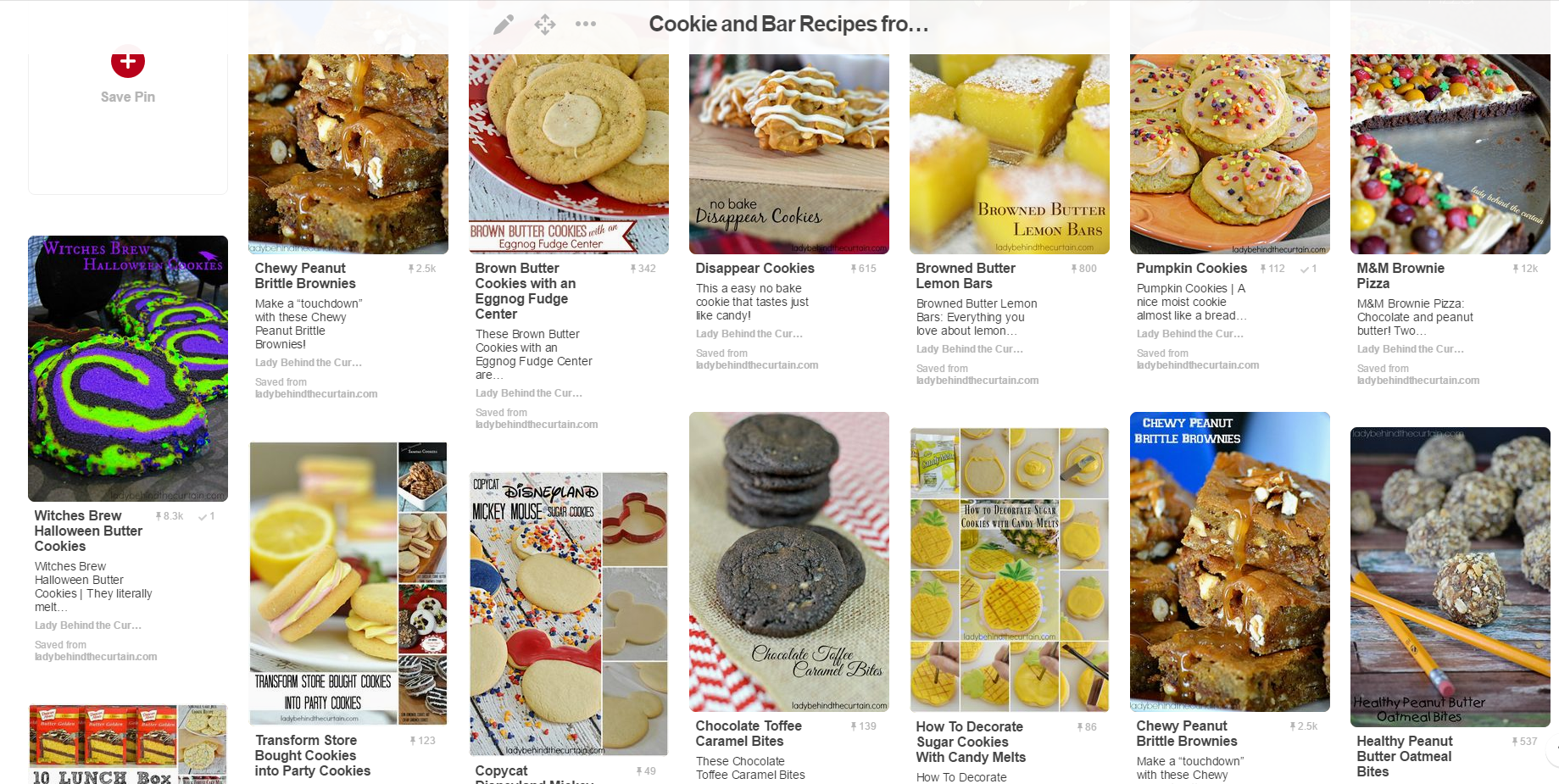 MORE FUN VALENTINE'S DAY PARTY TREATS

CHERRY COBBLER CUPCAKES  2. CHERRY ALMOND VANILLA CUPCAKES  3. FUDGE FILLED HEARTS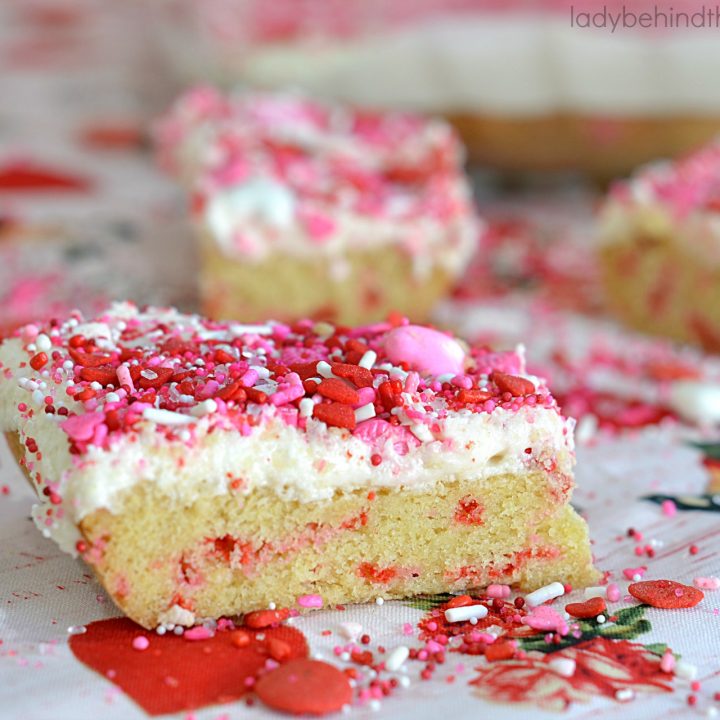 Valentine's Day Sugar Cookie Bars
Ingredients
For the Bars:
2 1/2 cups all-purpose flour
1 1/4 cups confectioners' sugar
1 cup unsalted butter, softened
1 large egg
1 teaspoon baking soda
1 teaspoon cream of tartar
1/2 teaspoon salt
1 teaspoon vanilla extract
3 heaping tablespoons sprinkles (optional)
For the Frosting:
4 cups confectioners' sugar
1/2 cup unsalted butter, softened
2 teaspoons vanilla
3 to 4 tablespoons milk
Sprinkles (optional)
Instructions
For the Bars:
Preheat oven to 375°.
Spray a 9x13-inch baking dish with nonstick cooking spray; set aside
Combine flour, sugar, butter, egg, baking soda, cream of tartar, salt, and vanilla.
Beat on medium speed, scraping sides as needed, until well mixed.
Add sprinkles and mix.
Spread dough into the bottom of the prepared baking pan.
Bake for 18 to 20 minutes, until they just start to brown.
Cool completely before frosting.
For the Frosting:
Combine confectioners' sugar, butter and vanilla.
Add enough milk to get a fluffy frosting; mix until well blended.
Spread over cooked bars and decorate with sprinkles.
Cut into squares.