Fudge Filled Hearts | Make this super easy fudge!  Drop it into a heart shaped cookie cutter and place in a candy tin.  For the perfect melt in your mouth Valentine's Day gift and dessert!  ♥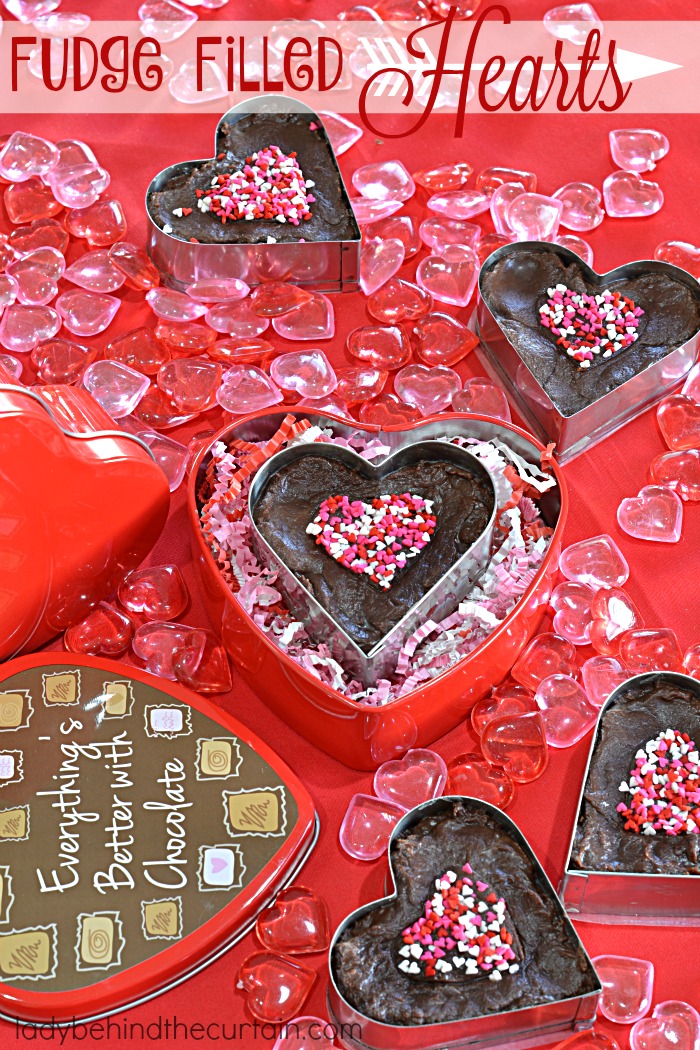 These Fudge Filled Hearts are so cute and easy to make.  You can either take the fudge out of the cookie cutter or keep it in and give as a party favor or  a teachers gift.
Wrap each cookie cutter with foil and spray with non stick cooking spray.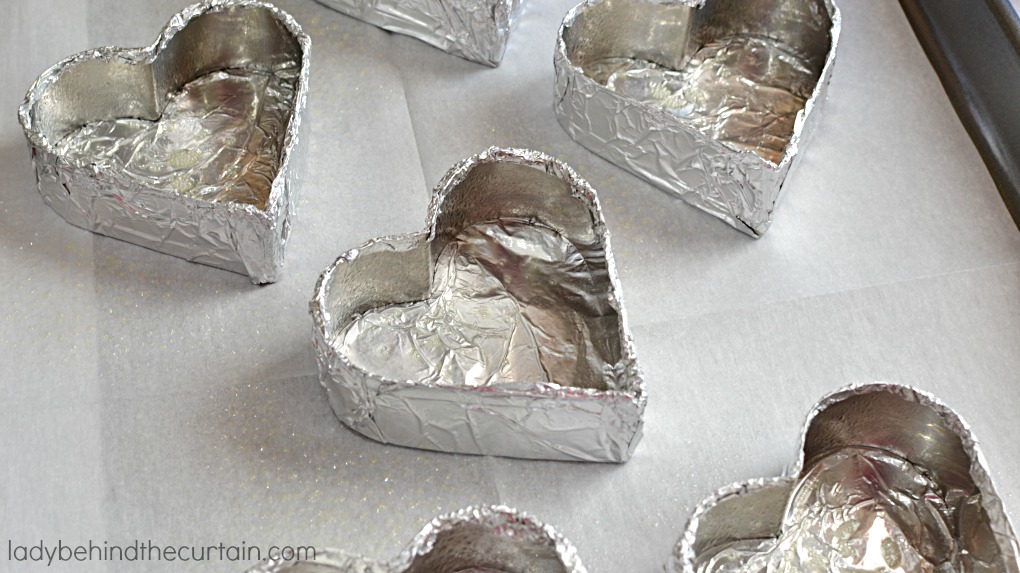 Drop fudge in prepared cookie cutters and smooth out.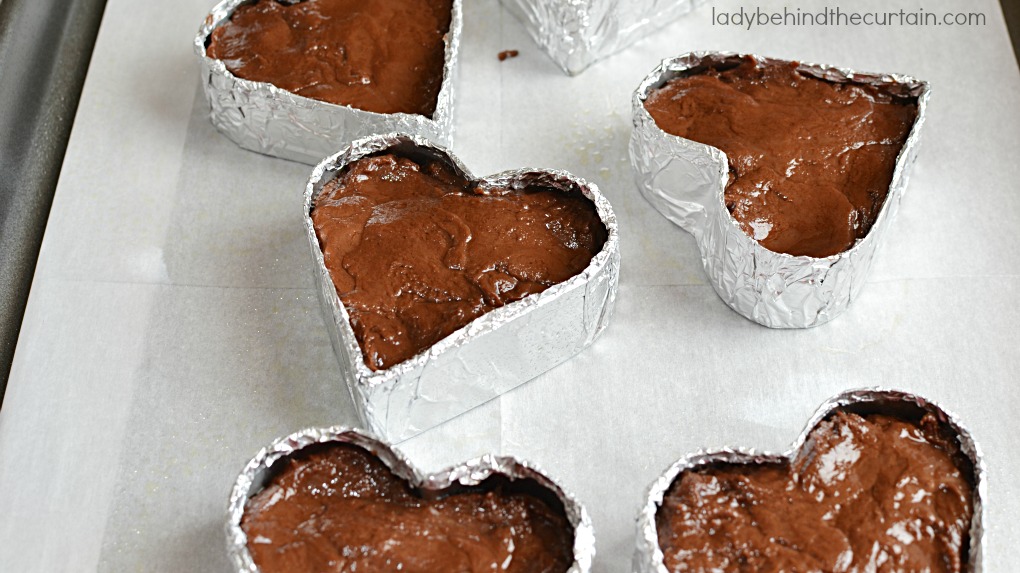 If you like…..place a smaller heart shaped cookie cutter in the center of the larger heart and fill with sprinkles.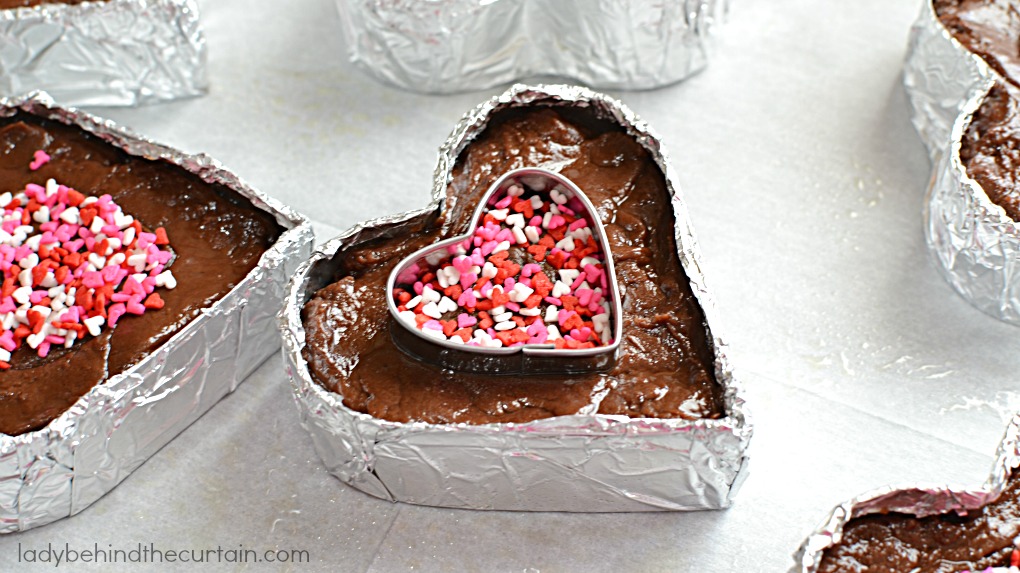 Fudge Filled Hearts
Yield:
Makes 8 (3-inch) Fudge Filled Hearts
Prep Time:
2 hours
30 minutes
Total Time:
2 hours
30 minutes
Ingredients
1-10 ounce bag of semisweet chocolate chips
1 cup peanut butter chips
1-14 ounce can sweetened condensed milk
2 tablespoons butter, softened
1 teaspoon vanilla
8 (3-inch) metal heart shaped cookie cutters
candies or sprinkles for decorating
Instructions
Place each of cookie cutter on it's own piece of foil; seal foil tightly around the outside and a tiny bit inside of each cookie cutter.
Place on cookie sheet.
Lightly spray cookie cutter with cooking spray.
In a 4-cup microwave measuring cup, mix chocolate chips, peanut butter chips, milk and butter. Microwave uncovered on high 1 to 1 minute and 30 seconds, stirring every 30 seconds, until chips are almost melted.
Stir in vanilla.
Pour mixture into cookie cutter molds; fill just below the foil.
TIP: If adding sprinkles you'll need to do it before the fudge hardens.
For the Heart Center:
Lightly press a smaller heart shaped cookie cutter into the center of the fudge filled heart.
Add sprinkles and lightly press into the fudge.
Gently pull the small cookie cutter out.
Refrigerate uncovered about 2 hours or until firm.
Carefully remove foil.
Gently press fudge out of molds to serve OR leave the fudge in the hearts and give away as a gift!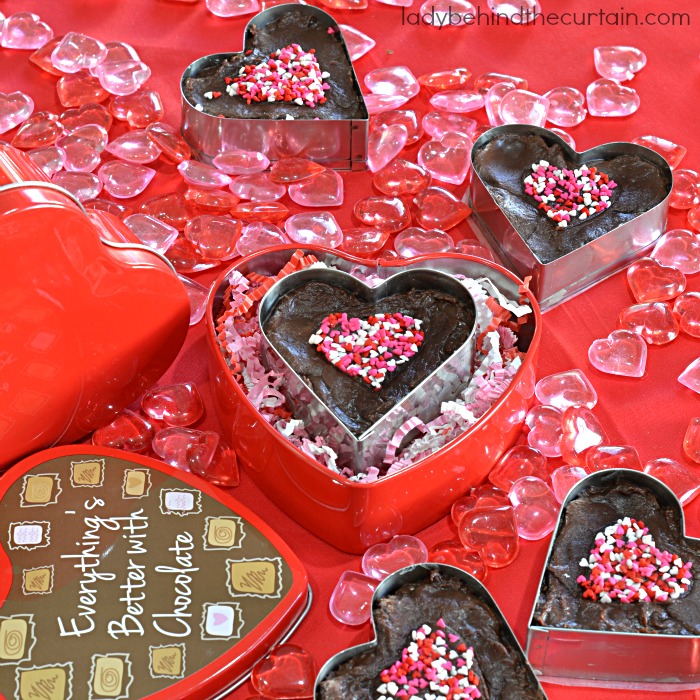 MORE VALENTINE'S DAY CANDY RECIPES
STRAWBERRY MARSHMALLOW FILLED CHOCOLATES  2. DARK CHOCOLATE COOKIE BUTTER TRUFFLES  3. SLOW COOKER PISTACHIO NUT AND SOUR CHERRY CHOCOLATES
NEVER MISS A POST!
Sign up for my newsletter and receive a FREE ebook "Top 10 Fudge Recipes from Lady Behind The Curtain" PLUS my recipes in your inbox. Easy to see anytime and saved for safe keeping. Click Here and sign up today! —->>>>CURTAIN CALL NEWSLETTER