Cherry Brownie Bars |  These wonderfully dense chocolate brownies pack a cherry punch!  Nothing compares to a homemade brownie and these certainly deliver.  Not only do they have a decadent chocolate flavor (read below for my secret ingredient) and tons of cherries, these magnificent treats are also topped with a creamy butter frosting that is full of cherries.  So next time you are in need of a chocolate fix or you want to take the best chocolate dessert to a potluck.  These brownies are the ticket to success!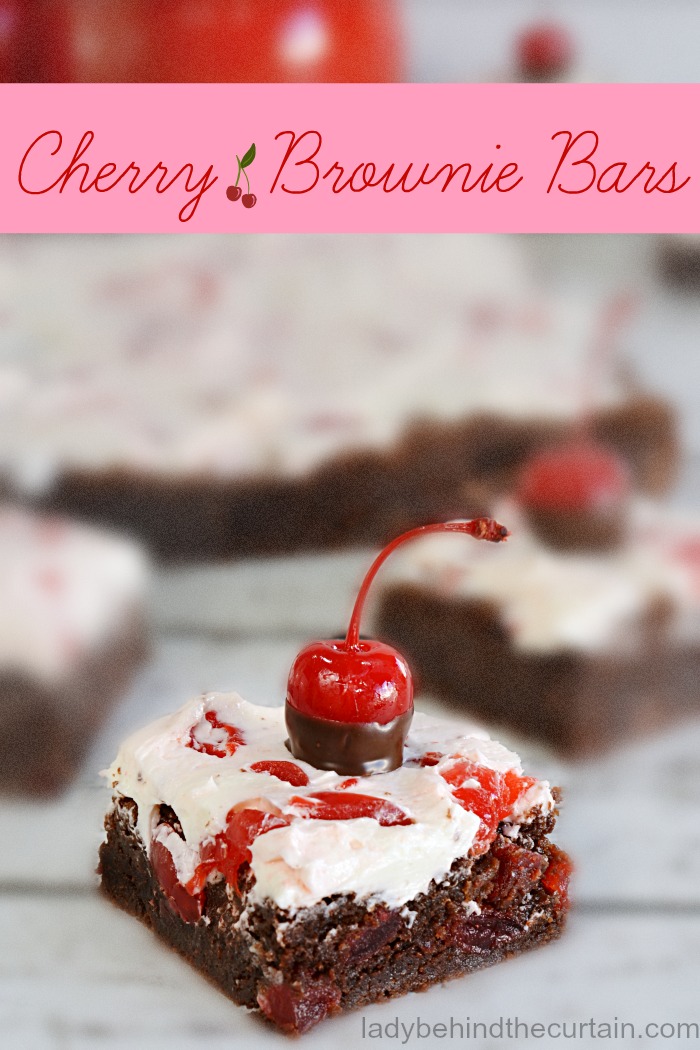 The secret ingredient for getting the best chocolate flavor is…….ESPRESSO POWDER.  That's right, there's just something about adding a little bit of espresso to a chocolate dessert that really brings out the chocolate.  You may wonder….if I add coffee will I taste it?  The answer is no.  I'm not a coffee drinker and I don't taste any coffee at all.   I'm not sure exactly why espresso has this effect on chocolate.  Maybe it's because coffee and chocolate share many of the same flavor characteristics.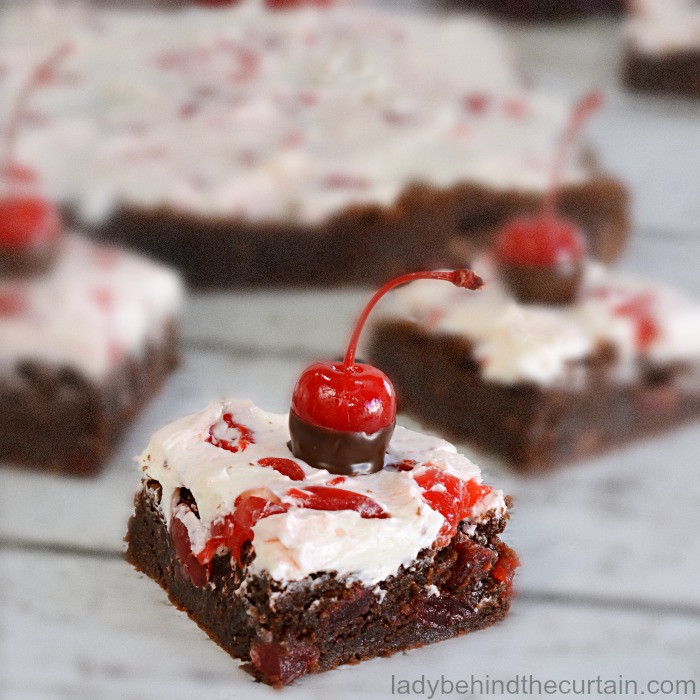 Onto the chocolate covered cherries.  It's funny to me when people choose to debate on whether a maraschino cherry is a "real" cherry.  YES, maraschino cherries are real cherries.  The maraschino cherry comes from a light sweet cherry, usually a Royal Ann, Rainer or Emperor Francis.  They can be made from any sweet cherry.  So there you have it…..mystery solved maraschino cherries are real!  Add a little something extra special to your brownies.  Dip cherries in dark or milk chocolate and top each brownie.  It's a super easy way to help your dessert stand out among all the rest!
Cherry Brownie Bars
Yield:
Serves 12 large portions or 24 small portions
Total Time:
1 hour
15 minutes
Ingredients
For the Chocolate Covered Cherries:
12 maraschino cherries with stems
½ cup dark or milk chocolate candy melts
For the Brownie Bars:
1 (12 ounce) package of semisweet chocolate chips, divided
1 cup unsalted butter, cut into chunks
2 ounces unsweetened chocolate, chopped
¾ cup all-purpose flour
1½ teaspoons baking powder
½ teaspoon salt
1 ¼ cups granulated sugar
3 large eggs
1 tablespoon espresso powder
1 tablespoon vanilla extract
1 (16 ounce) jar maraschino cherries, without stems,drained, dried and chopped
For the Frosting:
½ cup maraschino cherries drained, dried and chopped
½ cup unsalted butter, room temperature
1 cup confectioners' sugar
1 tablespoon milk
¼ teaspoon almond extract
Instructions
For the Chocolate Covered Cherries:
Pick out the best cherries, lay them on a paper towel and lightly blot dry.
Pour the candy melts into a small microwave safe bowl; heat until candy is melted and creamy (about 1 min.).
Line a cookie sheet with parchment or wax paper; dip into the melted chocolate half way up the cherries, lightly shake off any excess chocolate and place on prepared cookie sheet.
Set aside to harden.
For the Brownie Bars:
Preheat oven to 325°, line a 9x13-inch baking pan with enough foil to hang over the sides (about 2-inches), spray with non stick cooking spray and set aside.
In a medium saucepan combine the chocolate chips, butter and unsweetened chocolate.
Cook on low heat, stirring until melted; set aside to cool 5 minutes.
Add ¼ cup flour and remaining chocolate chips (from the bag) to a small bowl, stir to combine and set aside.
In a medium bowl combine remaining ½ cup flour, baking powder and salt.
In a large bowl whisk together the sugar, eggs, espresso powder and vanilla.
Stir in melted chocolate mixture until just combined, stir in flour mixture until just combined, stir in chocolate chip mixture and then cherries.
Spread in prepared pan; bake 45 to 50 minutes or until toothpick inserted into the center comes out with moist crumbs clinging.
Cool pan on rack 1 hour.
Refrigerate uncovered until completely cooled (about 2 hours).
For the Frosting:
In a medium mixing bowl beat together the butter, confectioners' sugar, milk and almond extract until light and fluffy (about 2-3 minutes).
Stir in cherries.
Using the foil, lift brownies from pan; spread frosting over the top.
Cut into 12 large pieces or 24 small pieces.
NOTE: If you choose to cut into small pieces remember to adjust the amount of chocolate dipped cherries to accommodate the adjustment.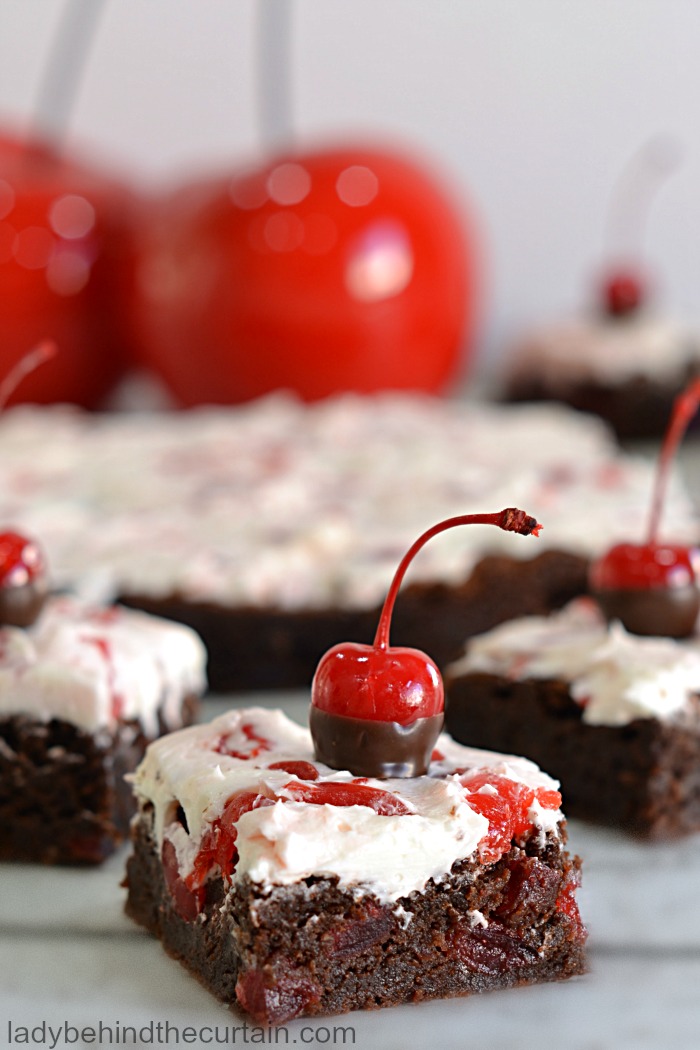 MORE BROWNIE RECIPES
CHEWY PEANUT BRITTLE BROWNIES  2. RASPBERRY CHEESECAKE BROWNIES  3. CHERRY CABERNET BROWNIES

NEVER MISS A POST!
Sign up for my newsletter (two per month) and receive my recipes in your inbox.  Easy to see anytime and saved for safe keeping.  Click Here and sign up today! —->>>>CURTAIN CALL NEWSLETTER