Funfetti Sugar Cookie Bars
Funfetti Sugar Cookie Bars | When taking the time to roll and cut cookie dough just isn't an option.  These amazing cookies taste just like the sugar cookies you grew up eating only they've been revamped to fit your busy schedule.  You get an easy recipe but still keep the delicious cookie.  Plus the fluffy frosting is the bomb!  The perfect Birthday Party treat!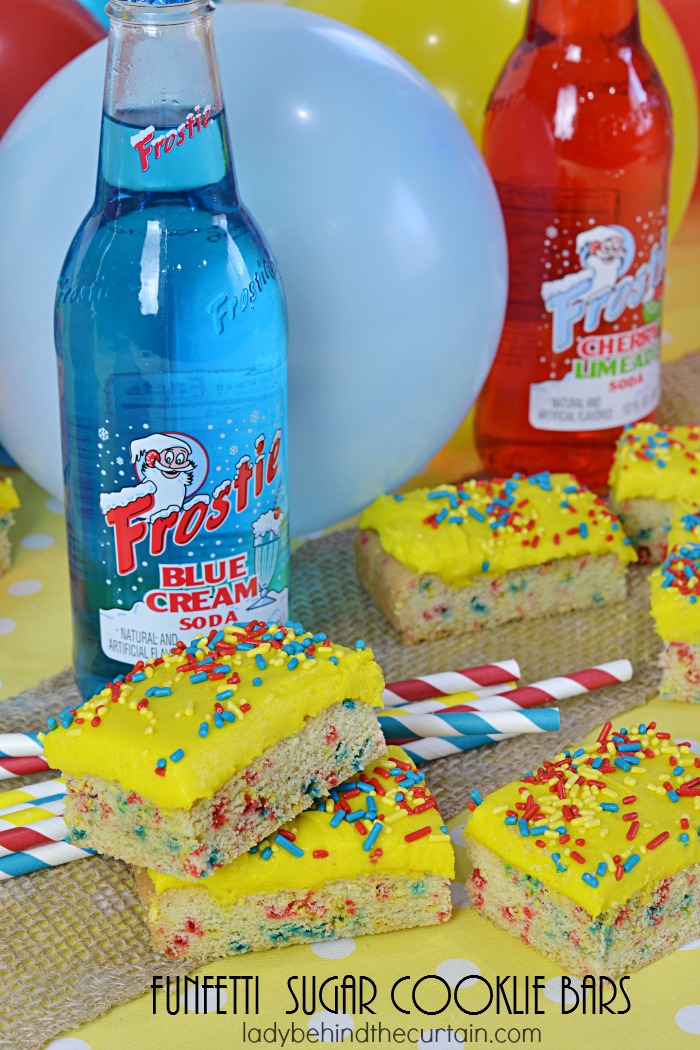 These cookies aren't just simple to make but also versatile too!  I chose to use my favorite colors red, blue and yellow for my cookies but you can pick and choose any color scheme that fits your celebration.  Talk about a party…the sprinkles alone will put anyone in the party mood.
Funfetti Sugar Cookie Bars
Ingredients
For the Bars:
2 1/2 cups all-purpose flour
1 1/4 cups confectioners' sugar
1 cup unsalted butter, softened
1 large egg
1 teaspoon baking soda
1 teaspoon cream of tartar
1/2 teaspoon salt
1 teaspoon vanilla extract
3 heaping tablespoons sprinkles (optional)
For the Frosting:
4 cups confectioners' sugar
1/2 cup unsalted butter, softened
2 teaspoons vanilla
3 to 4 tablespoons milk
food coloring (optional)
Sprinkles (optional)
Instructions
For the Bars:
Preheat oven to 375°.
Line a 9x13-inch pan with parchment paper and spray with nonstick cooking spray; set aside
Combine flour, sugar, butter, egg, baking soda, cream of tartar, salt, and vanilla.
Beat on medium speed, scraping sides as needed, until well mixed.
Add sprinkles and mix.
Spread dough into the bottom of the prepared baking pan.
Bake for 18 to 20 minutes, until they just start to brown.
Cool completely before frosting.
For the Frosting:
Combine confectioners' sugar, butter and vanilla.
Add enough milk to get a fluffy frosting.
Add food coloring; mix until well blended.
Spread over cooked bars and decorate with sprinkles.
Lift out of baking pan and cut into squares.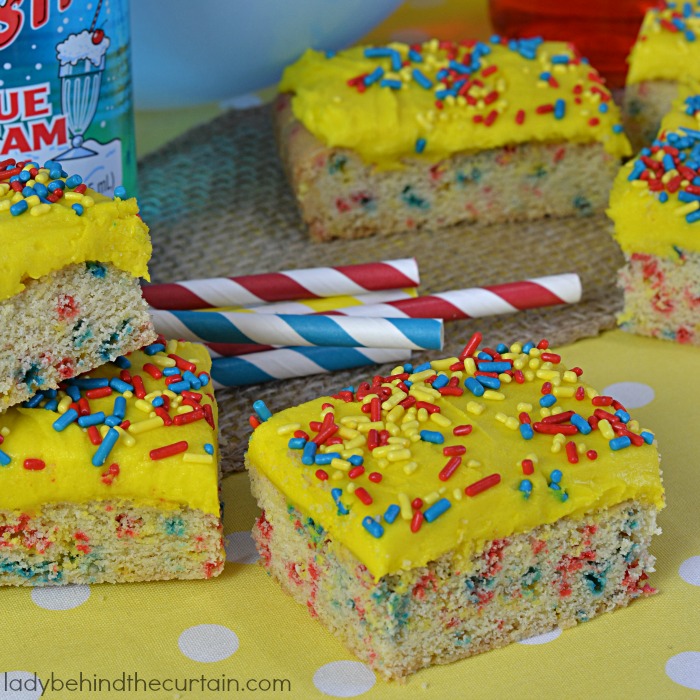 MORE PARTY TREATS
RAINBOW COOKIES  2. JELLO SNOW CONE CUPCAKES  3. REESE'S PEANUT BUTTER CUP MUDDY BUDDIES