Vanilla Cake with Chocolate Ganache Frosting
Vanilla Cake with Chocolate Ganache Frosting | A brush of sweet vanilla syrup keeps this delicious classic cake moist and adds yet another layer of flavor.  When the classic duo-vanilla and chocolate come together to make a decadent cake, you know you have a recipe you can always count on that will quickly become your families favorite!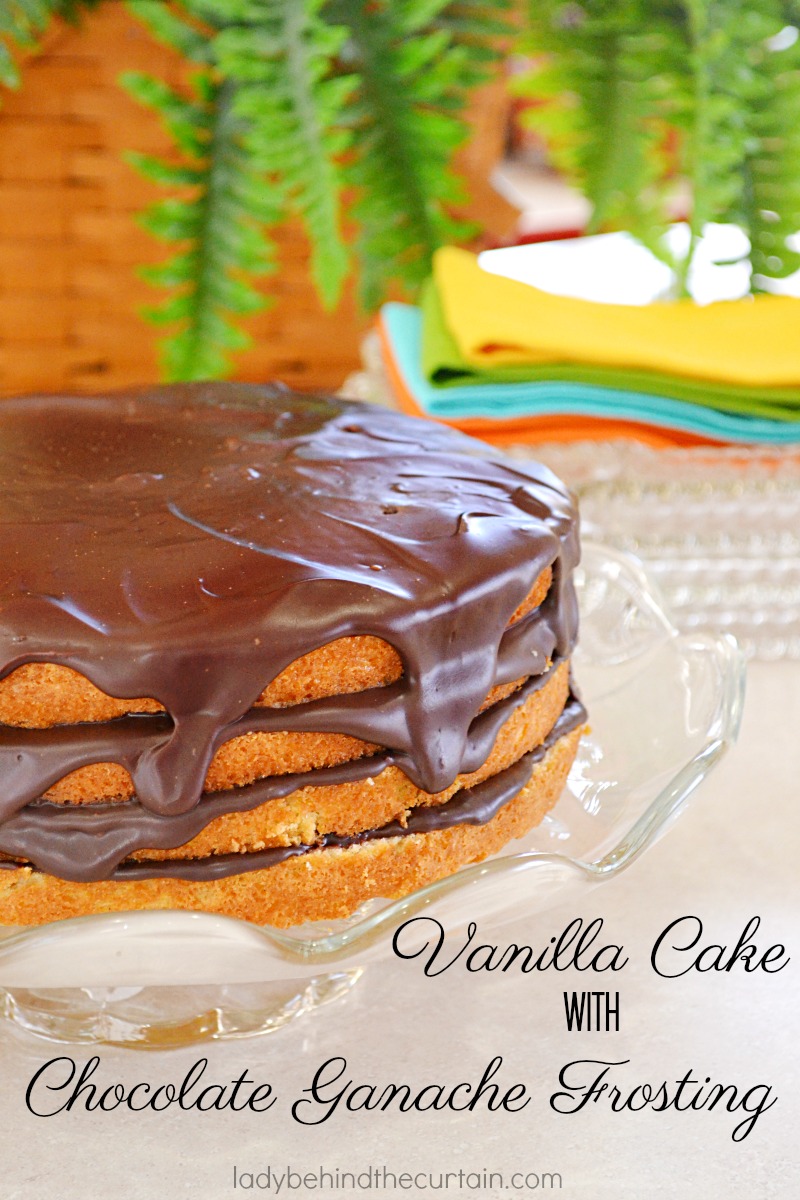 Vanilla seeds and pods enhance the cake's vanilla flavor, while dark chocolate brings this cake to a decadent level of deliciousness.  This classic cake is just about perfect for any occasion.  Whether that's celebrating Easter, Mother's Day or a Birthday.  Read below to find out how easy it is to transform a two layer cake into a FOUR layer cake!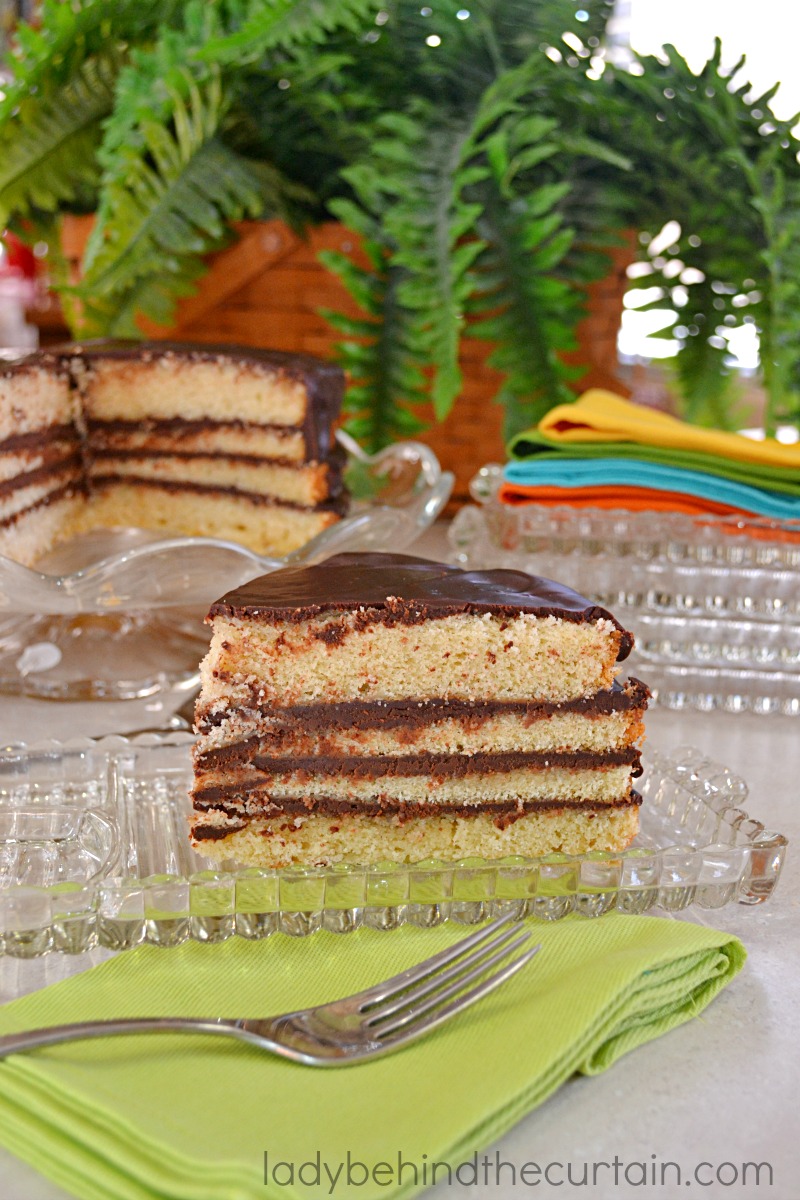 Take one level cup of all-purpose flour, remove two tablespoons, and then add two tablespoons of cornstarch back in.  Be sure to sift the flour to distribute the cornstarch well before using it in your cake batter.
Vanilla Cake With Chocolate Ganache Frosting
Ingredients
For the Cake
1 cup milk
2 (6-inch) vanilla beans, seeds removed
2 3/4 cups cake flour
2 teaspoons baking powder
1/4 teaspoon salt
2 cups granulated sugar
1 cup unsalted butter, softened
4 large eggs
2 teaspoons vanilla extract
For the Syrup
1/2 cup water
1/4 cup granulated sugar
For the Ganache Frosting
1 1/4 cups heavy whipping cream
3 tablespoons unsalted butter, cut up
3 tablespoons corn syrup
15 ounces bittersweet chocolate, chopped
1 teaspoon vanilla extract
Instructions
For the Cake:
Preheat oven to 350°.  Spray bottoms of 2-9-inch round baking pans with cooking spray.  line bottoms with parchment paper; spray parchment.
Pour milk into small bowl.  With small knife, carefully scrape seeds from vanilla beans into milk (reserve pods for syrup);  stir to combine .  Let stand 15 minutes.
Whisk flour, baking powder and salt in medium bowl.  Beat sugar and butter in large bowl at medium speed 2 minutes or until blended and creamy.  Add eggs one at a time, beating well after each addition.  Beat in vanilla.  At low speed, beat in flour mixture alternately with milk just until incorporated and smooth, beginning and ending with flour mixture.  Divide batter between pans.  Bake 30 to 35 minutes or until a toothpick inserted in center comes our clean.  Cool in pans on wire rack 15 minutes.  Invert onto wire rack; remove parchment.  Cool completely.
For the Syrup:
Meanwhile, to a small saucepan add the water and sugar; heat over medium-low until sugar dissolves, stirring frequently.  Stir in reserved vanilla pods;  let stand at least 1 hour.
For the Chocolate Ganache Frosting:
Heat cream, butter and corn syrup in medium saucepan over medium heat until butter melts and mixture is hot.  Remove from heat; add chocolate.  Let stand 1 minute; stir until chocolate is melted and smooth.  Stir in vanilla.  Let stand at room temperature until thickened slightly.
Putting it all together:
Slice cake in half horizontally.  Place 1 layer on platter.  Brush with syrup; spread 3/4 cup ganache.  Repeat with remaining layers, leaving sides free of frosting.  Serve at room temperature. TIP:  If your layers start to slide add 3 skewers down through the top and refrigerate to harden.  When ready to serve carefully remove skewers.
Nutrition Information
Amount Per Serving
Calories

0
Total Fat

0g
Saturated Fat

0g
Cholesterol

0mg
Sodium

0mg
Fiber

0g
Sugar

0g
Protein

0g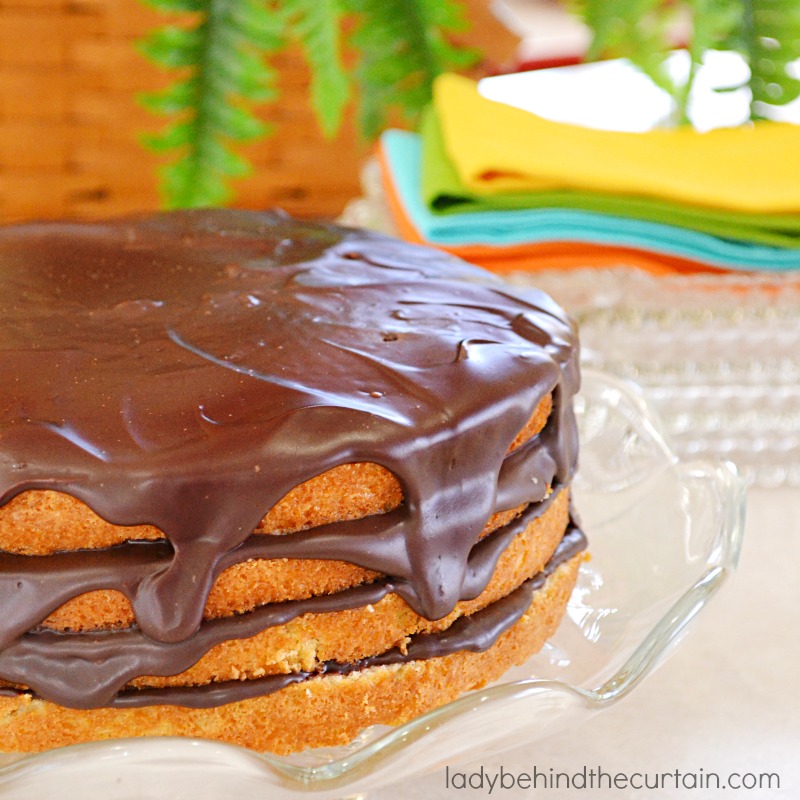 MORE CAKE RECIPES

MOCHA ICE CREAM CAKE 2. DEVIL'S FOOD CAKE WITH A CHEESECAKE CENTER 3. STRAWBERRY CAKE
NEVER MISS A POST!
Sign up for my newsletter and receive my recipes in your inbox. Easy to see anytime and saved for safe keeping. Click Here and sign up today! —->>>>CURTAIN CALL NEWSLETTER