Devil's Food Cake with a Cheesecake Center
Devil's Food Cake with a Cheesecake Center | Celebrate your special day with a double treat!  TWO DESSERTS IN ONE!   Two layers of dark chocolate Devil's food cake, a wonderful cheesecake in the middle with a delicious caramel layer surprise.  Now you can create your own cheesecake within a cake.  It's super simple all you need to do is plan ahead and you're set.  Not only is the cake and cheesecake outstandingly good but the dark chocolate frosting is the best.  So good you'll be tempted to eat it by the spoonfuls.  After all that's how frosting should be…..right?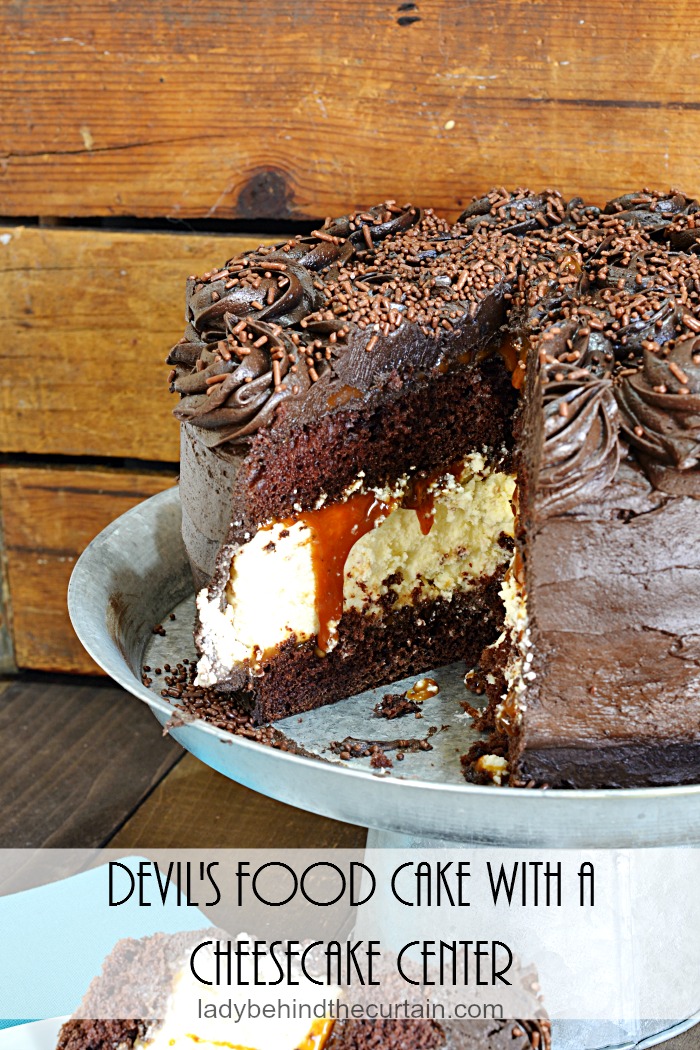 It all starts with a Devil's Food cake mix.  If you would rather make the cake from scratch, then I say go for it.  It's up to you.  I will say the cake mix worked out great!  This cake was so good!   I can't wait to share with you how easy it was to put together.  So, let's get started!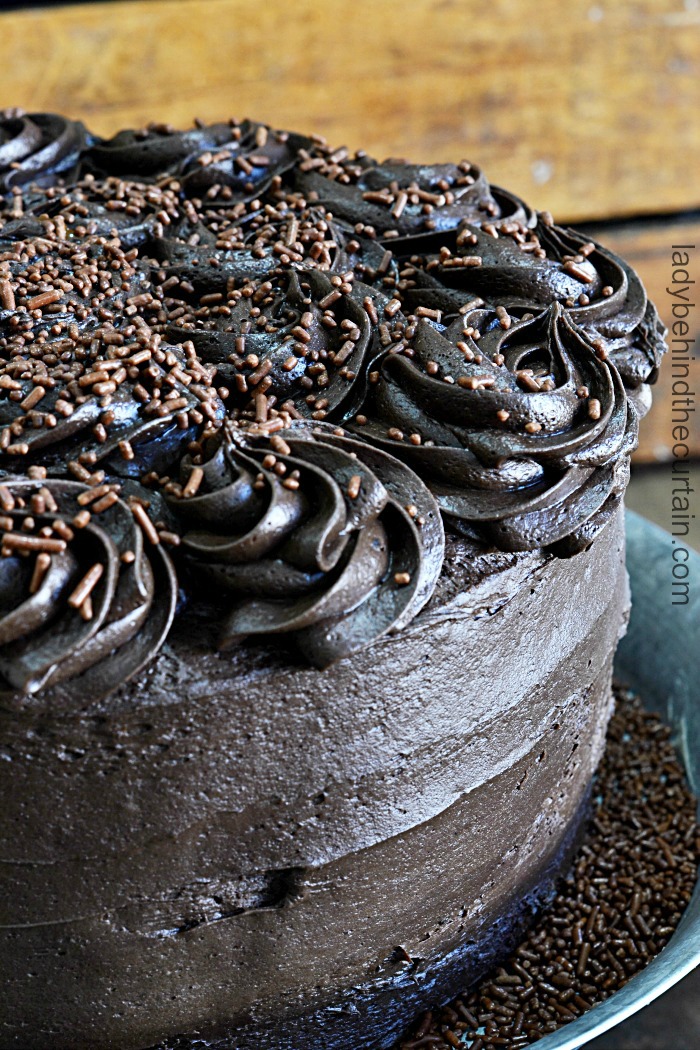 Once the cake is baked, cooled and if need be trimmed, place one layer on the cake stand.  Pour 1/3 cup of the hot caramel topping on top.  NOTE:  using hot caramel just mean the caramel is thicker then the normal caramel ice cream topping.  It doesn't mean that you literally add "hot" caramel to the cake.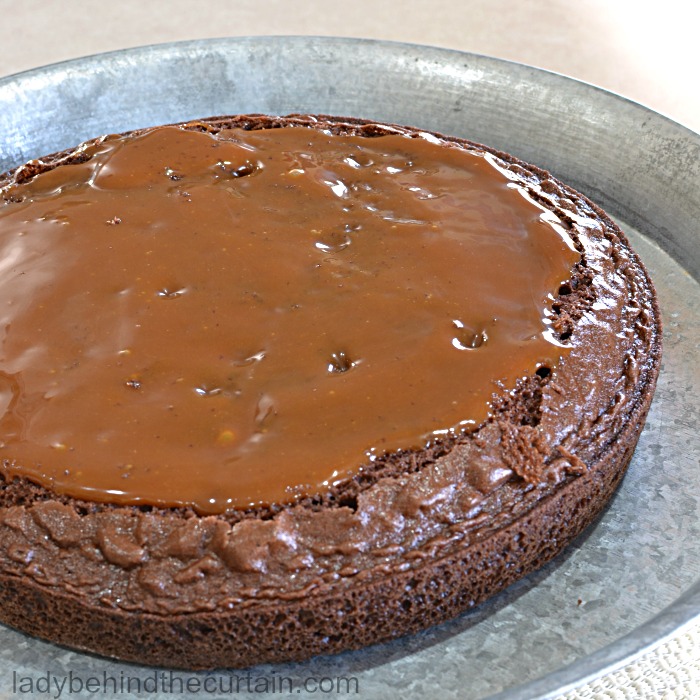 Now add the cheesecake layer.  This is just a baked cheesecake without the crust.  See the full recipe below with ingredients and instructions on how to make this wonderful creamy layer of cheesecake goodness.  NOTE: My cheesecake was a little bigger then my cake even though they were both baked in 9-inch pans.  So I trimmed some of the cheesecake to be the same size as the cake.  Add more of the hot caramel to the top of the cheesecake.
Place the remaining cake layer on top of the cheesecake.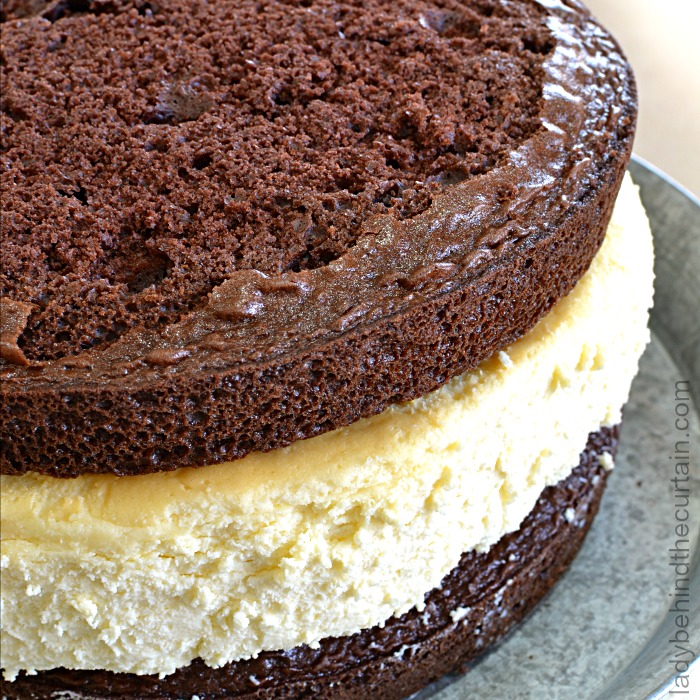 Add a thick somewhat smooth layer of chocolate frosting to the sides, a little bit thinner to the top (you'll be adding florets later).  As an option, you can add the remaining caramel and some chocolate sprinkles to the top of the cake.  NOTE: This will be a hidden surprise since it will be covered with frosting.  Add the remaining frosting to a large pipping bag fitted with a 1M pipping tip.  In a swirl motion add florets.  If you need help with this step CLICK HERE—->>>>BEAUTY AND THE BEAST CUPCAKES.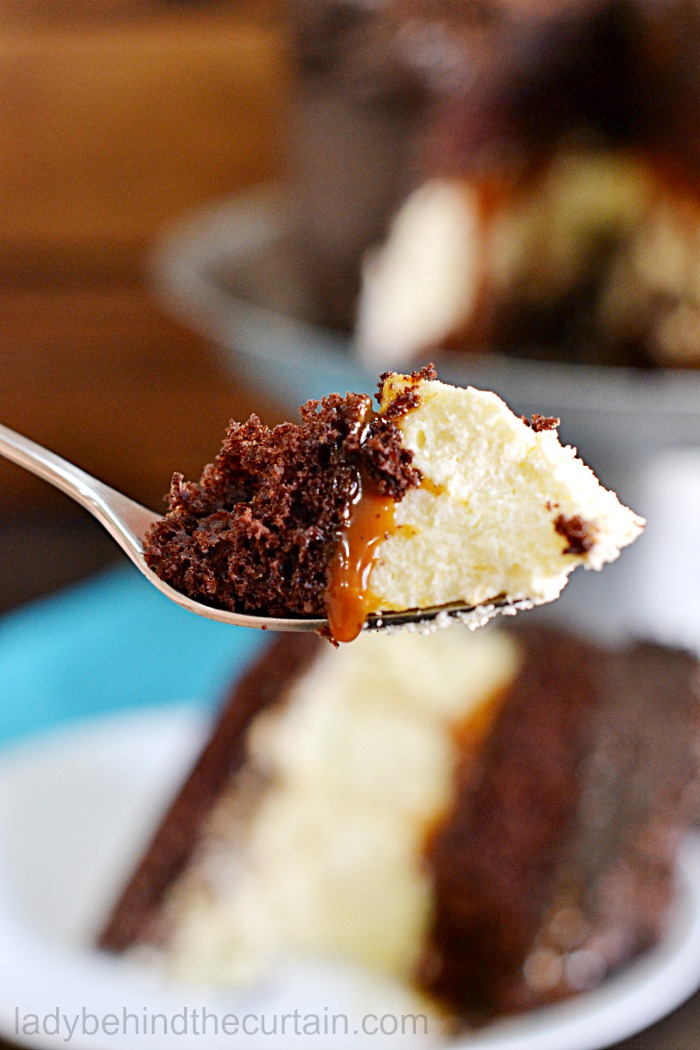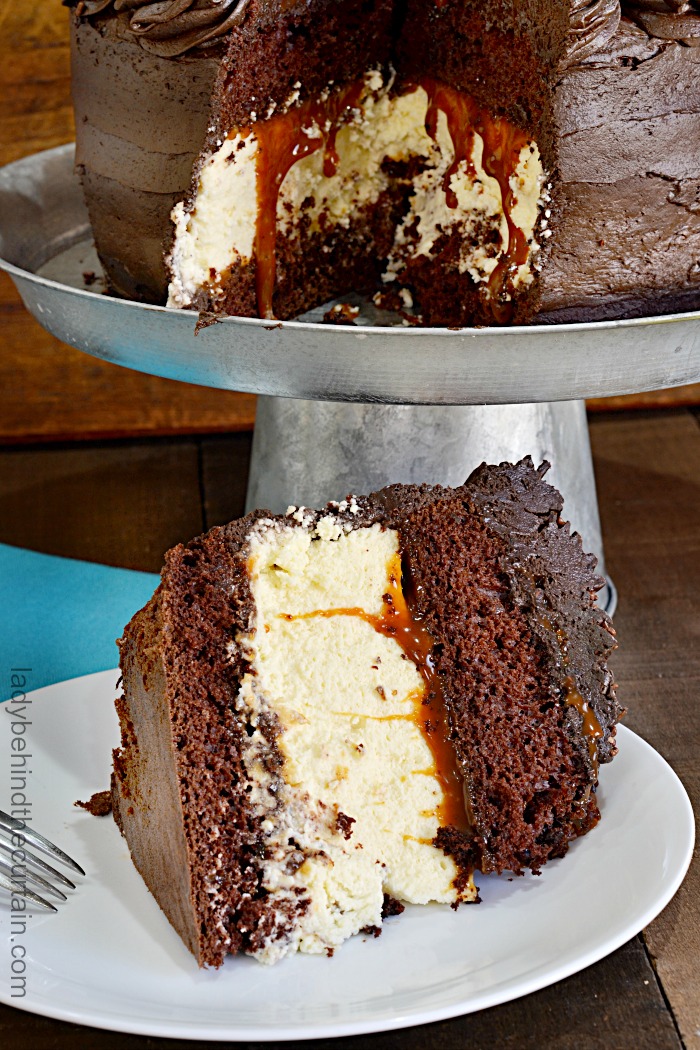 RECIPES WITH CHOCOLATE

CHOCOLATE PISTACHIO BISCOTTI  2. GERMAN CHOCOLATE CAKE BREAD PUDDING  3. PEANUT BUTTER CHOCOLATE TWIST CUPCAKES

NEVER MISS A POST!
Sign up for my newsletter (two per month) and receive my recipes in your inbox.  Easy to see anytime and saved for safe keeping.  Click Here and sign up today! —->>>>CURTAIN CALL NEWSLETTER
Save