White Chocolate Raspberry Bars
White Chocolate Raspberry Bars | A melt in your mouth treat.  Full of whole fresh raspberries and covered with white chocolate.  Simply the best Valentine's Day Dessert!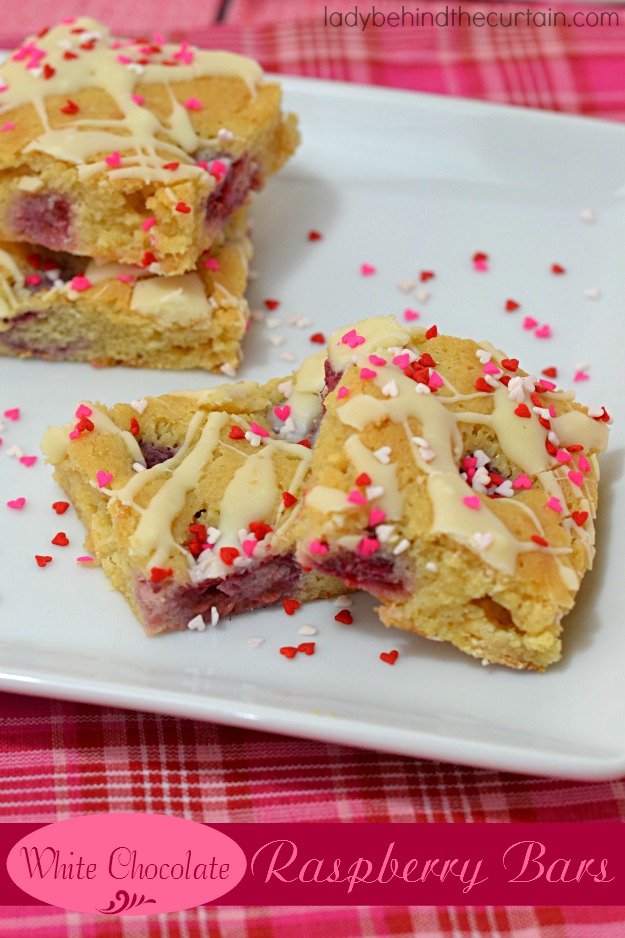 Since this dessert doesn't have to be refrigerated this is the perfect party dessert!  These White Chocolate Raspberry Bars have a buttery flavor with busts of raspberry and the crunch of white chocolate chips.  For a complete raspberry experience take along my Raspberry and Nectarine Cobbler.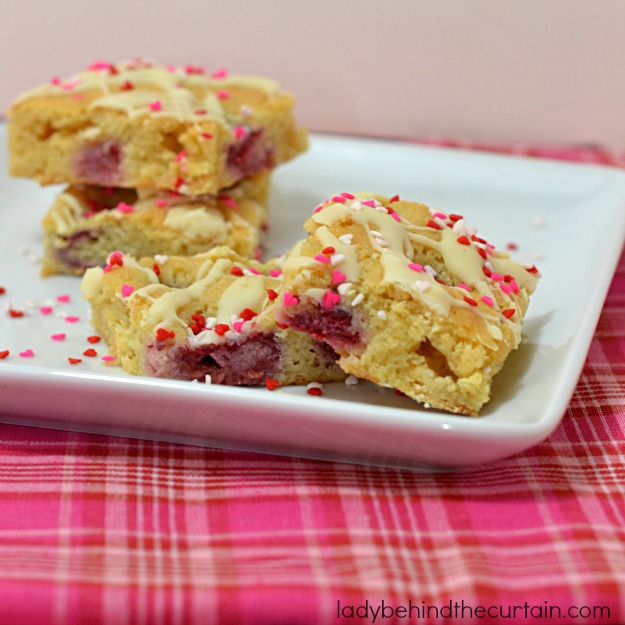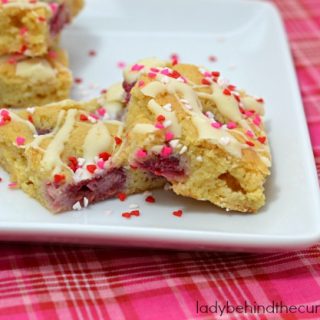 White Chocolate Raspberry Bars
Ingredients
For the White Chocolate Raspberry Bars:
1 (1 ounce) box sugar free white chocolate pudding mix
2/3 cup all purpose flour
1/2 teaspoon salt
1/2 cup butter, softened
1 cup granulated sugar
1 teaspoon vanilla extract
4 ounce white chocolate chips
1 1/2 cups fresh raspberries
For the Drizzle:
1 cup white chocolate chips
3 tablespoons heavy whipping cream
Instructions
For the White Chocolate Raspberry Bars:
Preheat oven to 350 degrees.
Line a 9x13-inch baking pan with parchment paper.
In a medium bowl whisk together the pudding mix, flour and salt.
In a large mixing bowl add the butter, sugar and vanilla.
Mix until combined and fluffy.
Gradually add the flour mixture to the butter mixture; beat until combined.
Stir in chocolate chips and raspberries.
Pour into prepared pan and evenly spread to the edges.
Bake 30 to 35 minutes.
Cool completely in pan; once cooled take out of the pan, add drizzle and optional sprinkles.
For the Drizzle:
Place white chocolate chips and cream in a small microwave safe bowl.
Melt (about 1 minute) and stir until creamy.
Drizzle over bar slab; add sprinkles.
Cut into bars.
MORE RASPBERRY RECIPES

1. LIGHT RASPBERRY WHITE CHOCOLATE CHIP MUFFINS  2. RASPBERRY CHEESECAKE BROWNIES  3. RASPBERRY CHEESECAKE FILLING