White Chocolate Strawberry Marshmallow Bark
White Chocolate Strawberry Marshmallow Bark |  This delicious Valentine's Day Dessert is full of fluffy strawberry flavored marshmallows encased in white chocolate and festive sprinkles.  Perfect for a classroom party or give as an easy and inexpensive gift.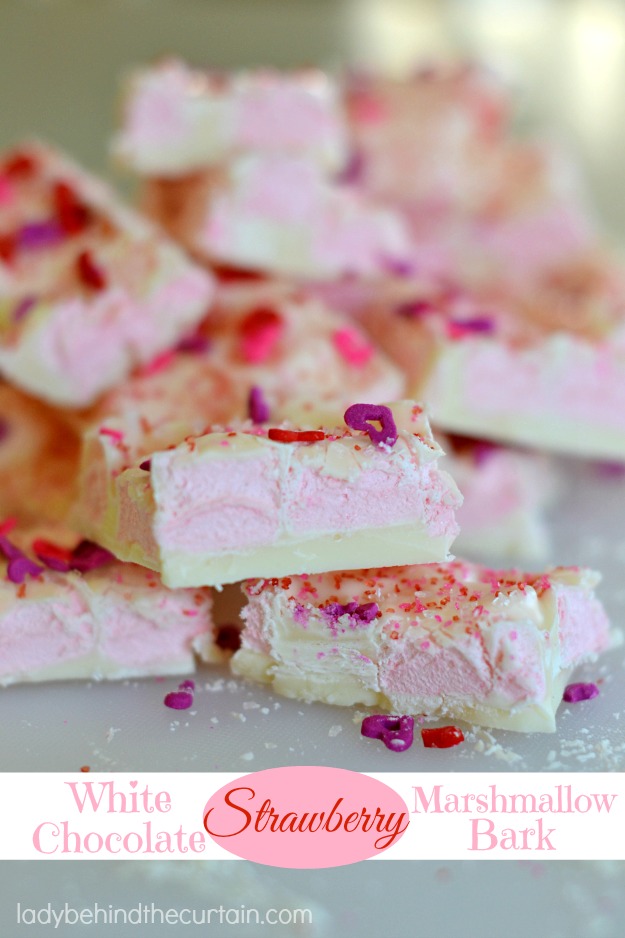 When walking the Valentine's Day aisle of Target I came across a shelf loaded with strawberry marshmallows!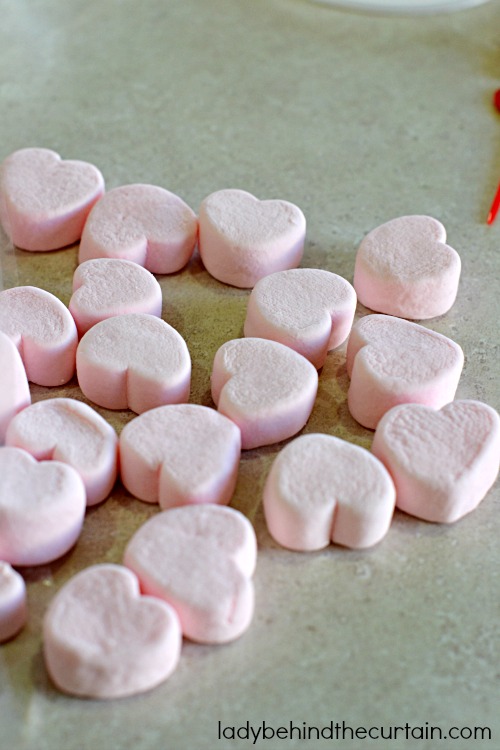 First, YUM! Then, what can I make with these delicious fluffy treats?  White Chocolate Strawberry Marshmallow Bark.  Or simply strawberry marshmallows encased in melted white chocolate!  MAKE THIS CANDY IN LESS THEN 10 MINUTES!  This bark would also be great along side my Dark chocolate Raspberry Dipped Marshmallows.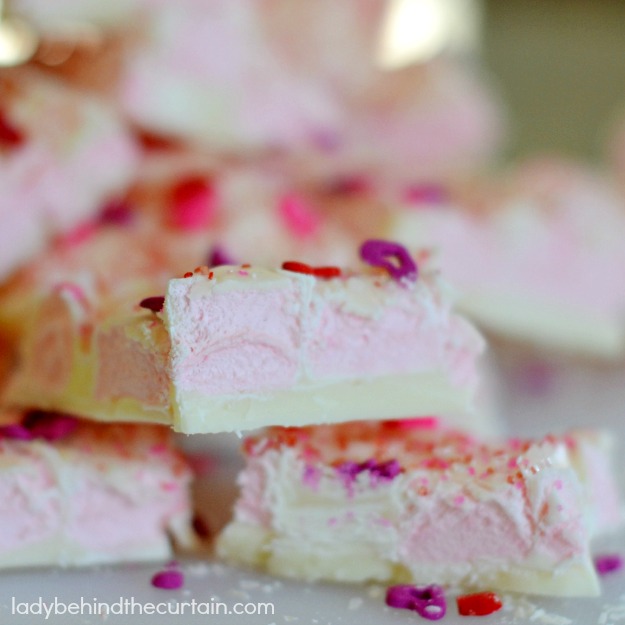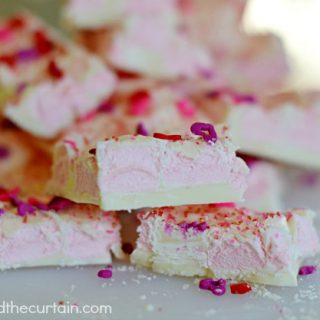 White Chocolate Strawberry Marshmallow Bark
Ingredients
6 ounces strawberry flavored marshmallows (about 4 cups)
1 pound white chocolate
1 tablespoon shortening
Instructions
Line a 9x13-inch baking dish with foil and spray with non stick cooking spray.
Measure marshmallows into a large bowl.
Add chocolate and shortening to a medium microwave safe bowl.
Microwave 1 minute and 30 seconds; take out of the microwave and stir 30 seconds or until the chocolate is melted and creamy.
Pour over the marshmallows and quickly stir to completely coat the marshmallows with chocolate.
NOTE: You'll want to do this step quickly because you don't want the marshmallows to melt.
Pour into prepared pan and press to evenly disburse.
Add optional sprinkles.
Refrigerated until firm and cut into squares.
MORE EASY CANDY RECIPES

1. SLOW COOKER PISTACHIO NUT AND SOUR CHERRY CHOCOLATE  2. CHERRY GUM DROPS  3. DARK CHOCOLATE COOKIE BUTTER TRUFFLES