7UP Biscuits: You may be surprised by the addition of 7UP but trust me, the end result is fantastic! ONLY FOUR INGREDIENTS! These easy to make biscuits are light, fluffy, tender, and go with any meal.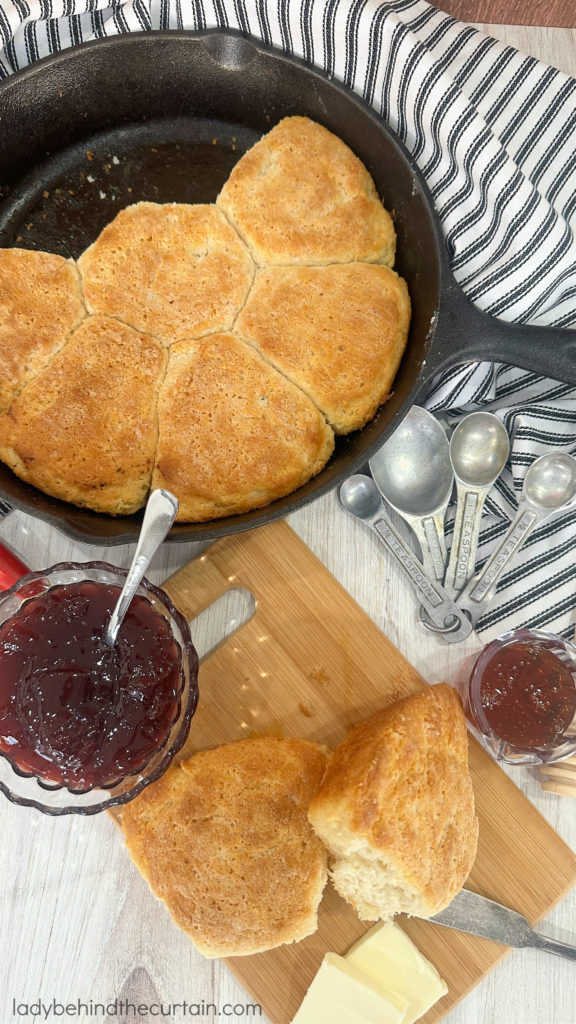 7UP Biscuits Ingredients
Full printable recipe below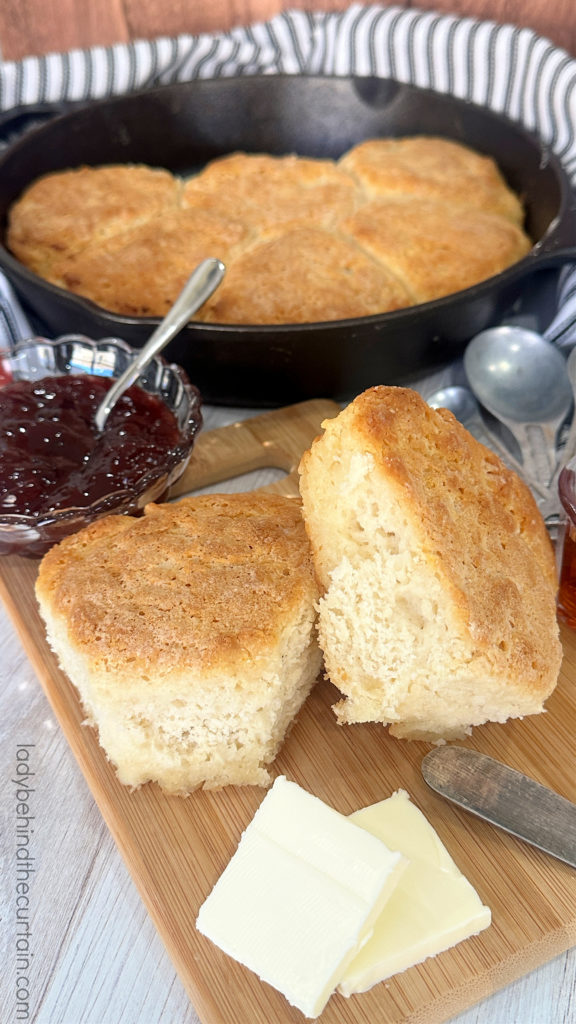 7UP SODA: The carbonation in 7UP takes the place o other leavening agents in baking. Instead of baking soda or baking powder, the carbonation in the soda helps these biscuits rise and puff up as they bake. The result is fluffy, tender, delicious biscuits.
BISQUICK: If you've never baked with Bisquick before it's sort of the equivalent of a boxed cake mix. Bisquick is a shortcut ingredient, made with a blend of flour, salt, leavening, and fat. LOOK BELOW FOR INSTRUCTIONS OF HOW TO MAKE YOUR OWN.
SOUR CREAM: Add moisture and tang.
BUTTER: These biscuits are baked in butter. Yes….BUTTER! Now you know why they're so good. As the butter bakes it becomes a delicious nutty flavor (like browned butter). The biscuits are crispy on the bottom and full butter buttery flavor.
How to Make 7UP Biscuits
Full printable recipe below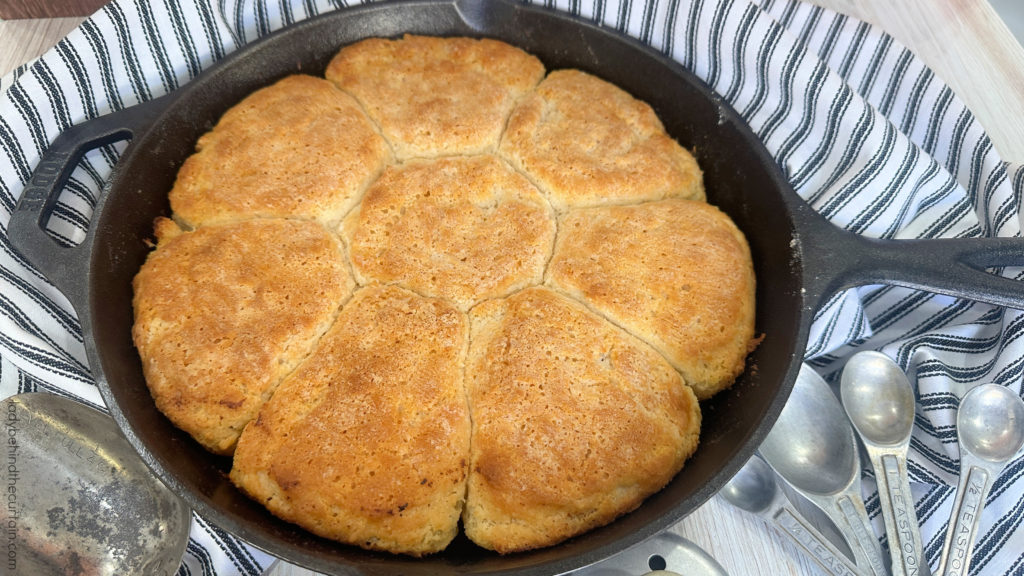 •Preheat oven to 425°.
•Pour melted butter into a 12 inch cast iron skillet or 9×13 inch baking dish.
•In a large mixing bowl, combine the Bisquick, sour cream, and soda.
•Mix until combined, spoon onto a well floured surface.
•Pat dough into a 10 inch circle and 1-inch thickness, using a 2¾-inch round cutter, cut biscuits, place in skillet or baking dish.
•Gather scraps and repeat dough thickness. Bake 20-25 minutes. MAKES 12 BISCUITS.
Biscuit Making Tips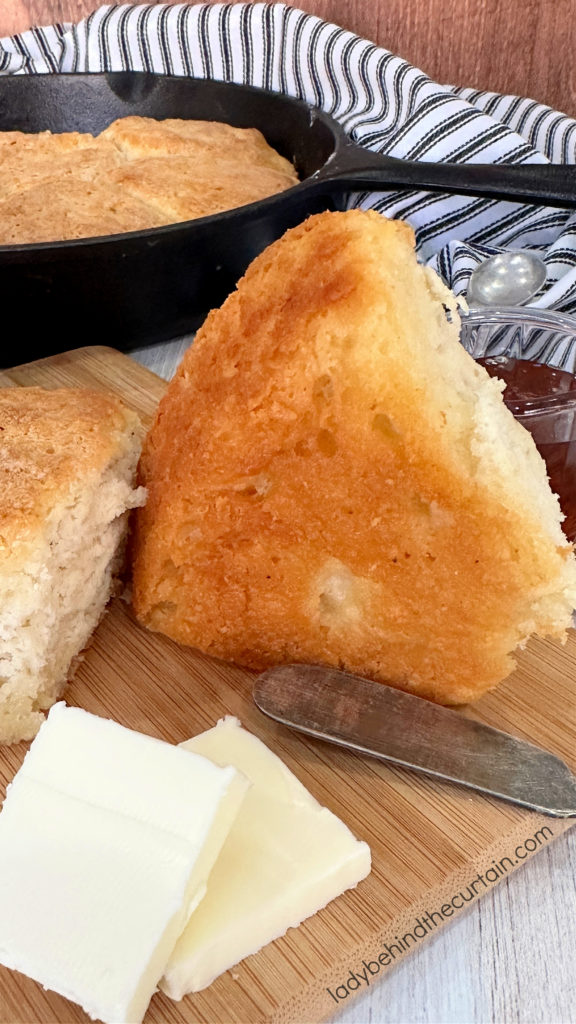 This recipe is amazing mainly because it's so easy to make. I have struggled with the best biscuit recipe for years. They usually turn out looking like hockey pucks. Thankfully NOT ANYMORE! Here are some extra tips to ensure your biscuits turn out not only beautiful but delicious!
SODA: There several soda options if you don't have 7UP. You can use any clear soda like Sprite or Ginger Ale.
MAKE YOUR OWN VERSION OF BISQUICK: Don't have any Bisquick? Make your own! Sift together 2 cups all-purpose flour, 3 teaspoons baking powder, and ½ teaspoon salt. Cut in 2 tablespoons of room temperature butter or vegetable shortening, making sure it is completely incorporated.
OTHER STORE BOUGHT MIX OPTIONS: Pancake mix is a lot like Bisquick, but it might yield a slightly sweeter result due to its sugar content. Jiffy Baking Mix in place of Bisquick offers delicious results and so does Krusteaz Baking Mix.
How to Store 7UP Biscuits
• Biscuits will stay fresh at room temperature, up to 2 days. Store them in an airtight resealable bag or airtight container so that they maintain freshness. That's if you have any leftovers…but I'm pretty sure you won't.
• FREEZE: The biscuits will stay fresh in the freezer up to 30 days. Make sure they are properly sealed. Thaw at room temperature before serving, and see below for reheating tips.
How to Reheat Biscuits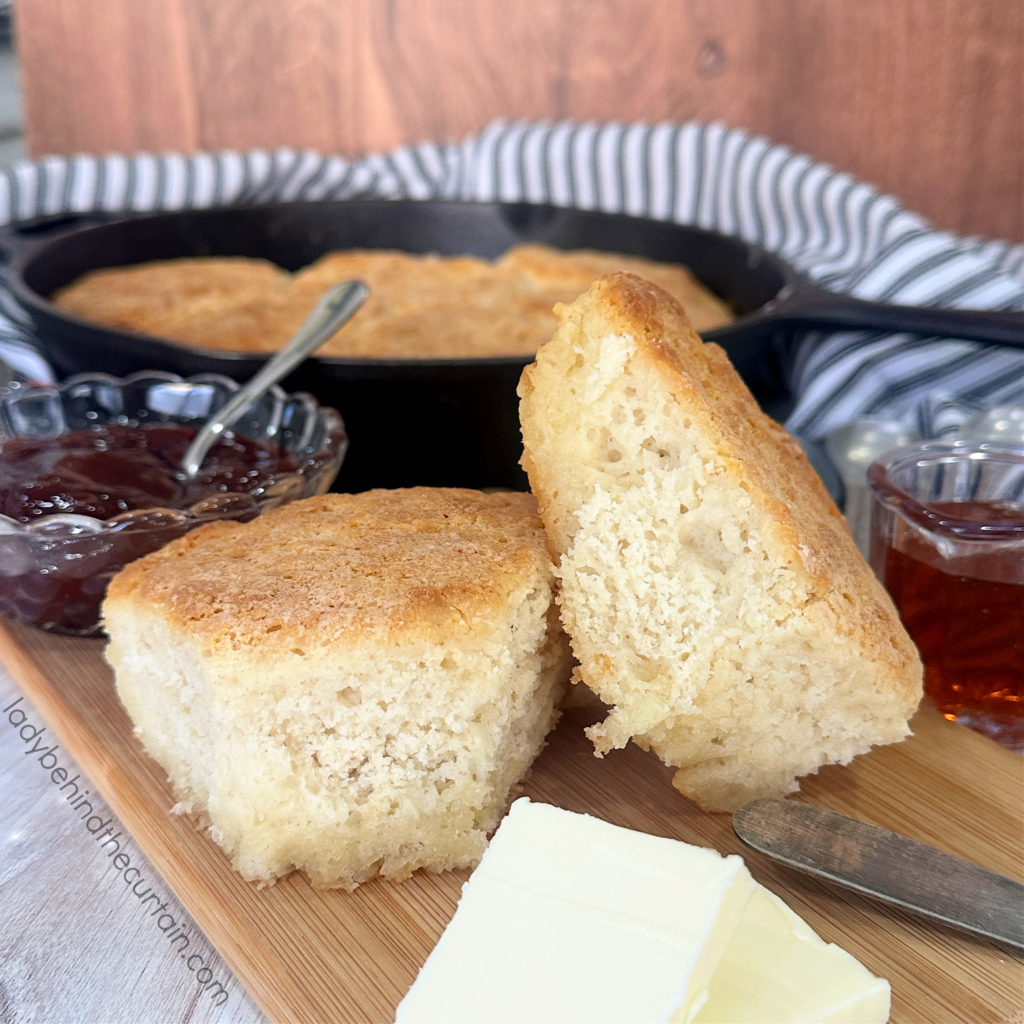 The microwave is not your friend when it comes to reheating biscuits. They will become tough and chewy. The best way to reheat biscuits is to pop them into the oven. Preheat oven to 350°. Line a baking sheet with parchment paper and place the biscuits onto the sheet. Bake 5 minutes or until warmed through.
MENU ITEMS OPTIONS
Breakfast, brunch, lunch, dinner, or even a snack. These 7UP Biscuits are a treat no matter when you serve them. Freshly baked from the oven hot biscuits smothered in butter, jam, or drizzled with honey. A breakfast lovers dream!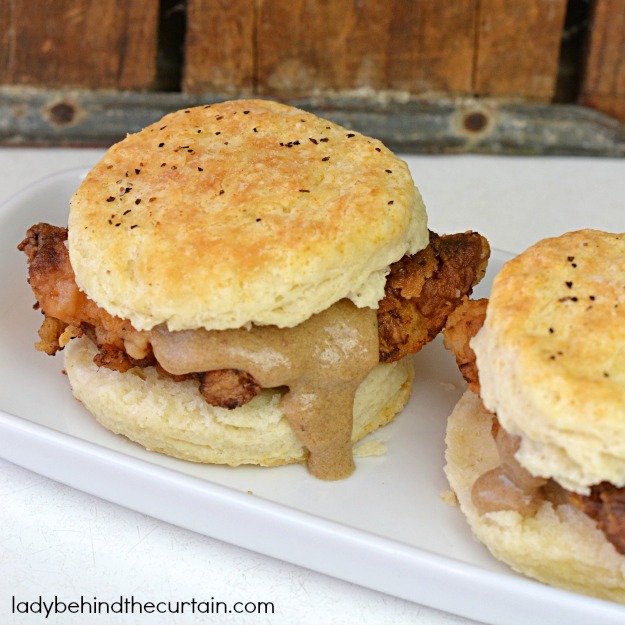 FRIED CHICKEN BISCUIT SANDWICHES 2. EASY SHEET PAN BAKED DENVER OMELET 3. OLD FASHIONED COUNTRY BACON GRAVY
SIGN UP FOR THE LADY BEHIND THE CURTAIN NEWSLETTER AND FOLLOW THE LADY BEHIND THE PARTY ETSY SHOP
THANKS FOR VISITING♥