Fried Chicken Biscuit Sandwiches
Wondering what to do with your leftover fried chicken?  Fried Chicken Biscuit Sandwiches is the answer!  These sandwiches start with a fluffy Buttermilk Biscuit topped with a crispy flavorful piece of fried chicken and then (I can't even get over this) Fried Chicken Country Gravy!  Yep, I KNOW!  Ridiculous!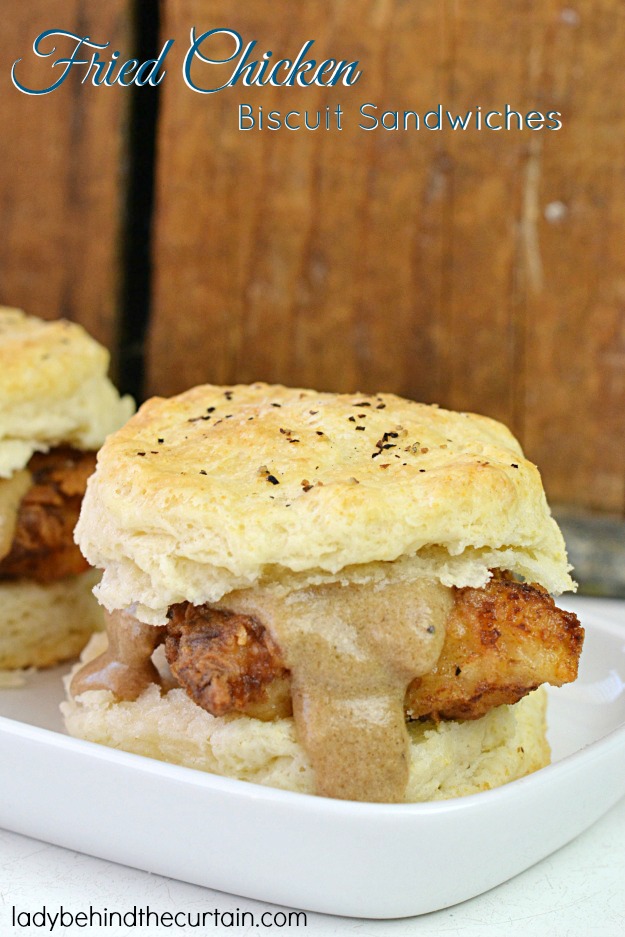 I love that something so simple can be so delicious!  These Fried Chicken Biscuit Sandwiches are not just great for leftovers but totally awesome for a breakfast buffet or brunch.  ANOTHER OPTION:  Skip the gravy and drizzle on some honey.  I love a savory sandwich with a little bit of sweet added.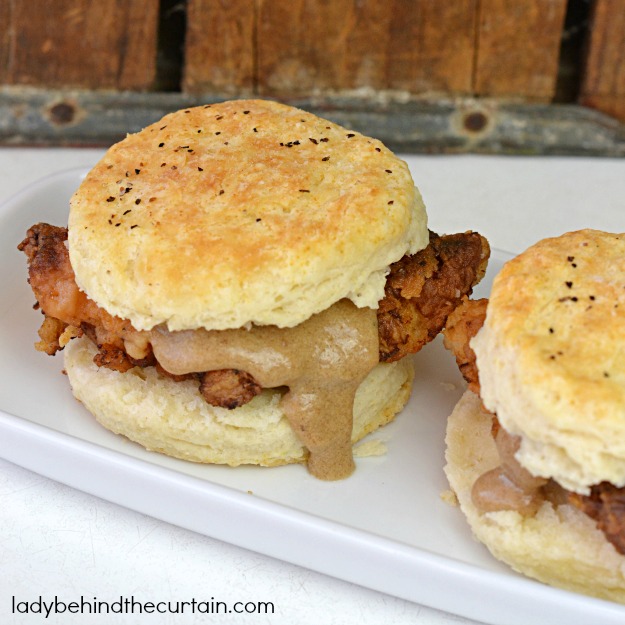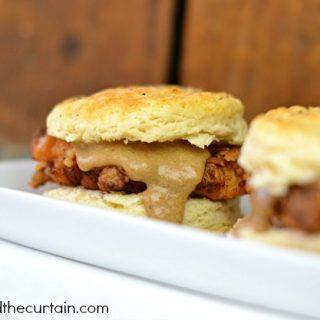 Fried Chicken Biscuit Sandwiches
Ingredients
2 boneless skinless, chicken breasts
1 cup buttermilk
1 tablespoon hot sauce
5 teaspoons salt, divided
1 1/2 cups all-purpose flour
2 teaspoons black pepper
canola oil, for frying
6 Buttermilk Biscuits
Instructions
Place a piece of chicken on a piece of plastic wrap with another piece on top.
Pound chicken until 1/4-inch thick.
Cut into 3 portions; repeat for other piece of chicken.
Place chicken in a zip top bag with the buttermilk, hot sauce and 2 teaspoons of salt.
Refrigerate 30 minutes.
Heat oil.
While oil is heating; In a shallow dish, stir together the flour, remaining 3 teaspoons salt and pepper.
Remove one piece of chicken from buttermilk mixture, dredge in the flour mixture and carefully place in the hot oil.
Repeat until the skillet is full but not crowded; fry until golden and a meat thermometer inserted into the thickest portion reads 165 degrees (about 10 minutes on each side).
Place cooked chicken on a plate lined with paper towels.
Repeat until ALL the chicken is cooked.
Serve with a warm Buttermilk Biscuit and a drizzle of Fried Chicken Country Gravy.
MORE BRUNCH SANDWICH RECIPES
1. MINI CORN MUFFIN SAUSAGE SANDWICHES  2. CURRIED CHICKEN SALAD WAFFLE SANDWICH  3. PEACH CHICKEN SLIDERS