Apple Butter Cinnamon Roll Cake
Lady Behind the Curtain
Posted on
by
Sheryl

BREAKFAST AT ITS BEST!
Bring in Fall with this spectacular apple butter cinnamon roll cake!  Filled with walnuts, my homemade slow cooker apple butter and topped with a maple glaze.  Your kitchen just became a BREAKFAST BAKERY!
FOR DETALIED PICTURES WATCH THE SLIDE SHOW BELOW.  HOOVER YOUR CURSOR OVER THE PICTURE FOR INSTRUCTIONS.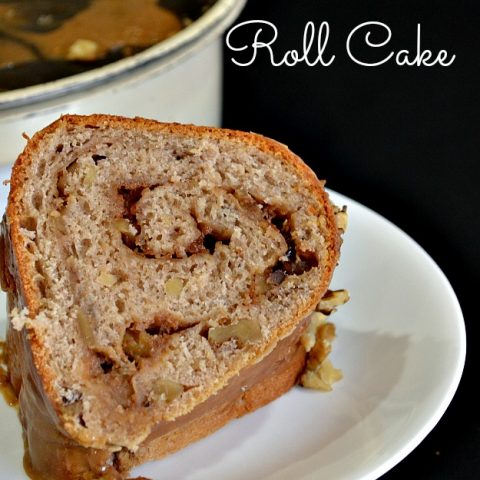 Apple Butter Cinnamon Roll Cake
Additional Time:
5 minutes
Total Time:
1 hour
30 minutes
Bring in the flavors of Fall!
Ingredients
For the Cake:
5-1/2 to 6 cups all-purpose flour
2 packages or active dry yeast or 4-1/2 teaspoons
1 cup milk
1/2 cup water
1/2 cup butter, cut up
3 tablespoons granulated sugar
2 teaspoons ground cinnamon
1 teaspoon salt
2 eggs, lightly beaten
1 cup walnuts, chopped
For the Filling:
6 tablespoons butter, softened
2/3 cup apple butter
1 cup walnuts, chopped
For the Maple Drizzle:
1 cup confectioners sugar
1 tablespoon maple syrup
1/2 teaspoon maple extract
1/2 teaspoon vanilla extract
3 teaspoons milk
1/4 cup walnuts, chopped (optional topping)
Instructions
For the Cake:
In a large bowl stir together 2 cups of the flour and the yeast.
In a medium saucepan heat and stir milk, water, 1 cup butter, sugar, cinnamon and salt, just until warm (120 to 130 degrees) and butter almost melts.
Add milk mixture to flour mixture; add eggs.
Beat with an electric mixer on low to medium speed for 30 seconds, scraping sides of bowl constantly.
Beat on high speed for 3 minutes.
Using a wooden spoon, stir in walnuts and as much of the remaining flour as you can.
Turn dough out onto lightly floured surface.
Knead in enough of the remaining flour to make a moderately soft dough that is smooth and elastic (3 to 5 minutes total).
Shape dough into a ball.
Place in a lightly greased bowl, turning once to grease surface of dough.
Cover and let rise in a warm place until nearly double in size (about 1 hour).
Punch dough down.
Turn out onto a lightly floured surface.
Cover and let rest for 10 minutes.
Lightly spray a 10-cup bundt pan with non stick cooking spray.
For the filling cream together 1 cup softened butter, apple butter and set aside.
Roll dough into a 20x12-inch rectangle.
Spread filling over dough, leaving 1-inch unfilled along the long sides.
Sprinkle with remaining 1 cup walnuts.
Roll up rectangle, starting from a filled long side; pinch dough to seal seam.
Carefully place rolled rectangle, seam side down, in the prepared bundt pan, bringing ends together to form a ring.
Cover and let rise in a warm place until nearly double in size (about 45 minutes).
Preheat oven to 350 degrees.
Bake for 50 to 55 minutes or until golden, covering loosely with foil for th elast 15 minutes or baking.
Carefully invert bread onto a wire rack; cool completely.
Drizzle with maple drizzle.
For the Drizzle:
Combine all ingredients.
Using a large spoon stir until combined and smooth.
Drizzle over the top of the cake, letting it run down the sides.
Garnish with chopped walnuts.