Caramel Brownie Fudge|  This delicious fudge recipe brings your favorite flavors together!  Brownies, fudge and caramel!  This incredible fudge starts with a brownie cookie, then a can of Dulce de Leche to spread on top and…..creamy caramel fudge!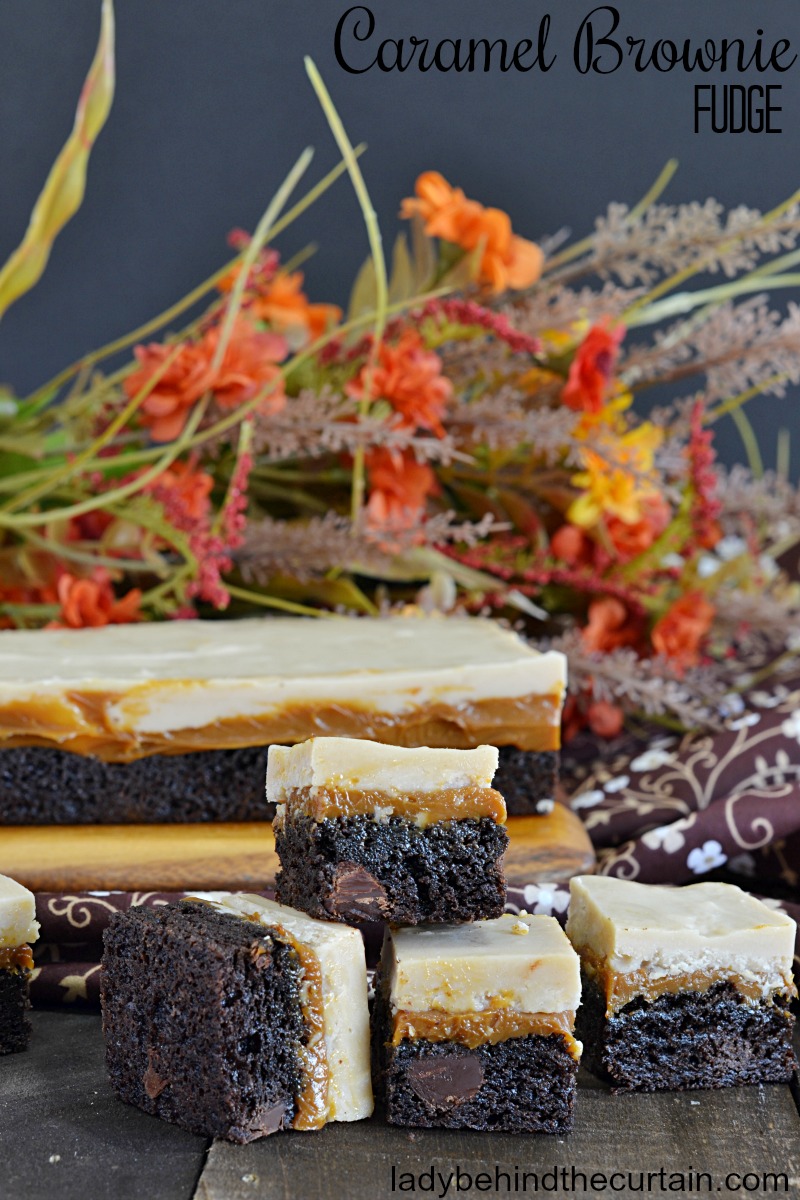 When I was at Target the other day I spied a bag of Ghirardelli Caramel Chips!  It's something new!  I knew I wanted to create something with them.  So I grabbed two bags not knowing what I would create.  This recipe is the result of that find!  Obviously this is not your typical fudge with the cooking process.  Quite frankly I NEVER have had luck with that method.  That's why all my fudge recipes are simplified.  With the techniques I use you're ALWAYS guaranteed to have success!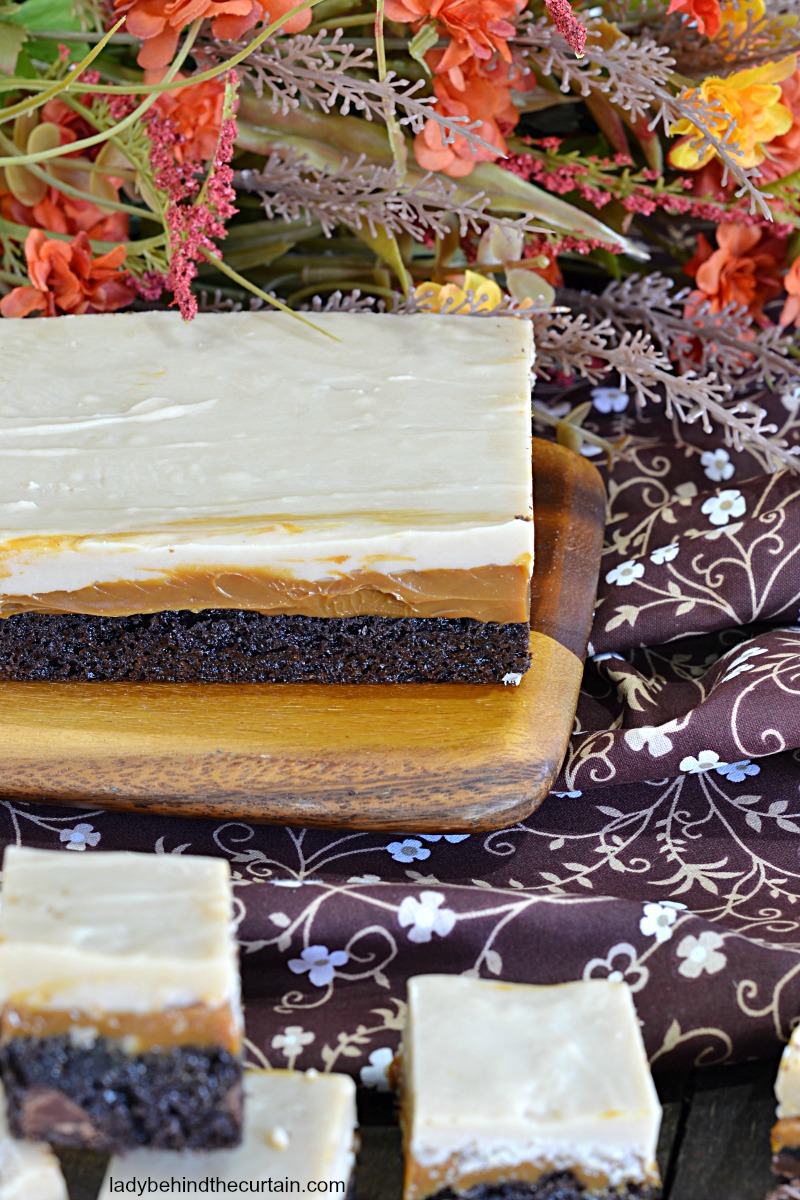 Fudge is the universal gift!  Perfect for co workers, teachers and neighbors (just to name a few).  I love adding fudge to my holiday platter.  I usually fill it with cookies like, Brown Butter Glazed Pecan Crescent Cookies, Cranberry Bliss Oatmeal Cookies, Chocolate Toffee Caramel Bites  and a couple of fudge options (look below for more fudge recipes).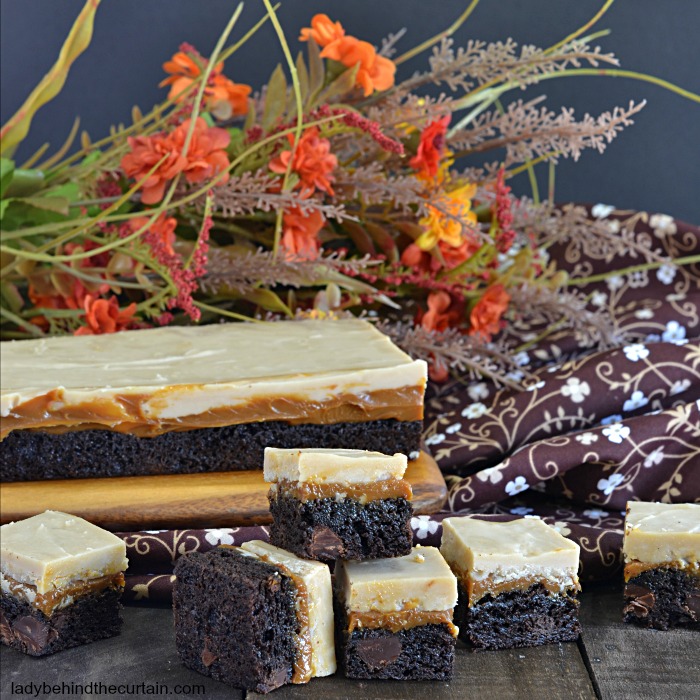 Here's how I made this delicious Caramel Brownie Fudge!
Evenly spread the brownie batter and bake, set aside to cool.
When brownie has cooled (almost completely) spread the Dulce de Leche on top.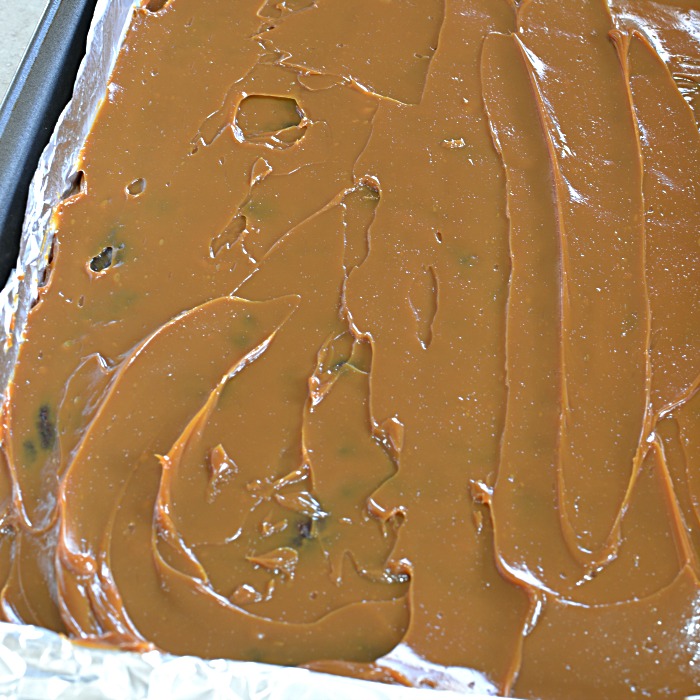 Make the caramel fudge, pour over the Dulce de Leche and carefully spread.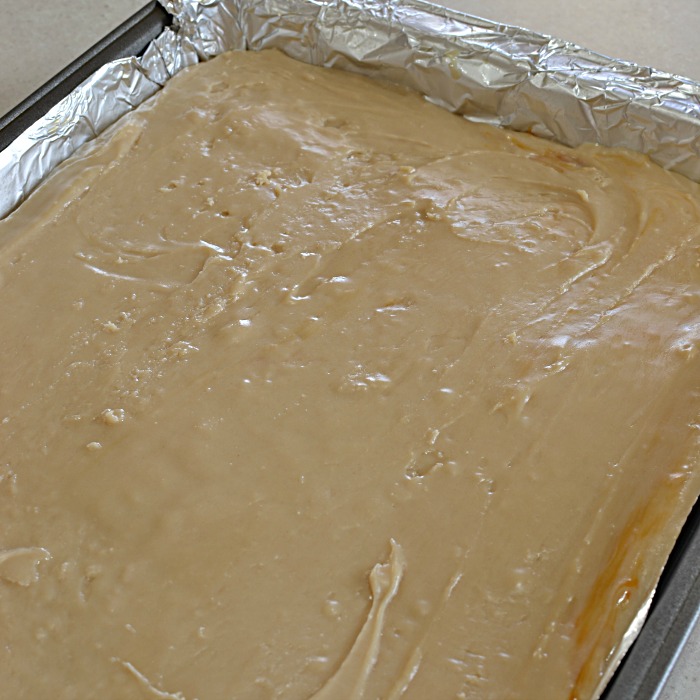 Ingredients
For the Brownie Layer
1 (20 ounce) box Ghirardelli brownie mix
2 large eggs
1/3 cup plus 2 tablespoons vegetable oil
For the Creamy Center
1 (13.4 ounce) can Dulce de Leche
For the Caramel Fudge Layer
1 (10 ounce) bag plus 1 cup Ghirardelli caramel chips
1 (14 ounce) can sweetened condensed milk
2 tablespoons unsalted butter
Instructions
For the Brownie Layer:
Preheat oven to 350°.  Line a 9x13-inch baking pan with foil and spray with non stick cooking spray.
In a medium bowl stir together the brownie mix, eggs and oil, until combined.  Press dough into prepared baking pan. Bake 23 minutes or until the edges are baked and the center is slightly under baked.  Set aside to cool (about 25 minutes).
For the Creamy Center:
Once brownie layer is somewhat cool (about 25 minutes), use an off set spatula and spread on the caramel center.
For the Caramel Fudge Layer:
In a medium microwave safe bowl, add the caramel chips, sweetened condensed milk and butter.  Microwave on high 1 minute; stir until all the butter is melted and the fudge is creamy.  Pour over caramel center.  Use an off set spatula and evenly spread.  Cover and refrigerate overnight to harden.
Use the ends of the foil to lift the fudge out of the baking pan.  Remove foil and cut into bite size pieces.  Store at room temperature in an airtight container.
Nutrition Information
Amount Per Serving
Calories

0
Total Fat

0g
Saturated Fat

0g
Cholesterol

0mg
Sodium

0mg
Fiber

0g
Sugar

0g
Protein

0g
MORE FUDGE RECIPES
PRALINE FUDGE  2. GINGERBREAD FUDGE  3. PISTACHIO FUDGE
NEVER MISS A POST!
Sign up for my newsletter and receive a FREE ebook "Top 10 Fudge Recipes from Lady Behind The Curtain" PLUS my recipes in your inbox. Easy to see anytime and saved for safe keeping. Click Here and sign up today! —->>>>CURTAIN CALL NEWSLETTER