Beer Braised Tri Tip Burritos
These Beer Braised Tri Tip Burritos have layers of flavor starting with the delicious Tri Tip!  Make a BIG batch of burritos and freeze, for busy weeknight dinners or as a grab and go lunch.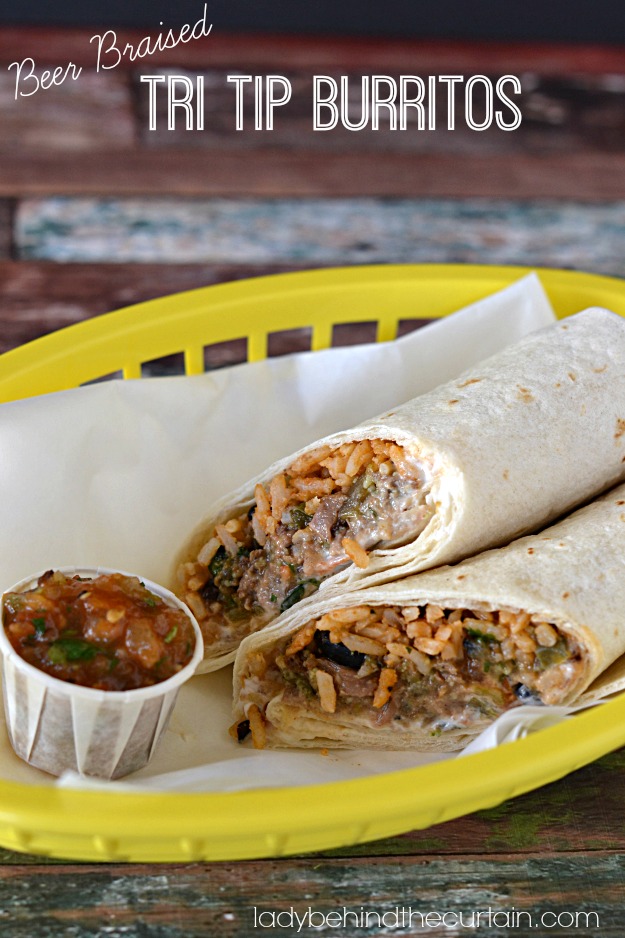 Cooking the Tri Tip low and slow allows the meat to become tender and juicy.  Adding bell pepper, cilantro and Mexican beer give the meat great flavor.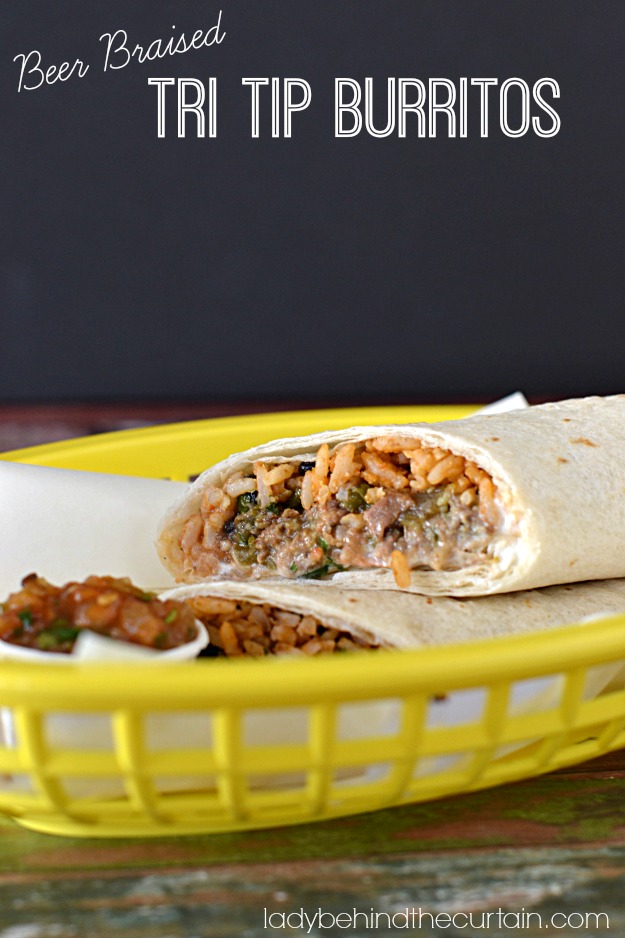 With layers of rice, beans, meat, sour cream and Roasted Salsa.  This burrito could easily be classified as my husband likes to say "a 5 pounder".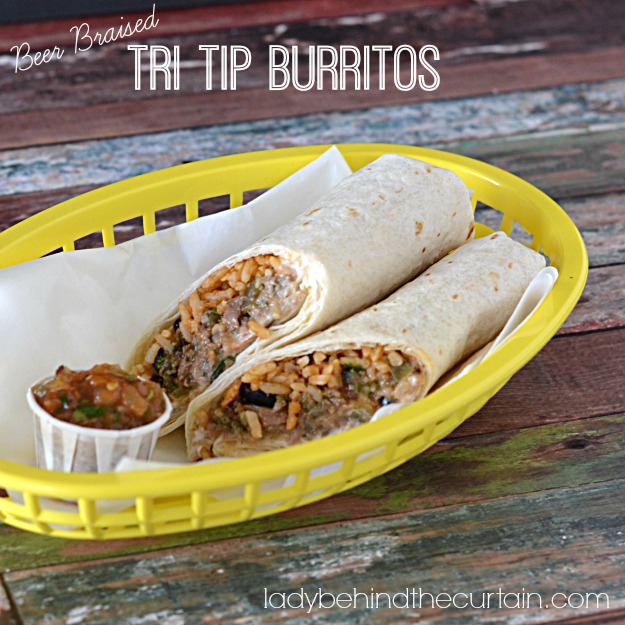 How about serving a big glass of Alcohol Free Sangria to wash it down.
Create your own Recipe Box and save your favorite Lady Behind The Curtain recipes.  Make a Meal Plan with your favorite recipes and ZipList will automatically add the ingredients to a Shopping List.
Yield: Serves 8 to 12
Beer Braised Tri Tip Burritos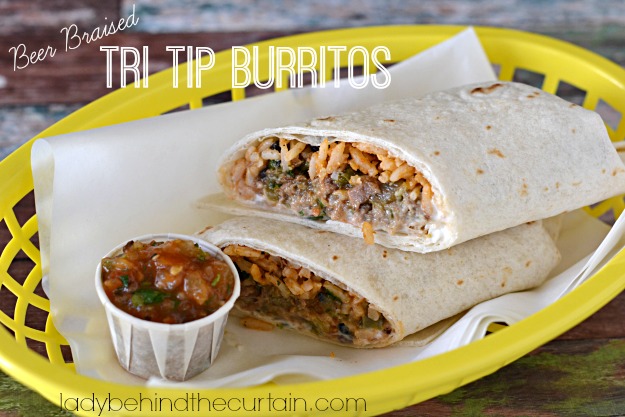 Total Time
3 hours
20 minutes
Ingredients
4 slices bacon, cut into 1-inch pieces
1 (2 to 2 1/2 pound tri-tip or brisket)
1 cup celery, chopped
1/2 cup onion, chopped
1 green bell pepper, chopped
4 garlic cloves, minced
salt
1 tablespoon all-purpose flour
2 cups beef broth
1 (12 Ounce) bottle Mexican beer
1/2 cup fresh cilantro, chopped
1 teaspoon dried oregano
8 to 12 (10-inch) flour tortillas, warmed
Your favorite Mexican rice recipe
1 14.5 ounce black beans,drained and rinsed
sour cream
Instructions
Preheat oven to 350 degrees.
In an ovenproof Dutch oven cook bacon until crisp.
Transfer bacon to paper towels, reserving drippings in pan.
Sprinkle meat (tri-tip or brisket) with black pepper.
Brown meat on both sides in bacon drippings.
Remove meat from pan, add celery, onion, bell pepper, garlic and a pinch of salt.
Cook until vegetables are tender.
Add flour, stirring just until combined.
Whisk in the broth, beer, cilantro and oregano.
Return meat to the Dutch oven.
Bring to a boil, cover and place in the preheated oven.
Bake 1 1/2 hours, turn meat and bake an additional 1 1/2 hours or until meat is tender.
Transfer meat to a cutting board and slice the meat across the grain.
Return meat to the Dutch oven.
Cover to keep warm.
Add prepared beans to the cooked Mexican rice.
To Make a Burrito:
Top tortilla with 1/3 cup rice and bean mixture, a few slices of meat, salsa and sour cream.
Serve with additional salsa on the side.