Sausage and Egg Breakfast Pockets
Sausage and Egg Breakfast Pockets|   This hearty semi homemade breakfast has a generous helping of scrambled eggs, hash browns, sausage and cheese all encased with TWO biscuits!  A breakfast fit for a man and perfect for sharing!  Nothing says "I Love You" like Sausage and Egg Breakfast Pockets.  The perfect grab and go breakfast!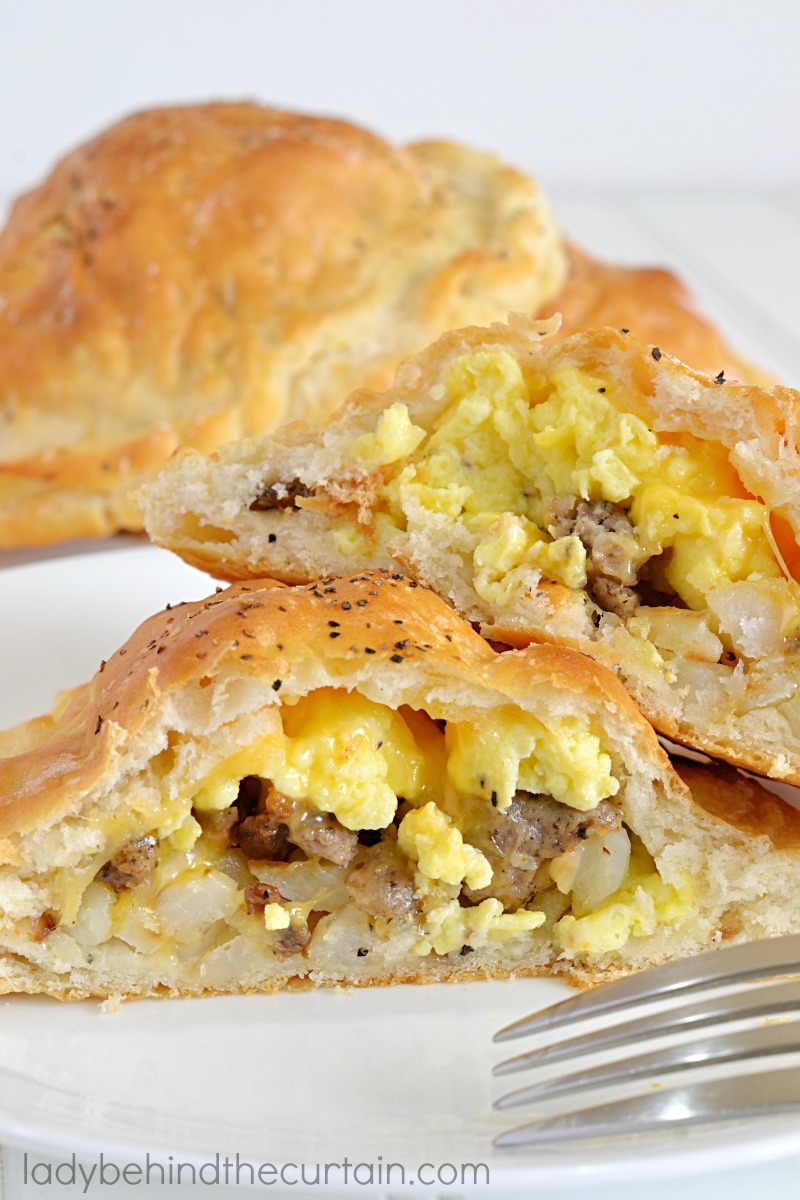 Let's face it our lives become more and more rushed.  But our taste buds don't have to suffer for it ANYMORE!  Sure it's easier to pop a breakfast sandwich into the microwave  and out the door you go.  But why not take a morning and treat your busy kids, running late husband or you to a homemade breakfast sandwich.  This sandwich can still be frozen and microwaved but YOU control  the ingredients and can customize it to your families favorite breakfast foods and style of flavors. Mexican, Italian or American.  The choices are endless!  Take a day and make all kinds of delicious breakfast sandwiches.  These would also work in mini form and can be served as an appetizer at a brunch, ladies luncheon or Ladies tea.  Just customize the inside to match the event!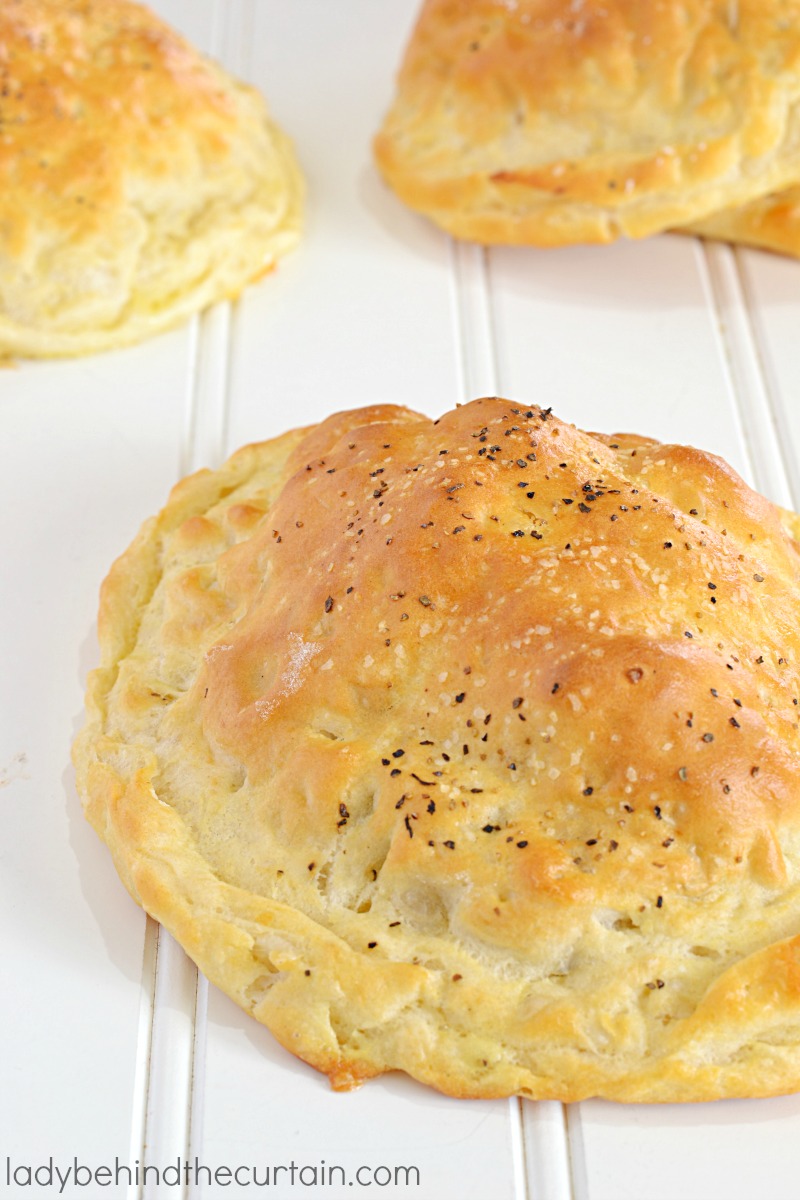 Roll each square into a 6 to 7-inch round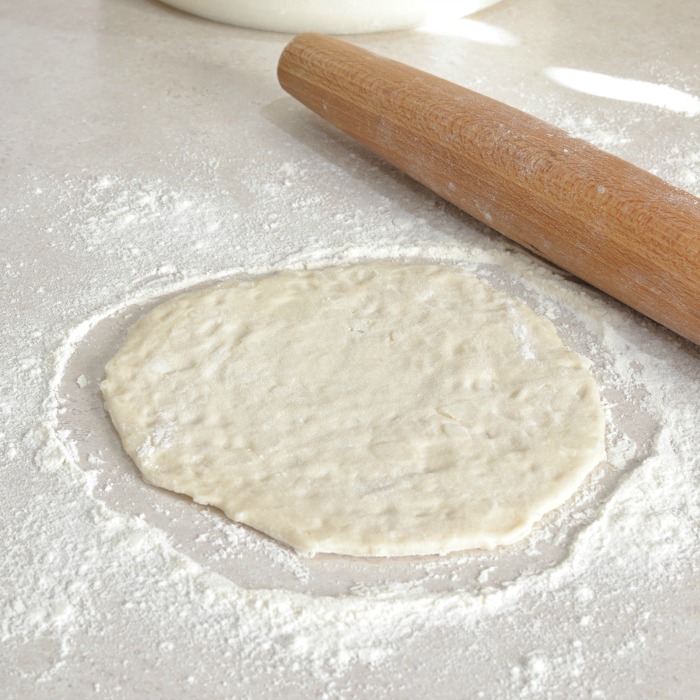 Add prepared hash browns,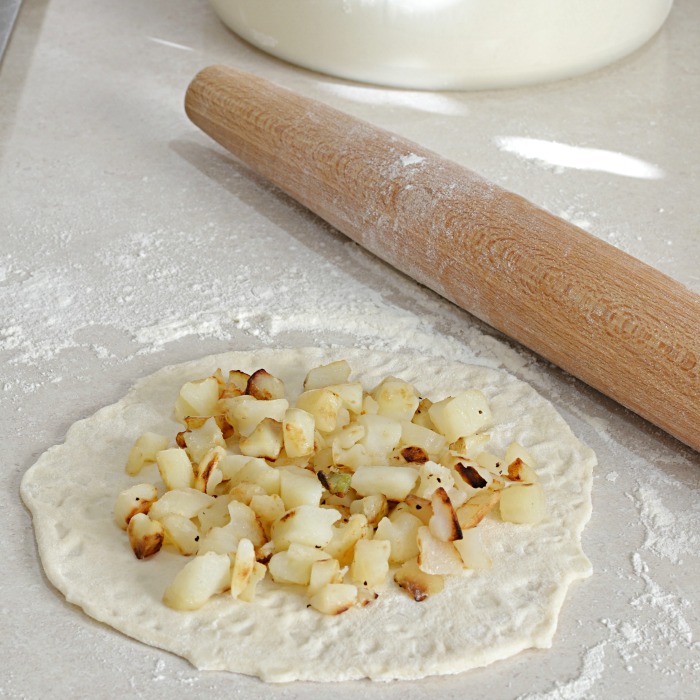 Cooked sausage,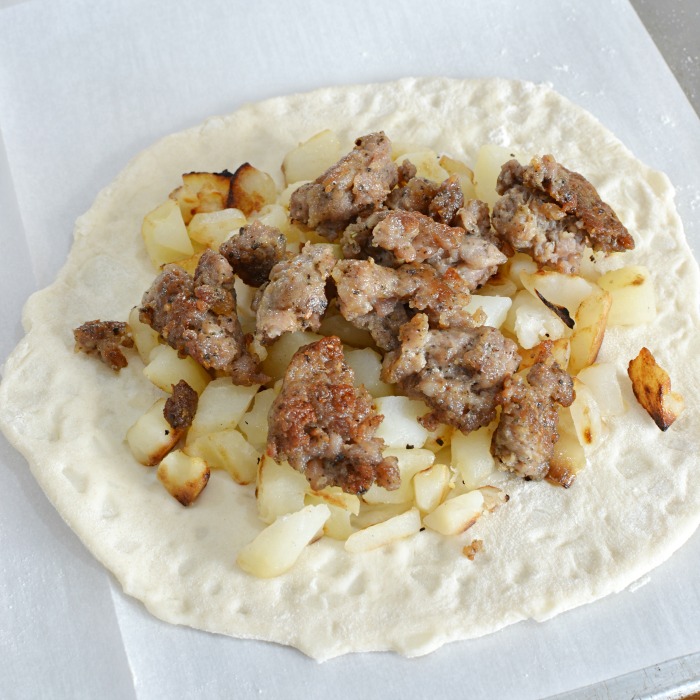 Scrambled eggs,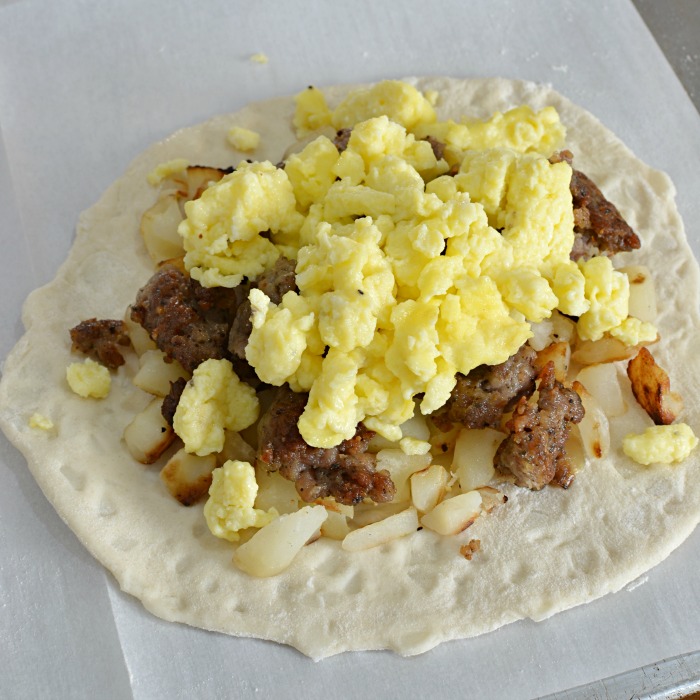 Cheese,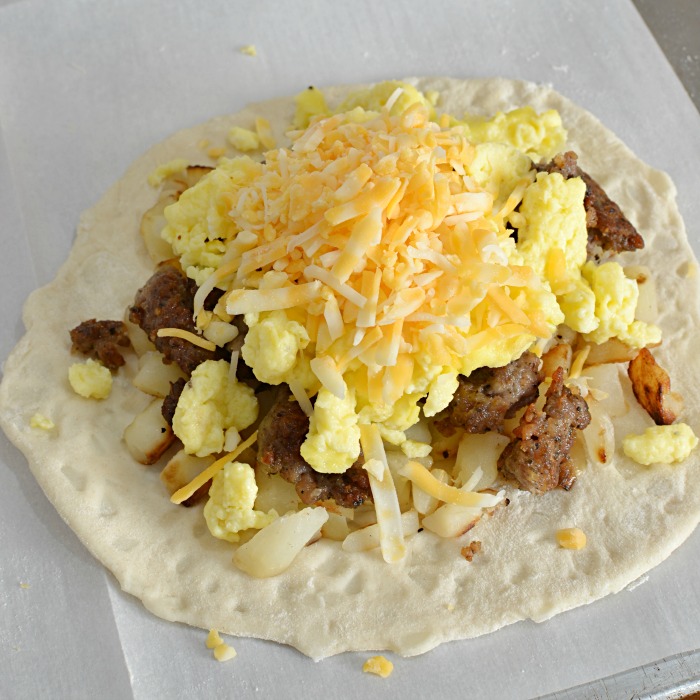 add the top,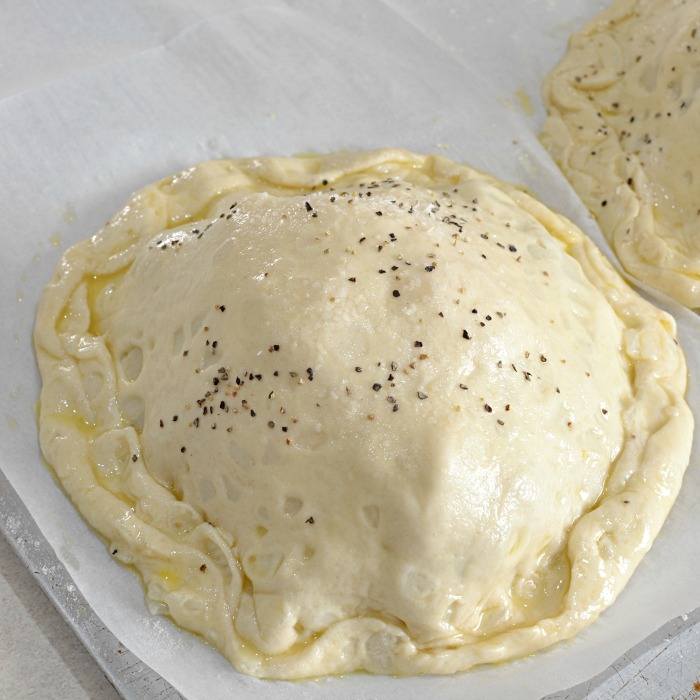 and bake!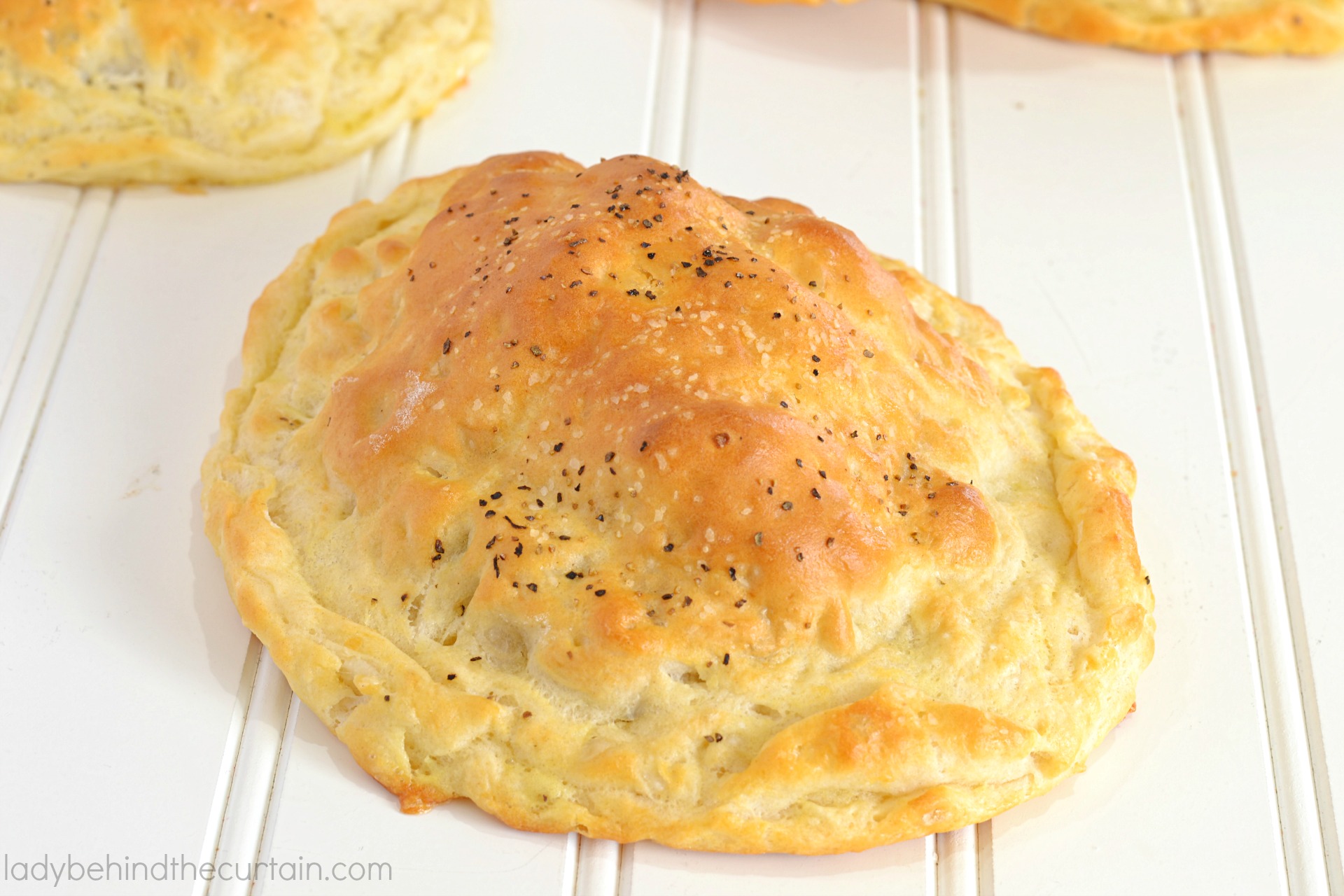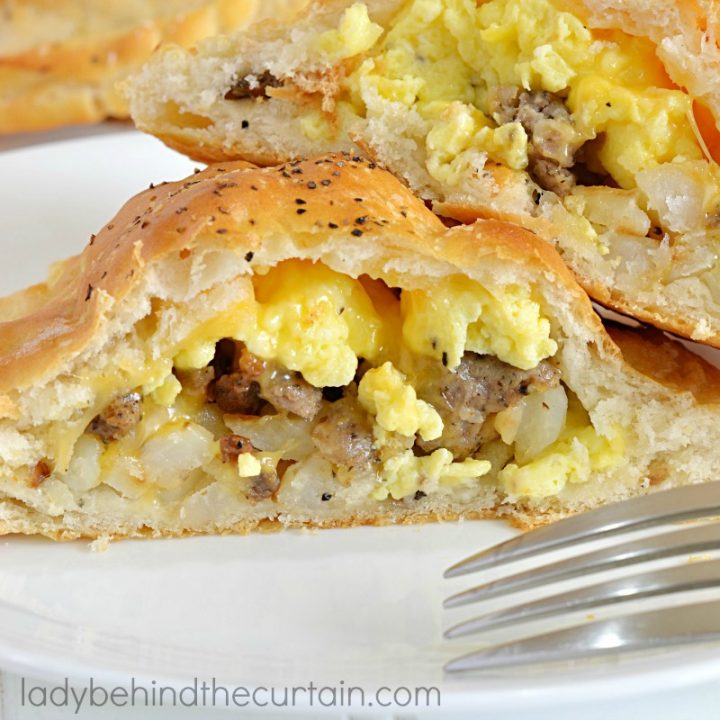 Sausage and Egg Breakfast Sandwich
Ingredients
enough biscuit mix to make 10 to 12 biscuits. (I used bisquick and doubled the recipe. It made plenty of dough) PLUS ingredients needed as instructed on the box.
14 ounces diced hash browns (O Brien Style)
7 large eggs, divided
6 slices of bacon
6 tablespoons jack cheese, grated
salt and pepper to taste
Instructions
Preheat oven to 450°.
Spray a cookie sheet with non stick cooking spray or line with parchment paper and set aside.
Fry bacon until crisp; cook hash browns in bacon grease salt and pepper to taste, and set aside.
Scramble 6 eggs salt and pepper to taste and set aside.
Prepare biscuit mix according to the package directions.
Roll half of the dough into the thickness of pie crust and cut into a 3-inch squares. Press into 6-7 inch rounds
Lay on prepared cookie sheet; fill with a scoop of potatoes, crumble bacon, scrambled egg, and cheese.
Roll the second half of the dough a little thicker and cut into a 4-inch squares. Press into a large enough circle that will fit over the filling and to the bottom layer of dough.
With the extra egg make an egg wash by adding 1 tablespoon of cold water to the egg and mixing together using a fork.
Brush around the edges of the thicker layer (top) that will touch the bottom circle.
This is your paste to keep the top and bottom pieces together.
TIP: I found it was easier to make sure the top stuck to the bottom if I took a thin spatula and lifted the sandwich into my hands flipped it over and pinched it together. This is easier then it sounds but this way the sandwich will NOT open. I also SPRAYED the cookie sheet again just to ensure there would be NO sticking.
Once all your tops are secure brush with the remaining egg wash and sprinkle salt and pepper on top.
Bake 9-11 minutes or until tops are golden brown and the biscuit is cooked through.
Serve fresh out of the oven, store in the refrigerator or freeze.
MORE SEMI HOMEMADE BISCUIT BREAKFAST RECIPES

STORE BOUGHT BISCUIT, CINNAMON ROLL, CRESCENT ROLL DONUTS  2. EASY BISCUIT APPLE PULL APART  3. BISCUIT BEIGNETS FILLED WITH LEMON CREAM AND BLUEBERRIES
NEVER MISS A POST!
Sign up for my newsletter and receive my recipes in your inbox. Easy to see anytime and saved for safe keeping. Click Here and sign up today! —->>>>CURTAIN CALL NEWSLETTER