Skillet Apple Streusel Pie
Skillet Apple Streusel Pie: Slices of fresh apples, mixed with warm apple pie spice, an incredible streusel topping and a drizzle of homemade caramel sauce come together to perfectly create a dessert that will quickly become a family favorite.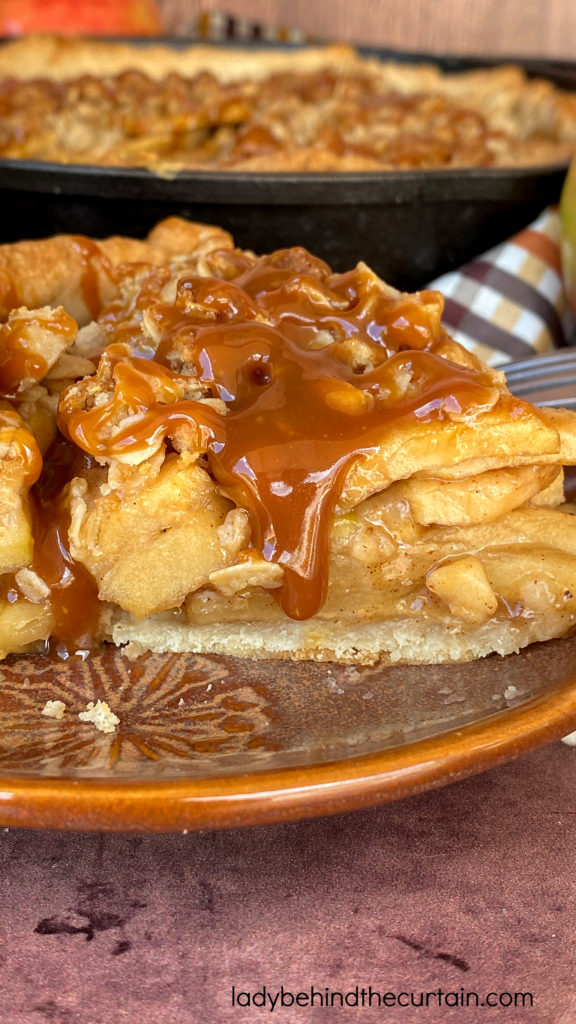 Skillet Apple Streusel Pie—A Fall Favorite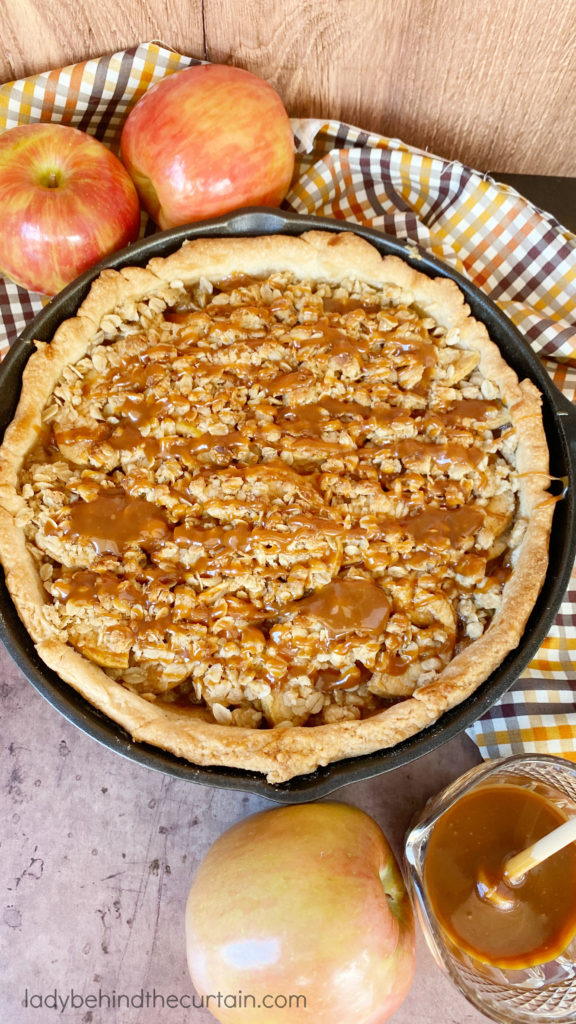 Prep for Easy Baking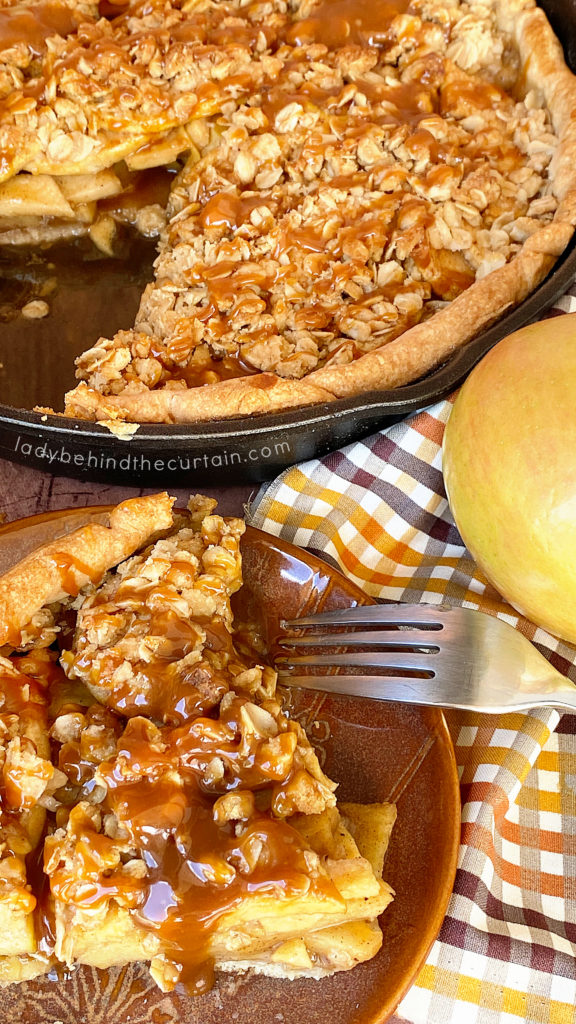 MAKE THE DOUGH: Once the dough is made, flatten and wrap in plastic wrap. Store in the refrigerator. When ready to roll, set out on the counter a few minutes until the butter softens up enough for the dough to roll.
MAKE THE STREUSEL: Place in an air tight container and store in the refrigerator until ready to use.
MAKE THE CARAMEL: Store on the counter top in an air tight container until ready to use.
Semi Homemade Options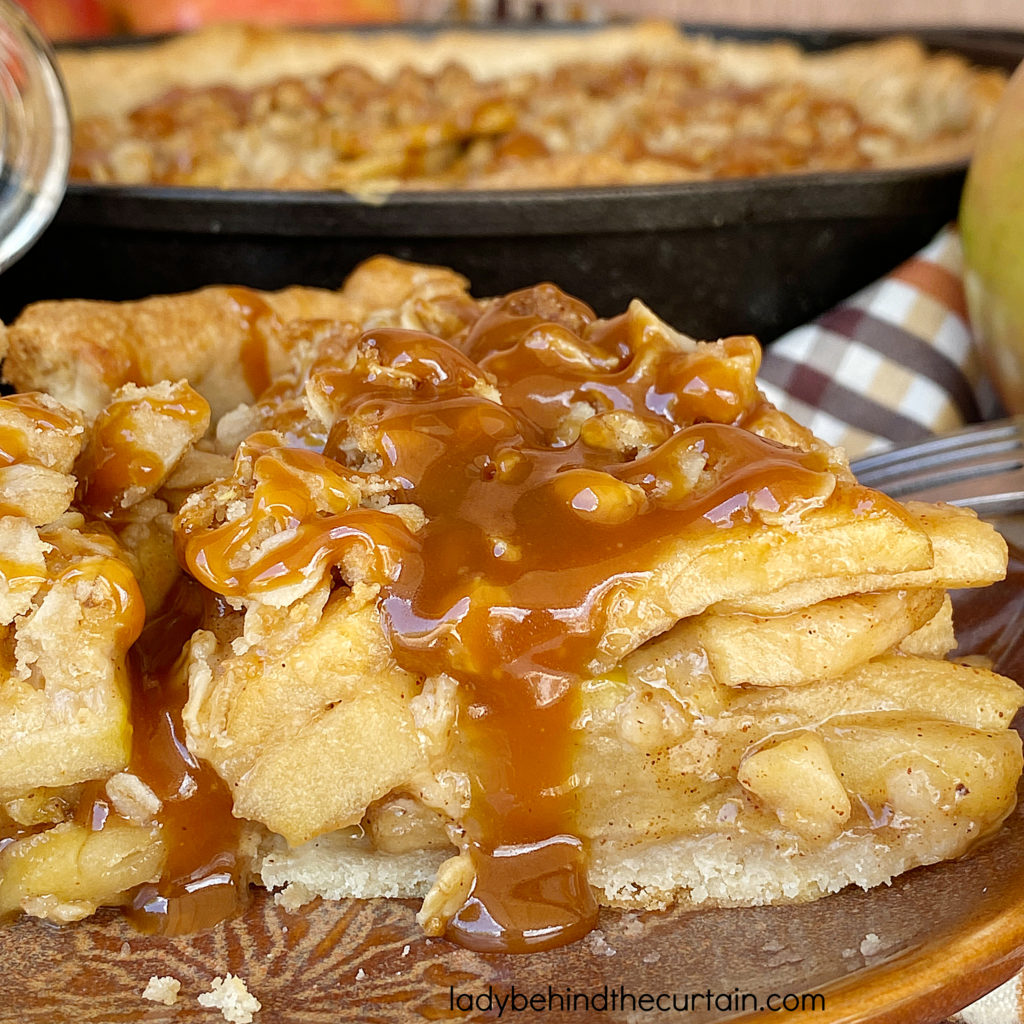 PIE FILLING: I recommend peeling and slicing fresh apples, using store bought canned apple pie filling is an option. When in a pinch I usually doctor up a can of apple pie filling with apple pie spice and brown sugar. You might need 2 cans.
PIE CRUST: Roll store bought dough into a 10-inch circle. For a thicker dough, combine both pie crusts that come in the box.
CARAMEL: Use store bought ice cream caramel topping.
Ingredients for Homemade Caramel Sauce
INGREDIENTS (full printable recipe below)

granulated sugar
water
light corn syrup
unsalted butter
heavy whipping cream
sour cream
salt
How to Make Caramel Sauce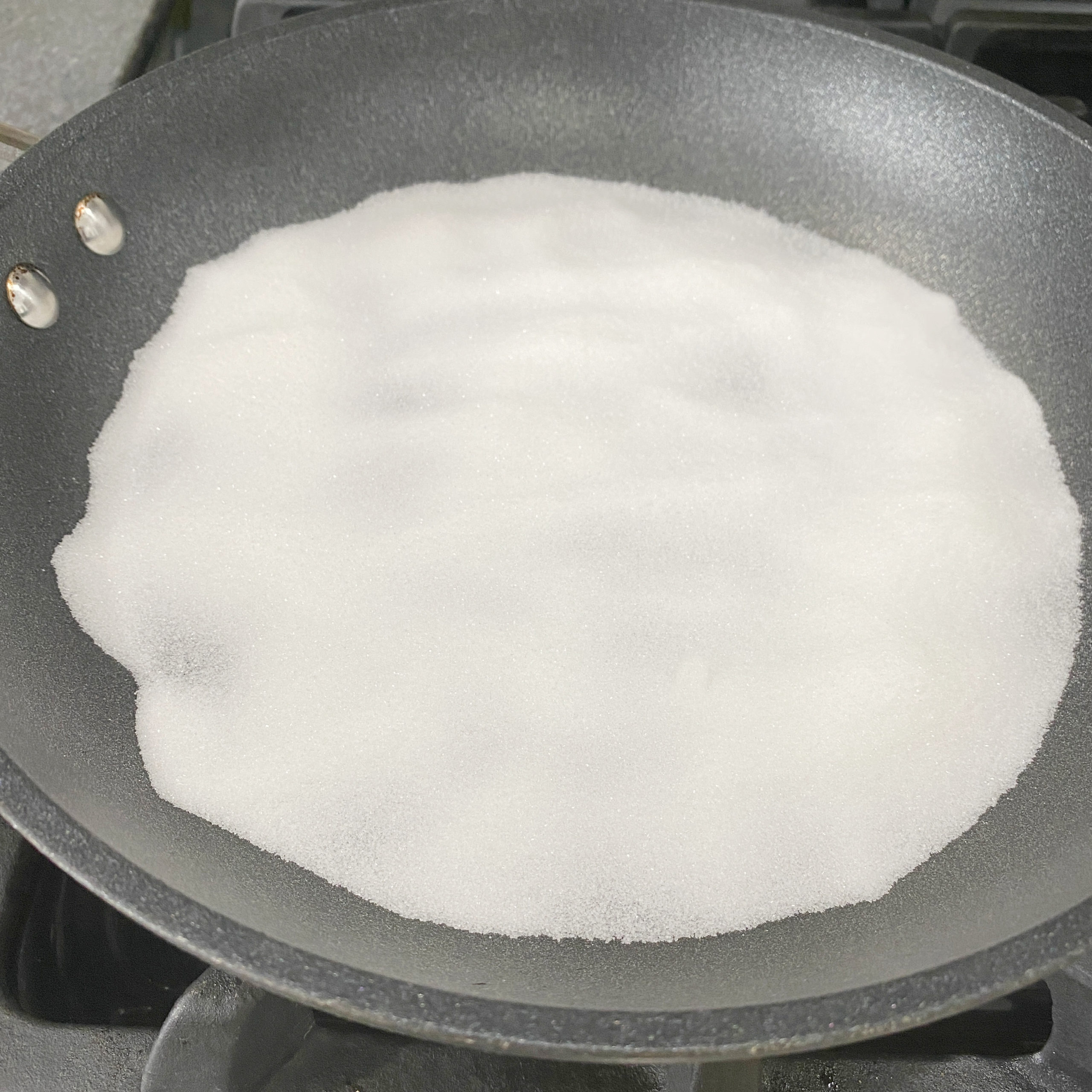 Ingredients for Skillet Apple Streusel Pie
FOR THE APPLE PIE DOUGH: (full printable recipe below)

all-purpose flour
sugar
salt
unsalted butter
apple cider

FOR THE APPLE PIE STREUSEL:

old fashioned oats
all-purpose flour
light brown sugar
salt
unsalted butter

FOR THE APPLE PIE FILLING:

sliced apples
sugar
light grown sugar
cornstarch
apple pie spice
salt
fresh lemon juice

FOR THE CARAMEL SAUCE

sugar
water
light corn syrup
unsalted butter
whipping cream
sour cream
salt
APPLES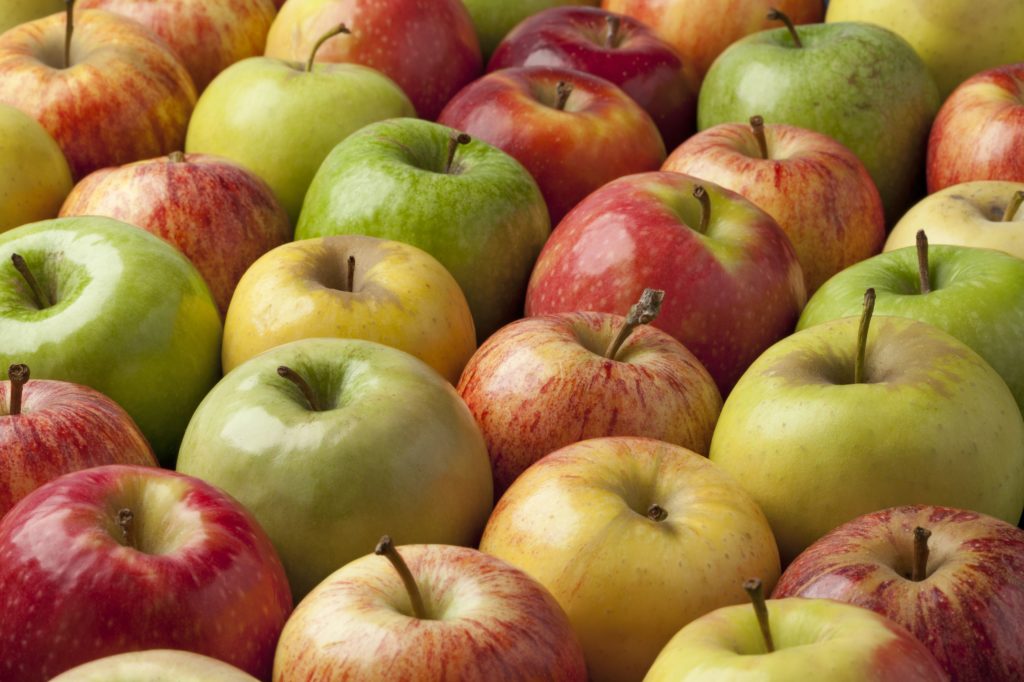 THE BEST APPLES FOR BAKING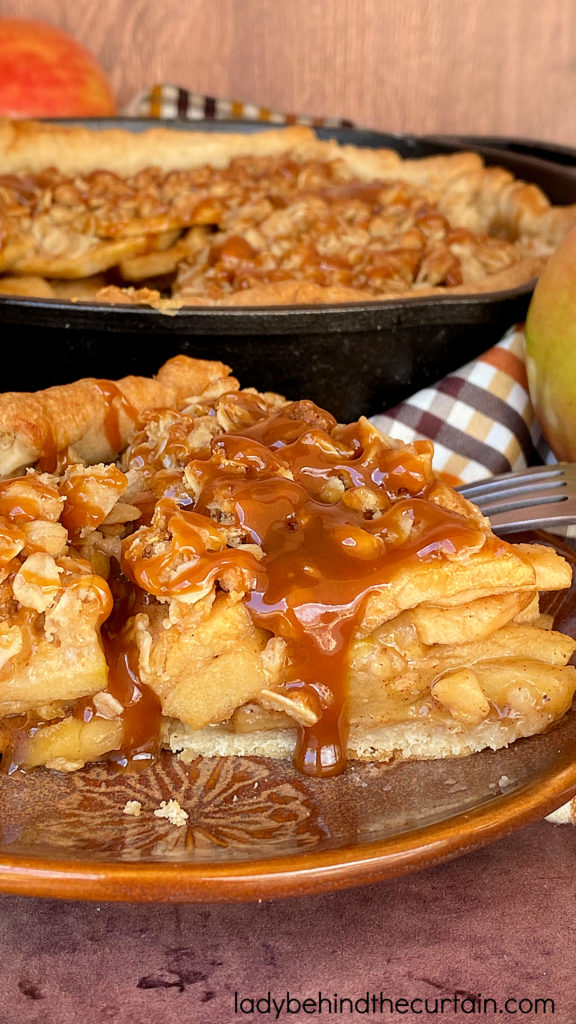 Braeburn: Crisp, with a strong apple flavor that doesn't need another apple to balance the flavor in a pie, these apples will bake up juicy but not mushy. Braeburns can stand up to strong warm spices like cinnamon, ginger and nutmeg.
Golden Delicious: The word "delicious" is the only thing that links Golden Delicious to Red Delicious apples, and it's best not to confuse the two when planning to bake a pie or crisp. With a mild flavor that's on the sweeter side, golden delicious hold their shape well, and pairing them with an apple with a stronger flavor like a Braeburn will give you a better filling.
Granny Smith: Granny Smiths have all the same qualities as Honeycrisps: juicy, crisp and great for baking. The only difference is that Granny Smiths are as tart as a Honeycrisps are sweet. You may need a bit more sugar in the mix when making a filling with Granny Smith apples.
Honeycrisp: This apple took the U.S. apple market by storm in the early 1990's when it hit the market. Created by the University of Minnesota in the 80's, it was only available in small quantities for several years. Now it is the most widely planted type of apple tree in the country – and for good reason. More sweet than tart, it's juicy and will hold up well when baked.
Gala: With their crisp, mellow sweetness, Gala apples are great for baking, especially because you can typically use less sugar due to their natural sweetness.
Fuji: Firm, crisp and juicy, Fuji apples are among the most popular apples for eating fresh, but they're also great for baking, as they hold their shape when they cook.
My Trick to Baking with Apples
MIX YOUR APPLES: I like using a tart apple (like a Granny Smith) and mixing it with a sweet apple (like a Fuji). Split the equally to create the perfectly balanced apple pie or any apple dessert.
MORE FALL INSPIRED APPLE DESSERT RECIPES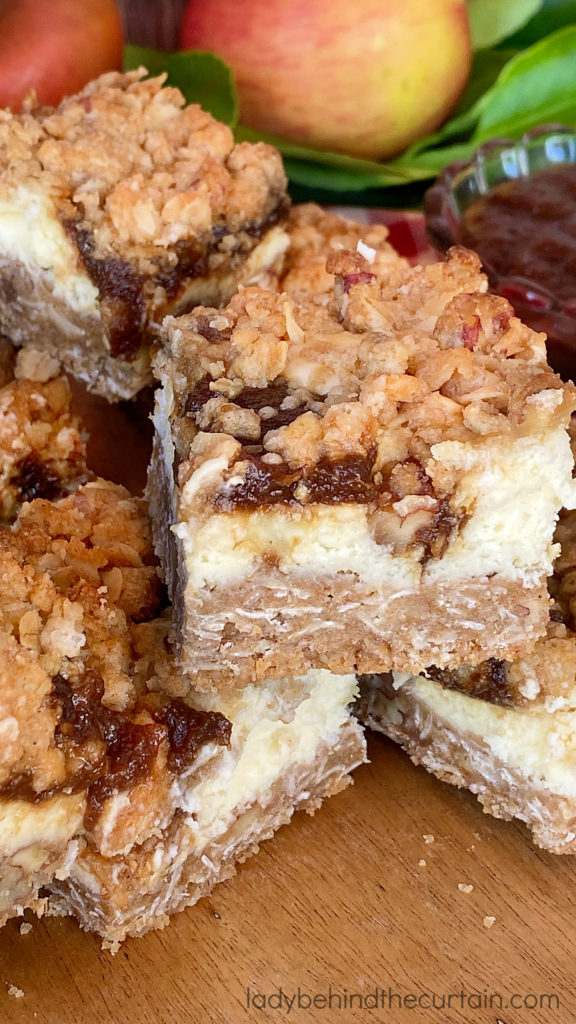 APPLE BUTTER CHEESECAKE BARS 2. SEMI HOMEMADE COUNTRY CARAMEL APPLE DUMPLINGS 3. TRADITIONAL APPLE SPICE CAKE 4. APPLE PIE CAKE ROLL
SIGN UP FOR THE LADY BEHIND THE CURTAIN NEWSLETTER AND FOLLOW THE LADY BEHIND THE PARTY ETSY SHOP
THANKS FOR VISITING♥