Stir together the caramel and sauteed apples before eating this delicious treat!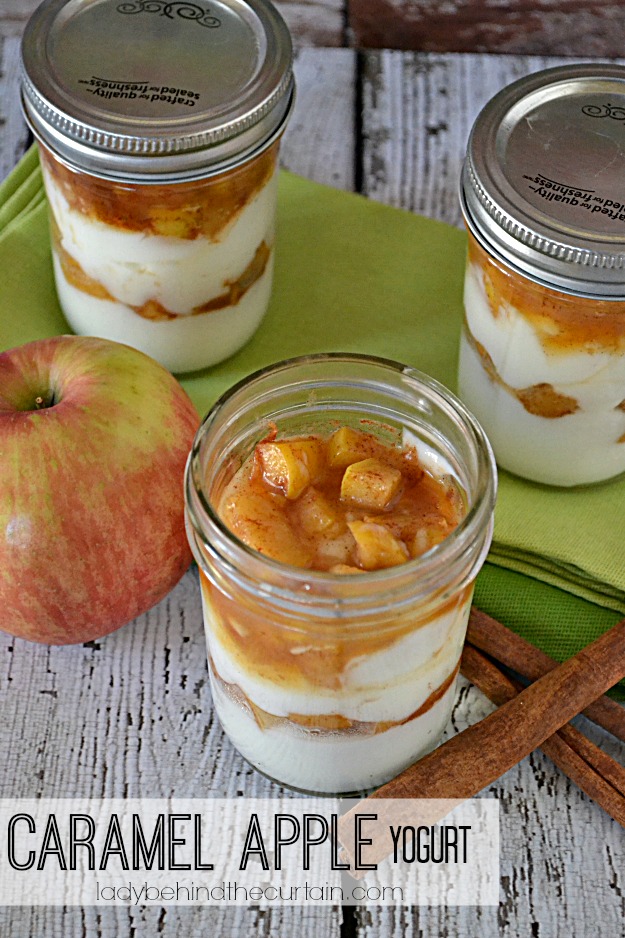 Layers of sauteed apples with cinnamon and a touch of butter then topped with caramel and a swirl of icing.  Yes, this Caramel Apple Yogurt can be for dessert!  I like to pack it in a lunch for a mid morning or afternoon snack.
Pair this Caramel Apple Yogurt with my Fruit and Flaxseed Muffins or my Low Fat Zucchini Muffins  for a good breakfast.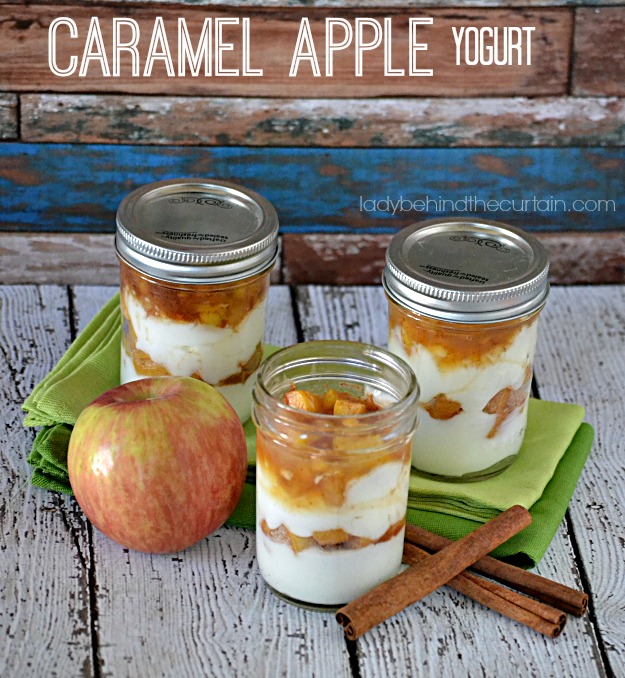 Create your own Recipe Box and save your favorite Lady Behind The Curtain recipes.  Make a Meal Plan with your favorite recipes and ZipList will automatically add the ingredients to a Shopping List.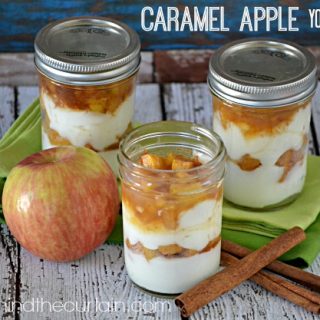 Caramel Apple Yogurt
Yield:
3 half pint mason jars
This Yogurt is full of apples and cinnamon with a touch of caramel! Delish!
Ingredients
1 1/2 cups light vanilla yogurt
1 apple cored and diced (about 2 cups)
1 teaspoon butter
1 tablespoons Splenda
1/2 teaspoon cinnamon
1 tablespoon water
3 teaspoons fat free caramel ice cream topping
2 tablespoons confectioners sugar
1/2 teaspoon water
Instructions
To a medium pan add apples ,butter, Splenda, cinnamon and water.
Saute until the butter is melted, cover and turn down heat.
Simmer 5 minutes or until apples are just tender but still a little crisp.
Transfer to a bowl to cool.
Measure 1/2 cup of yogurt, add half to the bottom of your container.
TIP: I like using 1/2 pint mason jars because they are easy to store and take along.
Layer with 2 tablespoons of apple mixture, add the remaining yogurt, top with another 2 tablespoons of apples, drizzle on 1 teaspoon of caramel and 1/3 of the icing.
For the Icing:
In a small bowl add sugar and water, stir until creamy, equally drizzle over tops of yogurt.
Nutrition Information
Serving Size

1 half pint mason jar
Amount Per Serving
Calories

136
MORE LIGHT BREAKFAST RECIPES
1. LIGHT BLUEBERRY BANANA MUFFINS  2. CINNAMON ROLLS  3. LIGHT OATMEAL SCONES  4. PULL APART DONUT