Easy Beer Cheese Sauce Recipe
Easy Beer Cheese Sauce Recipe | Dress up vegetables, sandwiches and burgers with this creamy easy to make cheese sauce.  Serve on game day and dip your pretzels!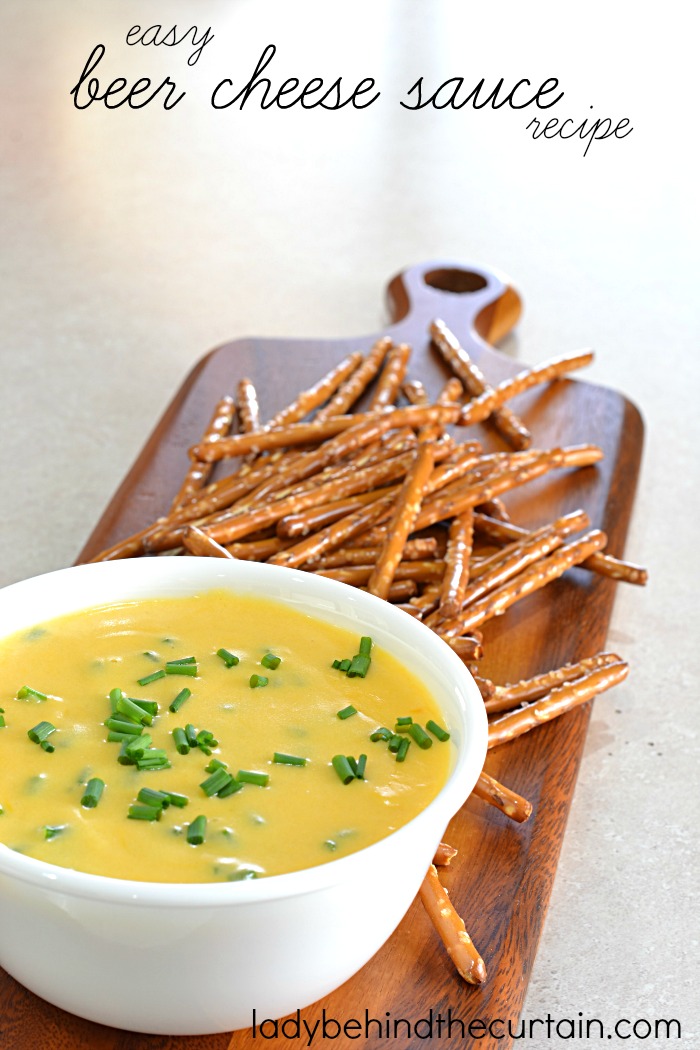 Way….better then the processed fake cheese.  If you're serving little ones or you don't like beer, leave it out.  Just add more half and half in it's place.  Store the leftovers in the refrigerator and heat up again when you want to use it.  Also perfect for dipping my Pretzel Nuggets into!
Easy Beer Cheese Sauce Recipe
Ingredients
2 tablespoons unsalted butter
2 tablespoons all-purpose flour
1/4 teaspoon mustard powder
1/4 teaspoon salt
3/4 cup your favorite beer
1/2 cup half and half
1 1/2 cups sharp cheddar cheese, grated
1 tablespoon chives, chopped
Instructions
Melt butter in a medium saucepan over medium heat.
Stir in flour, mustard and salt; cook stirring 1 to 2 minutes (do not brown).
Whisk in beer; bring to a simmer, then whisk in half and half.
Simmer, whisking until thickened.
Take off heat; stir in grated cheese until melted.
https://www.ladybehindthecurtain.com/easy-beer-cheese-sauce-recipe/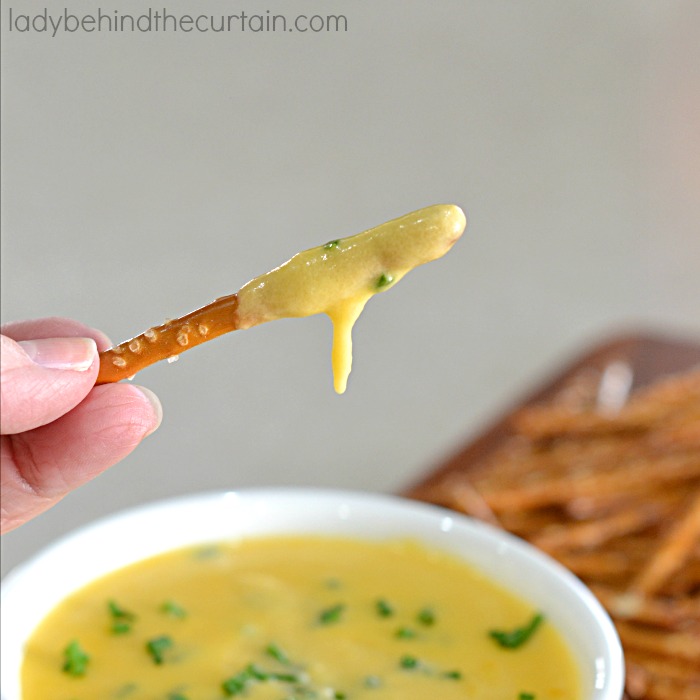 MORE RECIPES USING BEER
SAUTEED BEER MUSHROOMS  2. BEER BATTER FRIED GREEN BEANS  3. SOFT BEER PRETZELS