Chicken Lettuce Wraps | Make these delicious Chicken Lettuce Wraps at home and you'll never want to go out for them again! With layers and layers of flavor your taste buds will be doing a happy dance. The perfect easy weeknight dinner and just as good as leftovers. Serve these wraps as a light dinner or an appetizer!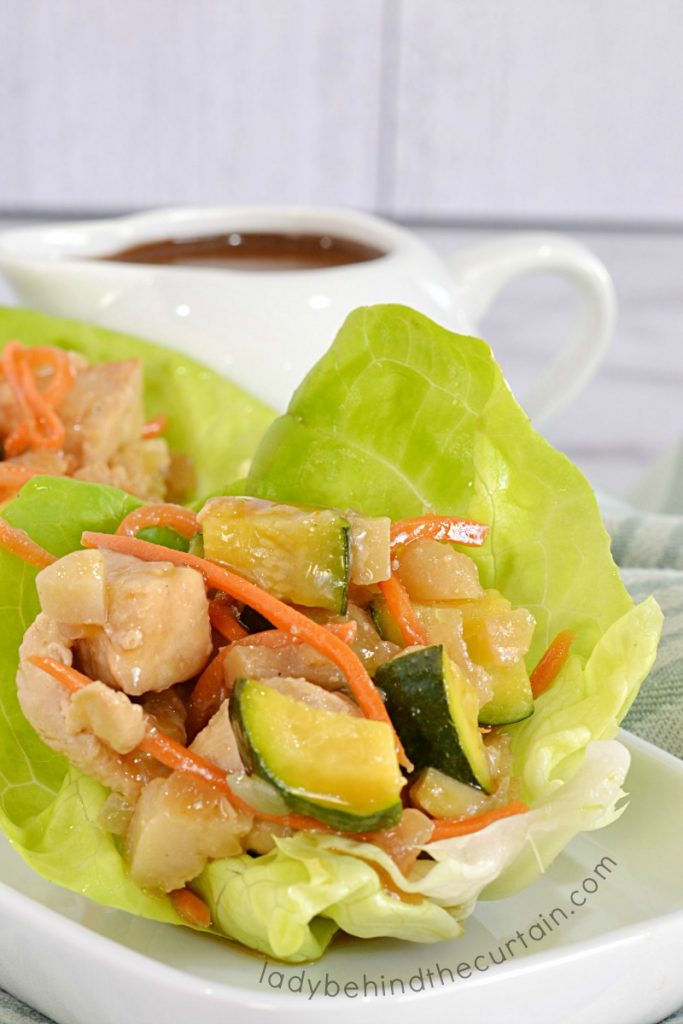 The dipping sauce for the chicken lettuce wraps has wonderful Asian inspired ingredients with some American thrown in too! All wrapped with fresh crisp lettuce. I used butter lettuce by you can also use iceberg.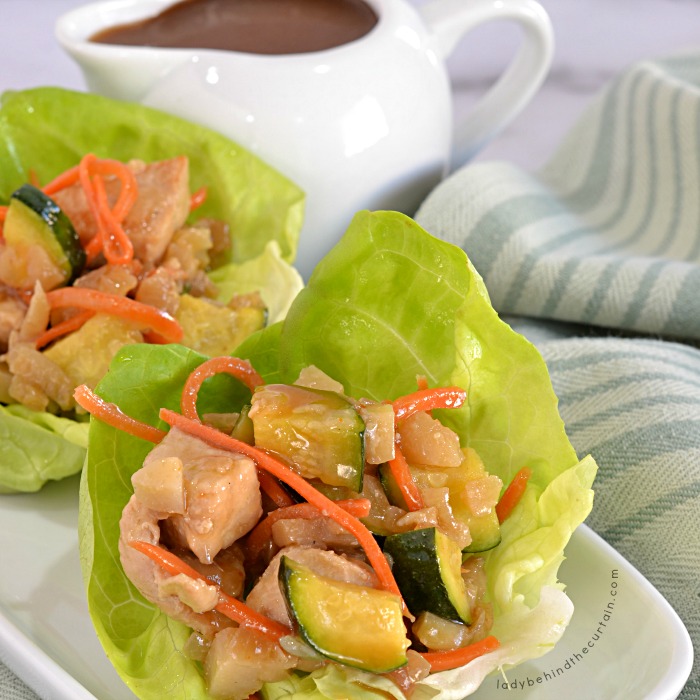 Now you can get all the flavors of your favorite Asian Restaurant at home!
PLAN AHEAD
At first glance you may notice a lot of sections…..dipping sauce, stir fry sauce, stir fry chicken. Don't get overwhelmed. Here's what I do to make the process quick and easy. First, I look over the recipe so I can figure out what I can do in advance. For this recipe I can make the dipping sauce, fry sauce, cut up the chicken, onion, and zucchini. Since I buy my garlic already chopped and my carrots already shredded I don't have to add those steps. Put the sauces in covered containers (I use jars) and store on the counter, wrap up the chicken and vegetables (separately), store in the refrigerator. I do all of this while I'm fresh in the morning. Once that is done it only takes a few minutes to get these delicious Chicken Lettuce Wraps on the table! NOTE: This can also be done the night before.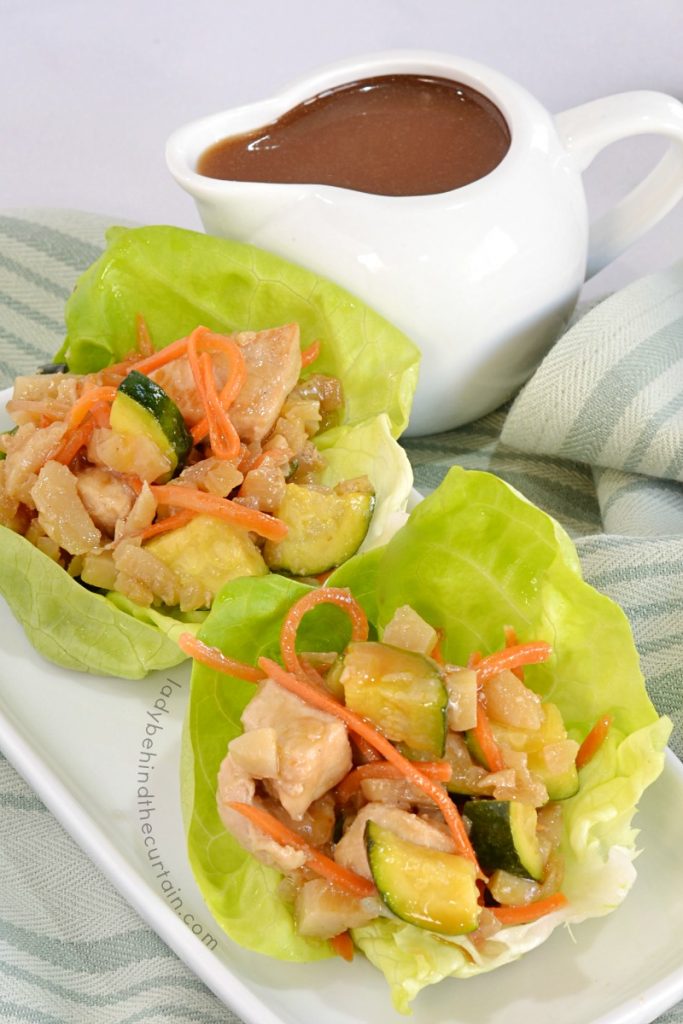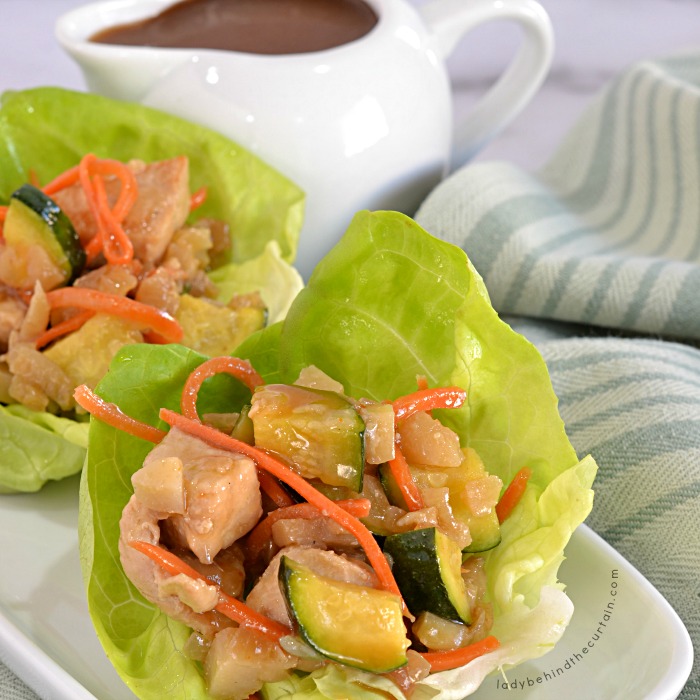 Chicken Lettuce Wraps
Ingredients
For the Dipping Sauce:
1/2 cup hot water
4 tablespoons granulated sugar
1 1/2 teaspoons Dijon mustard
1 garlic clove, minced
3 tablespoons lite soy sauce
2 tablespoons rice vinegar
2 tablespoons ketchup
1 tablespoon fresh lemon juice
1/4 teaspoon sesame oil
For the Stir Fry Sauce:
2 tablespoons lite soy sauce
2 tablespoons light brown sugar, packed
1/2 teaspoon rice vinegar
For the Stir Fry Chicken:
2 tablespoons olive oil
1 tablespoon sesame oil
2 boneless skinless chicken breasts (about 1 pound), cut into small cubes
1 (8 ounce) can sliced water chestnuts, drained and minced
2 garlic cloves, minced
1/2 yellow onion, chopped
2 small zucchini, chopped
2/3 cup shredded carrots
10 medium size lettuce leaves (butter or iceberg)
Instructions
For the Dipping Sauce:
Add the sugar to the hot water and stir until the sugar is dissolved. Pour into a large jar that has a tight fitting lid. Add the sugar mixture the mustard, garlic, soy sauce, vinegar, ketchup, lemon juice and sesame oil. Shake until combined; set aside until ready to use.
For the Stir Fry Sauce:
To a small jar that has a tight fitting lid add the soy sauce, brown sugar and vinegar. Shake until combined. Set aside until ready to use.
For the Stir Fry Chicken:
In a large skillet/wok on high heat combine oils; heat until the oil shimmers. Add the chicken and cook until brown. Add stir fry sauce. Turn heat to medium; continue cooking until chicken is cooked through and the sauce has reduced. Remove the chicken and sauce from the pan. Add the chestnuts, garlic and onion. Stir fry until onion become iridescent; add zucchini and shredded carrots. Cook 1 minute, add the chicken back to the skillet/wok with the vegetables. Cook until the chicken is heated through.
Serve on a platter surrounded by lettuce leaves with dipping sauce in little bowls.
Notes
Instead of dipping the lettuce wraps you can also drizzle the sauce over the wraps.
MORE ASIAN INSPIRED RECIPES
SPICY ASIAN BOURBON CHICKEN DINNER 2. ASIAN PLUM SAUCE 3. ASIAN NOODLE BOWL

NEVER MISS A POST
Sign up for my newsletter and receive my recipes and Etsy store updates in your inbox. Easy to see anytime and saved for safe keeping. Click here and sign up today—->>>>CURTAIN CALL NEWSLETTER
More recipes you might like. EASY FRIED RICE and EASY ASIAN NOODLES.