Chicken Pot Pie Soup | This hearty soup has everything you love about chicken pot pie and more!  Certainly a delicious way to warm up during the cold winter nights.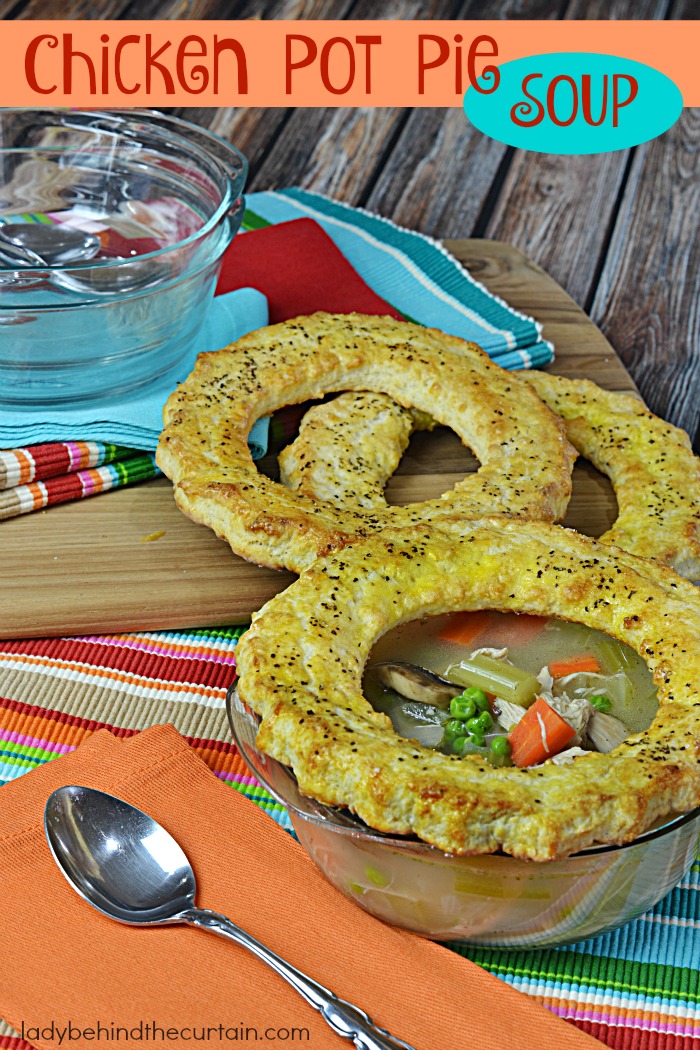 Staring with a good base is the only way to go.  So with this soup I started with my Chicken Stock recipe.  I was lucky….I had some in the freezer.  Whenever I make this stock I always double the batch.  That way if someone comes down with a cold (like me) I can make a big batch of Chicken Noodle Soup.  Since I used it to make this soup I guess that means it's time to make another double batch!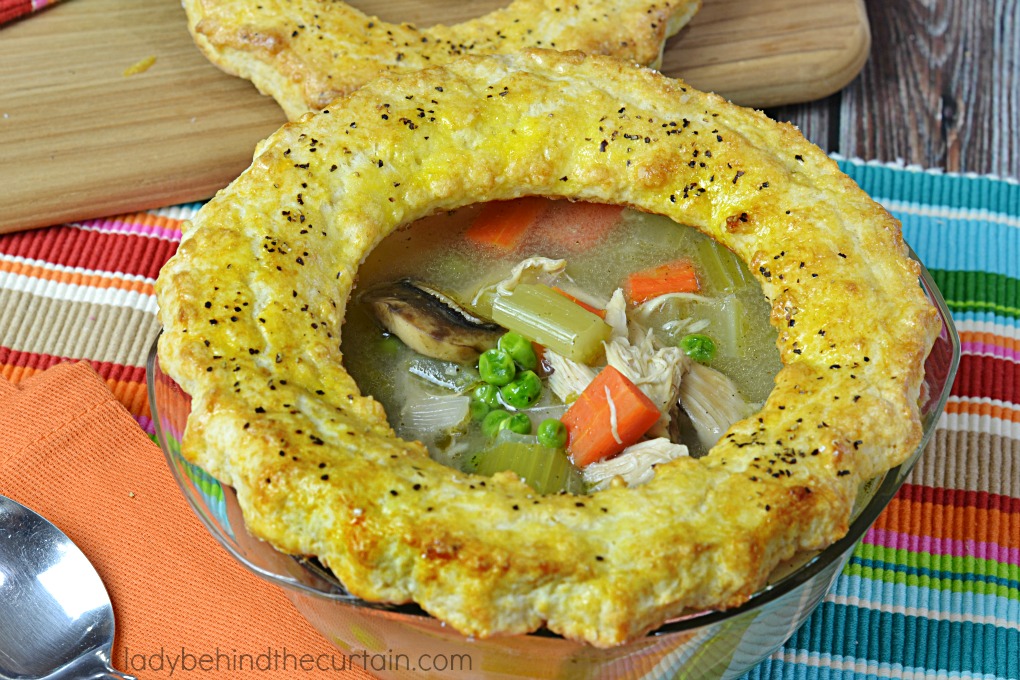 To put a little twist on the Classic Chicken Pot Pie I added a ring of biscuit dough.  I used my DIY All-Purpose Baking Mix to make the biscuit dough.
To get the fit of the dough ring; I found a bowl that was the same size as the top of the bowls I was going to serve the soup in.  I used a paring knife and cut around the rim of the bowl.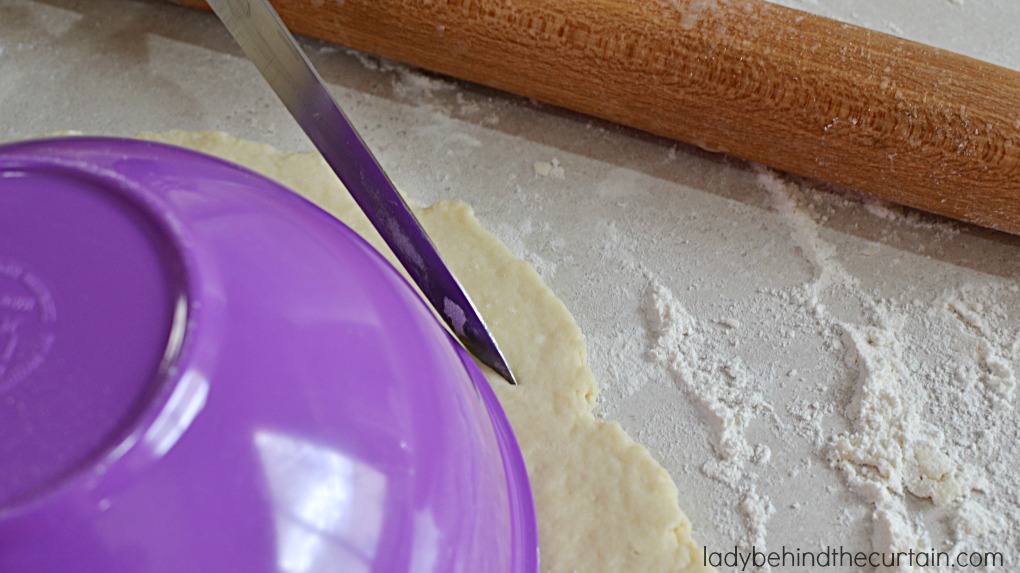 Placed the circle on a baking sheet lined with parchment paper.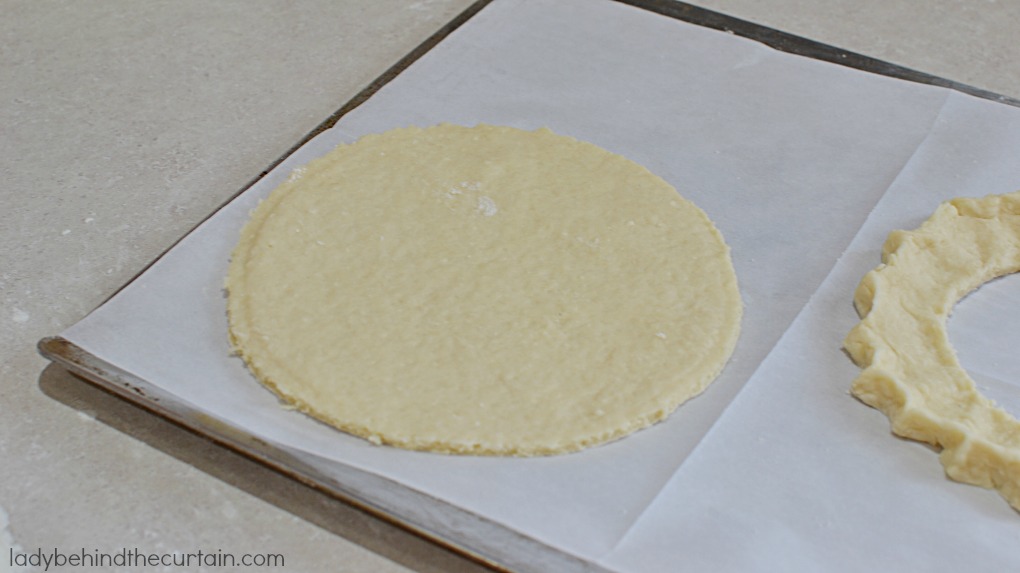 Then I crimped the edges like I would a pie crust and cut out the center.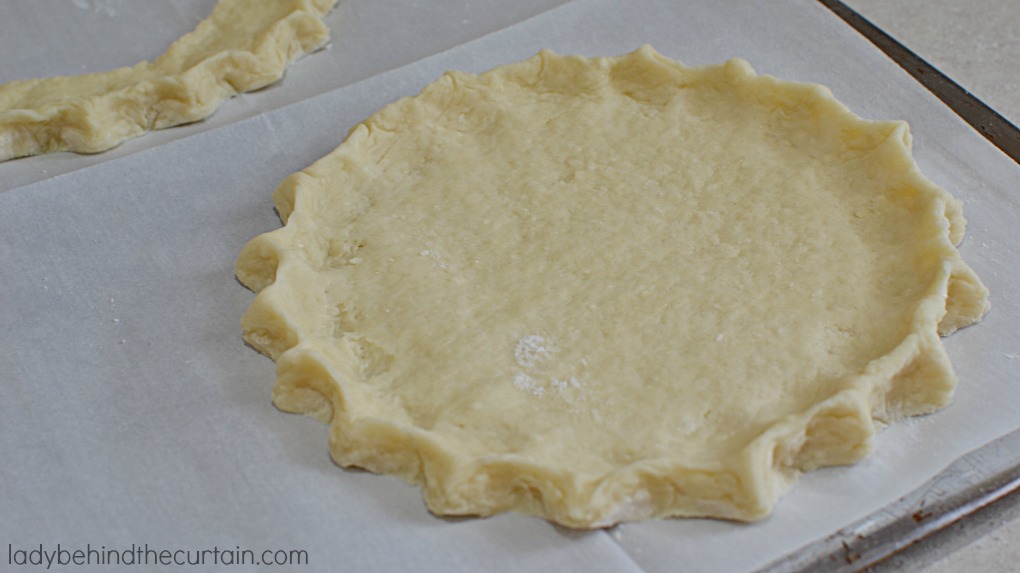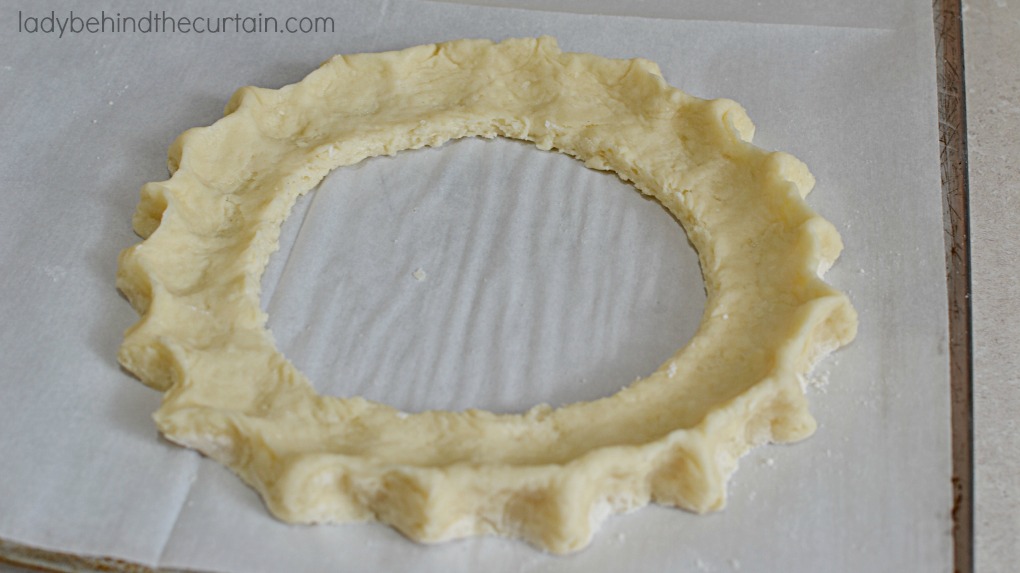 Before popping them in the oven….I set them in the refrigerator for ONE HOUR and then brushed on an egg wash and sprinkled on a little salt and pepper.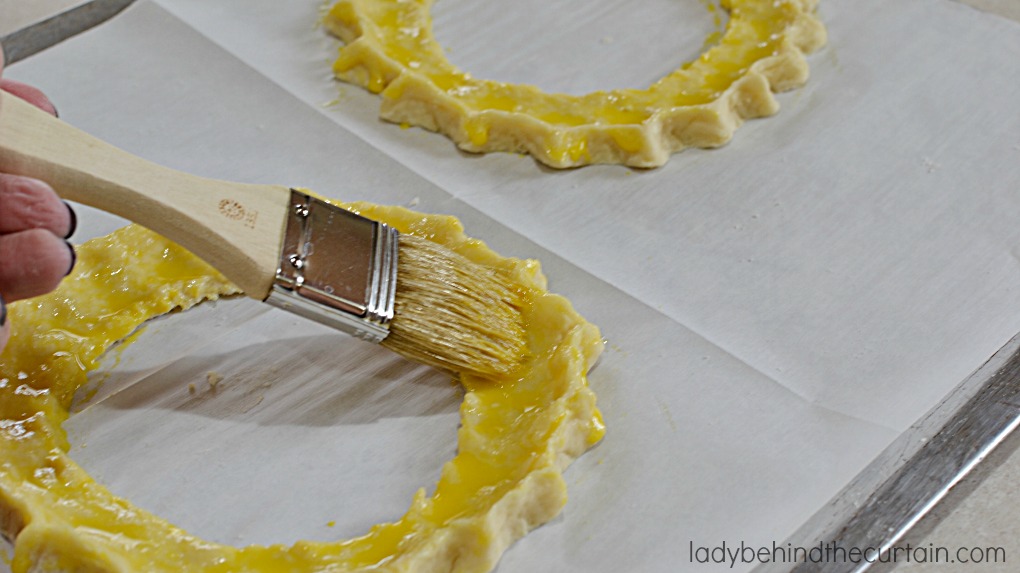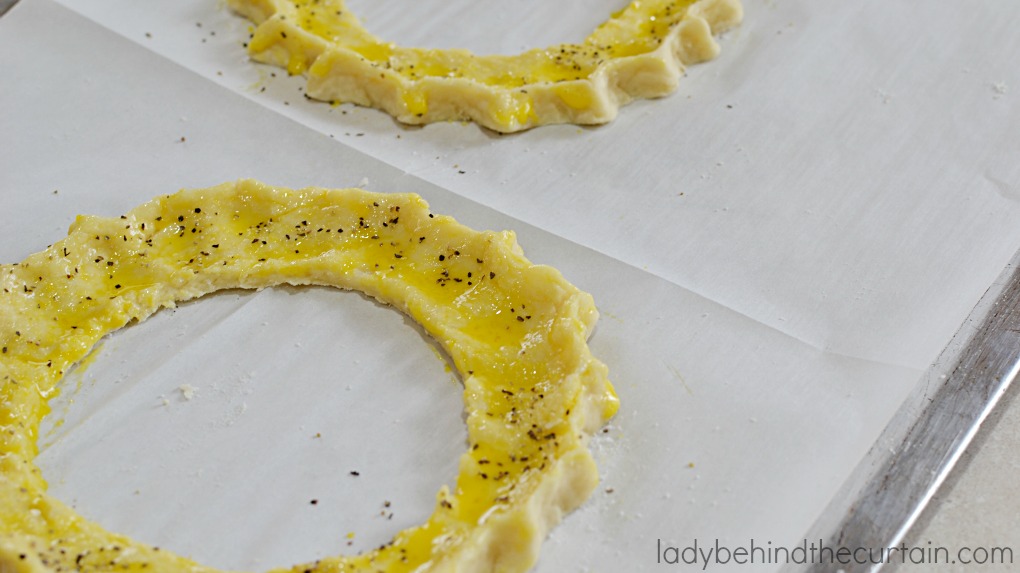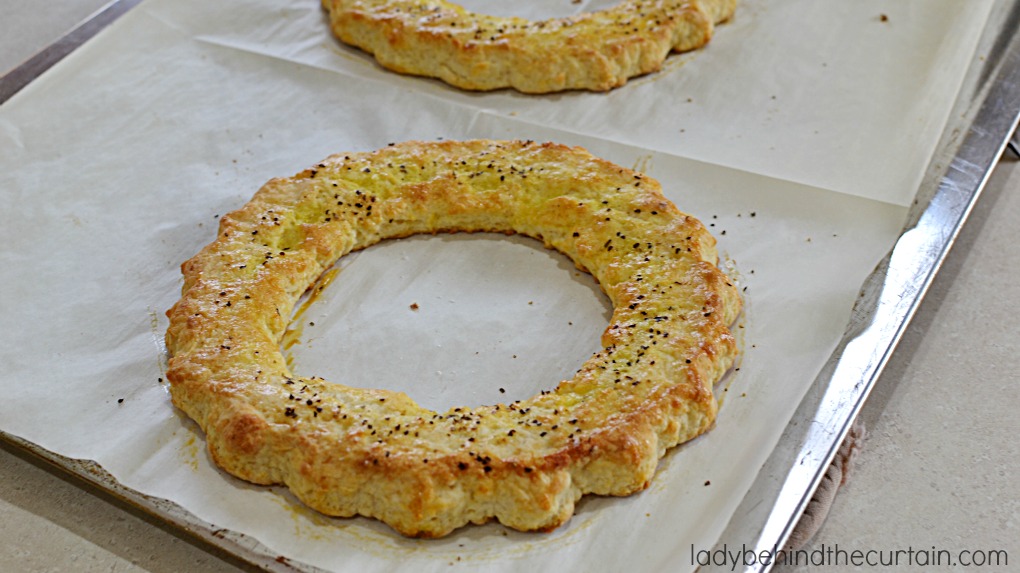 Chicken Pot Pie Soup
Ingredients
For the Biscuit Dough Topper:
For the Soup:
1 recipe The Best Chicken Stock WITH Chicken
3 medium carrots, diced
1 large onion, diced
1 bay leaf
1 (8 ounce) container mushrooms, sliced
3 celery stocks, diced
3 tablespoons butter
1/4 cup plus 2 teaspoons flour
1/4 cup heavy cream
1 teaspoon poultry seasoning
2 teaspoons salt
1/4 teaspoon pepper
1 cup frozen peas
Instructions
For the Biscuit Dough Topper:
Mix together all-purpose baking mix according to the directions for ONE biscuit recipe.
Roll dough about 1/4-inch thick; cut into circles that will fit on top of the serving dishes.
I made FOUR 7 1/2-inch circles.
Place on a baking sheet lined with parchment paper.
Crimp around the edges like a pie.
Freehand cut out the center; place in the refrigerator 1 hour.
Preheat oven to 450°.
In a small bowl mix together the egg yolk and water.
Brush on the tops of the dough rings; sprinkle with salt and pepper.
Bake 10 minutes or until golden.
For the Soup:
Pour the chicken stock and chicken into a large stock pot: add carrots, onions, bay leaf, mushrooms and celery and bring to a boil.
Once the stock reaches a boil; turn heat down and simmer 30 minutes or until vegetables are tender.
While vegetables cook take out 2 cups of the stock; set aside.
In a large skillet melt butter, sprinkle flour over butter and mix until smooth; cook about 1 minute. Stir in the reserved stock and cream.
Simmer until thickened; add poultry seasoning, salt, pepper and peas; pour into the soup pot with the chicken stock, chicken and vegetables.
Stir to combine; discard bay leaf.
Bring to a boil and serve.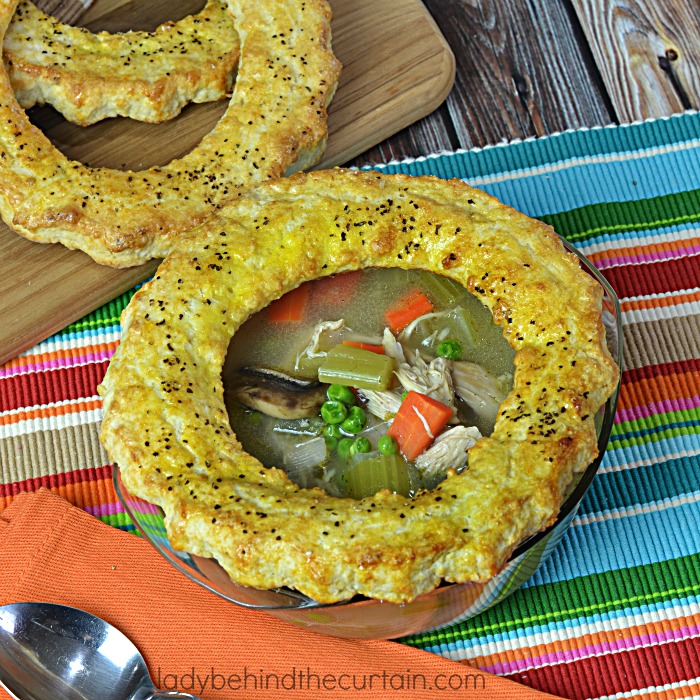 MORE SOUP RECIPES
FAGIOLI SOUP  2. CHICKEN AND POTATO FLORENTINE SOUP  3. SPICY PORK GREEN CHILE SOUP