Chile Corn Casserole |  A creamy delicious side dish perfect for your holiday table.  With a mixture of corn, roasted pasilla and red peppers the flavors can not be beat!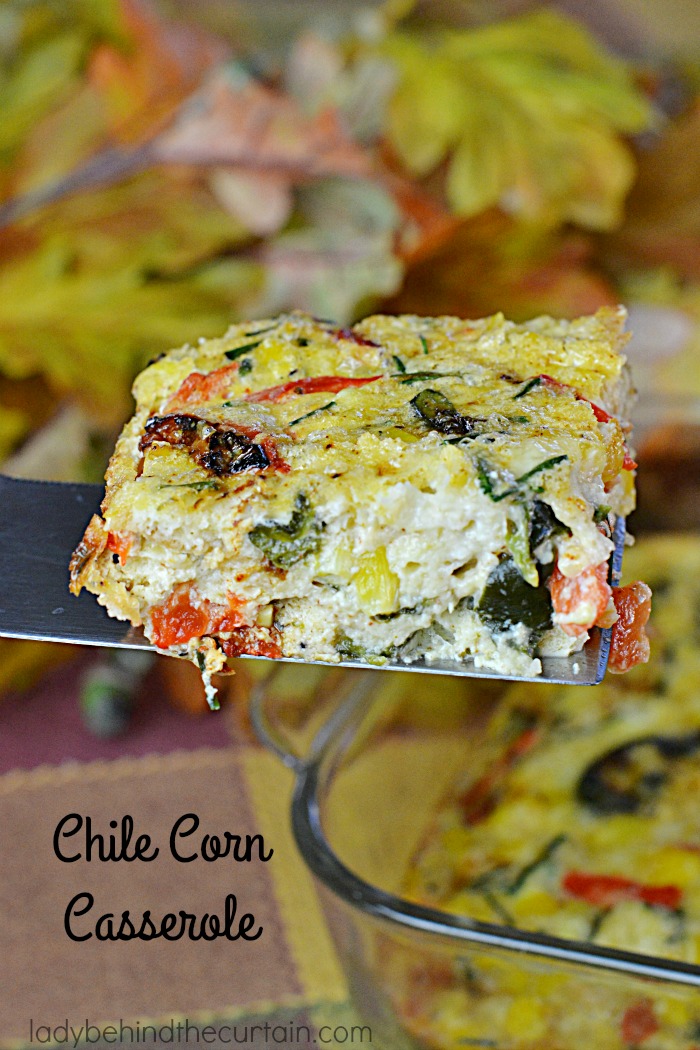 The side dishes on your holiday table are just as important as your main dish.  In fact most of the time I choose to have a plate full of side dishes and salads as leftovers.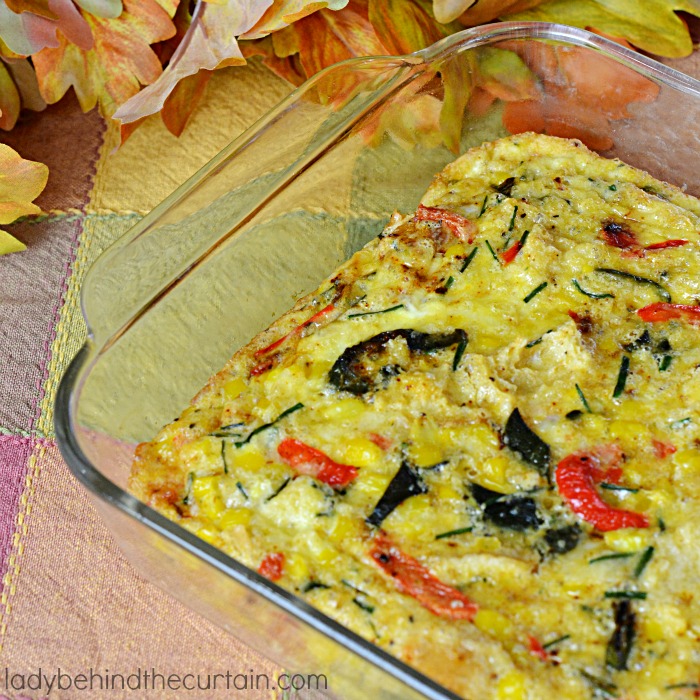 This casserole has the added step of roasting the peppers.  Trust me when I say PLEASE do not skip this step.  It's those roasted peppers that offer the outstanding flavor of this casserole.  The GOOD NEWS is…..You can roast them up to 48 hours before you need them!  So go forth and ROAST!
Chile Corn Casserole
Ingredients
2 medium fresh poblano , pasilla or Anaheim chile peppers
1 small red sweet pepper
5 large eggs, beaten
3/4 cup heavy whipping cream
1 1/2 cups frozen corn kernels, thawed
3/4 cup Monterey Pepper Jack cheese, shredded
1/2 cup soft bread chunks (I used a roll and pulled it into pieces)
2 tablespoons fresh chives, snipped
1/2 teaspoon chili powder
1/2 teaspoon salt
1/4 teaspoon ground black pepper
Instructions
Preheat oven to 425 degrees.
Line a baking pan with parchment paper.
Cut peppers in half lengthwise; remove stems and seeds. Place cut side down on prepared pan.
Roast the poblano, pasilla or Anaheim chile peppers 20 minutes.
Leave the red sweet pepper in another 10 minutes.
When peppers are done take them out and place them in a paper sack or something to sweat 20 minutes or until cool enough to handle.
Remove the skins; chop peppers.
Reduce the oven to 325 degrees.
Spray a 8x8-inch baking dish with non stick cooking spray.
In a large bowl combine the eggs and cream.
Stir in the roasted peppers, corn, cheese, bread chunks, chives, chili powder, salt and pepper.
Stir to combine; pour into prepared baking dish.
Bake 40 minutes or until a knife inserted into the center comes out clean.
Serve warm.
MORE GREAT HOLIDAY SIDE DISH RECIPES
RANCH STYLE BEANS  2. SLOW COOKER CHEESY CAULIFLOWER AND BROCCOLI 3. POTATO CASSEROLE