Slow Cooker Cheesy Cauliflower and Broccoli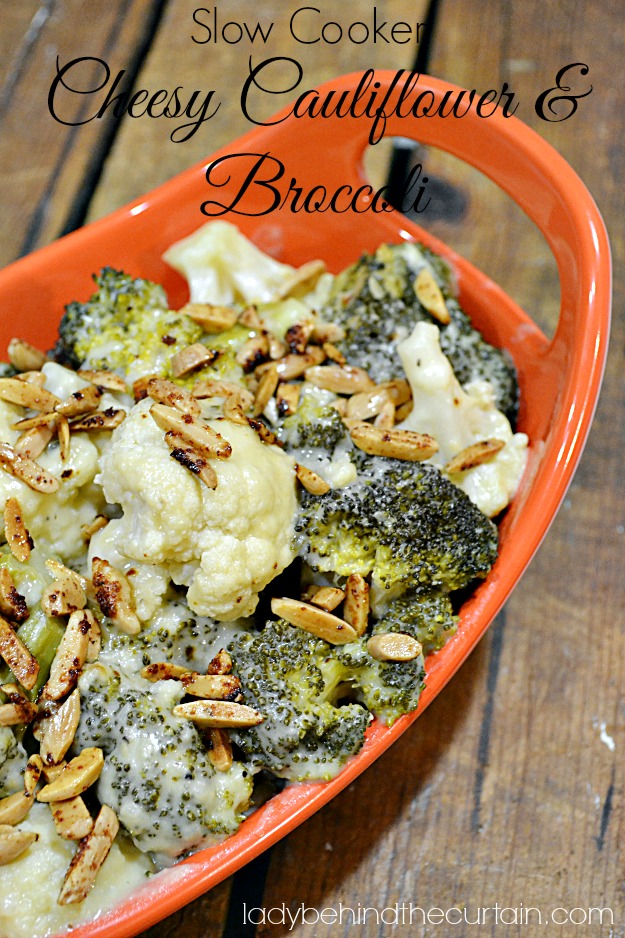 If you're like me cooking a holiday meal usually takes up every burner.  So having a side dish I can prepare in my slow cooker really helps tremendously.  This slow cooker cheesy cauliflower and broccoli side dish is perfect for holiday entertaining.
Make the delicious sauce a few days in advance and store in the refrigerator.  Then on the day of your dinner put everything together and let the slow cooker do all the work.  Top with crunch Ranch Almonds *recipe below.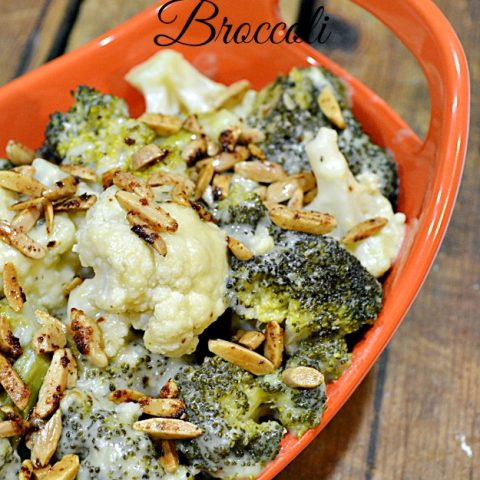 Slow Cooker Cheesy Cauliflower and Broccoli
Total Time:
7 hours
30 minutes
Ingredients
For the Cheese Sauce:
2 cups milk
4 tablespoons butter
1/4 cup all-purpose flour
2 cups Fontina cheese, shredded
2 cups medium Cheddar cheese, shredded
1 tablespoon minced onion
1/2 cup chicken stock
1 tablespoon fresh thyme, chopped
1/2 teaspoon black pepper
1/2 teaspoon salt
For the Vegetables:
4 cups cauliflower florets
4 cups broccoli florets
For the Ranch Almonds:
1/2 cup silvered almonds
1 tablespoon butter, melted
1 teaspoon dry ranch seasoning
Instructions
For the Cheese Sauce:
Heat milk in a small saucepan, BUT DON'T BOIL IT.
In a separate medium sauce pan melt butter and add flour.
Cook over low heat for 2 minutes, stirring with a whisk.
While whisking add the hot milk, stock, thyme and cook for a minute or until thickened and smooth.
Remove from the heat, add the cheeses, salt and pepper.
For the Vegetables:
Add the florets to a 3-1/2 to 5 quart slow cooker.
Pour prepared cheese sauce on top.
Gently mix the cheese sauce with the florets.
Cook on low 6 to 7 hours or until vegetables are tender.
For the Ranch Almonds:
Preheat oven to 350 degrees.
In a small bowl mix together almonds, butter and ranch dressing.
Pour onto a baking sheet.
Toast in preheated oven until lightly browned.
Right before serving the Cheesey Cauliflower and Broccoli sprinkle nuts on top.
MORE GREAT SLOW COOKER RECIPES
1.  SLOW COOKER GARLIC MASHED POTATOES  2.  SLOW COOKER SMOKY GREEN BEAN CASSEROLE  3.  SLOW COOKER AU GRATIN POTATOES  4.  SLOW COOKER LOADED POTATOES