Eggnog Bread Pudding Muffins
Eggnog Bread Pudding Muffins | Surprise your guests Christmas morning with these delicious creamy Eggnog Bread Pudding Muffins and fill the house with the aroma of the holidays!  Perfect for a brunch or breakfast!  These muffins are full of eggnog flavor with touches of cranberries, a pecan crunch topping and a drizzle of the BEST Butter Rum Sauce EVER!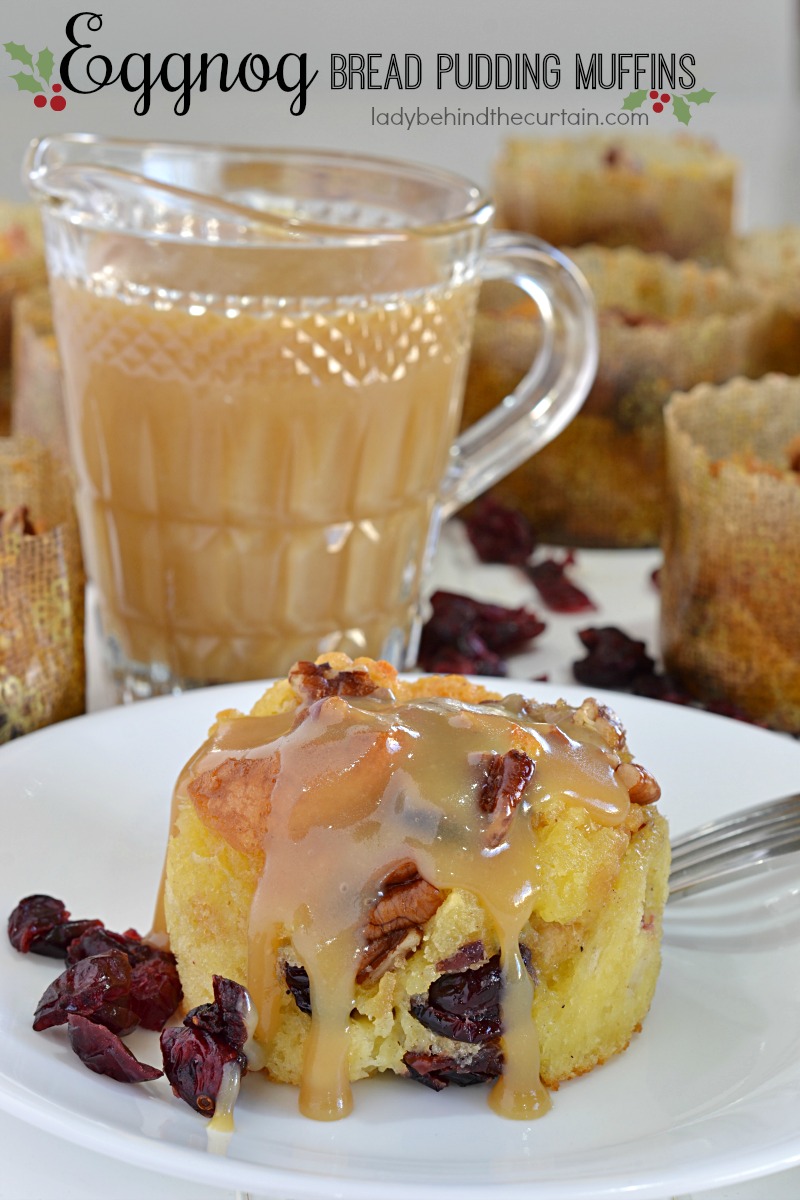 While you're are the store picking up your yearly carton of eggnog make sure to pick up two!  One for now and one for the freezer!  Did you know you can freeze eggnog?  Yes you can and that means eggnog flavored treats in the Spring or Summer!  Celebrate Christmas in July this year with eggnog baked goods!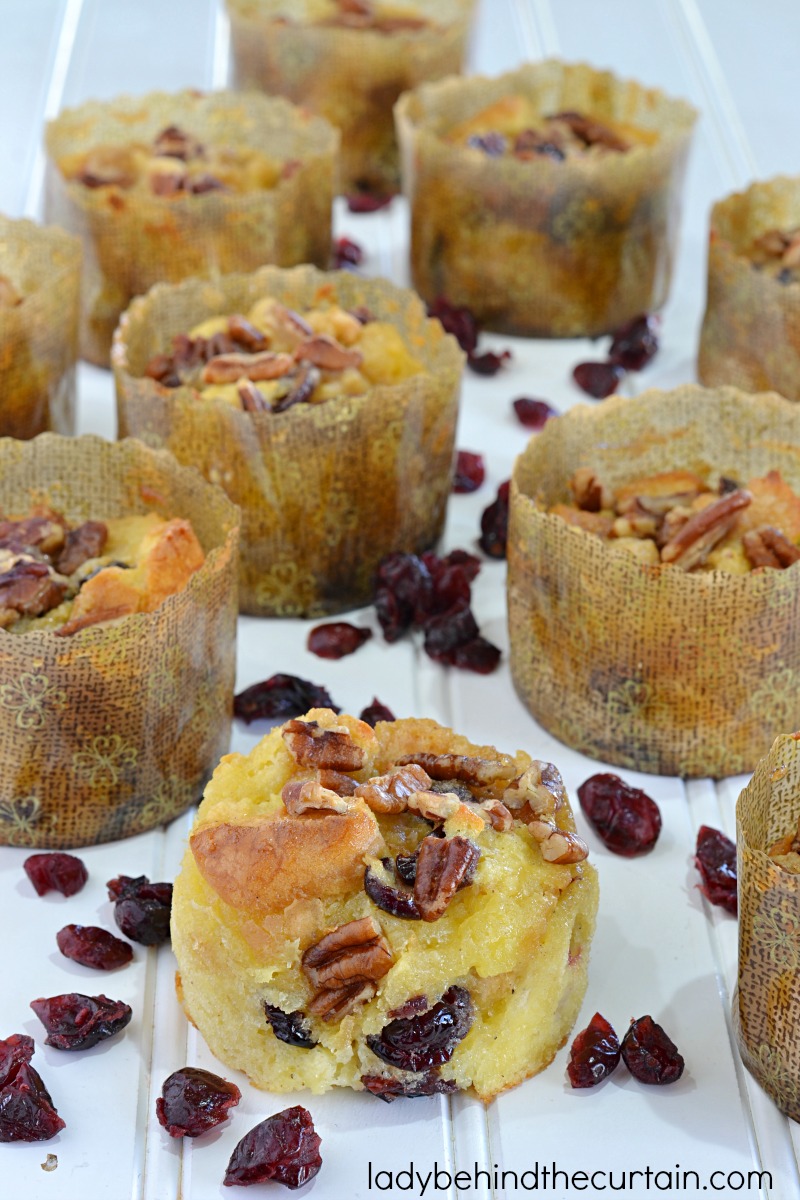 Christmas morning is hectic enough.  So…why not make these muffins a day or two in advance?  All you have to do is put them in the oven on warm for 30 minutes.  Heat up the Butter Rum Sauce and you'll have a wonderful breakfast without hardly any effort.  I call that a win for the hostess!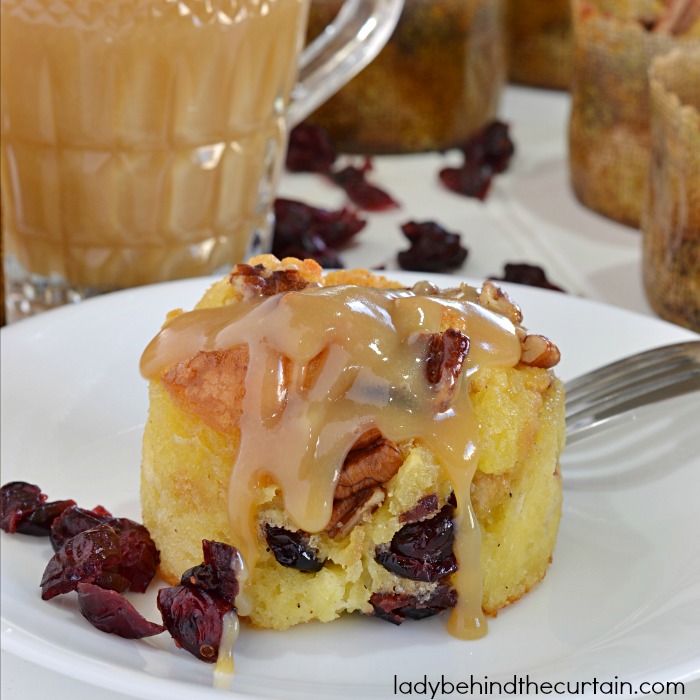 Yield: 12 Large Muffins
Eggnog Bread Pudding Muffins
Ingredients
For the Eggnog Bread Pudding
1 large loaf of French bread( about 7 cups or 3/4 of a pound), torn into bite size pieces
4 large eggs
1 1/2 cups eggnog
1/2 cup milk
1/4 teaspoon ground nutmeg
1/4 teaspoon salt
2/3 cup granulated sugar
1 teaspoon rum extract
1 teaspoon vanilla extract
6 tablespoons unsalted butter, melted
1/3 cup all-purpose flour
1/2 tablespoon baking powder
1 cup dried cranberries
For the Crunch Topping
1/4 cup unsalted butter, chilled and cut up
1/3 cup light brown sugar, packed
1/3 cup pecans, chopped
For the Butter Rum Sauce
1 cup light brownd sugar, packed
1/2 cup unsalted butter
1/8 teaspoon salt
1 (14 ounce) can sweetened condensed milk
1/4 cup gold rum
2 teaspoon vanilla extract
Instructions
For the Eggnog Bread Pudding:
Preheat oven to 350°.  Place cupcake molds on a large baking sheet.  The cupcake molds I used for this recipe measure 2 3/4-inchs x 2-inches and are sturdy enough that no muffin pan is needed.  Click here to order---->>>>CUPCAKE MOLDS   These molds are a generous size if you choose to use regular size muffin liners you'll need to adjust the baking time.  The yield amount will change too.
Place torn bread into a large bowl and set aside.  In a medium bowl whisk together the eggs, eggnog, milk, nutmeg, salt, sugar, rum extract, vanilla extract, butter, flour and baking powder until smooth.  Pour over torn bread.  Using your hands or a large spoon press the bread into the eggnog mixture making sure all the bread is moist.  Fold in the cranberries.  Scoop 1/2 cup of bread pudding mixture into each baking cup.  Sprinkle the crunch topping on top of each muffin.  Bake 30 minutes or until lightly brown put still moist.  Serve warm with a drizzle of the Butter Rum Sauce.   Store in the refrigerator in a airtight container up to a week.
For the Crunch Topping:
In a small bowl add the butter and brown sugar.  With a pastry blender cut butter into the brown sugar until the butter is a little smaller than a pea.  Sprinkle the brown sugar mixture and pecans on top of each muffin.
For the Butter Rum Sauce:
In small saucepan add the brown sugar, butter, salt and sweetened condensed milk.  Bring to a boil, turn down heat and simmer, stirring constantly to prevent scorching.  Cook until sugar is dissolved and there is no longer a grainy feeling when your fingers rub together.
Take off the heat, stir in the rum and vanilla.  Store in the refrigerator until ready to serve.  Reheat sauce before serving.

MORE RECIPES WITH EGGNOG
RUM CARAMEL DRIZZLED EGGNOG CHEESECAKE  2. BROWN BUTTER COOKIE WITH AN EGGNOG FUDGE CENTER  3. EGGNOG QUICK BREAD
NEVER MISS A POST!
Sign up for my newsletter and receive my recipes in your inbox. Easy to see anytime and saved for safe keeping. Click Here and sign up today! —->>>>CURTAIN CALL NEWSLETTER