Cranberry Orange Streusel Quick Bread
Cranberry Orange Streusel Quick Bread | A delicious way to start your morning.  This easy recipe is full of fresh cranberries with the perfect balance of orange zest.  Make Holiday baking, Festive and Gift Giving easier then ever!  Make several now and freeze for later.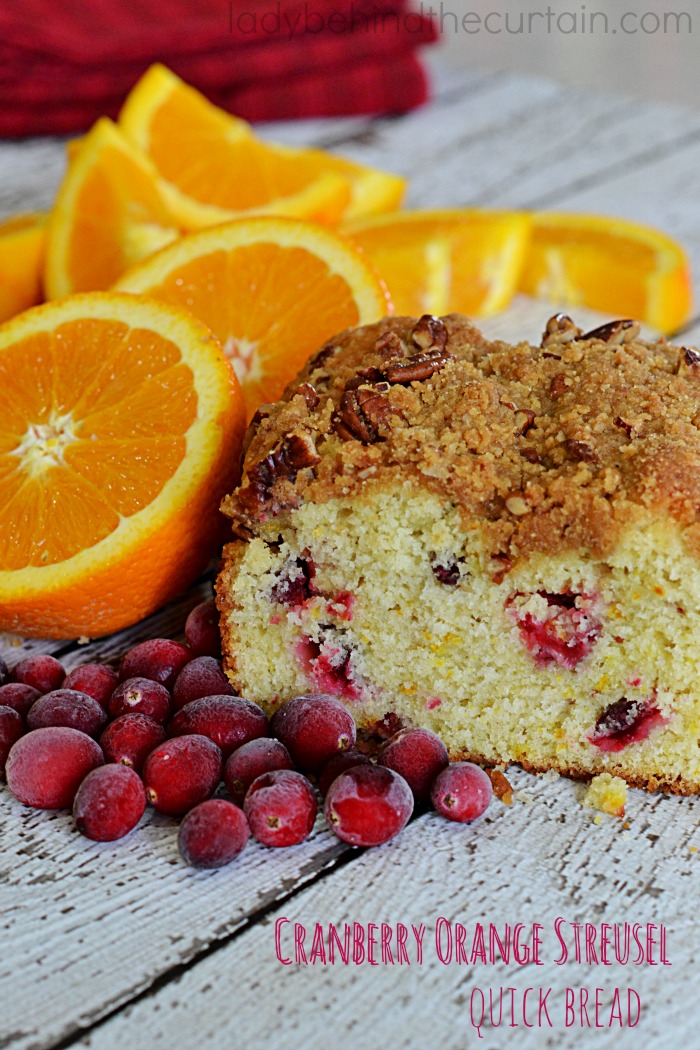 I am a huge fan of baked goods with cranberry and orange.  So much so that when the holiday season rolls around I make sure I grab a couple extra bags of fresh cranberries for the freezer.  Did you know that quick bread makes fantastic french toast?  Especially banana bread.
Cranberry Orange Streusel Quick Bread
Ingredients
2 cups all-purpose flour
1 cup granulated sugar
2 teaspoons baking powder
1/2 teaspoon salt
1 teaspoon finely shredded orange peel
2 eggs
1/2 cup milk
1/2 cup butter, melted
3/4 cup fresh whole cranberries
For the Streusel:
1/4 cup light brown sugar
3 tablespoons all-purpose flour
2 tablespoons butter
1/3 cup pecans, chopped
Instructions
Preheat oven to 350 degrees.
Grease the bottom and 1/2 inch up side of a 8x4x2 loaf pan (I used a 5x9 and it was fine); set aside.
Stir together flour, sugar, baking powder, and salt.
Stir in orange peel.
Make a well in the center of the flour mixture; set aside.
Beat eggs; stir in milk and melted butter.
Add egg mixture all at once to flour mixture.
Stir until moistened.
Fold in cranberries.
Spoon batter into prepared pan; spread evenly.
Sprinkle the streusel on top of the bread.
Bake for 55 to 57 minutes or until toothpick inserted near the center comes out clean.
Cool in pan on a wire rack for 10 minutes.
Remove from pan.
Cool completely on wire rack.
For the Streusel:
In a small bowl mix together the sugar and flour.
Using a pastry blender, but in the butter until mixture resembles coarse crumbs.
Stir in the pecans.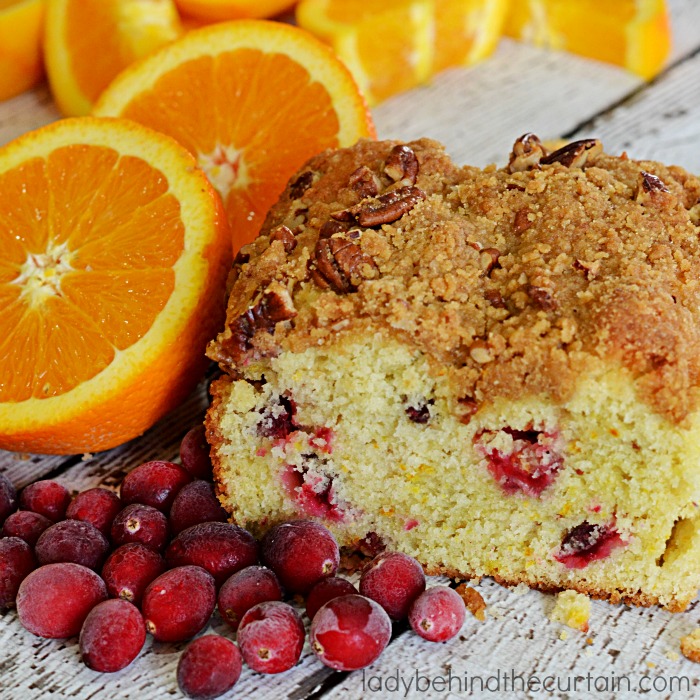 MORE QUICK BREAD RECIPES

CLASSIC PUMPKIN WITH SPICY DARK CHOCOLATE FROSTING  2. FRESH STRAWBERRY QUICK BREAD  3. LEMON POPPY SEED QUICK BREAD