Light Red Pepper and Beef Pasta
Light Red Pepper and Beef Pasta | A hearty meal with  a different kind of red sauce using roasted red peppers and chopped tomatoes together.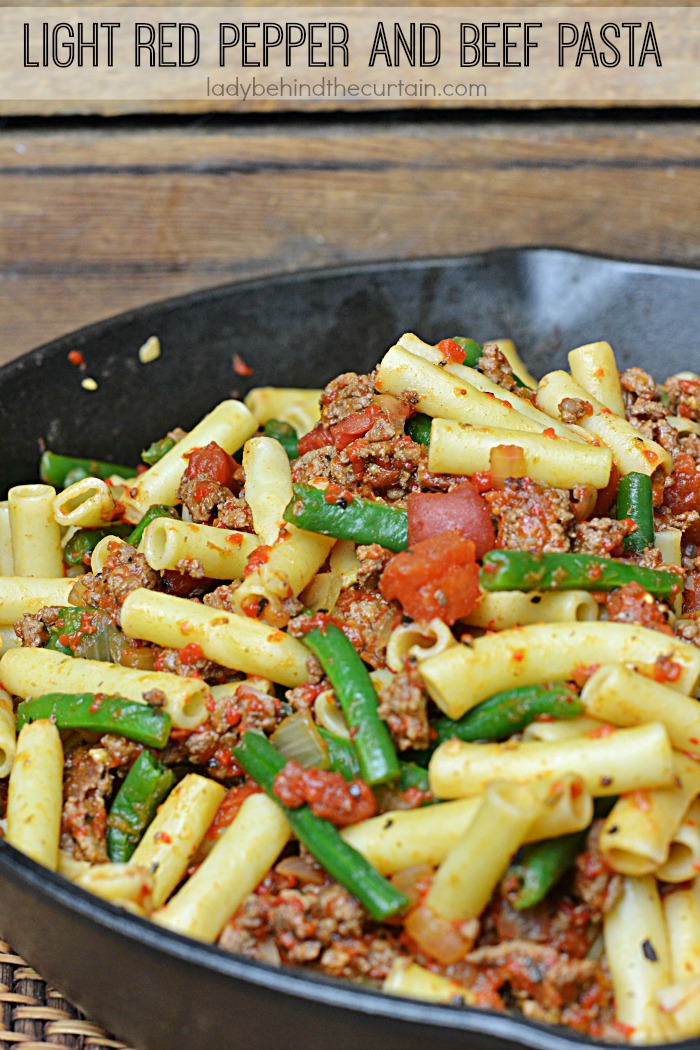 Can a pasta dish really be a low calorie dish?  Yes, it can!  This delicious meal comes in at around 362 calories per 1 2/3 cups serving and that includes the pasta and cheese!  Hurray for us!  That's a hefty serving.  Add a salad and you're got yourself a satisfying meal.  Now you CAN satisfy that pasta craving and still stay on track.
I love the twist on the everyday red sauce.  I love just about anything with roasted red peppers so adding them to make a red sauce made total sense to me.  I hope you enjoy it too!
Light Red Pepper and Beef Pasta
Ingredients
1 (12 ounce) jar roasted sweet red peppers, drained
1 pound lean ground beef
1 small onion, chopped
1 (14 1/2 ounce) can diced tomatoes, do not drain
2 garlic cloves, minced
1 teaspoon dried oregano
1 teaspoon dried basil
3/4 teaspoon salt
8 ounces uncooked ziti or small tube pasta
1 1/2 cups cut fresh green beans
1 1/2 cups shredded part-skim mozzarella cheese
Instructions
Place peppers in a food processor; cover and process until smooth.
In a large skillet, cook beef and onion until meat is no longer pink; drain.
Stir in the pepper puree, tomatoes, garlic, oregano, basil and salt.
Bring to a boil; reduce heat and simmer uncovered for 15 minutes.
Meanwhile, in a Dutch oven, cook pasta according to package directions, adding green beans during the last 5 minutes of cooking.
Cook until pasta and green beans are tender; drain.
Return to the pan; stir in meat sauce.
Sprinkle with cheese; stir until melted.
https://www.ladybehindthecurtain.com/red-pepper-and-beef-pasta/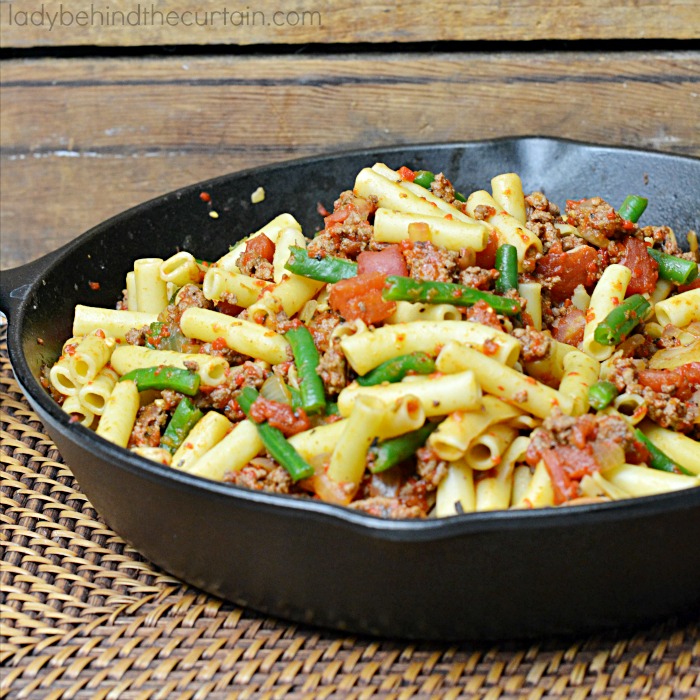 MORE LIGHT DINNER SOLUTIONS

LIGHT CREAMED VEGETARIAN POTATO SOUP  2. MUSHROOM MEATLOAF 3. LIGHT BEEF BOURGUIGNON STEW