Easy Saucy Meatball Sandwich
Easy Saucy Meatball Sandwich | This semi homemade Meatball Sandwich has everything you love in a deli sandwich.  Big meatballs full of flavor with a delicious easy to make sauce all topped with creamy shredded mozzarella cheese.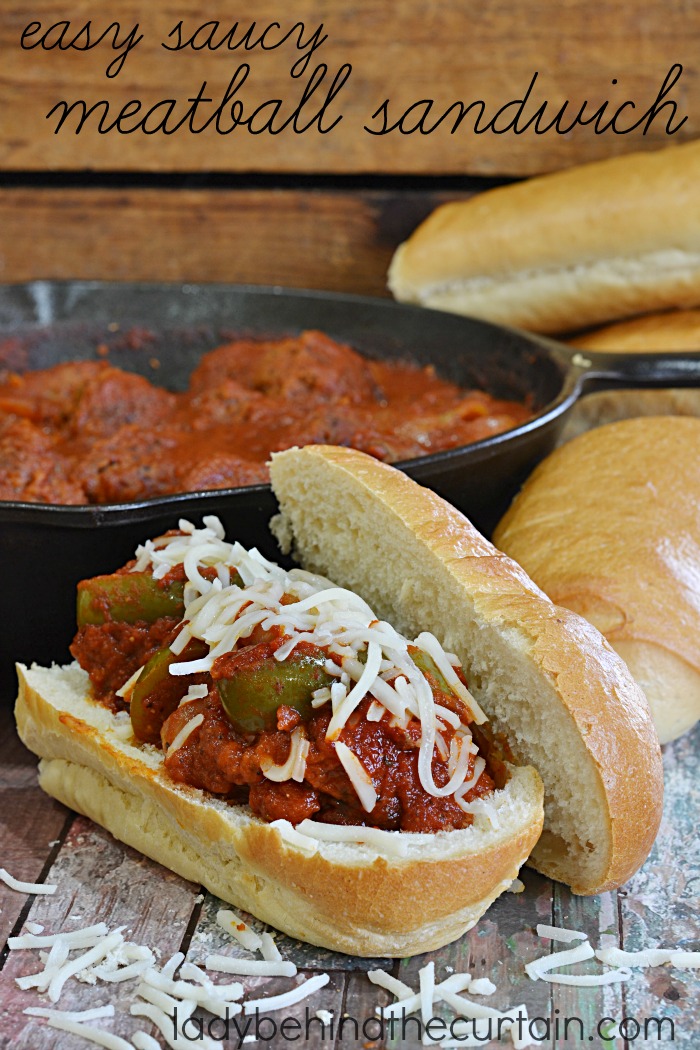 These sandwiches are a snap to whip up on a busy weeknight or for the game day crowd.  Because you start with a store bought red sauce you can have these sandwiches ready in no time….and no one has to know!
While the meatballs are baking…sauté the vegetables.  Pour the red sauce over the vegetables and add the seasonings.  Add the meatballs and continue to simmer.  NOW THAT'S A GREAT LOOKING SANDWICH!
Easy Saucy Meatball Sandwich
Yield:
Makes 20 large meatballs
Total Time:
1 hour
5 minutes
Ingredients
For the Meatballs:
2 pounds ground beef
1/3 cup Italian seasoned breadcrumbs
1 (45 ounce) container Italian red sauce, divided
2 teaspoons salt
1/2 teaspoon black pepper
For the Vegetable Topping:
1 tablespoon olive oil
1 medium green bell pepper, sliced
1 medium onion, sliced
2 garlic cloves, minced
For the Sauce:
remaining sauce leftover from the meatballs
1 teaspoon Italian seasoning
1 teaspoon salt
1/2 teaspoon black pepper
For the Topping:
1 1/2 cups mozzarella cheese, shredded
sandwich rolls
Instructions
For the Meatballs:
Preheat oven to 400°.
Line a baking sheet with parchment paper.
Mix together the ground beef, seasoned bread crumbs, 3/4 cup sauce,salt and pepper.
Form into 18 to 20 large meatballs.
Place in prepared baking sheet.
Bake 35 minutes or until meatballs are cooked through.
For the Vegetables:
Add oil to a 12-inch skillet; heat on medium high.
Sauté bell pepper and onion until tender (about 10 minutes); add garlic, salt and pepper to taste.
Continue cooking an additional 5 minutes, occasionally stirring.
For the Sauce:
Pour the remaining sauce on top of the vegetables; add the Italian seasoning, salt and pepper.
Stir to combine.
Place baked meatballs in sauce, lower to a simmer and cook an additional 15 minutes.
Serve on sandwich rolls with a sprinkle of mozzarella cheese.
TIP: To make placing the meatballs easier, hollow out the top and bottom portion of the bread.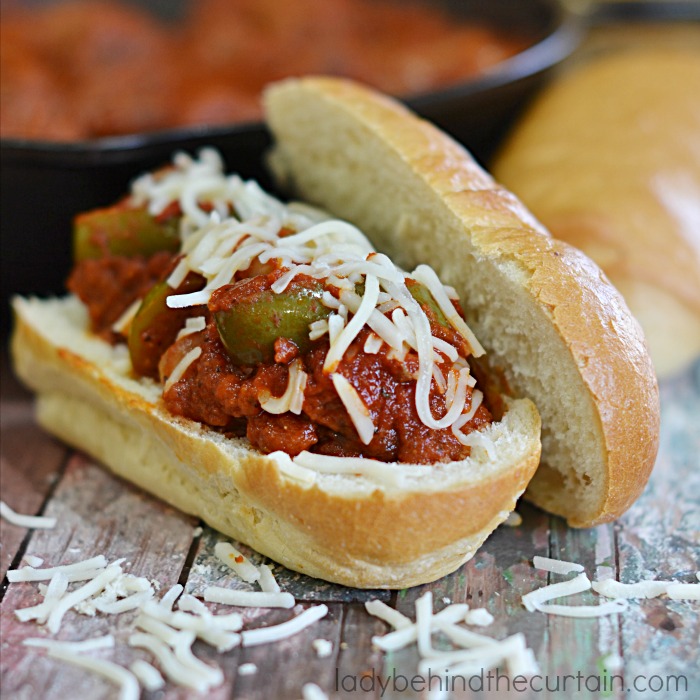 MORE SANDWICH RECIPES
FRIED GREEN TOMATO BURGERS  2. GRILLED BEEF COBB SANDWICH  3. CHIPOTLE HONEY BISCUIT CHICKEN SLIDERS