Grilled Peppered Tri Tip Roast
Grilled Peppered Tri Tip Roast | This tender juicy Tri Tip is perfect in a burrito.  Slice it up for fajitas or simply serve as sliced meat.  Partner this Grilled Peppered Tri Tip Roast with Corn Salsa, Rice and Beans for a delicious Mexican Dinner.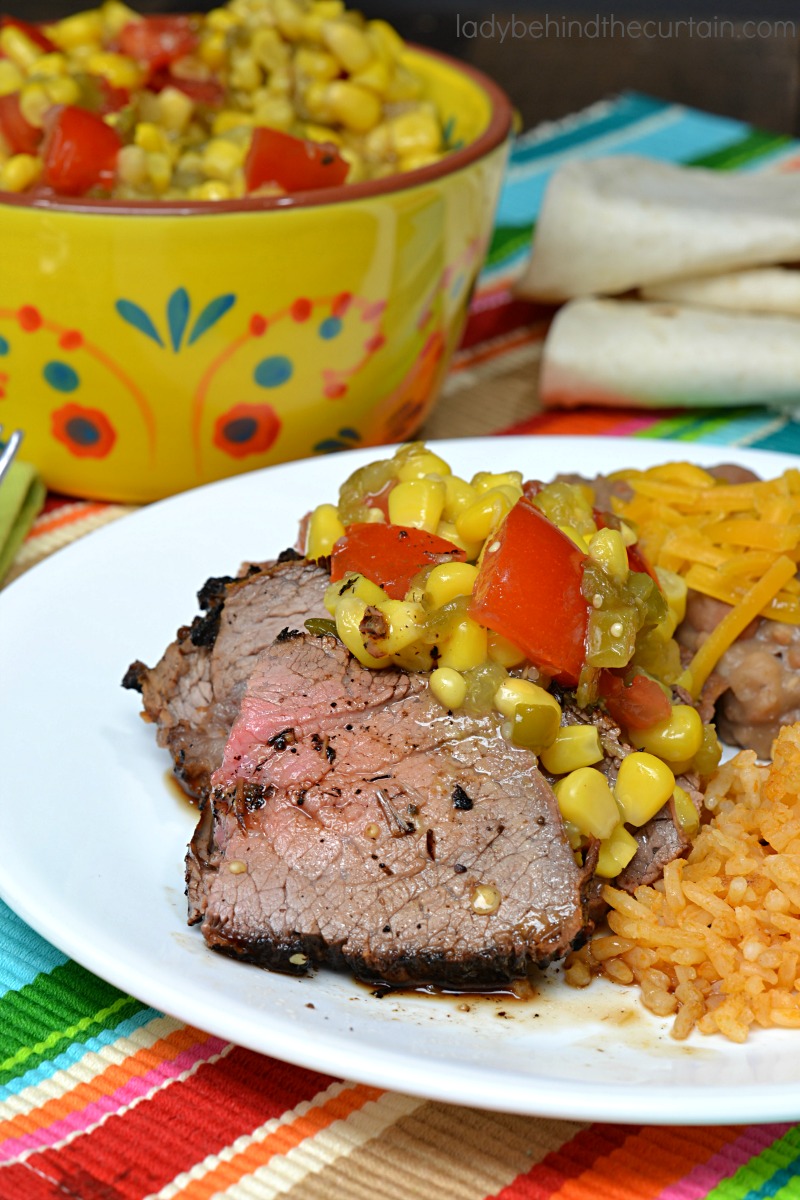 Have you ever used Italian salad dressing as a marinade?  I use it all the time on chicken.  It not only adds tons of flavor but also tenderizes the meat at the same time.  Oh….and it's super easy!  For chicken all I do is place the chicken in a zip top bag, pour in the dressing, seal, place in a bowl and refrigerate for 2 to 4 hours.  That's all!  No extra ingredients for a simple tasty dinner!
Let's have a party!
You already have the prefect meat recipe, let's build the perfect Fiesta Party Menu!

APPETIZER
I like to start my Fiesta Parties with a salsa bar.  All the salsa recipes can be made in advance.  Plus you can make a few from scratch and add in a few store bought jars of salsa too!  Click here to discover salsa recipes and more—-HOW TO CREATE A SALSA BAR
BEVERAGE
Grape juice, limeade and orange juice come together with lemon lime soda to make the perfect take along punch. Click here for the kid friendly recipe—->>>>PICNIC PUNCH
SIDES
My favorite way to make refried beans is in my Instant Pot.  No more worrying about scorched or burned beans!  Plus, preparing refried beans in a instant post creates the best creamy beans!  Click here for the recipe—->>>>CREAMY INSTANT POT REFRIED BEANS
You can't have refried beans with the perfect Mexican Rice!  Better than restaurant rice.  Simple and tasty.  Click here for the recipe—->>>>EASY MEXICAN RICE
DESSERT
I have two choices, one of my favorite cakes and one of my favorite cheesecakes.  Vanilla Cake with Mexican Chocolate Frosting!  A brush of sweet vanilla syrup keeps this delicious classic cake moist, but the real star of this cake is the frosting!  With just a hint of cinnamon and sugar crystals.  Click here for the recipe—->>>>VANILLA CAKE WITH CHOCOLATE GANACHE FROSTING Second..Coconut Lime Cheesecake! The never ending layers of flavor start with a coconut lime crust. On top, is a creamy layer of coconut cheesecake with another layer of lime curd cheesecake. And if that's not enough, there's also a layer of freshly made lime whipped cream. The flavors go on and on! Click here for the recipe—->>>>COCONUT LIME CHEESECAKE
Don't forget about the Grilled Peppered Tri Tip Roast!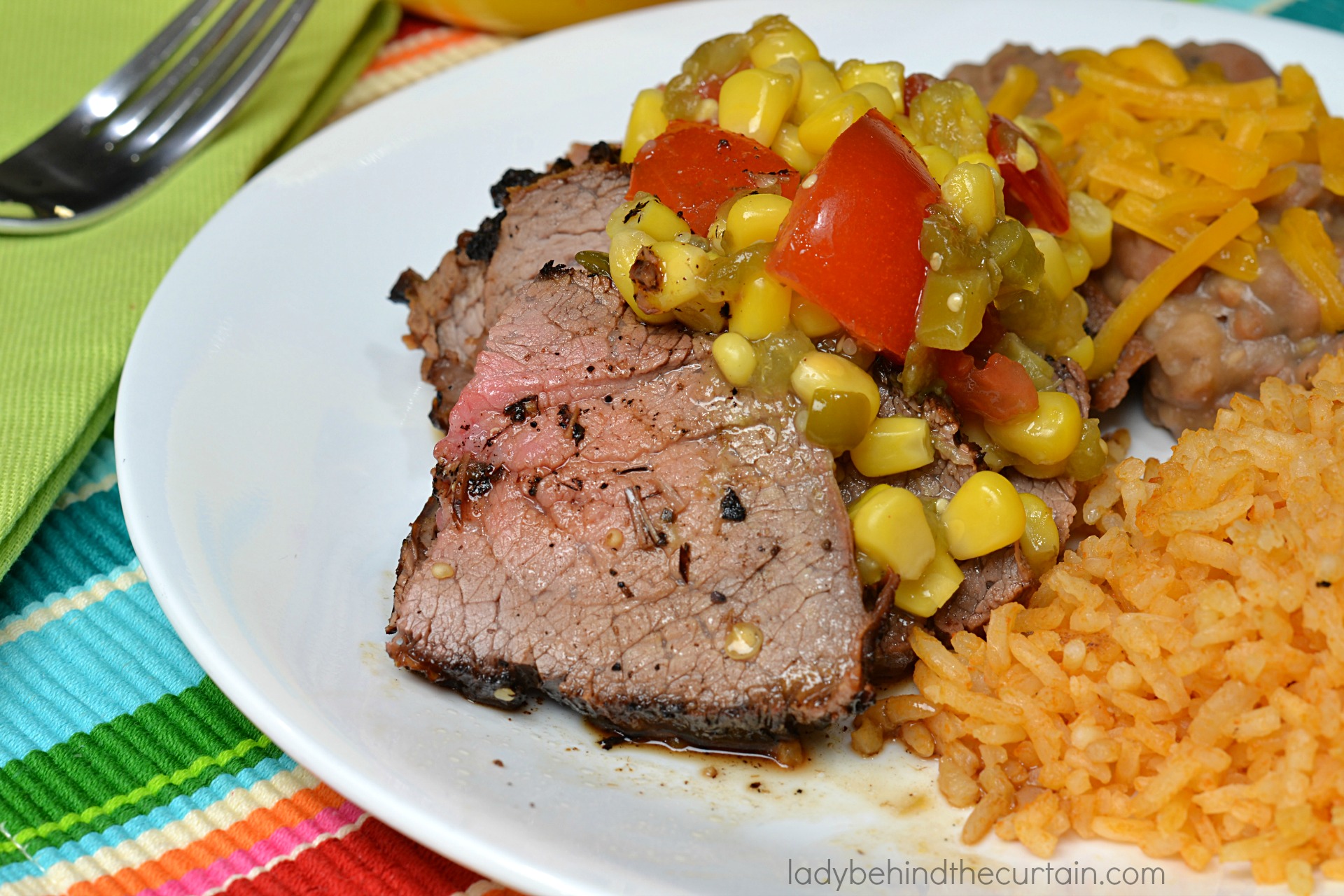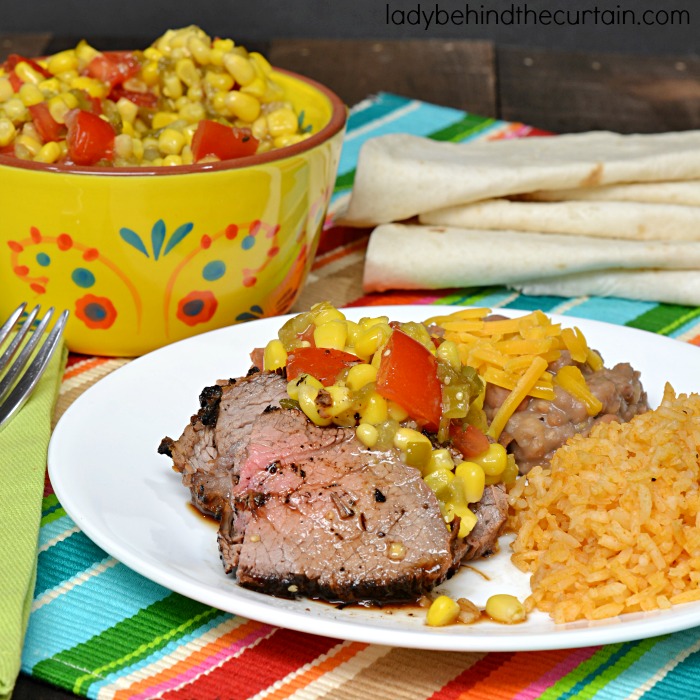 MORE GRILLED RECIPES
GRILLED STICKY PORK CHOPS  2. GRILLED APRICOT AND PEACH CHICKEN WINGS  3. GRILLED HOT SAUCE PIZZA
NEVER MISS A POST!
Sign up for my newsletter and receive my recipes in your inbox. Easy to see anytime and saved for safe keeping. Click Here and sign up today! —->>>>CURTAIN CALL NEWSLETTER