Rum Caramel Drizzled Eggnog Cheesecake
Rum Caramel Drizzled Eggnog Cheesecake | When two holiday favorites come together and make the most delicious dessert; that is elegant enough to grace any Christmas dessert table!  Plus, who can resist a Rum Caramel?  Not this girl!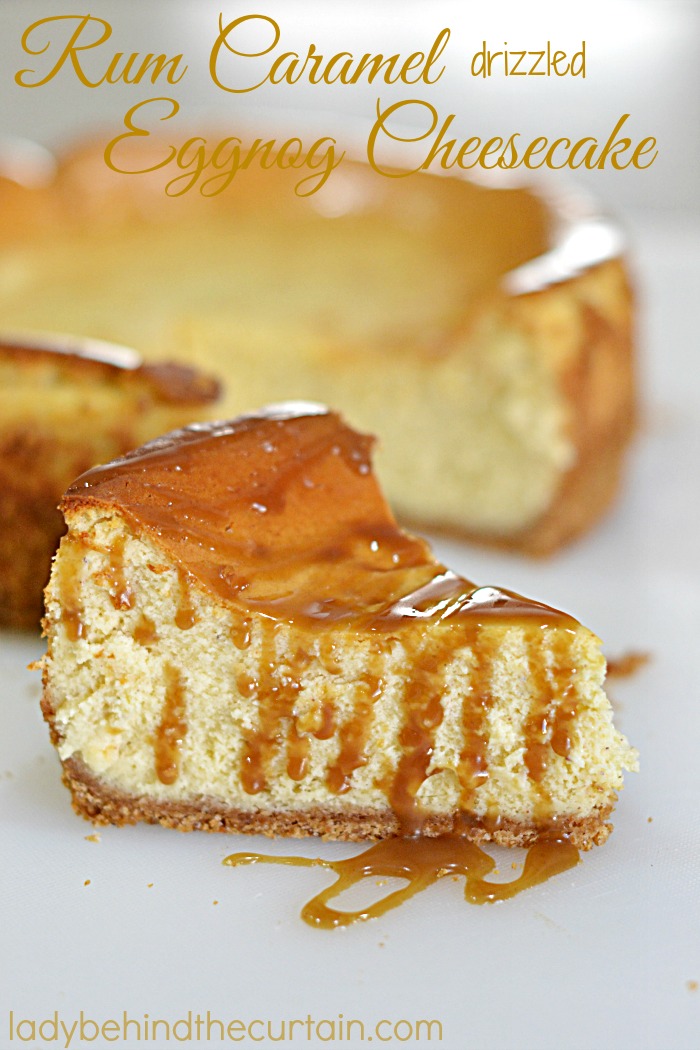 If you've never made a cheesecake before then this is the cheesecake for you.  Nothing fancy and straight forward directions.  While this cheesecake does have REAL eggnog in it you can still make it anytime of year.  Did you know you can freeze eggnog?  That's right now you can enjoy this holiday flavor year round.  I do recommend purchasing a 9-inch springform pan.  You can find them at Walmart for $10 to $15.
If eggnog is your happy place then you might want to try some of these recipes!  Like my Brown Butter Cookies with an Eggnog Fudge Center, Eggnog Quick Bread or how about Red Velvet Cupcakes with Eggnog Frosting and my Eggnog Glazed Donut Muffins are simply the BEST!
Rum Caramel Drizzled Eggnog Cheesecake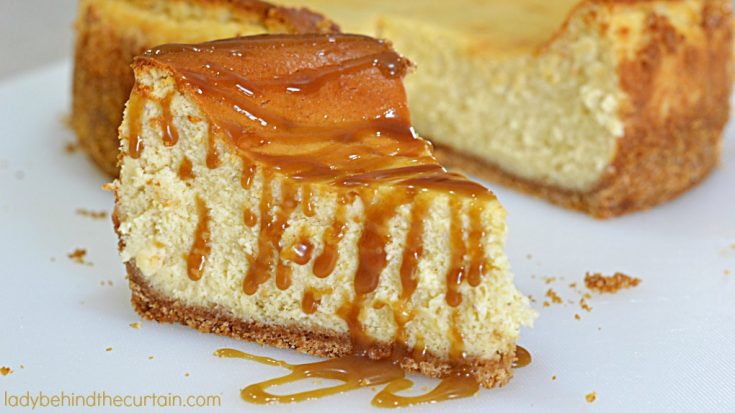 Ingredients
For the Crust:
1 1/2 cups graham cracker crumbs
1/4 cup granulated sugar
3/4 teaspoon ground nutmeg
1/3 cup butter, melted
For the Filling:
4 (8 ounce) blocks cream cheese, softened
1 3/4 cups granulated sugar
5 teaspoons cornstarch
4 large eggs
1 large egg yolk
1 1/4 teaspoons vanilla extract
1 1/2 teaspoons ground nutmeg
1/8 teaspoon salt
2/3 cup eggnog
For the Rum Caramel Drizzle:
4 tablespoons butter
1 1/2 cups dark brown sugar, packed
4 tablespoons dark rum
1 cup heavy whipping cream
1/4 teaspoon salt
Instructions
For the Crust:
Preheat oven to 350°.
Add the cracker crumbs, sugar and nutmeg to a medium bowl; whisk together.
Pour melted butter over crumb mixture; stir to combine.
Dump mixture into a 9-inch springform pan; press up the sides (about 2-inches); equally disburse the remaining crust mixture and press into the bottom of the pan.
Place pan on a cookie sheet and bake 6 minutes.
For the Filling:
Place the cream cheese to a large mixing bowl; whip until creamy.
Combine sugar and cornstarch with the cream cheese and mix until light and fluffy.
Add the eggs one at a time until well combined; continue mixing and add the vanilla, nutmeg and salt.
While the mixer is on low slowly pour in the eggnog; once incorporated, continue mixing until creamy.
NOTE: Make sure to scrap the sides throughout this process.
Pour into baked crust.
Bake 1 hour to 1 hour and 10 minutes.
NOTE: The cheesecake will rise beyond the pan. Be as gentle as possible removing from the oven to a wire cooling rack and it will be fine.
Cool 1 hour on a cooling rack; run a knife around the edges.
Store in the refrigerator overnight uncovered.
For the Rum Caramel Drizzle:
In a medium to large saucepan (when this mixture boils it doubles in volume) stir to combine the butter, sugar, rum whipping cream and salt.
On medium high heat; bring to a boil.
Boil 3 minutes.
Set out to cool and store in a covered container (I used a mason jar) and refrigerate until ready to use.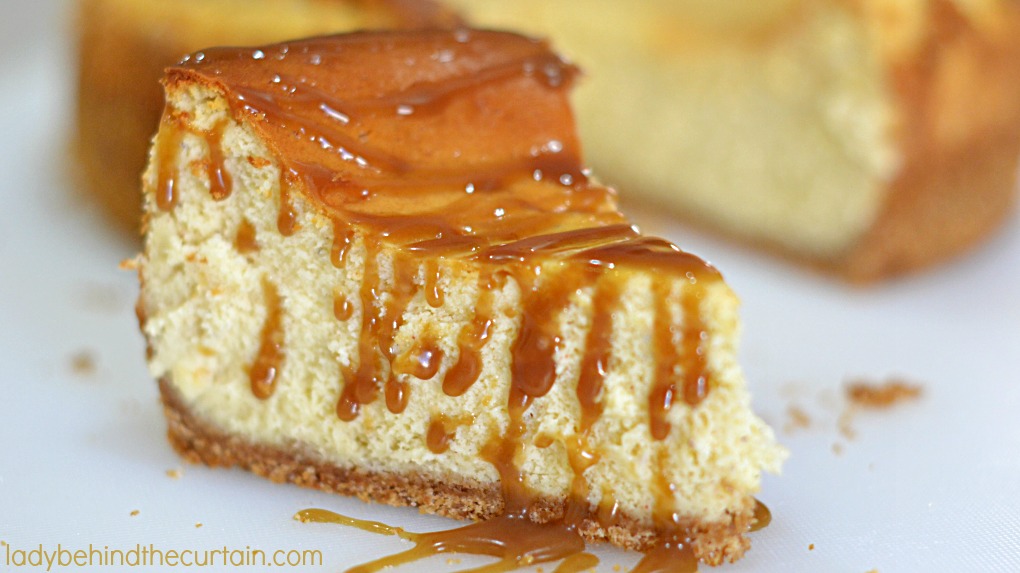 MORE EASY CHEESECAKE RECIPES

PISTACHIO CHEESECAKE  2. PERSIMMON CHEESECAKE  3. ALMOND JOY CHEESECAKE