Peppermint Marshmallow Filled Chocolate Cupcakes
Peppermint Marshmallow Filled Chocolate Cupcakes |Peppermint is the perfect way to celebrate the holiday season!  These Peppermint Marshmallow Filled Chocolate Cupcakes are so incredibly delicious.  You don't have to use words to let your guests know how special they are!  All you have to do is serve these cupcakes!  Starting with the BEST Devil's Food Cupcake Recipe.  Filled with homemade peppermint marshmallow cream and topped off with a Marshmallow Butter Cream!  What more could a guest want?
I made my own peppermint marshmallows!  There's nothing like homemade marshmallows.  They're super easy to make and ridiculously delicious!  If you don't want to make your own you can also purchase a bag of peppermint flavored marshmallows, melt the marshmallows in the microwave, pour into a piping bag and fill the cupcakes as directed in the recipe.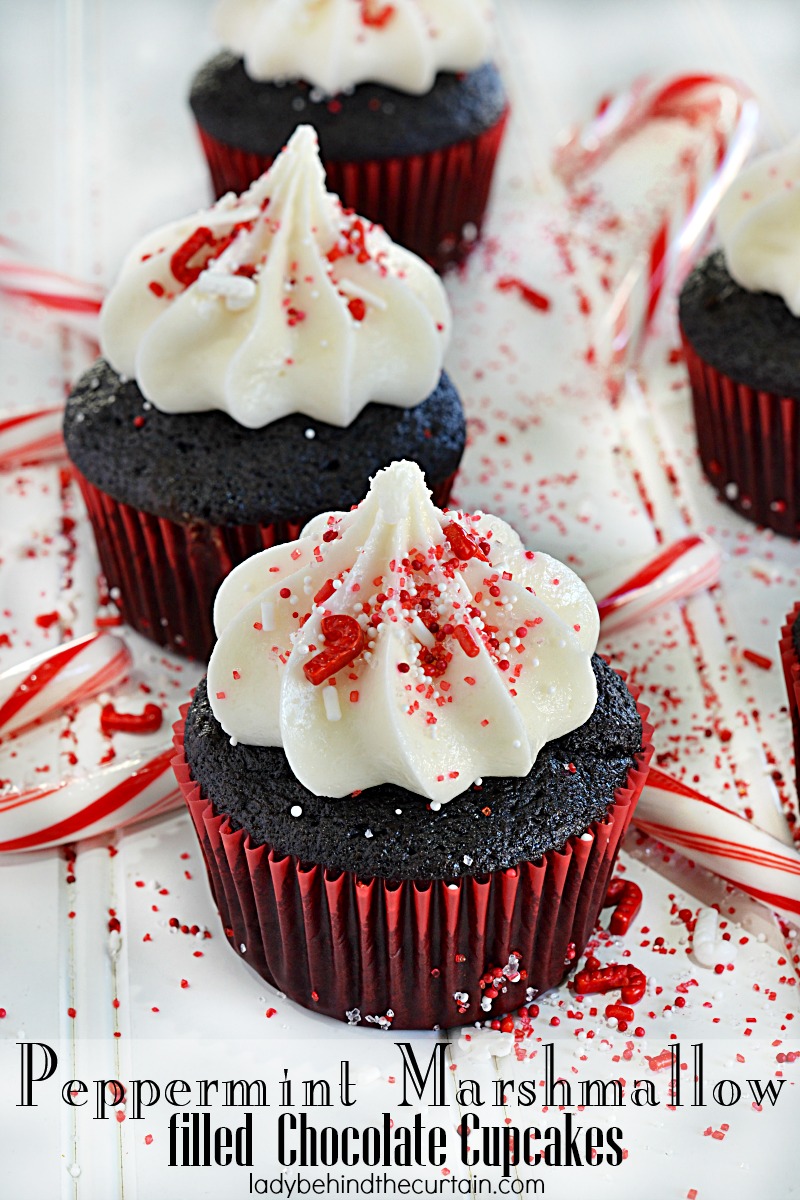 Here's a BONUS!  If you choose to make your own peppermint marshmallows the recipe makes more then you need to fill the cupcakes.  So, you'll get to have marshmallow filled cupcakes and the perfect peppermint marshmallows for hot chocolate!  TIP:  Before you start making the marshmallows.  Spray an 8×8-inch baking pan with non stick cooking spray.  Immediately after filling the cupcake pour the remaining peppermint marshmallow cream into the prepared pan, sprinkle with half a cup of cornstarch and three fourths a cup of confectioners' sugar.  Cover with foil and let sit until cool and set.  Cut into small squares for hot chocolate.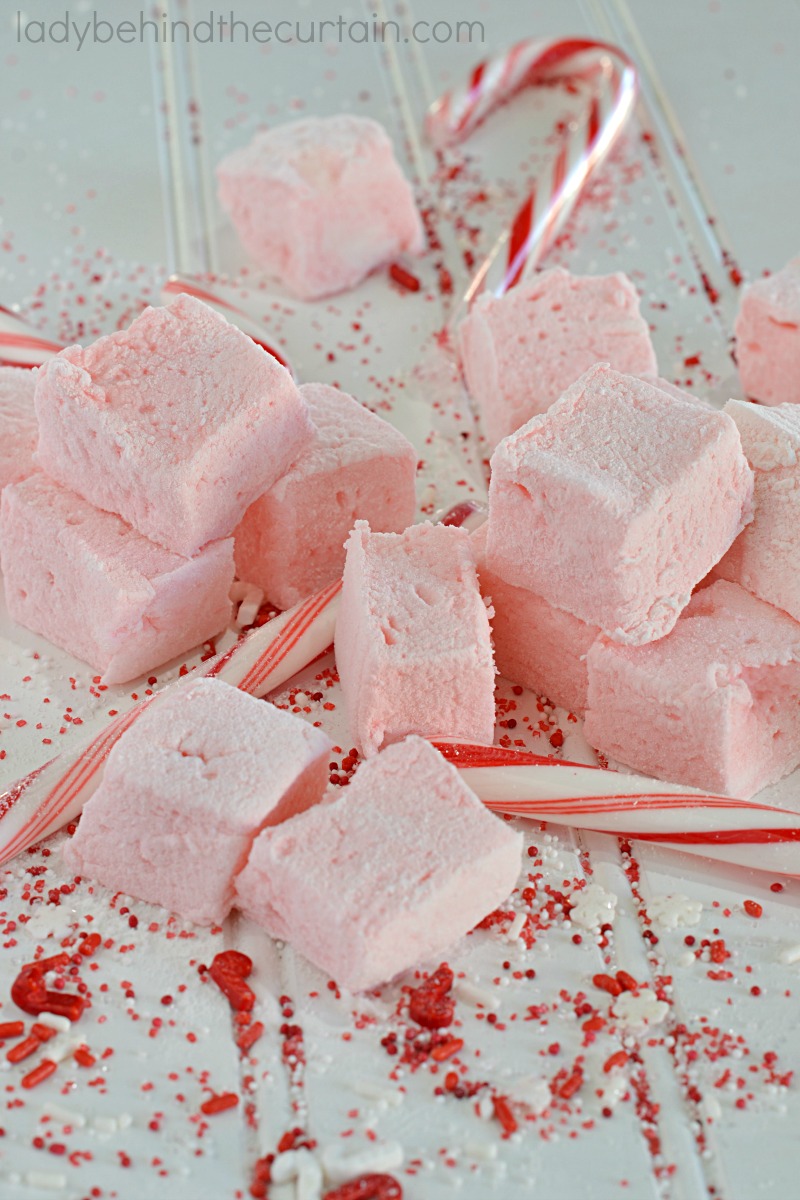 The marshmallow cream becomes stiff just like a regular marshmallow!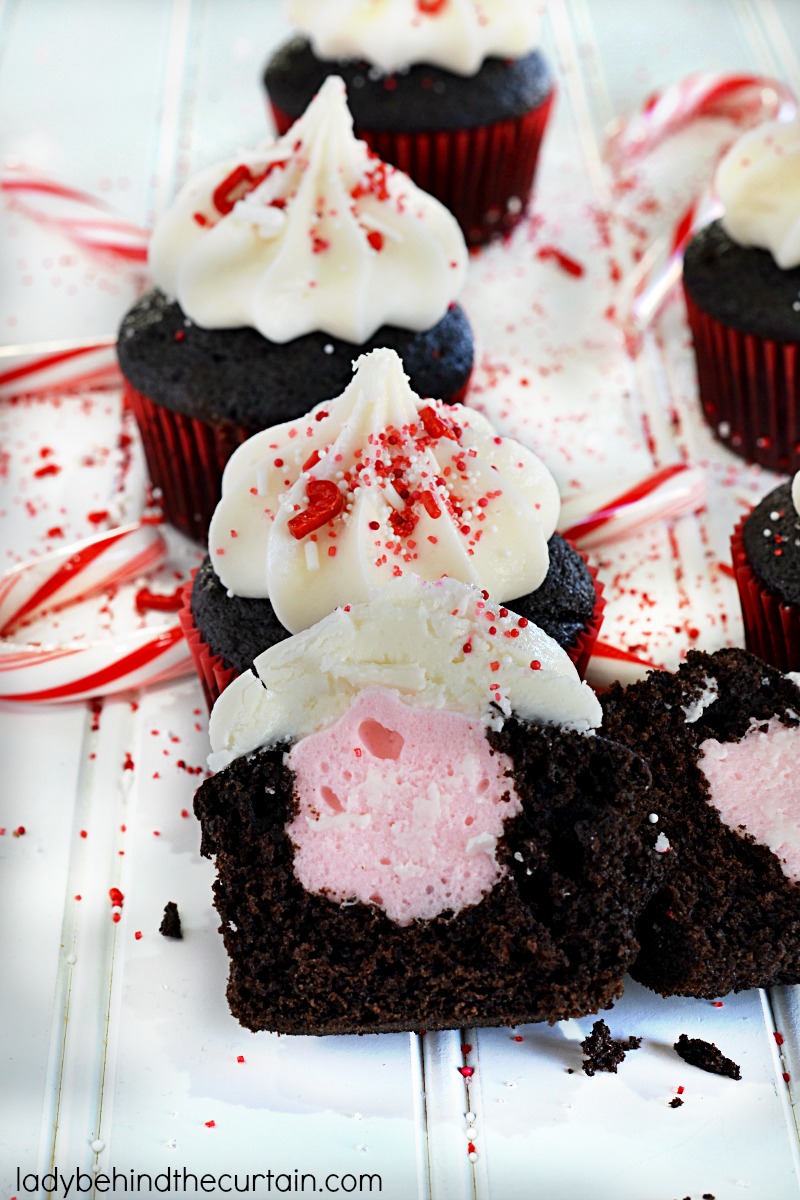 Once the cupcakes are cooled, use a small round object like a melon baller, the wide end of a pipping tip or a small paring knife and hollow out the center.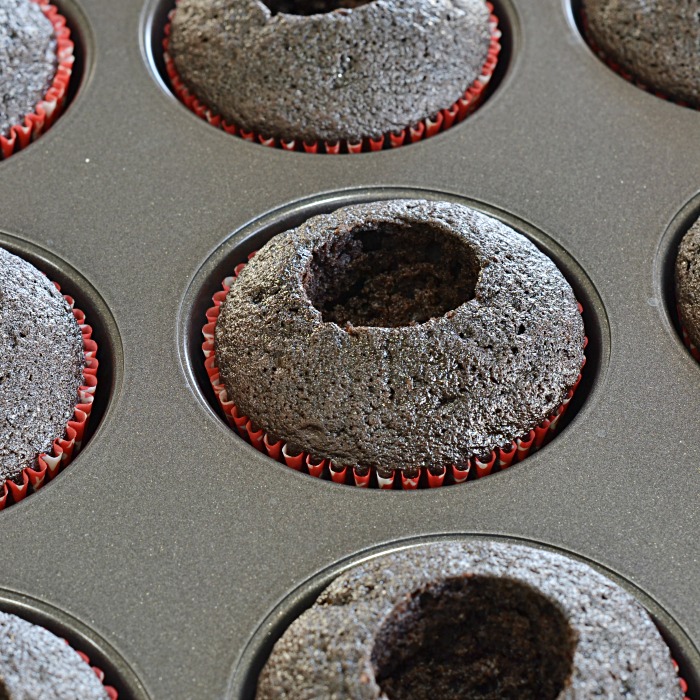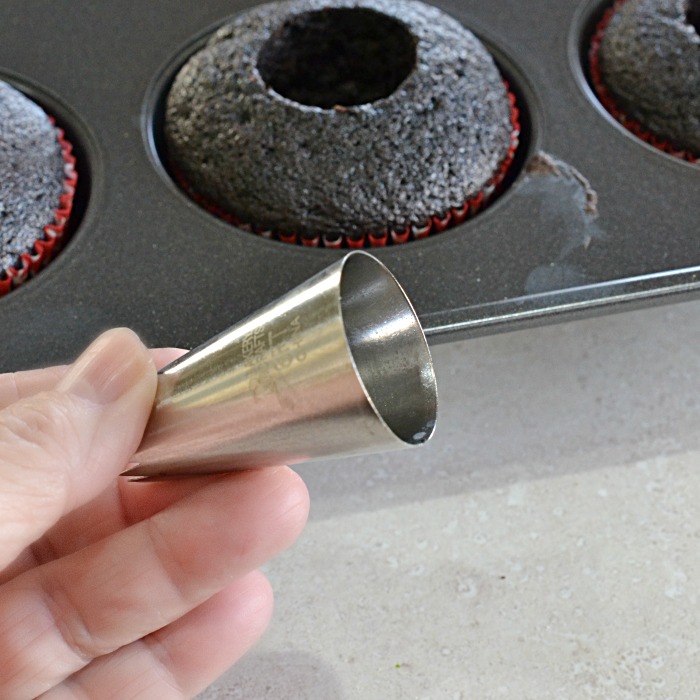 While the marshmallow is still hot pour into a large piping bag fitted with a wide circle and pipe cream into cupcakes.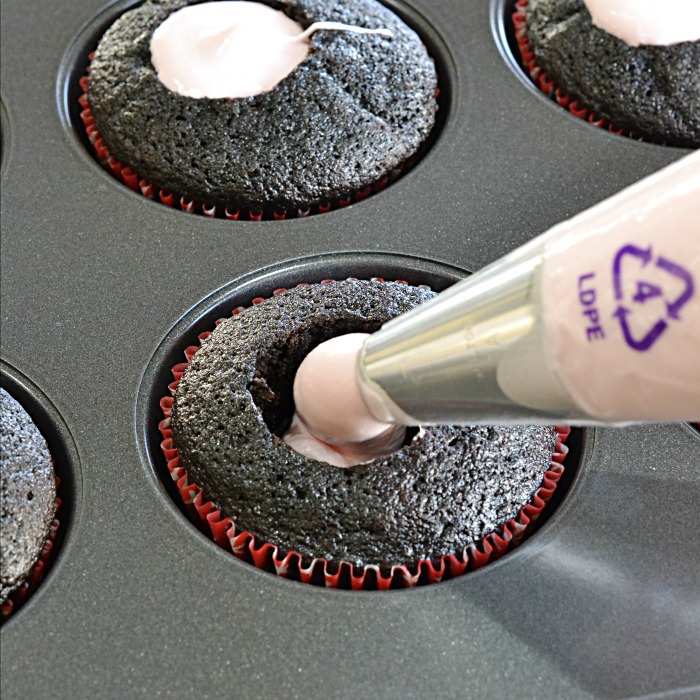 Peppermint Marshmallow Filled Chocolate Cupcakes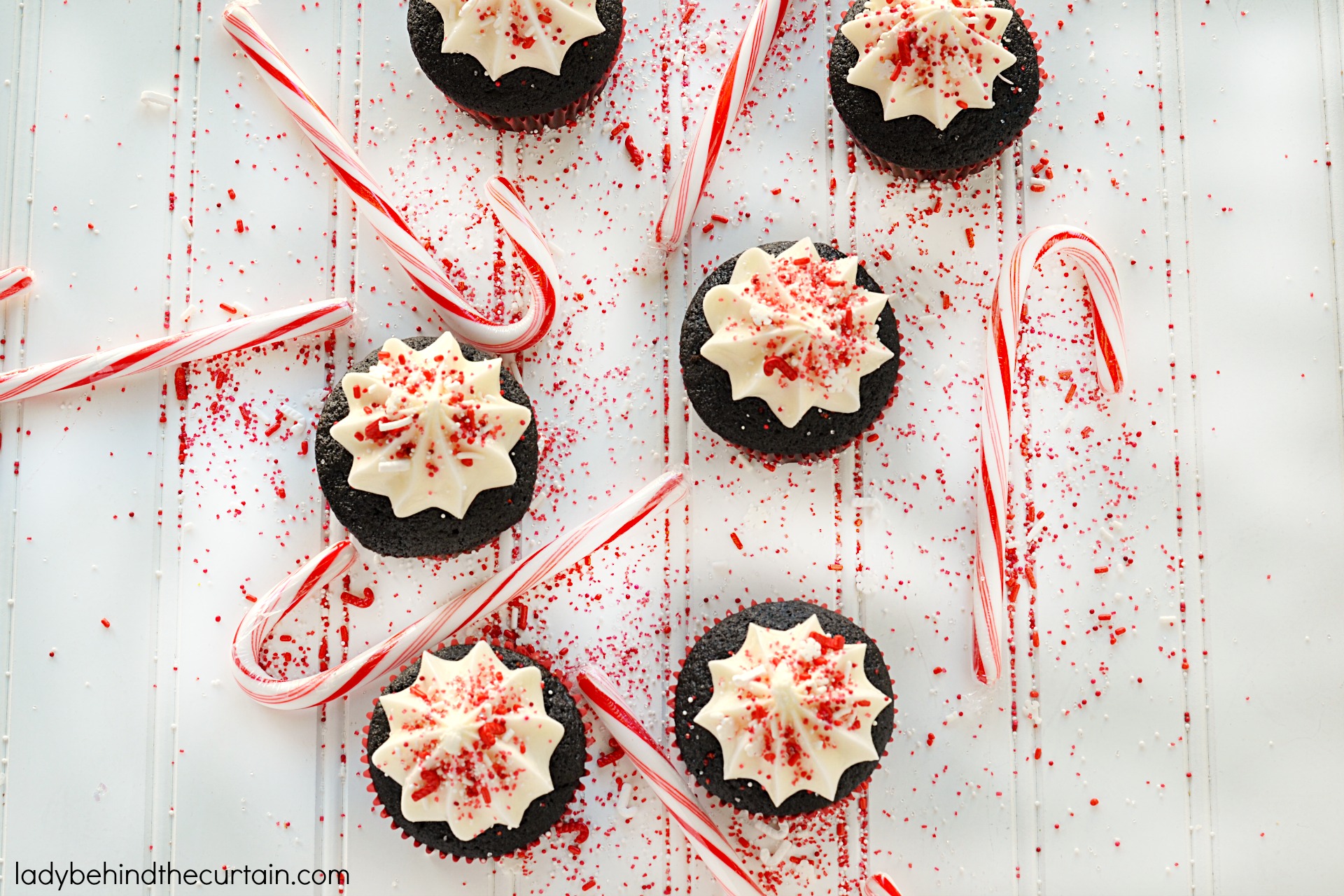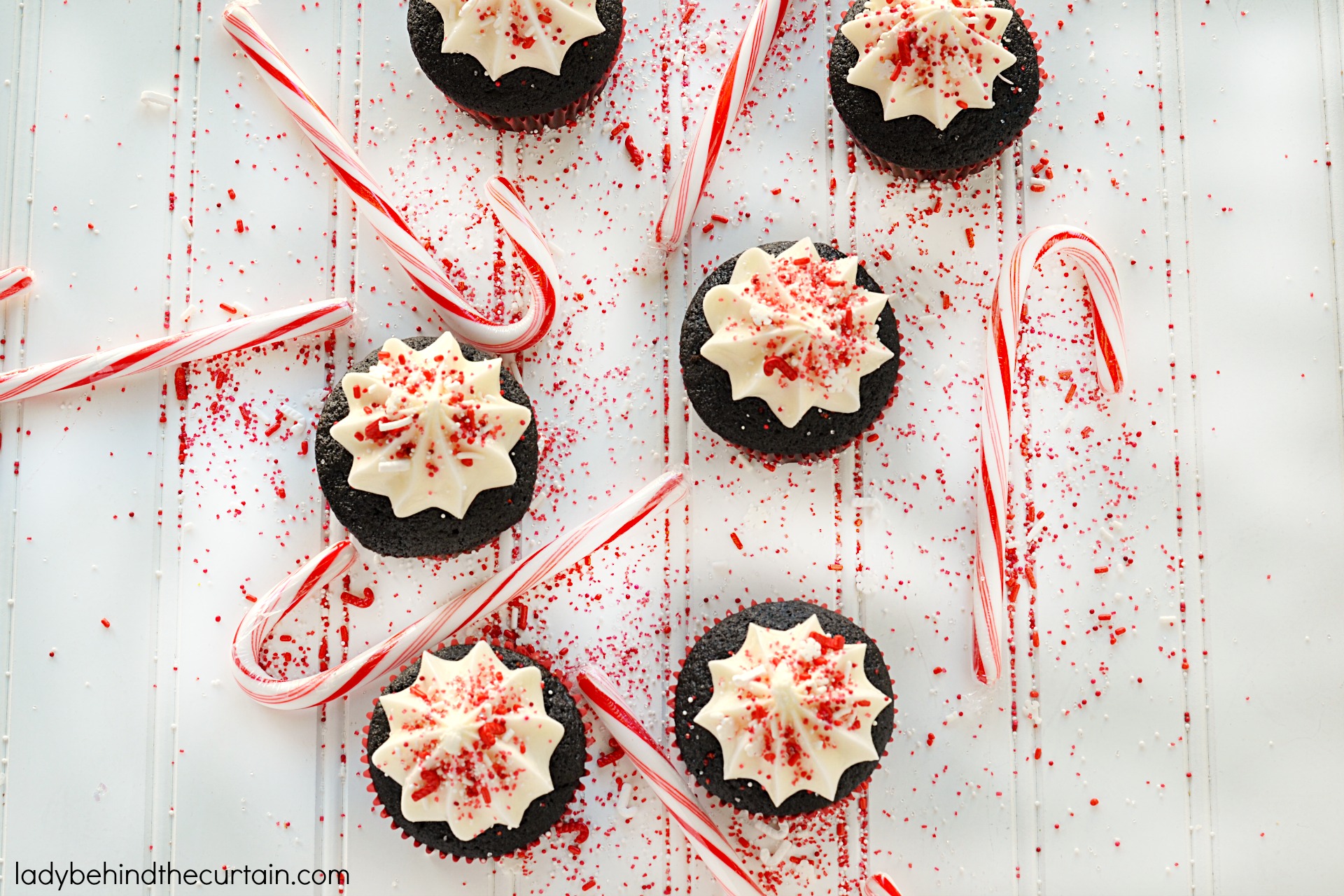 Ingredients
For the Devil's Food Cupcakes
3/4

cup unsweetened special dark cocoa powder

3/4

cup hot water

3

cups all-purpose flour

1

teaspoon baking soda

1

teaspoon baking powder

1 1/4

teaspoons salt

1 1/2

cups unsatled butter

4

large eggs

1

tablespoon vanilla extract

1

cup sour cream
For the Peppermint Marshmallows
1

(1 ounce) box or 4 (.25 ounce) envelopes unflavored gelatin

1

cup cold water

1 1/2

cups light corn syrup, divided

1/2

cup water

1/4

teaspoon salt

1

teaspoon peppermint extract

red food coloring

1/2

cup cornstartch

3/4

cup confectioners' sugar
For the Marshmallow Butter Cream
1

(7 ounce) tub marshmallow cream

1

cup unsated butter, softened

1

teaspoon vanilla extract

32

ounces confectioners' sugar

3-4

tablespoons water
Instructions
For the Devil's Food Cupcakes:
Preheat oven to 350°. Line muffin tins with 36 cupcake liners. Whisk together cocoa and hot water until smooth. In another bowl, whisk together flour, baking soda, baking powder, and salt. Melt butter with sugar in a saucepan over medium-low heat, stirring to combine. Remove from heat, and pour into a mixing bowl. With an electric mixer on medium-low speed, beat until mixture is cooled, 4 to 5 minutes. Add eggs, one at a time, beating until each is incorporated, scraping down sides of bowl as needed. Add vanilla, then cocoa mixture, and beat until combined. Reduce speed to low. Add flour mixture in two batches, alternating with the sour cream, and beating until just combined after each. Fill cupcake liners 2/3 full. Bake 17 to 20 minutes or until a toothpick inserted into the middle comes out clean.
How to Assemble:
When cupcakes are cooled hollow out the center (I used the wide end of a piping tip). Fill with Peppermint Marshmallow Cream and top with Marshmallow Butter Cream Frosting.
For the Peppermint Marshmallow Filling:
Spray non stick cooking spray onto a 8x8-inch pan.
Whisk together in a small bowl the gelatin and cold water. Let stand 5 minutes or until the gelatin has absorbed the liquid.
MAKE SURE YOU ARE USING THE WHISK ATTACHMENT. In a medium saucepan combine sugar 1/2 cup corn syrup, water and salt. Insert a candy thermometer. Over medium high heat bring to a boil. Meanwhile, pour the remaining 1/2 cup corn syrup in a large mixing bowl of a standing mixer fitted with the whisk attachment. Heat the gelatin in the microwave until melted (about 30 seconds). Pour into the mixing bowl with the corn syrup. Turn mixer on low and keep it stirring until the sugar syrup is ready.
When the syrup reaches 240° (soft ball stage), slowly pour the syrup into the mixer bowl, Increase the speed to medium and beat 5 minutes, then increase to medium high and beat 5 more minutes, Finally, increase to the highest speed and beat 1-2 minutes, add peppermint extract then beat again to 1-2 minutes. The mixture should be opaque and tripled in volume.
Quickly pour into a piping bag fitted with a open round tip. Pipe warm marshmallow into hollowed cupcakes. Spread the remaining marshmallow into prepared pan. Sprinkle cornstarch mixture over the top, let the mixture set, cover with foil, let the marshmallow mixture sit on the counter at least 4 hours preferably overnight. Run a knife around the edges of the pan, turn upside down on a towel (or clean surface sprinkled with some of the cornstarch mixture, sprinkle with more of the cornstarch mixture, cut into squares and enjoy!
For the Marshmallow Butter Cream Frosting:
Beat together the marshmallow cream, butter, and vanilla until combined and creamy. Gradually add confectioners' sugar. NOTE: Frosting may be too thick. If so add 3 to 4 tablespoons of water to frosting ONLY 1 tablespoon at a time until the frosting reaches piping consistency. Pipe frosting onto cupcakes, careful to cover the filled center.

MORE CUPCAKE RECIPES
BROWN BUTTER SALTED CARAMEL CUPCAKES  2. TWINKIE CUPCAKES  3. DOUBLE CHOCOLATE CUPCAKES
NEVER MISS A POST!
Sign up for my newsletter and receive my recipes in your inbox. Easy to see anytime and saved for safe keeping. Click Here and sign up today! —->>>>CURTAIN CALL NEWSLETTER