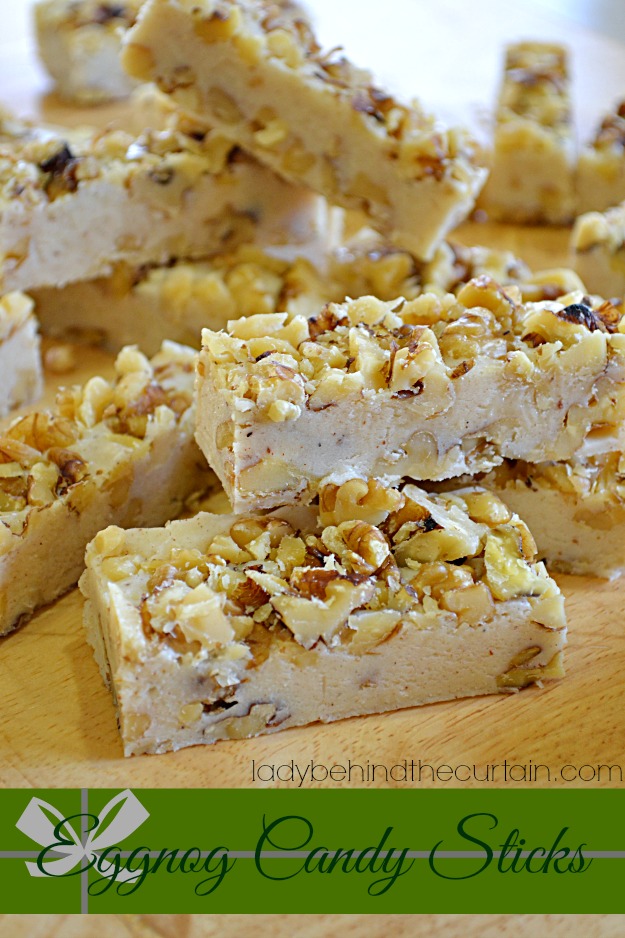 Eggnog Candy Sticks!  That's right.  CANDY!  Give as a gift or serve at your Christmas party.  Wrap these eggnog candy sticks individually with wax paper and twist the ends like taffy.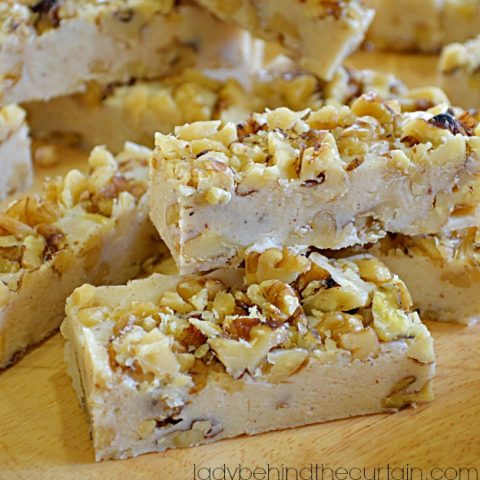 Eggnog Candy Sticks
Ingredients
3 cups walnuts, chopped, divided
2-1/2 tablespoons butter
2 cups white chocolate chips
14 ounces sweetened condensed milk
2 cups miniature marshmallow
1/2 teaspoon nutmeg
1/2 teaspoon cinnamon
Instructions
Line a 7x11-inch baking dish with foil.
Add 1-1/2 cups of the chopped walnuts to the bottom of the dish.
In a large saucepan melt the butter and white chocolate chips.
Stir until smooth.
Add in the condensed milk, marshmallows, nutmeg and cinnamon
Stir until smooth and combined.
Pour white chocolate mixture over walnuts in pan.
Sprinkle with remaining1-1/2 cups of walnuts over the top of the white chocolate mixture.
Cover and refrigerate until chilled.
Cut into 3x1/4-inch sticks.
MORE GREAT EGGNOG RECIPES
1.  OVERNIGHT EGGNOG BREAD PUDDING CRUNCH  2.  EGGNOG MUFFINS  3.  EGGNOG CUPCAKES  4.  GINGERSNAPS & EGGNOG COOKIE POPS  5.  EGGNOG TRUFFLES