Snickerdoodle Cheesecake Squares
Snickerdoodle Cheesecake Squares |  When two of your favorite desserts are cheesecake and snickerdoodle cookies the only thing you can do is combine them to make the most incredible dessert!  These bars have a snickerdoodle cookie crust, a creamy cheesecake topping and dollops of more snickerdoodle cookie dough.  One bite of these Snickerdoodle Cheesecake Squares and you'll fall in love!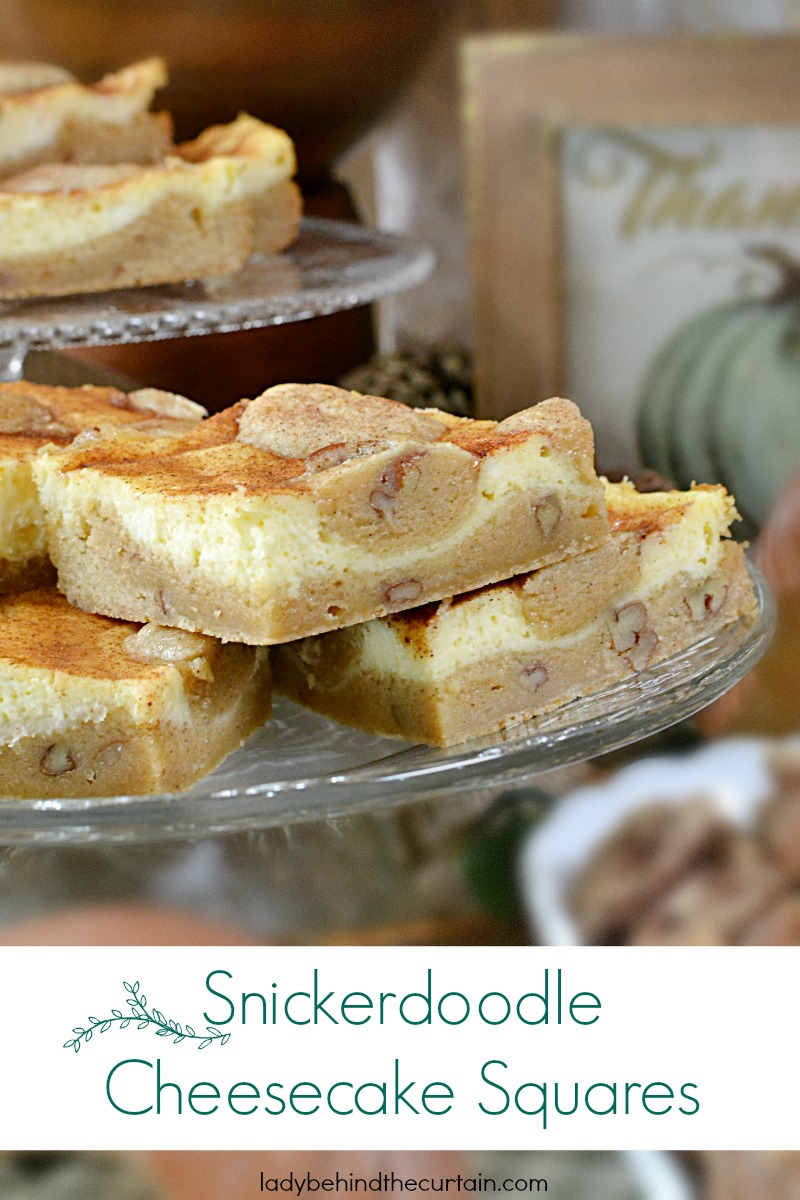 If you're searching for a treat to send to the bake sale…. your search has ended my friend.  These squares are dense enough to warp up and send off to a bake sale.  But be warned…. you'll need to bake two batches because they will be the first treats to go!  Two more of my favorite Bake Sale treats is the NO BAKE DISAPPEAR COOKIES.  These cookies are a cross between candy and a cookie.  One thing I know for sure is that the name lives up to the cookie.  It's no accident I named them "disappear cookies".  The other favorite of mine is BAKERY COOKIES.  We've seen them in the bakery department.  They have them for every holiday and season.  These cookies are a better version of your favorite bakery cookie.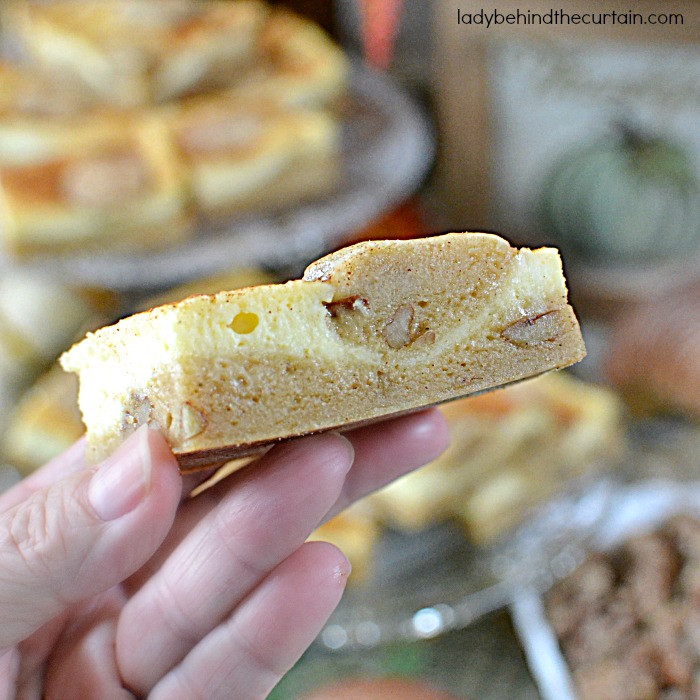 Yield: Approx 18 Squares
Snickerdoodle Cheesecake Squares
Ingredients
For the Crust
1 cup unsalted butter, softened
3/4 cup granulated sugar
3/4 cup light brown sugar, packed
2 large eggs
1/2 teaspoon vanilla extract
2 1/2 cups all-purpose flour
1/2 teaspoon baking powder
1/2 teaspoon salt
1/2 teaspoon ground cinnamon
1/8 teaspoon ground nutmeg
1/2 cup pecans, chopped
For the Filling
2 (8 ounce) packages cream cheese, softened
1/2 cup plus 2 teaspoons granulated sugar, divided
2 large eggs
1/4 teaspoon vanilla extract
1/4 teaspoon ground cinnamon
Instructions
For the Crust:
Preheat oven to 350°.  Line a 9x13-inch baking pan with foil, letting the ends hang over; spray foil with non stick cooking spray.
In a medium mixing bowl add the butter and sugars.  Beat until light and creamy.  Add eggs one at a time, making sure each is incorporated into the butter mixture.
In a medium bowl whisk together the flour, baking powder, salt, cinnamon, nutmeg and pecans.
Add the flour mixture to the butter mixture; beat until combined.  RESERVE 1 cup of dough.  Press remaining dough into the bottom of the prepared pan.  Bake until lightly browned (about 10 minutes).  Set aside to cool while the filling is made.
For the Filling:
In a large mixing bowl add the cream cheese and 1/2 cup sugar.  Mix until light and fluffy.  Beat in eggs and vanilla until combined.  Pour over warm crust.  Drop reserved dough by heaping teaspoonfuls onto cream cheese mixture.
In a small bowl stir together the remaining 2 teaspoons sugar and 1/4 teaspoon cinnamon.  Sprinkle over the top of the cheesecake and snickerdoodle dough.
Bake 20 minutes or until center is just set.  Let cool completely on a wire rack.  Refrigerate until cold (about 3 hours).  Using the excess foil, lift out of the pan and cut into bars.  Store in the refrigerator.
MORE BAR RECIPES
BROWNED BUTTER LEMON BARS  2. BANANA CREAM PIE BARS  3. BLUEBERRY CHEESECAKE BARS
NEVER MISS A POST!
Sign up for my newsletter and receive my recipes in your inbox. Easy to see anytime and saved for safe keeping. Click Here and sign up today! —->>>>CURTAIN CALL NEWSLETTER