No added mayonnaise makes this German Potato Salad the perfect picnic salad.  I love the tangy flavor of this salad along with the creamy texture.  Besides everything is better with bacon!  😆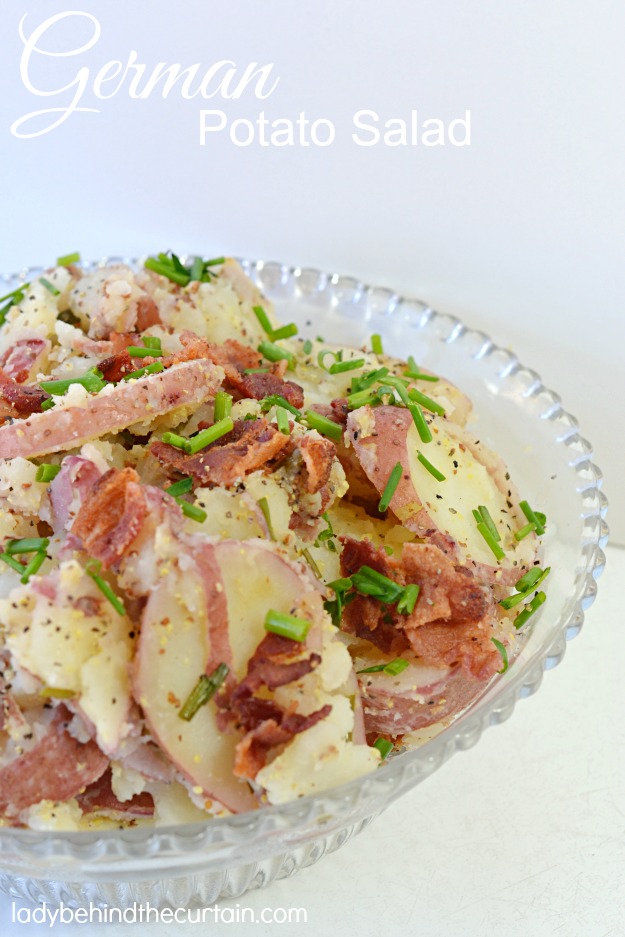 This German Potato Salad is the only salad I know that is better served at room temperature.  You can make it the day before, store in the refrigerator then place on the counter 1 hour before serving.  This will allow the dressing to become creamy.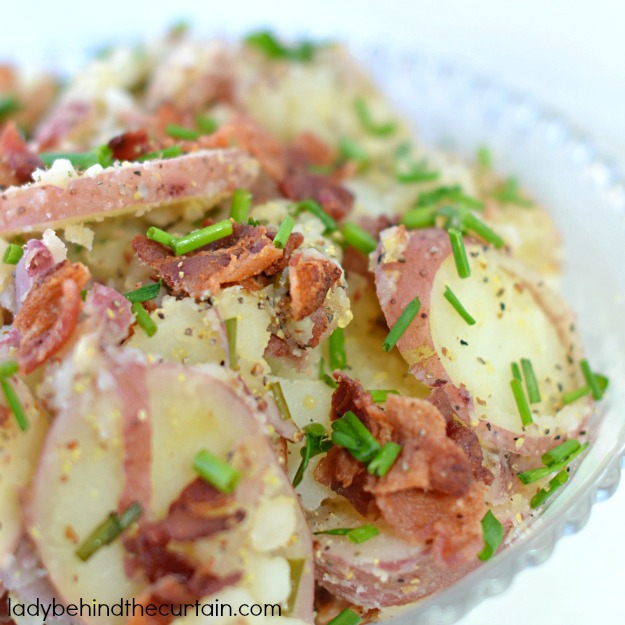 German Potato Salad
Ingredients
1 (5 pound) bag red potatoes, sliced 1/4-inch thick
1 tablespoon salt
2/3 cup white wine vinegar
2 tablespoons Dijon mustard
2 teaspoons salt
1 teaspoon black pepper
3 tablespoons bacon drippings
1 (12 ounce) package thick cut bacon, cooked and chopped (reserve drippings)
4 tablespoons chives, chopped
Instructions
Add sliced potatoes to a large pot, cover with cold water and add 1 tablespoon salt.
Bring to a boil, turn down to a simmer; cook until fork tender.
Drain potatoes and pour into a large bowl.
In a small bowl add the vinegar, mustard 2 teaspoons salt, pepper and bacon drippings.
Whisk together until combined, pour over hot potatoes and stir to coat.
Fold in chopped bacon and chives.
MORE SALAD RECIPES
1. DRESSED UP POTATO SALAD  2. GARDEN MACARONI SALAD  3. ITALIAN ORZO SALAD