Gingerbread Pudding Cookies
These Gingerbread Pudding Cookies are soft, chewy and EXTRA large.  With add ins like white chocolate chips and gingerbread M&M's.  Make these for your cookie exchange party or your holiday cookie tray.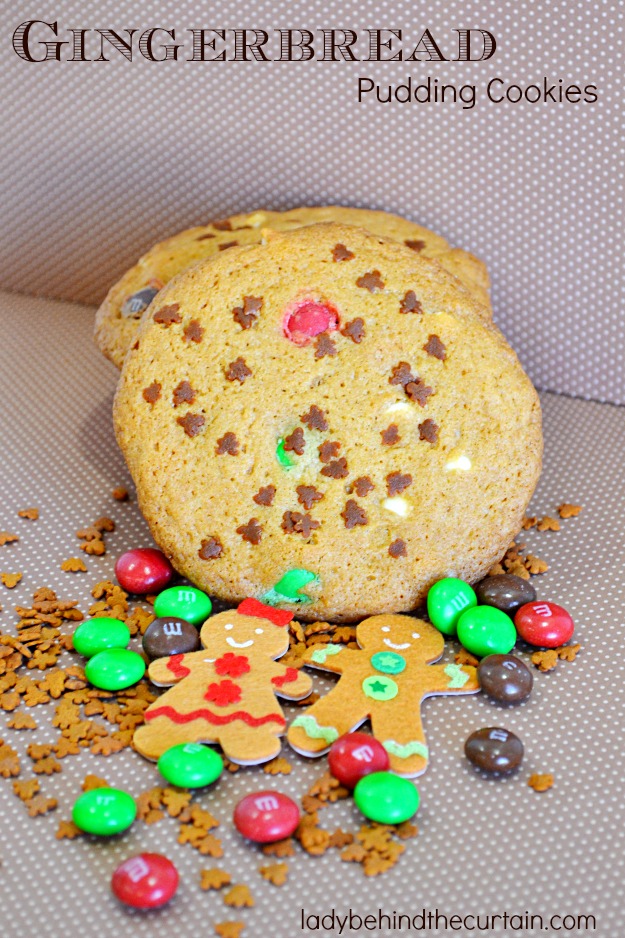 Stock up on gingerbread flavored Jell-o pudding so you can make these cookies anytime!  I found mine at Walmart in the center aisle across from the baking aisle.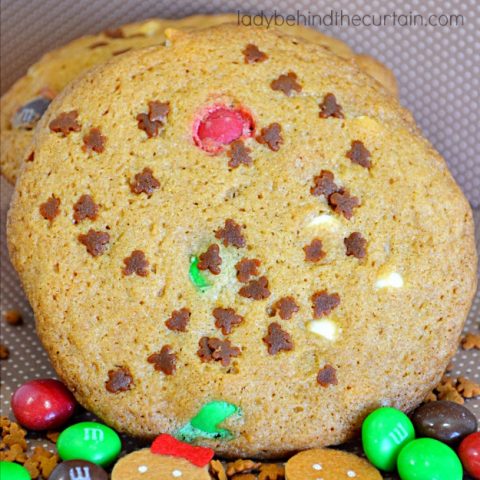 Gingerbread Pudding Cookies
Yield:
Makes 18 Large Cookies
Ingredients
1 cup unsalted butter, room temperature
3/4 cup light brown sugar, packed
3.4 ounce Jell-o instant gingerbread pudding mix
2 large eggs
1 teaspoon vanilla extract
2 cups all-purpose flour
1 teaspoon baking soda
3/4 cup gingerbread M&M's
3/4 cup white chocolate chips
Optional: gingerbread man sprinkles
Instructions
Preheat oven to350 degrees.
Line 2 cookie sheets with parchment paper and set aside.
In a mixing bowl beat the butter and sugar until light and fluffy.
Add the pudding mix and blend until fully incorporated.
Add the eggs one at a time.
Add the vanilla and blend until well mixed.
In a small bowl whisk together the flour and baking soda.
Slowly add the flour mixture to the wet ingredients scraping sides and mix until just incorporated.
Fold in the gingerbread M&M's, white chocolate chips.
Using an ice cream scoop, place 6 cookie dough mounds on each prepared cookie sheets.
Lightly press with the palm of your hand.
Add sprinkles.
Bake 12 to 15 minutes.
Let the cookies sit 5 minutes on the cookie sheet and then transfer them to a cooling rack.
Note:
These cookies will keep in an airtight container for 5 days.