Grilled Sticky Pork Chops
Grilled Sticky Pork Chops | These sweet juicy pork chops are the perfect answer to a delicious weeknight dinner.  The easy to make sauce will soon become one of your favorite sauces.  Pull out the grill and impress your friends with perfectly grilled pork chops topped with the best Asian Plum Sauce you've ever had!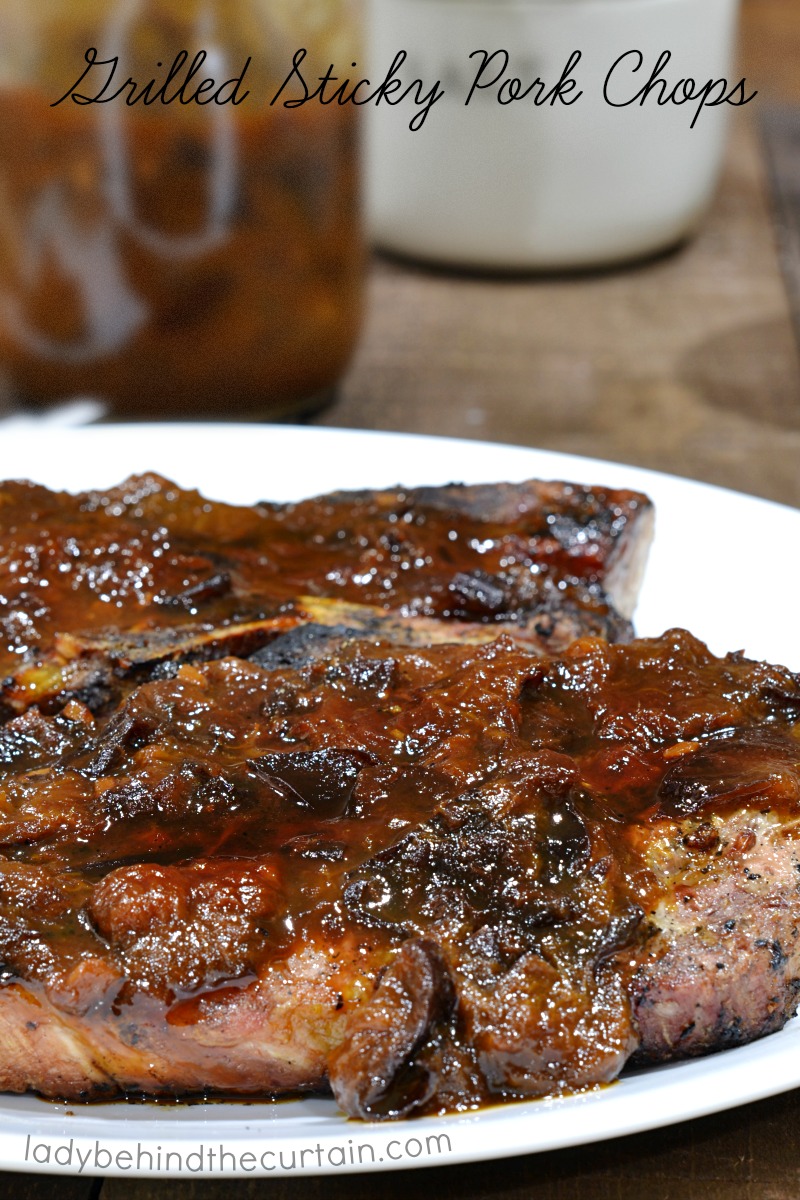 Grilled pork chops are great on their own.  Adding a delicious plum sauce changes everything!  You just went from American in Asian!  What makes this recipe so easy?  Make the sauce in advance…even a couple days in advance.  Perfect for weekend prepping.   Now all that needs to be done is the grilling!  Weeknights and Entertaining just got a whole lot easier! ♥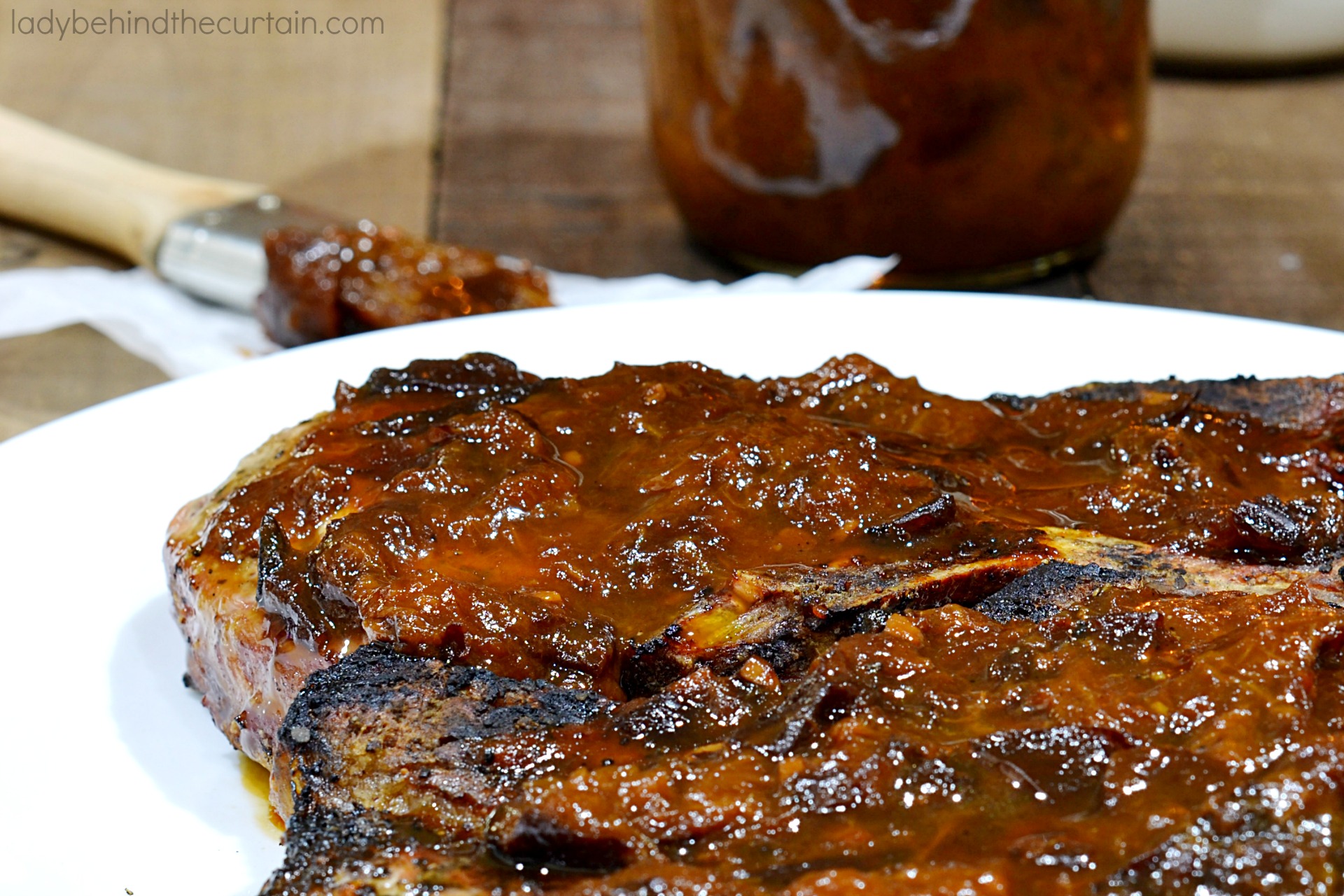 Scroll down to find more delicious barbecue sauce recipes.  If you don't find anything there you can also visit my sauce category page.  Click here to find more barbecue sauce recipes—->>>>SAUCES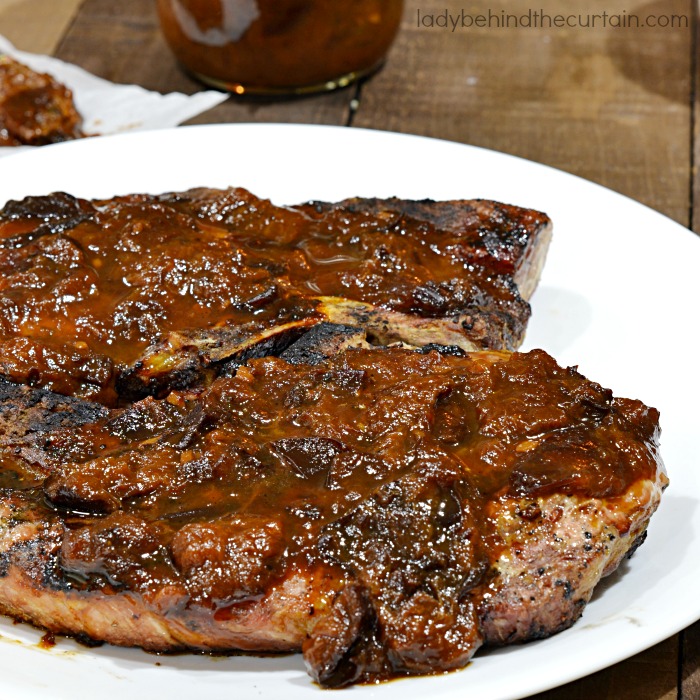 We love our wings sticky and now we can enjoy our pork chops sticky!
Yield: 4
Grilled Sticky Pork Chops
Ingredients
4 pork chops
1 1/2 cups water
1 (8 ounce) bag of dried plums (about 20-23), chopped
1/4 cup chicken stock
1 tablespoon soy sauce
1 garlic clove, minced
2 tablespoons molasses
1 tablespoon white vinegar
Instructions
For the Pork Chops:
Grilling depends on the thickness of the chops.  Separate the sauce; some to use while grilling and some to add after.  Once one side is grilled add a good amount of the sauce.  When the other side is done, turn over and brush more sauce on that side.  Serve the reserved sauce on the side.
For the Asian Plum Sauce:
In a small saucepan combine the water, plums, chicken stock, soy sauce, garlic, molasses and white vinegar.  Bring to a boil, reduce heat to low, cover and simmer for 20 minutes.  Stir to keep sauce from sticking.  Simmer uncovered 10 minutes.

MORE SAUCE RECIPES
SPICY SMOKY BARBECUE SAUCE  2.  ROASTED RED PEPPER MANGO SAUCE 3. SUGAR FREE BARBECUE SAUCE
NEVER MISS A POST!
Sign up for my newsletter and receive my recipes in your inbox. Easy to see anytime and saved for safe keeping. Click Here and sign up today! —->>>>CURTAIN CALL NEWSLETTER